8th Ave NW Bridge Seismic Improvements Project
Updated: May 1, 2019
What's happening now?
Our team is finalizing the design for the 8th Ave NW Bridge seismic improvements. In the coming months, we'll continue to provide updates, including the construction schedule through the project email list and this project webpage.
Last winter we asked neighbors to participate in an online survey to help us understand how you currently use the 8th Ave NW bridge and to provide feedback on the proposed construction approach. You can view a summary of the survey results here. We are incorporating this feedback and considering factors such as technical feasibility, cost, and efficiency as we finalize our construction approach and associated timeline.
To stay up to date with the latest project information, sign up to join our project email list. We will keep you updated by sending emails at major milestones. We will also work closely with neighbors who live near the project area to communicate the construction schedule and what to expect as construction approaches.
Project overview
Seismic events could have detrimental effects on Seattle's infrastructure. To address seismic risks to city infrastructure, the City of Seattle established a bridge seismic retrofit program to assess the seismic vulnerability of the City's bridges and to prioritize limited funding to reduce this transportation infrastructure vulnerability.
As part of the Levy to Move Seattle, 16 bridges were selected for seismic retrofits, including the 8th Ave NW Bridge. The 8th Ave NW Bridge is an older bridge constructed in 1950 prior to the modernization of the seismic design code. Spanning a forested ravine and connecting different parts of the Broadview neighborhood, it carries both vehicular and pedestrian traffic.
The planned seismic retrofits to the 8th Ave NW Bridge include several modification to seismically strengthen existing bridge components and reduce overall seismic vulnerability. There will be construction equipment, noise, dust, and possible detours for the duration of the project to maintain a safe separation between people and the work site.
Project Map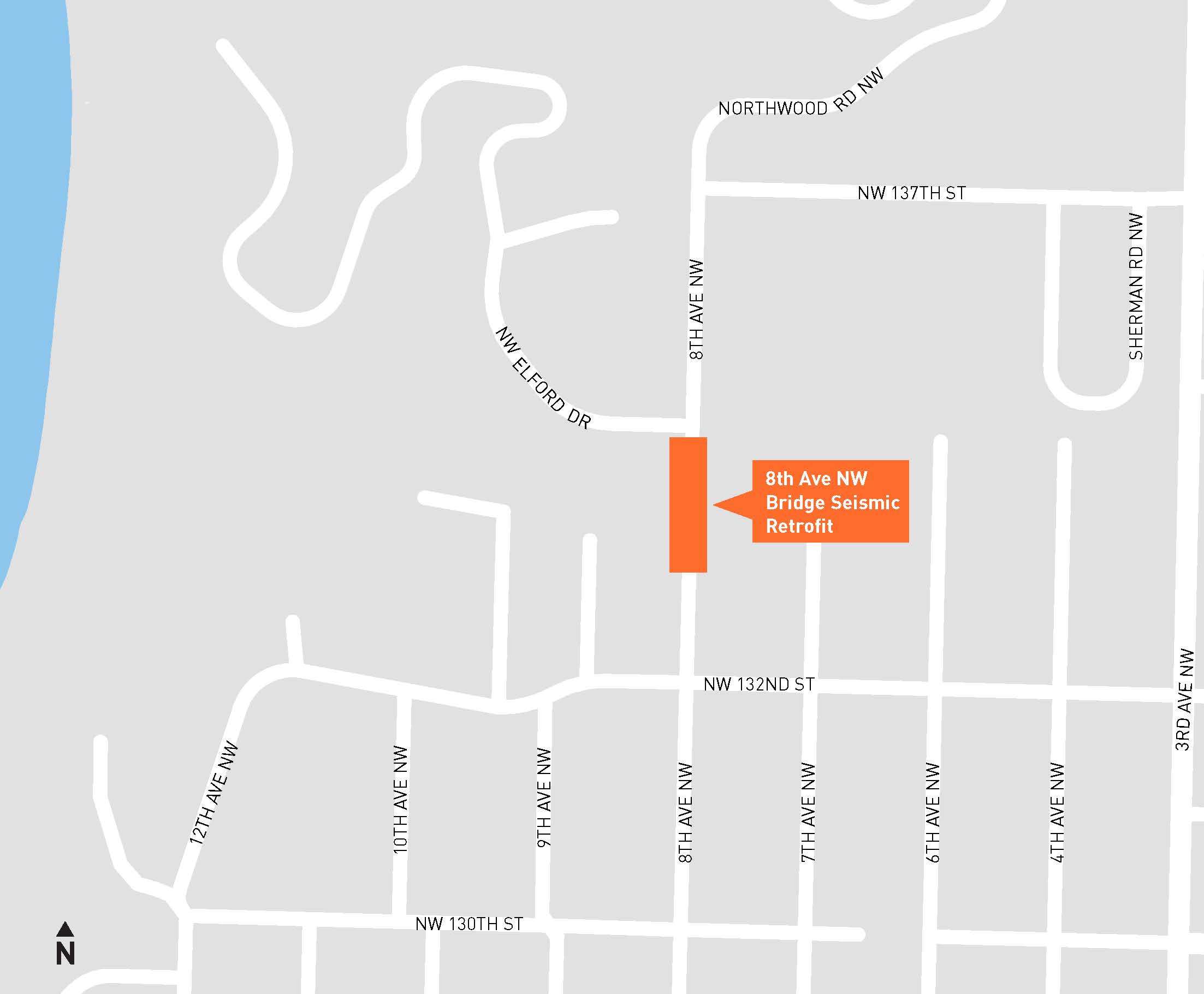 Schedule and construction
*
| | |
| --- | --- |
| 30% Design | Complete |
| 60% Design | Complete |
| Final Design | Spring 2019 |
| Construction begins | Summer 2019 |
*The schedule is subject to change.
Once construction begins it is scheduled to last approximately 6 months.
To complete the work as quickly as possible the bridge will be closed to all vehicular traffic for 5-6 months. We will maintain bicycle and pedestrian access. Certain elements of construction will require intermittent short-term full bridge closures, with advanced notice. The planned traffic detour route will use nearby 3rd Ave NW to NW 137th St to access homes north of the 8th Ave NW bridge.
In general, during construction you can expect:
Work in the public right-of-way near your home or business
Typical weekday work hours are 7 AM - 5 PM, Monday through Friday
Occasional traffic or lane restrictions, including side street closures
Temporary on-street parking restrictions, with "no park" signs placed 72 hours in advance
Detours for people walking, biking, and driving to get you safely around work zones
Typical construction equipment, materials, noise, dust, and activity in the work area
Funding
The total project estimate is $3 million and is funded through the Levy to Move Seattle. Approved by voters in 2015, the 9-year, $930 million Levy to Move Seattle provides funding to improve safety for all travelers, maintain our streets and bridges, and invest in reliable, affordable travel options for a growing city.
Get involved
We're committed to keeping you informed and working with neighbors to limit construction impacts to the extent feasible. Here are some more ways to get information about the project:
Email the project team at 8thAveNWBridge@seattle.gov
Leave a voicemail at 206-775-8734. A project representative will return your call.
Materials
8th Ave NW Bridge survey summary (April 2019)
Project introduction and construction impacts letter (December 2018)