Welcome to Renting in Seattle! This web site aims to provide comprehensive information and resources on rental regulations in the City of Seattle as well as tips and best practices for successful renting. Whether you are a renter or a housing provider, there is a lot to know.
Seattle requires that landlords provide the summary of landlord-tenant laws published by the City, every time a tenant applies to rent, signs or renews a rental agreement, annually to month-by-month tenants and whenever the City updates the summary.
Introducing our Renter's Handbook!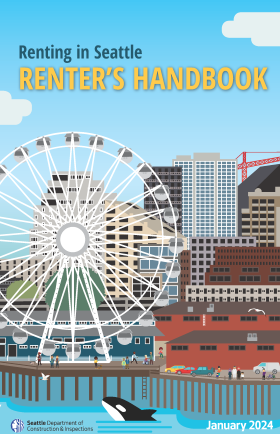 The handbook replaces the old summary 'Information for Tenants'. Our goal is to make the rental process, and the rights and obligations of the rental community, clear and accessible. The handbook is organized as a companion to this web site. You can find information in the table of contents organized across the various stages in the rental cycle or search for a specific term in the index at the back.

We designed the handbook based on decades of experience in handling landlord/tenant issues and the invaluable input from community stakeholders, and colleagues across the many City departments that touch on rental housing. Due to COVID-19 restrictions and City office closures we are currently unable to distribute printed copies. Until such time as we have a safe way to distribute printed copies, you can download our printer-friendly version of the Renter's Handbook. Stay tuned for the updated 2022 version coming very soon!
It's also available in Amharic Chinese(Simplified) Chinese (Traditional) Khmer Korean Lao Oromo Russian Somali Spanish Thai Tigrinya Vietnamese.
Currently, due to the impacts of COVID-19, there are temporary orders both statewide and in Seattle which affect rental regulations. Scroll down for more information. This page is updated regularly. Check out our resource pages for both renters and housing providers and keep up to date on our news and events page.
Eviction Moratorium Extended Until February 14, 2022
Mayor Harrell has extended Seattle's eviction moratorium for an additional 30 days. Residential evictions remain banned in Seattle until February 14, 2022, unless an imminent threat to life and safety exists. Read the Mayor's eviction moratorium announcement.
Rental assistance funds are available. Visit King County's eviction prevention web page and United Way's site for rent help.
Income-eligible customers can apply to the Utility Discount Program and receive a 60% discount on Seattle City Light electricity bills and a 50% discount on Seattle Public Utilities water/sewer/garbage bills. Customers can check for eligibility and apply here check for eligibility and apply here or call (206) 684-0268. Payment plans can be arranged by submitting payment plan requests online to Seattle City Light and Seattle Public Utilities.
For more information and COVID-19 rental housing-related resources, please see:
Featured Links

Need legal help or resources for renters, it's all here.

Resources for Landlords

Connect to Seattle Office of Housing resource page