Contact Us
Street Address:
Seattle Fire Department
301 2nd Ave S
Seattle, WA 98104

Mailing Address:
Seattle Fire Department
301 2nd Ave S
Seattle, WA 98104
Events
Honoring Dr. King's Legacy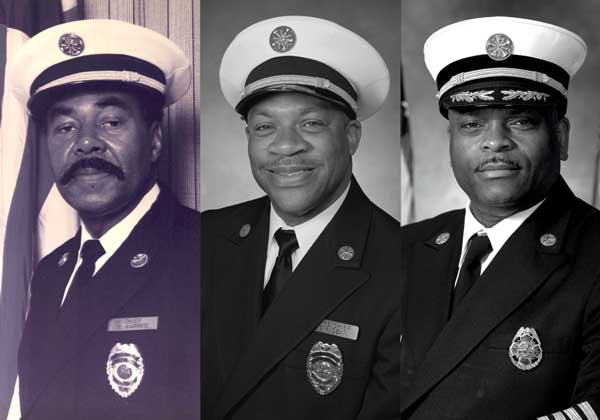 From left to right:
Fire Chief Claude Harris, Fire Chief Gregory Dean and Fire Chief Harold Scoggins
"The ultimate measure of a man is not where he stands in moments of comfort and convenience, but where he stands at times of challenge and controversy."
- Dr. Martin Luther King, Jr.
Join us Monday, Jan. 20, 2020 at Garfield High School for a Rally and March in honor of Dr. Martin Luther King, Jr. Rally starts at 11 a.m. and the march to Downtown will begin at 12:30 p.m..
1/21
During times of celebration, there are common fire safety issues that all communities experience. Keep these safety considerations in mind this Chinese New Year and Vietnamese New Year (January 25). Celebrations mean cooking and sharing food. Cooking [...]
1/17
"The ultimate measure of a man is not where he stands in moments of comfort and convenience, but where he stands at times of challenge and controversy." — Dr. Martin Luther King, Jr.
1/15
What a week of wintry weather we've seen, and it's just one month into Winter 2020. It's always a good idea to prepare before the next storm system arrives. With that in mind, here's a list of practical tips for staying safe [...]
1/10
Snowfall is often accompanied by an increase in calls to 911 for reports of downed wires in neighborhoods. When possible, stay home and avoid avoid travel on icy roads during these winter weather events. However, if you do see a downed wire, be sure [...]
1/10
When temperatures drop during the winter months, the risk of carbon monoxide (CO) poisoning increases. According to the Centers for Disease Control and Prevention, each year approximately 50,000 people visit emergency rooms in the U.S. due to [...]
Here to Serve
The mission of the Seattle Fire Department is to save lives and protect property through emergency medical service, fire and rescue response and fire prevention. We respond immediately when any member of our community needs help with professional, effective and compassionate service.
The Seattle Fire Department: a national leader in responding to and preventing emergencies with a commitment to excellence and teamwork.