Contact Us
Street Address:
Seattle Fire Department
301 2nd Ave S
Seattle, WA 98104

Mailing Address:
Seattle Fire Department
301 2nd Ave S
Seattle, WA 98104
Seattle Fire Department buildings, fire stations remain temporarily closed to public access
Emergency services are NOT impacted. For fire or medical emergencies, call 911.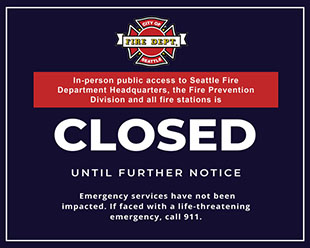 Abiding by the state's Safe Start plan, Seattle Fire Department buildings are closed to public access:
Headquarters (301 2nd Ave. S.) is closed to the public except for supply deliveries; most staff are working remotely. Members of the public can call the main line (206-386-1400) with questions.
The Fire Prevention Division (220 3rd Ave. S.) continues to provide building safety and fire mitigation services. However, the walk-in counter at the Fire Prevention Division (220 3rd Ave. S.) is temporarily closed. All services and inspections can be arranged by email . See service adjustments and contact information here.
Fire stations are closed to the public for blood pressure checks, visits and tours. Members of the public who need a blood pressure check are encouraged to visit a nearby pharmacy or their doctor's office.
7/1
SEATTLE – On July 1 just after 9 p.m., crews responded to the 300 Blk. of Lakeside Ave. for a seaplane that had crashed into Lake Washington. When firefighters arrived and saw the flipped seaplane approximately 200-300 yards from shore, they [...]
6/30
Every year at this time, Seattle and King County medics can be heard rushing to the scene of fireworks-related injuries. It happened again, just last Friday night. A patient was Airlifted to Harborview and now faces a long recovery at the Harborview [...]
6/26
June 25, 2020 at 4:35 a.m.: Dispatchers in our Fire Alarm Center received multiple calls reporting visible flames and black smoke billowing from the second floor of a three-story commercial building on the 800 block of S. Weller St. Engine 6 was the [...]
6/24
SEATTLE – At least eight set fires occurred in South Seattle (one in the Central District/Capitol Hill) on June 22 – June 24. The majority of the fires were located on or near Rainier Ave. S. The fires were either set to debris or in garbage or [...]
6/24
SEATTLE – On June 26 at 12 p.m., the City of Seattle Office of Emergency Management will send a test message through the Wireless Emergency Alert (WEA) system. The alert will only be sent to those who have opted in to receive local test messages [...]
Here to Serve
The mission of the Seattle Fire Department is to save lives and protect property through emergency medical service, fire and rescue response and fire prevention. We respond immediately when any member of our community needs help with professional, effective and compassionate service.
The Seattle Fire Department: a national leader in responding to and preventing emergencies with a commitment to excellence and teamwork.