Contact Us
Street Address:
Seattle Fire Department
301 2nd Ave S
Seattle, WA 98104

Mailing Address:
Seattle Fire Department
301 2nd Ave S
Seattle, WA 98104
Seattle Fire Department closes buildings to in-person public access in response to Governor Inslee's Stay at Home Order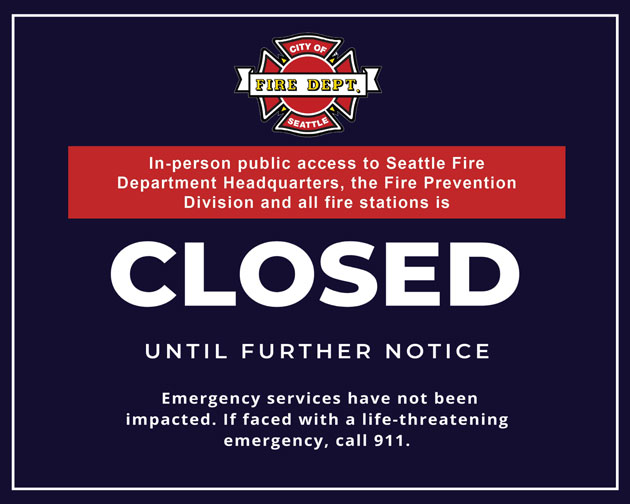 In response to Governor Jay Inslee's Stay at Home Order, the Seattle Fire Department remains operational but has closed in-person access to the following buildings to the public:
Headquarters (301 2nd Ave. S.) is closed to the public except for supply deliveries; most staff are working remotely. Members of the public can visit our Fireline Blog for information or call the main line (206-386-1400) with questions.
The Fire Prevention Division is staying open for customers because building safety and fire mitigation are essential public services. The walk-in counter at the Fire Prevention Division (220 3rd Ave. S.) is temporarily closed, however all services and inspections can be arranged by email or phone (206-386-1450). See service adjustments and contact information here.
Fire Stations are closed to the public for blood pressure checks, visits and tours. Members of the public who need a blood pressure check are encouraged to visit a nearby pharmacy where the equipment is available or their doctor's office.
Emergency services are NOT impacted. First responders are here to provide you the help you need when you need it. For life-threatening emergencies, please dial 911.
5/29
We have responded to a few fires recently that were caused by smoking materials left unattended or discarded improperly. With warm and dryer weather in the forecast, more such fires will likely occur. Steps to help reduce the chance of such [...]
5/27
We are happy to announce that one of our biggest summer events, Seattle Fire Day with MOHAI, is still happening … on the Seattle Fire Facebook page: https://www.facebook.com/SeattleFire/. This year, also for the first time, [...]
5/26
The following information is updated as of 5 p.m. on May 26:  Quarantine and Isolation:  Members currently in quarantine or isolation: 0 members Total number of SFD personnel impacted since the beginning of tracking [...]
5/22
Seattle Parks, including pools and beaches remain closed as our county remains in phase one of Governor Inslee's Safe Start plan. However, first responders throughout King County are responding to more preventable drownings as summer [...]
5/22
The global pandemic has changed our lives in so many ways, including our ability to celebrate traditional holidays with family and friends. With summer around the corner and the Stay Home order still limiting community [...]
Here to Serve
The mission of the Seattle Fire Department is to save lives and protect property through emergency medical service, fire and rescue response and fire prevention. We respond immediately when any member of our community needs help with professional, effective and compassionate service.
The Seattle Fire Department: a national leader in responding to and preventing emergencies with a commitment to excellence and teamwork.