Contact Us
Street Address:
Seattle Fire Department
301 2nd Ave S
Seattle, WA 98104

Mailing Address:
Seattle Fire Department
301 2nd Ave S
Seattle, WA 98104
Events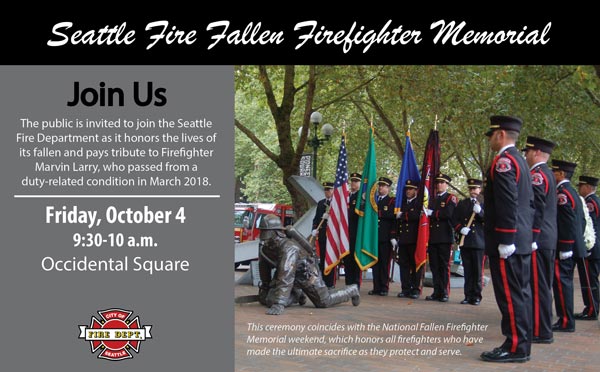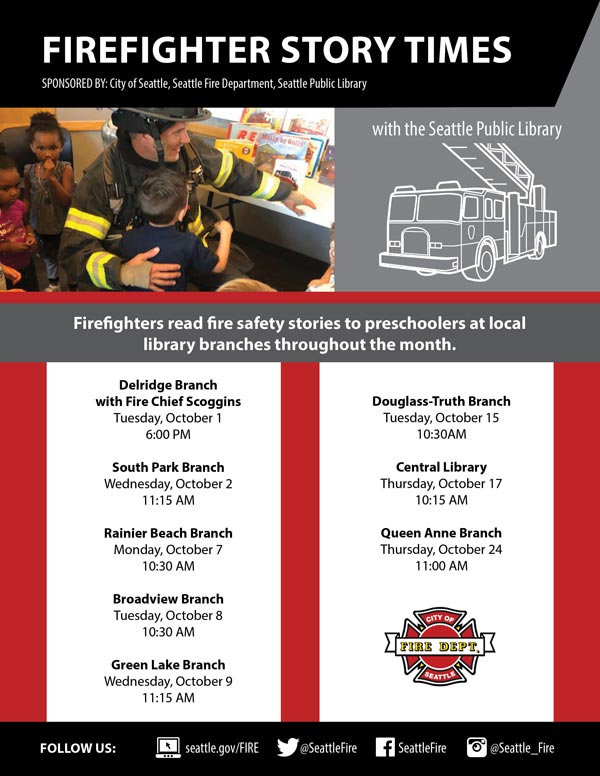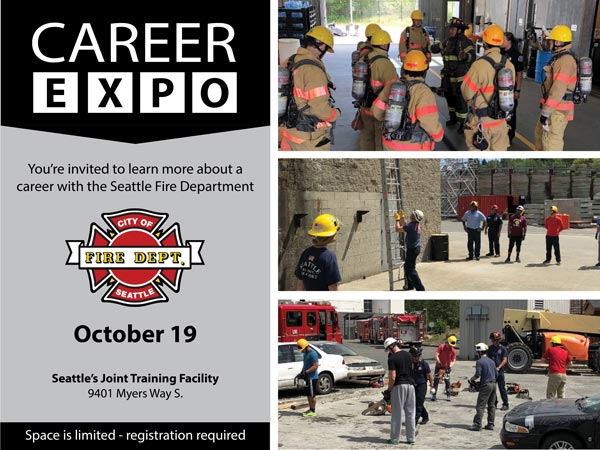 Click here to register. For questions, please call our Human Resources Department at 206-386-1472.
10/11
SEATTLE – Firefighters responded to the 10300 Block of Midvale Ave. N. just after 10:30 a.m. on Oct. 11 for a natural gas leak. When crews arrived on scene, they discovered a 2-inch gas line had been punctured by contractors who were digging in [...]
10/9
SEATTLE — On October 2, 2019, at UW Medical Center, Seattle Fire Lieutenant LeRoy Sisley was visiting his wife Lynda—who has also worked for Seattle Fire in data analysis and IT. He was at her bedside on the seventh floor when a fire alarm went off [...]
10/7
SEATTLE – An employee from Super Cuts called 911 just before 12 p.m. on Oct. 7 reporting light smoke from a strip mall at the 2300 Block of NW Market St. When Engine 9 arrived on scene, they saw a haze coming from the ceiling of the building [...]
10/4
Oct. 2 at 3:19 p.m. – Our Fire Alarm Center received multiple calls reporting heavy smoke originating from the lobby floor of UW Medical Center's Cascade Tower. Engine 31 was the first company to arrive on scene and determined the fire was [...]
10/1
No doubt about it, fall is in full swing. One of the season's hallmarks – fog – made a strong resurgence this week, bringing damp, cooler temperatures. With nights dipping into the 40s, it's no wonder so many of us are [...]
Here to Serve
The mission of the Seattle Fire Department is to save lives and protect property through emergency medical service, fire and rescue response and fire prevention. We respond immediately when any member of our community needs help with professional, effective and compassionate service.
The Seattle Fire Department: a national leader in responding to and preventing emergencies with a commitment to excellence and teamwork.