Contact Us
Street Address:
Seattle Fire Department
301 2nd Ave S
Seattle, WA 98104

Mailing Address:
Seattle Fire Department
301 2nd Ave S
Seattle, WA 98104
Seattle Fire Department buildings, fire stations remain temporarily closed to public access
Emergency services are NOT impacted. For fire or medical emergencies, call 911.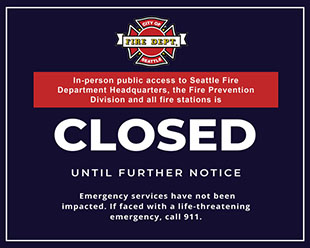 Abiding by the state's Safe Start plan, Seattle Fire Department buildings are closed to public access:
Headquarters (301 2nd Ave. S.) is closed to the public except for supply deliveries; most staff are working remotely. Members of the public can call the main line (206-386-1400) with questions.
The Fire Prevention Division (220 3rd Ave. S.) continues to provide building safety and fire mitigation services. However, the walk-in counter at the Fire Prevention Division (220 3rd Ave. S.) is temporarily closed. All services and inspections can be arranged by email . See service adjustments and contact information here.
Fire stations are closed to the public for blood pressure checks, visits and tours. Members of the public who need a blood pressure check are encouraged to visit a nearby pharmacy or their doctor's office.
8/10
Sunday, August 9: Sadly, we had two water responses that evening that did not have a good outcome. Just after 5:30 p.m., we received reports of an adult male who was swimming and went under near the 5000 block of Lake Washington Blvd. S. Divers, [...]
8/7
Consider donating it to the Seattle Fire Department for training. The Seattle Fire Department is always training to ensure the safety of both the community that we serve and our own members. We accept suitable buildings to use for "destructive [...]
8/5
Today, we celebrated the promotions of six lieutenants (three not present), two captains and one battalion chief at our Joint Training Facility. In compliance with social distancing guidelines, we held a live stream for families and colleagues to [...]
8/3
Annual Mishap Causes Anguish for Families This year, as we live through the stress and momentous change of an historic global pandemic, summer's warm, sunny days gives us a chance to physically and emotionally lighten up. It's the perfect time to [...]
7/27
The weather is finally heating up in our region and we will most likely experience some hotter days in the days and weeks to come. Higher temperatures can lead to heat-related illnesses such as heat exhaustion and heat stroke. Fortunately, there are [...]
Here to Serve
The mission of the Seattle Fire Department is to save lives and protect property through emergency medical service, fire and rescue response and fire prevention. We respond immediately when any member of our community needs help with professional, effective and compassionate service.
The Seattle Fire Department: a national leader in responding to and preventing emergencies with a commitment to excellence and teamwork.