Contact Us
Street Address:
Seattle Fire Department
301 2nd Ave S
Seattle, WA 98104

Mailing Address:
Seattle Fire Department
301 2nd Ave S
Seattle, WA 98104
Seattle Fire Department buildings, fire stations remain temporarily closed to public access
Emergency services are NOT impacted. For fire or medical emergencies, call 911.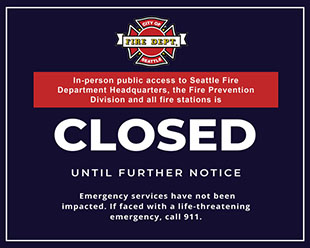 Abiding by the state's Safe Start plan, Seattle Fire Department buildings are closed to public access:
Headquarters (301 2nd Ave. S.) is closed to the public except for supply deliveries; most staff are working remotely. Members of the public can call the main line ((206) 386-1400) with questions.
The Fire Prevention Division (220 3rd Ave. S.) continues to provide all services including permitting, inspections, plan review, and certification. Please arrange these services by email or phone and note that the walk in counter remains closed at this time.
Fire stations are closed to the public for blood pressure checks, visits and tours. Members of the public who need a blood pressure check are encouraged to visit a nearby pharmacy or their doctor's office.
Here to Serve
The mission of the Seattle Fire Department is to save lives and protect property through emergency medical service, fire and rescue response and fire prevention. We respond immediately when any member of our community needs help with professional, effective and compassionate service.
The Seattle Fire Department: a national leader in responding to and preventing emergencies with a commitment to excellence and teamwork.