Contact Us
Street Address:
Seattle Office of Emergency Management
105 5th Ave S
Suite 300
Seattle, WA 98104

Mailing Address:
Office of Emergency Management
PO Box 34986
Seattle, WA 98124-4986
Winter is Coming!
What are you doing to get prepared? Check out SDOT's 2018-2019 Winter Weather Brochure and these winter weather Preparedness tips!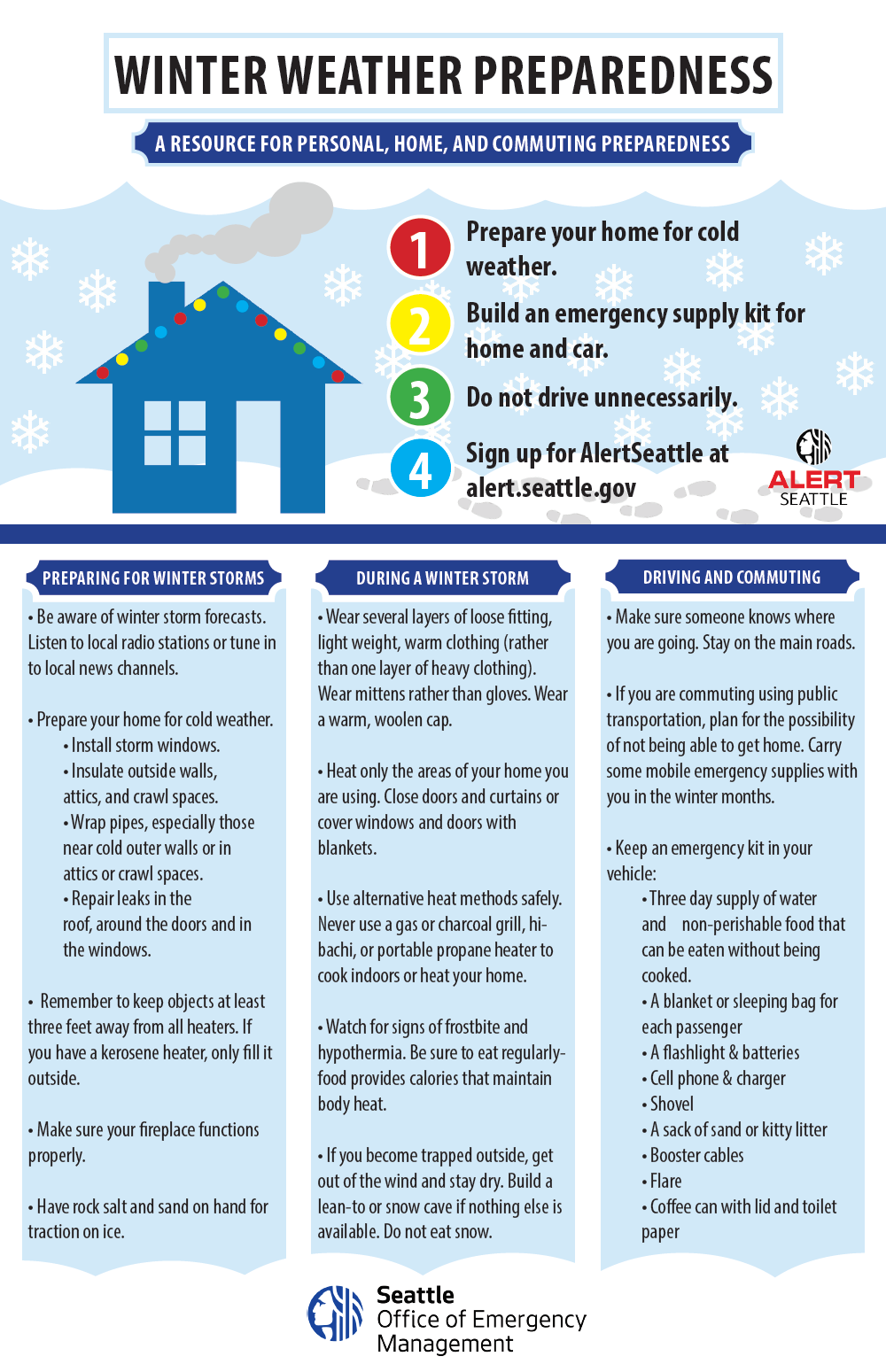 Identifying Unreinforced Masonry Buildings
There are over 1,000 unreinforced masonry (URM) buildings in Seattle, and thousands more throughout Washington State. Do you know how to identify a URM?
2018 Strategic Plan
The Seattle Office of Emergency Management is please to present our 2018 Citywide Emergency Management Program Strategic Plan.
2018 Hub in a Box Funding!
Hub in a Box funding is now available through a partnership with the Seattle Department of Neighborhoods. Apply for up to $1500 to develop a community emergency hub! See link below for more details. Application deadline is Monday, April 16, 2018.

Funding Priorities Preference will be given to projects that:
Prioritize new hubs in P-Patches which were added in 2017, or where there is emerging or existing interest.
Support development of hubs in historically underrepresented communities.
Recruit neighbors as volunteers (e.g. community members who live or work close to the project site) and encourage community engagement.
Leverage existing City programs (e.g., Adopt-a-Street, Graffiti Removal, etc.).
Improve the safety and/or appearance of a public space or structure.
For more details go to: http://frontporch.seattle.gov/2018/03/12/funding-community-emergency-hub/
2017 Office of Emergency Management Annual Report
The Office of Emergency Management is pleased to present our 2017 Annual Report, highlighting accomplishments in our mission to make our community more resilient and our people more prepared to deal with disasters and emergencies.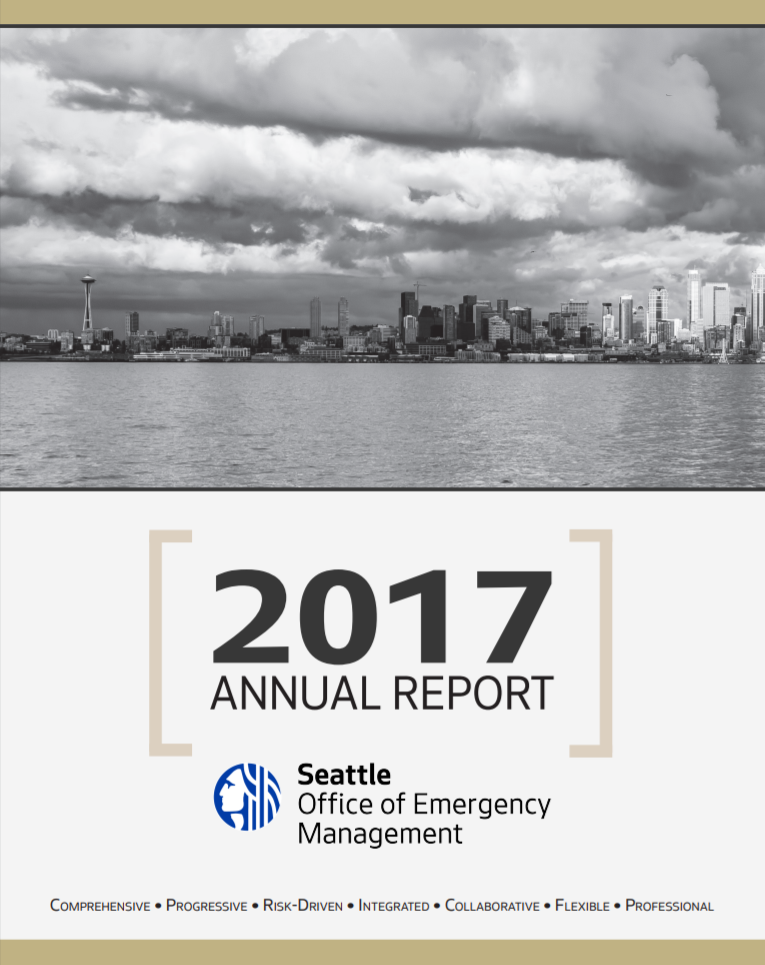 ---
Observations of the 2017 Mexico Earthquakes
Seattle engineers David Swanson of Reid Middleton Inc. and Mark Pierepiekarz of MRP Engineering, travelled to Mexico during the fall of 2017 to observe lessons in earthquake engineering from the two earthquake events experienced in the country. David and Mark presented those observations, including implications for the Pacific Northwest to Seattle's Disaster Management Committee on Nov. 30, 2017. View the full presentation. The Seattle Office of Emergency Management is seeking to hire two Vietnamese speakers to join our Community Safety Ambassador (CSA) team. The CSA program began in 2015 and has proven extremely effective in helping us reach immigrant, refugee, and limited English speaking communities. The team currently consists of 15 individuals that speak ten different languages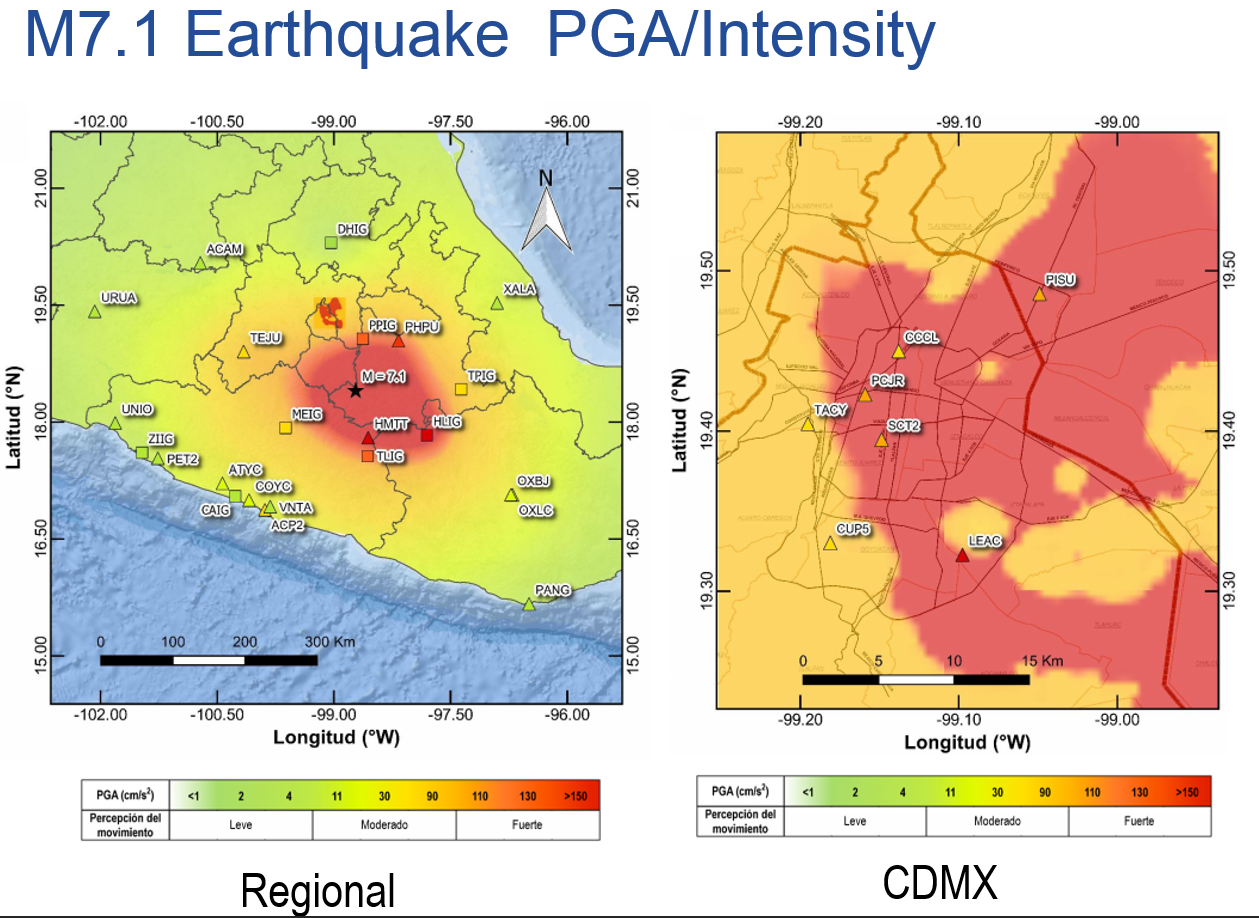 ---
Check Out a New Preparedness Tool: Seattle-King County Ready
Seattle and King County Offices of Emergency Management just released a new online tool, Seattle-King County Ready, that provides customized reports of natural hazard risk in a specific location. Users can enter an address or click on a map to see information about likely and worst-case natural disasters at that location and what they would feel and look like. The report also explains the steps users can take to be better prepared, describes past events in the area, and links to more detailed information.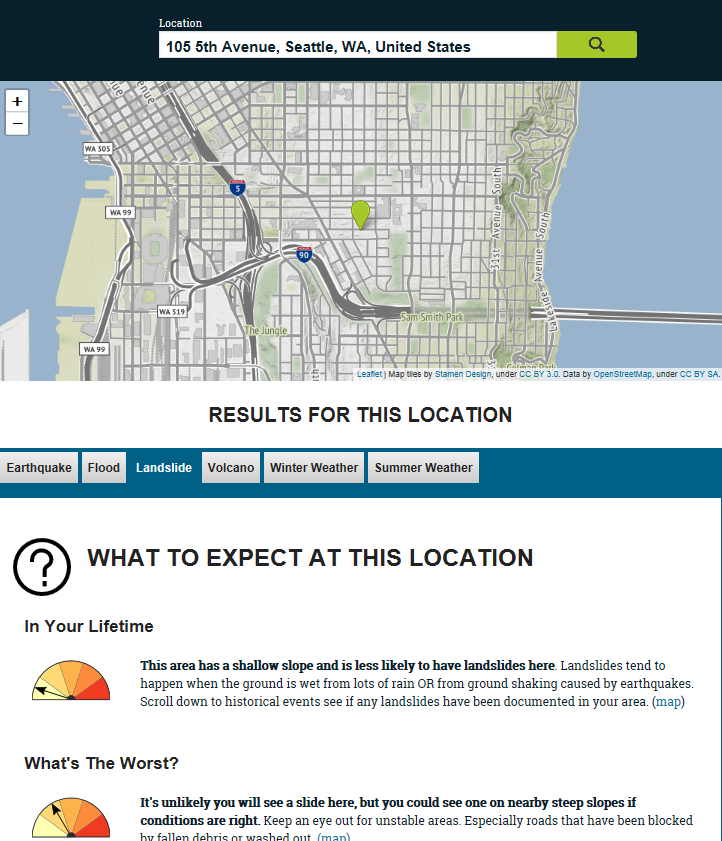 Briefing to Council on Unreinforced Masonry Buildings
OEM Director Barb Graff and representatives from the Seattle Department of Construction and Inspections recently briefed City Council on the issue of unreinforced masonry buildings (URMs) and a recommended madatory retrofit ordinance as proposed by the URM Policy Committee. Check out the full Council Briefing from the Seattle Channel, and the interactive presentation that was shown at the briefing.