Contact Us
Street Address:
Seattle Office of Emergency Management
105 5th Ave S
Suite 300
Seattle, WA 98104

Mailing Address:
Office of Emergency Management
PO Box 34986
Seattle, WA 98124-4986
Now Hiring: Community Engagement Manager
The Office of Emergency Managment is recruiting for a Community Engagement Manager to strategically lead our Outreach and Training Team. In this role, you will work to engage and empower community through innovative and culturally appropriate approaches in creating disaster resiliency across the community at all levels. You will have a focus on reaching Seattle's most vulnerable and underserved populations who are likely to experience the greater impacts from disasters. The goal through these programs is to guide the community on protecting lives and property, and helping the overall community attain self-sufficiency in anticipation of emergencies and disasters.
Click here to learn more and apply by September 21, 2021.
Hiring Community Safety Ambassadors
The Office of Emergency Managment is looking to hire a contract vendor for an ASL Community Safety Ambassador. Please click on the following link for more information. Click here: ASL Community Safety Ambassador Application. For questions please contact Tey Thach at tey.thach@seattle.gov or the following number, (206) 491-6060. Deadline to apply is October 1st, at 5:00 p.m.
Earthquake Response Webinar Series
The Office of Emergency Management is hosting a series of webinars focused on the City's earthquake response plans. The first webinar was held on May 27th and provided a high level overview of how the City prioritizes and coordinates during a response to a major earthquake. Watch the full webinar here! The four subsequent webinars will occur during June through September and will dive deeper into individual areas of the response including firefighting, mass care, and utility and transportation restoration. Each webinar will also highlight how individual and neighborhood preparedness efforts tie into the overall response. All webinars are open to the public and will include auto translated captioning in Traditional and Simplified Chinese, Korean, Russian, Spanish, and Vietnamese. All sessions will include a Q&A session at the end, and will be recorded and posted to the Seattle OEM YouTube channel. Registration is not required, but participants can register to receive a confirmation email, calendar appointment, and event reminders. View the full schedule and register on OEM's events calendar or see session information below. We hope to see you there!


Community Mitigation Survey
In November, OEM launched a Community Mitigation Survey as part of the Hazard Mitigation Plan update process. We got valuable feedback from the community about which hazards are the biggest concern, which mitgation strategies are most valued, and which community resources should be protected through mitigation efforts. View a brief summary of the survey results!
All-Hazards Mitigation Plan Update
Every five years the City of Seattle Office of Emergency Management (OEM) updates the All-Hazards Mitigation Plan (HMP). This HMP helps us minimize risks to people, property, and the environment from natural and man-made disasters. Learn more about the All-Hazards Mitigation Plan by reading this summary of the plan update process, or visiting the HMP Update site!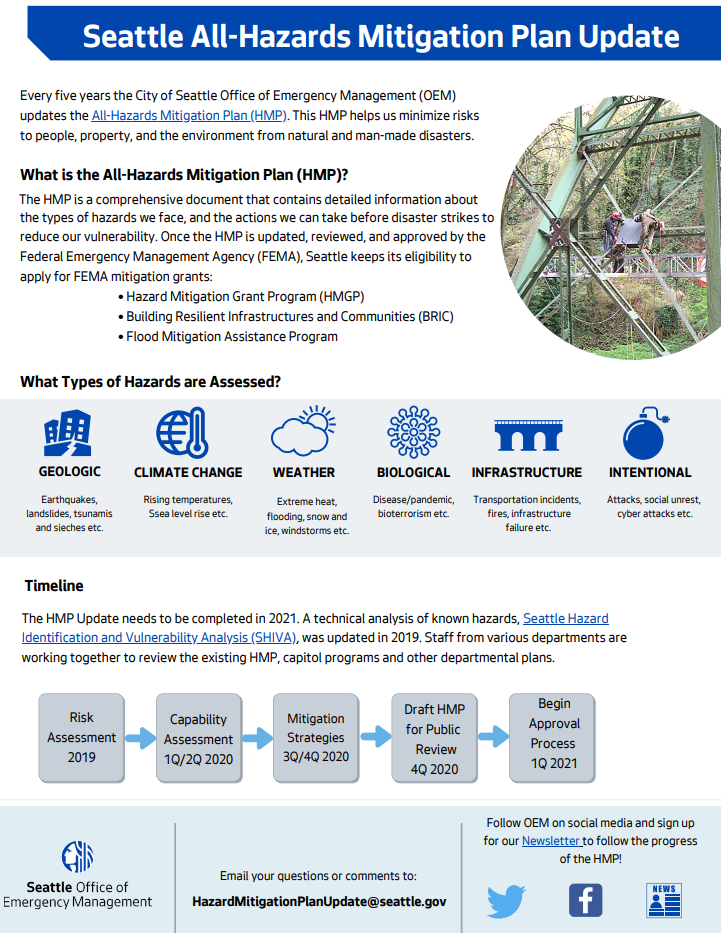 Safely Helping Neighbors During COVID-19, Wildfire Smoke, and Extreme Heat
While COVID-19 is still present in our community, it is important for those most vulnerable to stay at home to avoid exposure. As we enter July, we are also more likely to experience extreme heat events or poor air quality as the result of wildfire smoke. Heat and smoke might also require older adults or people with existing health conditions to stay at home.
Many people staying at home could use a helping hand! Offer to go grocery shopping or run other errands for those remaining at home, or simply offer to check-in with a regular phone call. Use our Hello Neighbor cards to offer help to those remaining at home. A little bit goes a long way! Available in multiple languages!

Novel Coronavirus (COVID-19) Information
A new coronavirus emerged in Wuhan, China in December of 2019 and is currently referred to as novel coronavirus, or COVID-19. Novel coronavirus is very concerning because it's new to humans and because it can cause serious infections, including pneumonia.

At this time, the risk to the general public locally is considered to be low, given that there is only one case identified in Washington. To see full test results for King County and Washington State (including the number of people under investigation and public health supervision) please visit the Washington State Department of Health's Coronavirus Disease 2019 outbreak page. For a fact sheet about response in King County visit Public Health Seattle / King County's FAQ page.
The City of Seattle has been planning and preparing for COVID-19 since mid-February. Our planning efforts build from existing plans and focuses our efforts to ensure we are ready to operationalize our COVID-19 plans. Areas we are focused on include: Continuity of Operations Plans (COOPS) and how we maintain critical city services; ensuring our city workforce is resilient; developing a plan to manage COVID-19 impacts to those experiencing homelessness and other vulnerable populations; having plans to support employees' work thru information technology systems/platforms; developing a plan for how the city can assess economic impacts to the community; and having an operational action plan when we do need to respond to COVID-19 in our community.
The Washington State Department of Health has established a call center to address questions from the public. If you have questions about what is happening in Washington, how the virus is spread, and what to do if you have symptoms, please call 1 (800) 525-0127 and press #


For LANGUAGE ACCESS MATERIALS around COVID-19 please visit the Office of Immigrant and Refugee's blog page at the following link: OIRA blog