Contact Us
Street Address:
Seattle Office of Emergency Management
105 5th Ave S
Suite 300
Seattle, WA 98104

Mailing Address:
Office of Emergency Management
PO Box 34986
Seattle, WA 98124-4986
OEM is hiring Spanish and Arabic Speaking Commuity Safety Ambassadors
The Seattle Offie of Emergency Management is seeking to hire two Spanish speakeres and one Arabic speaker to join our Community Safety Ambassador (CSA) team. The CSA program began in 2015 and has proven etremely effective in helping us reach immigrant, refugee, and limited English speaking communites. The team currently consists of 14 individuals that speak 12 different languages. Learn more and apply: Spanish speaking CSA and Arabic speaking CSA
---
Observations of the 2017 Mexico Earthquakes
Seattle engineers David Swanson of Reid Middleton Inc. and Mark Pierepiekarz of MRP Engineering, travelled to Mexico during the fall of 2017 to observe lessons in earthquake engineering from the two earthquake events experienced in the country. David and Mark presented those observations, including implications for the Pacific Northwest to Seattle's Disaster Management Committee on Nov. 30, 2017. View the full presentation. The Seattle Office of Emergency Management is seeking to hire two Vietnamese speakers to join our Community Safety Ambassador (CSA) team. The CSA program began in 2015 and has proven extremely effective in helping us reach immigrant, refugee, and limited English speaking communities. The team currently consists of 15 individuals that speak ten different languages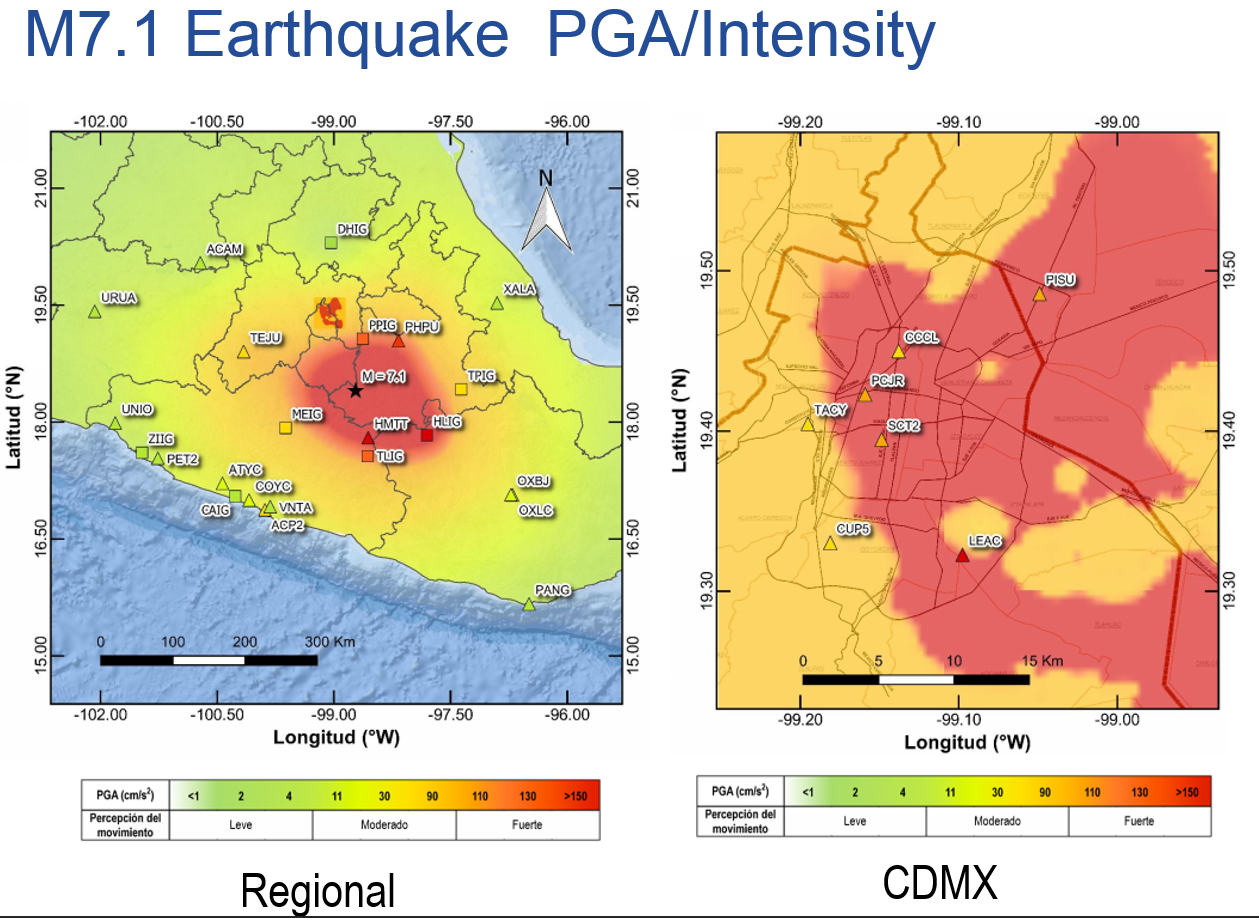 ---
Check Out a New Preparedness Tool: Seattle-King County Ready
Seattle and King County Offices of Emergency Management just released a new online tool, Seattle-King County Ready, that provides customized reports of natural hazard risk in a specific location. Users can enter an address or click on a map to see information about likely and worst-case natural disasters at that location and what they would feel and look like. The report also explains the steps users can take to be better prepared, describes past events in the area, and links to more detailed information.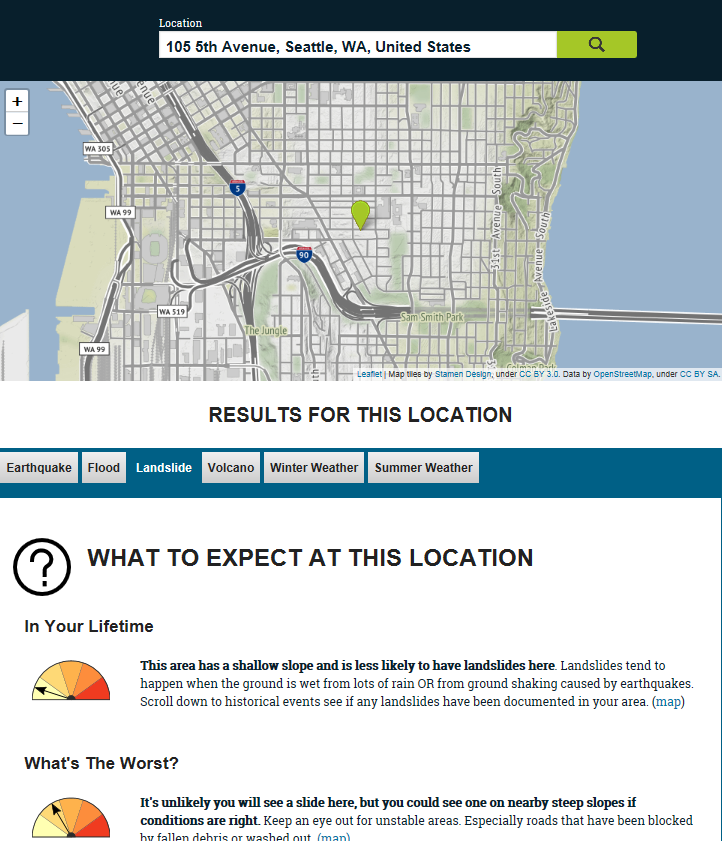 Briefing to Council on Unreinforced Masonry Buildings
OEM Director Barb Graff and representatives from the Seattle Department of Construction and Inspections recently briefed City Council on the issue of unreinforced masonry buildings (URMs) and a recommended madatory retrofit ordinance as proposed by the URM Policy Committee. Check out the full Council Briefing from the Seattle Channel, and the interactive presentation that was shown at the briefing.

September is National Preparedness Month!
The Office of Emergency Management and our partners have a lot of things happening during September! Take some time this month to learn a new skill, attend a preparedness training or event, sign up for emergency alerts, or start to develop your family emergency plan. Check out a full list of OEM's September Preparedness Activities!
SDCI Releases Recommendations of the URM Policy Committee
On August 3, the Seattle Department of Construction and Inspections (SDCI) released the URM (Unreinforced Masonry) Policy Committee recommendations. First convened by SDCI in 2011, the policy committee brought together URM property owners, geological and seismology experts, structural engineers, architects, housing and real estate development representatives, and historic preservation professionals to develop recommendations on a city-wide URM seismic retrofit policy. After a hiatus to allow SDCI to gather more information, the policy committee reconvened in late 2016 to finalize their recommendations
P-Patch Community Gardens Are Now Gathering Places During an Emergency
The Seattle Office of Emergency Management (OEM) is partnering with the Seattle Department of Neighborhoods P-Patch Community Gardening Program to designate all P-Patch Gardens as gathering places during an emergency (Community Emergency Hubs).
Community Emergency Hubs are places where people gather after a disaster to help each other. Hubs serve as a central gathering place among neighbors in homes, apartments, and condominiums. They include spaces like the P-Patches, which are already natural gathering places. With the addition of the P-Patches, it means neighbors and community members now have about 150 pre-determined places in the City of Seattle to meet after disaster.
For more details on this partnership see the Department of Neighborhoods' recent blog post
OEM is hiring Vietnamese speaking Community Safety Ambassadors
The Seattle Office of Emergency Management is seeking to hire two Vietnamese speakers to join our Community Safety Ambassador (CSA) team. The CSA program began in 2015 and has proven extremely effective in helping us reach immigrant, refugee, and limited English speaking communities. The team currently consists of 15 individuals that speak ten different languages. Learn more and apply
Using the Emergency Operations Center to Respond to the Homelessness Crisis
Beginning Feb. 22, 2017, Mayor Ed Murray will be temporarily activating the Emergency Operations Center (EOC) to accelerate and coordinate the City's response to the homelessness crisis in Seattle.
What are we doing to prepare the city for a major earthquake?
Since its first publication in 2015, this newly updated document summarizes the preparedness efforts of several City departments and offers a comprehensive view of the City's efforts to-date as it continues to prepare for a major earthquake.
2016 Annual Report
The Office of Emergency Management is pleased to present its 2016 year-end report highlighting accomplishments in our mission to make our community more resilient and our people more prepared to deal with disasters and emergencies.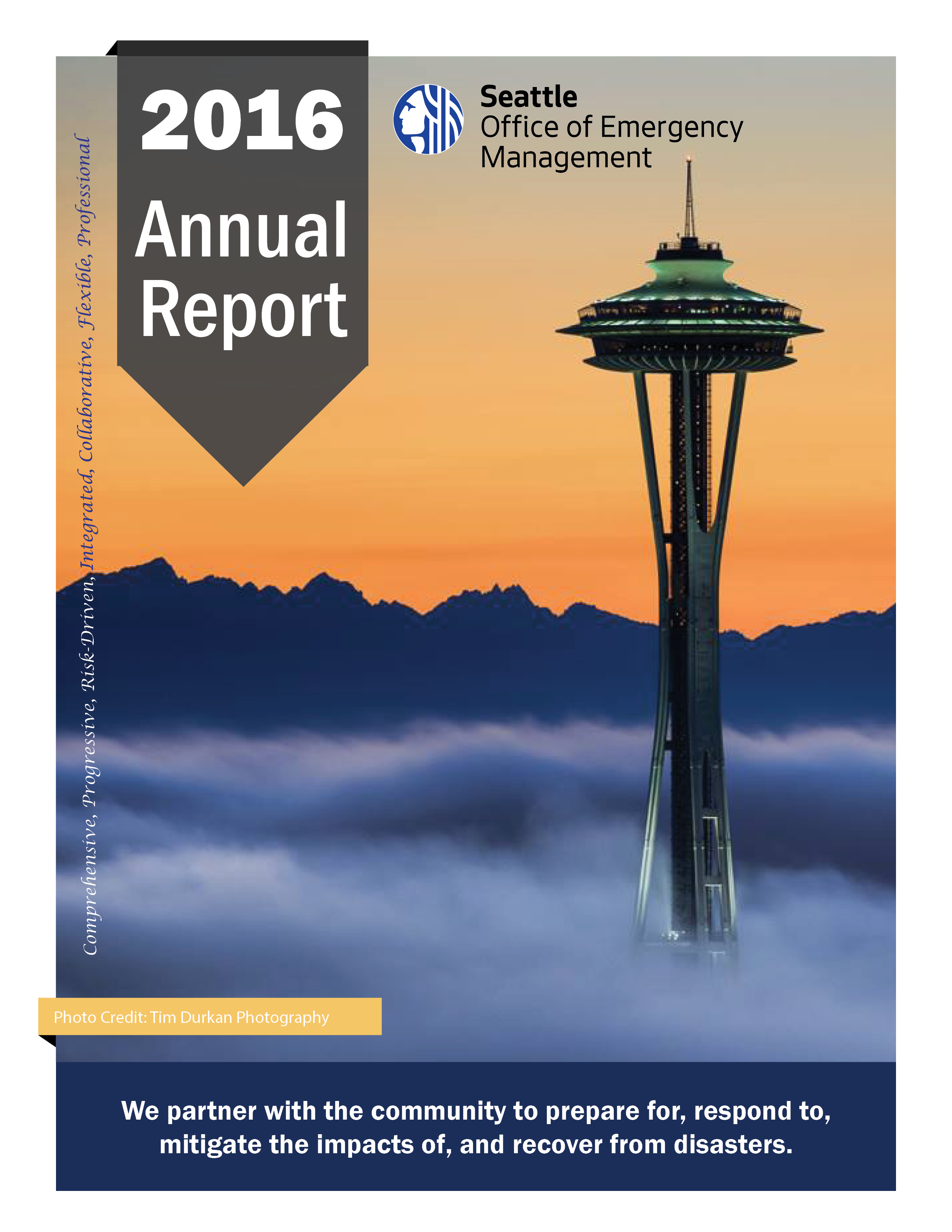 Make 'Preparedness' your New Year's Resolution. Click here to learn how to build a kit, make a plan and help eachother.
Click on the picture below for winter weather preparedness tips.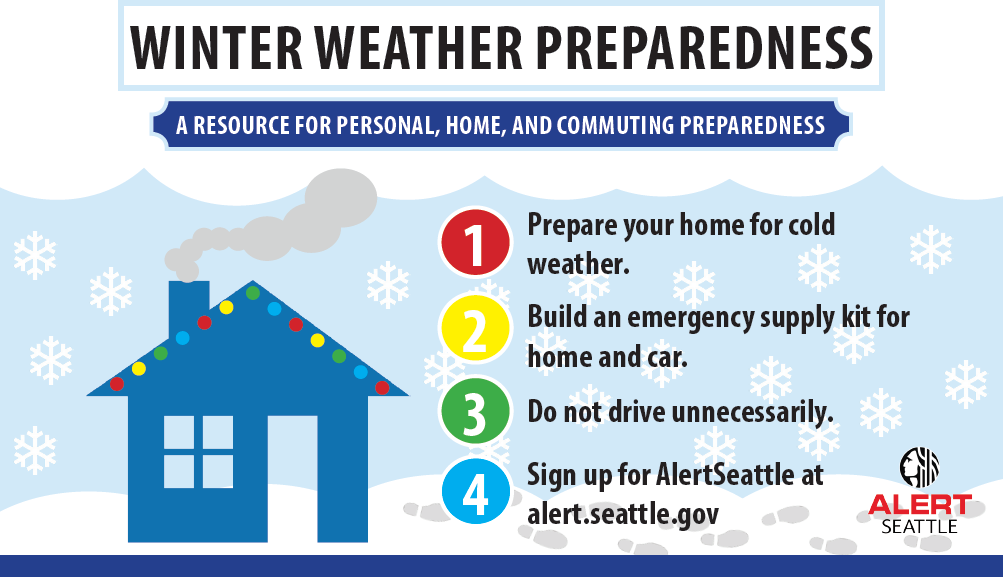 Raising earthquake awareness with 'Big Shaker' at Westlake Park
The Seattle Office of Emergency Management and the Seattle Parks Department held a preparedness event at Westlake Park on October 11th. The event featured the 'Big Shaker' a 22 foot long earthquake simulator capable of simulating an 8.0 earthquake. Check out the action as covered by the Seattle Channel.
Seattle releases new emergency preparedness animation
A sasquatch attack may not happen anytime soon, but an earthquake could! Check out our new motion animation on how to get prepared for disasters.
Seattle First Northwest city to achieve national Emergency Management accreditation
On April 29, 2016, the City of Seattle's emergency management program was accredited by the national Emergency Management Accreditation Program (EMAP) Commission at their spring meeting in Lexington, Kentucky. Seattle becomes the first city in the four-state FEMA region to achieve accreditation. This achievement highlights the Office of Emergency Management's commitment to the City improving emergency preparedness, responsiveness, and recovery. View the full news release here.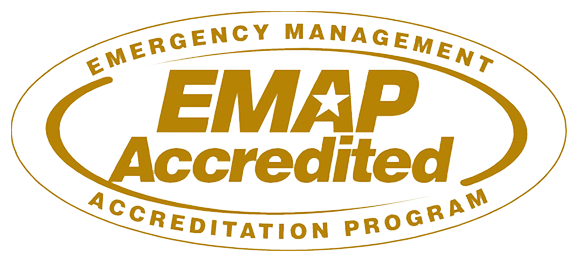 Seattle Office of Emergency Management
2015 Annual Report
The Seattle Office of Emergency Management has just completed the 2015 Annual Report. The report provides highlights and accomplishments of the City of Seattle's Emergency Management Program. Click here to check it out.
Seattle Hazard Explorer
The Seattle Office of Emergency Management website now features and series of interactive maps that highlight some of the city's top hazards. Check out the Seattle Hazard Explorer and learn more about the hazards that impact Seattle. You can zoom in on your home, work place, or any other location to see what hazards are most likely to impact you. Informational videos and other content provide more in depth explanations of each of the hazards. Make sure you look out for links to important preparedness information as well! View the Seattle Hazard Explorer. You can also access the Hazard Explorer via the "Hazards" section of the website.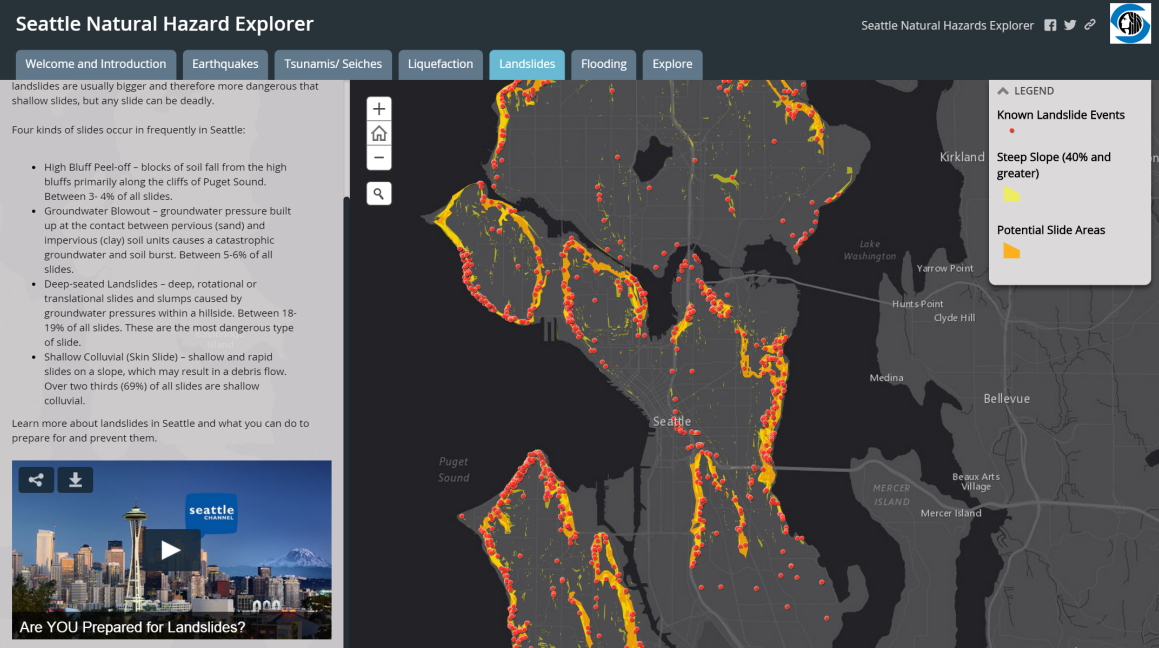 Seattle Post-Disaster Economic Recovery Event
The Seattle Office of Emergency Management and FEMA Region 10 co-hosted an economic recovery event on November 3rd, 2015. The event provided an opportunity for private and public sector partners to meet, discuss and share information, lessons learned, and best practices concerning long-term economic recovery after disaster.
To learn more about the event, click the following links for the Seattle Disaster Recovery Framework and presentation materials.
Preparing for 'The Big One'
Are you prepared for the next big earthquake and other disasters Seattle could face? Attend a presentation at a local library to hear from emergency management experts about what you can do to get prepared. Learn about the City's new emergency alert and notification system - AlertSeattle - and bring questions to ask the City's hazard specialist during an open Q&A session. View OEM's calendar to see when the next class is offered.
Unreinforced Masonry Buildings (URM)

Unreinforced masonry (URM) buildings pose a significant risk during an earthquake. These buildings are typically brick buildings built prior to WWII, and are especially vulnerable during earthquakes because the walls and parapets aren't securely tied to the floors and roof. A 2012 city-wide inventory project identified over 800 potential URMs in the City of Seattle. The Department of Planning and Development continues to work on the Unreinforced Masonry (URM) policy to develop final recommendations for a URM seismic retrofit program. Click here to read a full update on the progress of the URM seismic retrofit program.


When emergencies happen, be the first to know. Stay informed with AlertSeattle to receive real-time, official notifications from the City of Seattle.
AlertSeattle is a free service that allows you to sign up online to receive customized alerts via text message, email, voice message, and on social media (Facebook and Twitter). This service is provided by the City of Seattle at no cost; however, message and data rates may apply.
In addition to emergency alerts, you can also choose to receive customizable community notifications. These will include notifications about severe weather, safety, health, utility disruptions, major traffic incidents, and more.
Go to alert.seattle.gov to sign-up today.
What are we doing to prepare the city for a major earthquake?
With all the talk about how a major earthquake could affect Seattle, here's a summary that highlights how the City has been preparing for the next big one: click here to view summary.
Mitigation 'Triage' Workshop
As the owner of multiple buildings how do you decide where to focus your scarce mitigation dollars when you have limited funds for engineering? To explore this question, Seattle Office of Emergency Management hosted a workshop for professionals in the field to discuss:
Strategies for prioritizing mitigation actions across multiple buildings
Approaches to working with limited resources
Other lessons learned and innovative ideas
The goal of the workshop was to provide an opportunity for attendees to share best practices in facility seismic risk reduction, as well as to ask questions, share ideas, and build relationships with others engaged in this type of work across our city.
To learn more about the workshop click the following links to view the presentations that were given.