Contact Us
Street Address:
Seattle Office of Emergency Management
105 5th Ave S
Suite 300
Seattle, WA 98104

Mailing Address:
Office of Emergency Management
PO Box 34986
Seattle, WA 98124-4986
Community Preparedness Survey
Please consider contributing to our short survey about your experience during the COVID-19. pandemic. We want to learn more about impacts in our community so we can help people be more prepared in the future as well as help inform future programming and messaging. If you would like assistance completing the survey, please call us between the hours of 8:00AM - 4:00PM, Monday - Friday, or email oem@seattle.gov. Survey closes 8/18/20.
The survey is available in the following 13 languages:
Safely Helping Neighbors During COVID-19, Wildfire Smoke, and Extreme Heat
While COVID-19 is still present in our community, it is important for those most vulnerable to stay at home to avoid exposure. As we enter July, we are also more likely to experience extreme heat events or poor air quality as the result of wildfire smoke. Heat and smoke might also require older adults or people with existing health conditions to stay at home.
Many people staying at home could use a helping hand! Offer to go grocery shopping or run other errands for those remaining at home, or simply offer to check-in with a regular phone call. Use our Hello Neighbor cards to offer help to those remaining at home. A little bit goes a long way! Available in multiple languages!

Novel Coronavirus (COVID-19) Information
A new coronavirus emerged in Wuhan, China in December of 2019 and is currently referred to as novel coronavirus, or COVID-19. Novel coronavirus is very concerning because it's new to humans and because it can cause serious infections, including pneumonia.

At this time, the risk to the general public locally is considered to be low, given that there is only one case identified in Washington. To see full test results for King County and Washington State (including the number of people under investigation and public health supervision) please visit the Washington State Department of Health's Coronavirus Disease 2019 outbreak page. For a fact sheet about response in King County visit Public Health Seattle / King County's FAQ page.
The City of Seattle has been planning and preparing for COVID-19 since mid-February. Our planning efforts build from existing plans and focuses our efforts to ensure we are ready to operationalize our COVID-19 plans. Areas we are focused on include: Continuity of Operations Plans (COOPS) and how we maintain critical city services; ensuring our city workforce is resilient; developing a plan to manage COVID-19 impacts to those experiencing homelessness and other vulnerable populations; having plans to support employees' work thru information technology systems/platforms; developing a plan for how the city can assess economic impacts to the community; and having an operational action plan when we do need to respond to COVID-19 in our community.
The Washington State Department of Health has established a call center to address questions from the public. If you have questions about what is happening in Washington, how the virus is spread, and what to do if you have symptoms, please call 1-800-525-0127 and press #


For LANGUAGE ACCESS MATERIALS around COVID-19 please visit the Office of Immigrant and Refugee's blog page at the following link: OIRA blog
2019 Seattle Office of Emergency Management Annual Report
View our 2019 Annual Report and learn about all of our accomplishments during the last year. 2019 was a busy year, with major updates to plans, new public education efforts, and most of all SNOW! We look forward to a new year of preparing our city!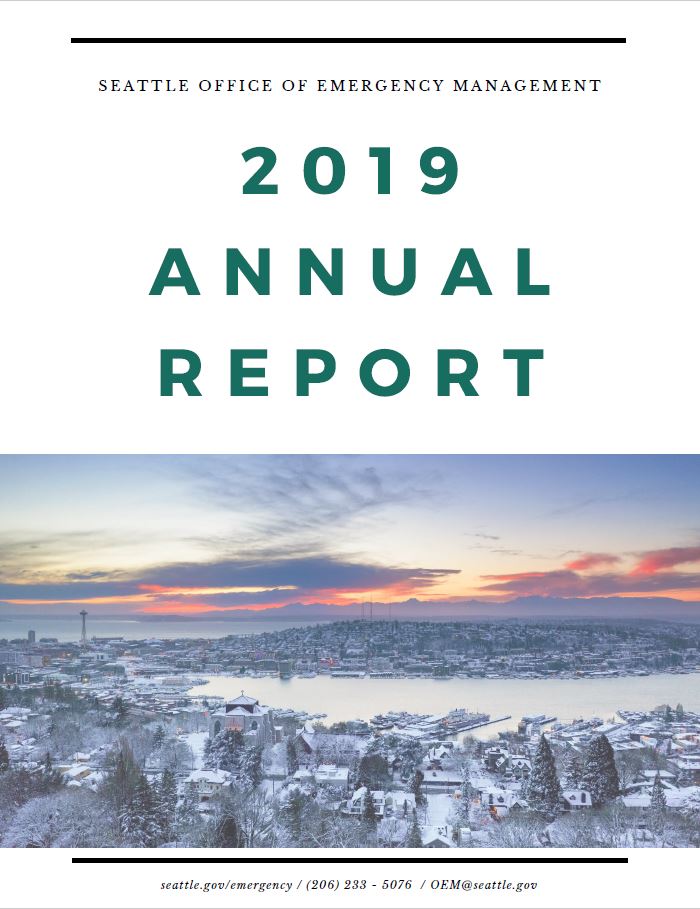 August 2019 Housing Recovery Seminar
The Seattle Office of Emergency Management hosted a Housing Recovery Seminar in August of 2019. Christa López, Director of Housing Recovery for the Texas General Land Office, and Sarah Labowitz, Assistant Director of Policy and Communications with City of Houston's Housing and Community Development Department, discussed lessons learned from short and long-term housing recovery activities following the impacts of Hurricane Harvey. Watch the full seminar to learn about lessons from Hurricane Harvey and how those lessons could be applied in Seattle following a catastrophic earthquake.
OEM Community Safety Ambassador's Program (CSA) is Hiring!
The Community Safety Ambassador's Program is hiring for contract work for individuals to provide outreach to multi-lingual communities on Disaster Preparedness. We are hiring for the following positions: Khmer Speaking Trainer, Nepali Speaking Trainer, Arabic Speaking Trainer, and Burmese Speaking Trainer . Please send all applications to Tey Thach at the following email tey.thach@seattle.gov. Applications will be accepted on a continuing basis.
2018 Office of Emergency Management Annual Report
The Office of Emergency Management is pleased to present our 2018 Annual Report, highlighting accomplishments in our mission to make our community more resilient and our people more prepared to deal with disasters and emergencies.

__________________________________________________________________________________________________________________
Winter is Coming!
What are you doing to get prepared? Check out SDOT's 2018-2019 Winter Weather Brochure and these winter weather Preparedness tips!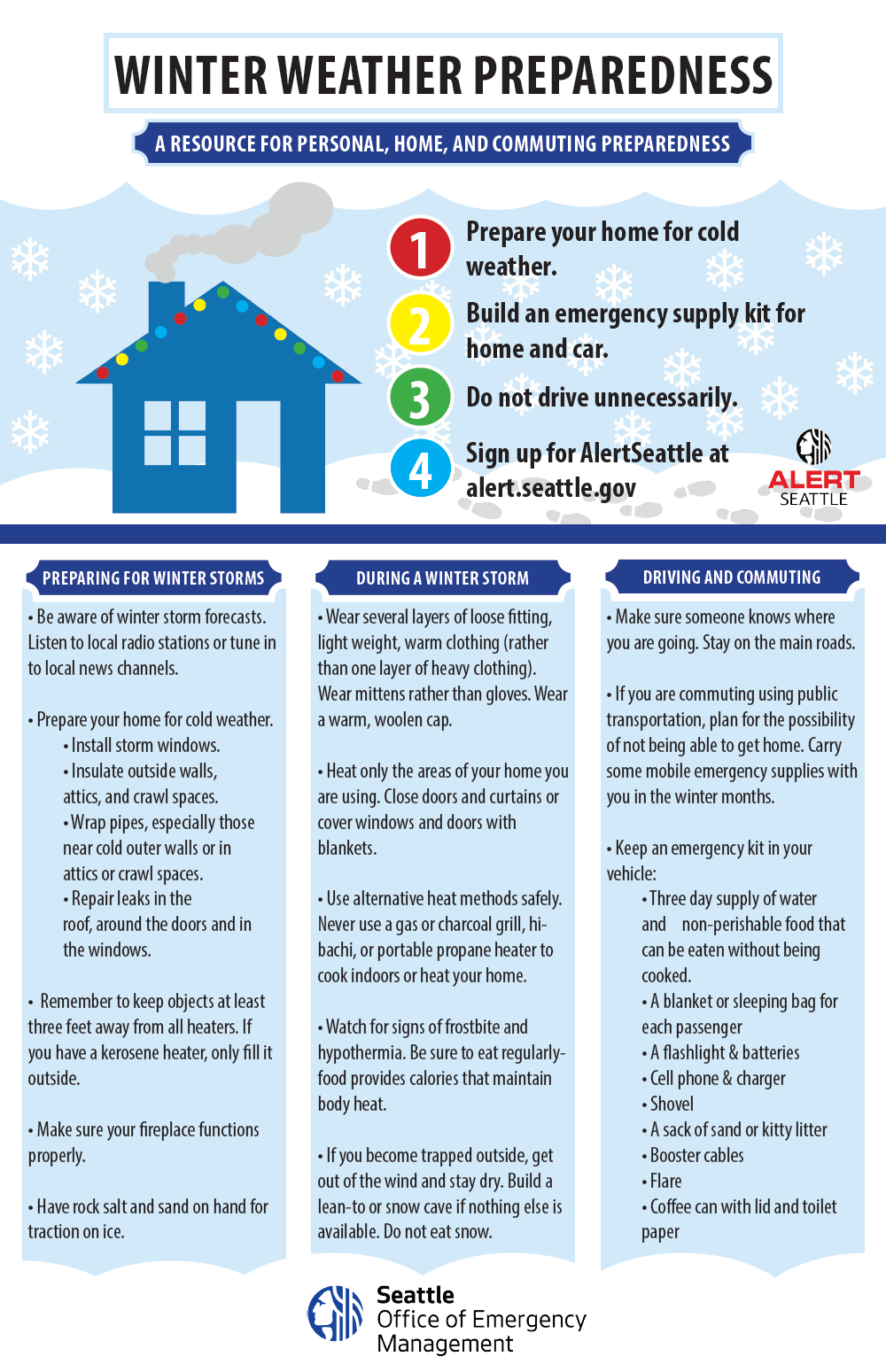 Identifying Unreinforced Masonry Buildings
There are over 1,000 unreinforced masonry (URM) buildings in Seattle, and thousands more throughout Washington State. Do you know how to identify a URM?
2018 Strategic Plan
The Seattle Office of Emergency Management is please to present our 2018 Citywide Emergency Management Program Strategic Plan.
2018 Hub in a Box Funding!
Hub in a Box funding is now available through a partnership with the Seattle Department of Neighborhoods. Apply for up to $1500 to develop a community emergency hub! See link below for more details. Application deadline is Monday, April 16, 2018.

Funding Priorities Preference will be given to projects that:
Prioritize new hubs in P-Patches which were added in 2017, or where there is emerging or existing interest.
Support development of hubs in historically underrepresented communities.
Recruit neighbors as volunteers (e.g. community members who live or work close to the project site) and encourage community engagement.
Leverage existing City programs (e.g., Adopt-a-Street, Graffiti Removal, etc.).
Improve the safety and/or appearance of a public space or structure.
For more details go to: http://frontporch.seattle.gov/2018/03/12/funding-community-emergency-hub/
2017 Office of Emergency Management Annual Report
The Office of Emergency Management is pleased to present our 2017 Annual Report, highlighting accomplishments in our mission to make our community more resilient and our people more prepared to deal with disasters and emergencies.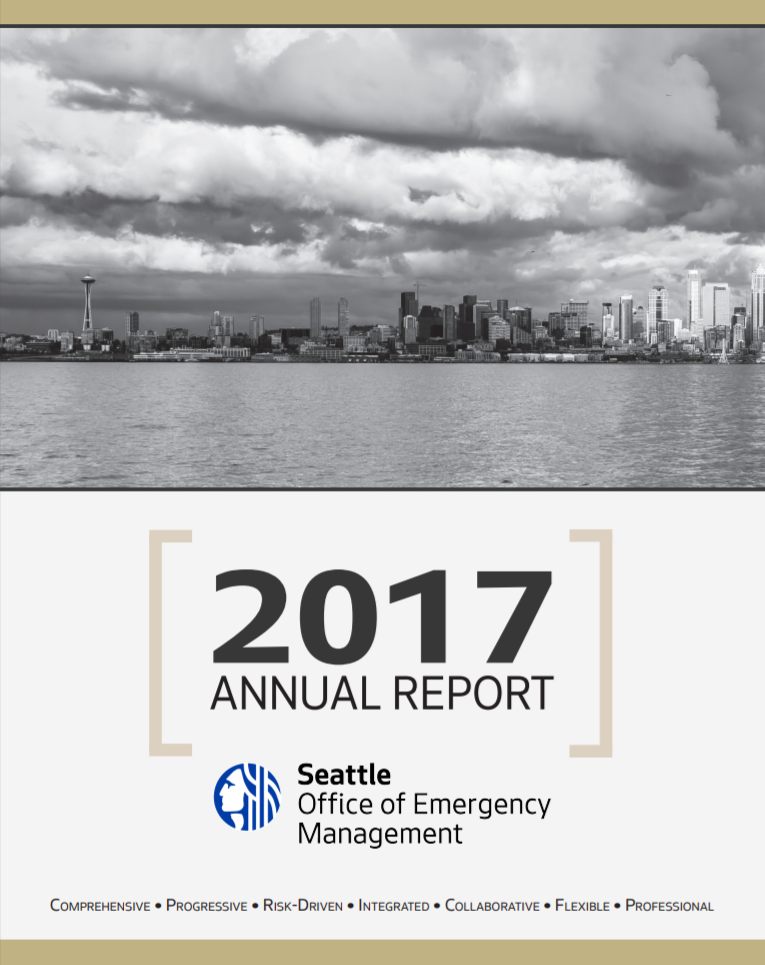 ---
Observations of the 2017 Mexico Earthquakes
Seattle engineers David Swanson of Reid Middleton Inc. and Mark Pierepiekarz of MRP Engineering, travelled to Mexico during the fall of 2017 to observe lessons in earthquake engineering from the two earthquake events experienced in the country. David and Mark presented those observations, including implications for the Pacific Northwest to Seattle's Disaster Management Committee on Nov. 30, 2017. View the full presentation. The Seattle Office of Emergency Management is seeking to hire two Vietnamese speakers to join our Community Safety Ambassador (CSA) team. The CSA program began in 2015 and has proven extremely effective in helping us reach immigrant, refugee, and limited English speaking communities. The team currently consists of 15 individuals that speak ten different languages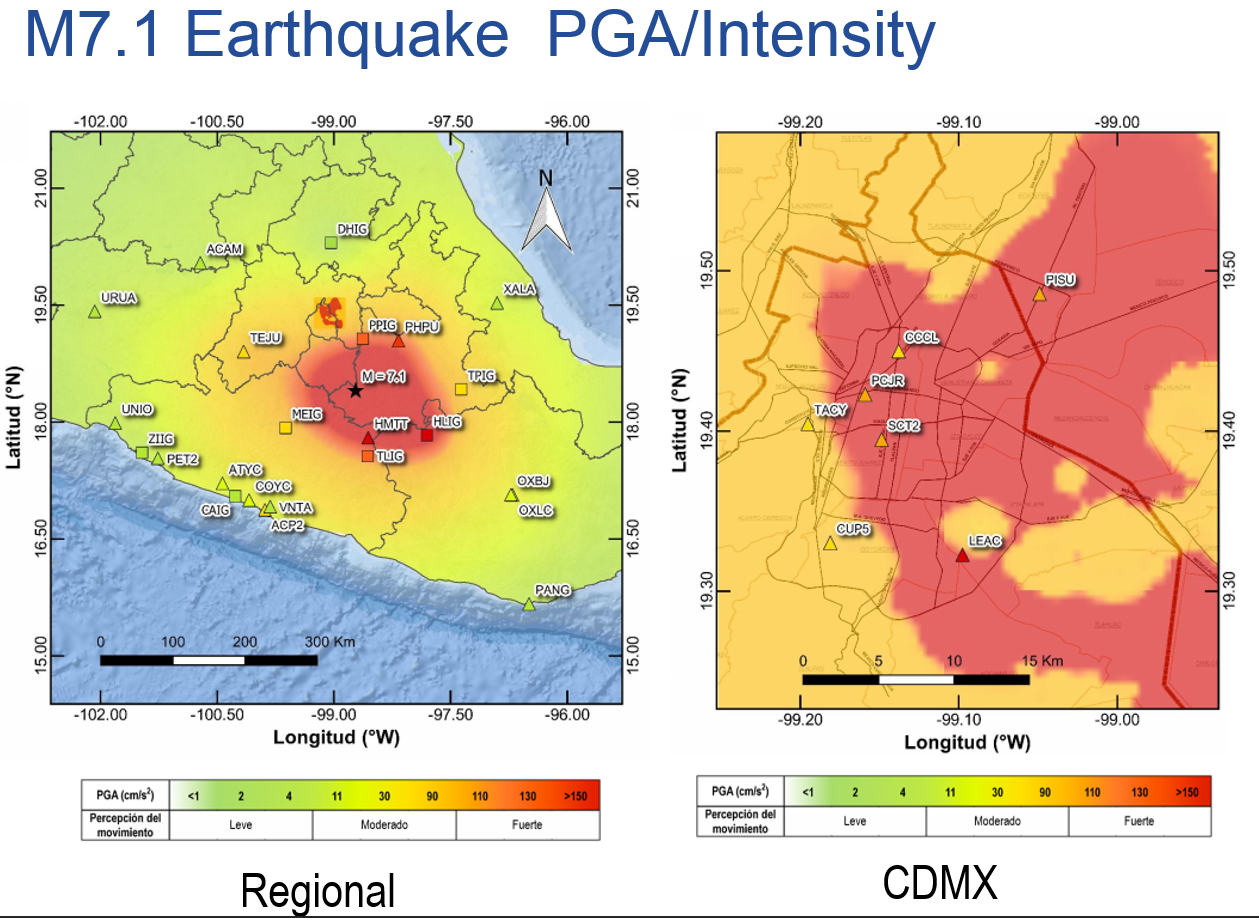 ---
Check Out a New Preparedness Tool: Seattle-King County Ready
Seattle and King County Offices of Emergency Management just released a new online tool, Seattle-King County Ready, that provides customized reports of natural hazard risk in a specific location. Users can enter an address or click on a map to see information about likely and worst-case natural disasters at that location and what they would feel and look like. The report also explains the steps users can take to be better prepared, describes past events in the area, and links to more detailed information.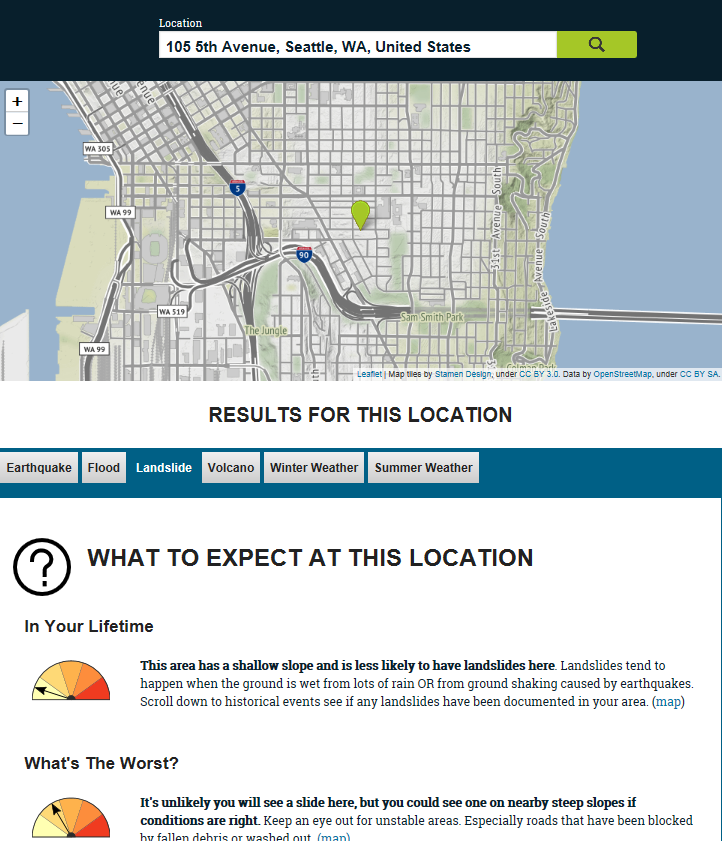 Briefing to Council on Unreinforced Masonry Buildings
OEM Director Barb Graff and representatives from the Seattle Department of Construction and Inspections recently briefed City Council on the issue of unreinforced masonry buildings (URMs) and a recommended madatory retrofit ordinance as proposed by the URM Policy Committee. Check out the full Council Briefing from the Seattle Channel, and the interactive presentation that was shown at the briefing.