Artists At the Center
Read the guidelines, available in different languages, to learn about your eligibility, funding amounts, and more.
Call Alex Rose for help at 206-459-6517 or email Alex.Rose@seattle.gov.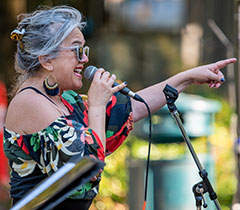 It was wonderful to just focus on making art and not worry about the business aspect of the project. It allowed me to provide more opportunities for the artists at a fair compensation. — Adriana Giordano, EntreMundos Quarteto
Artists At the Center is a multi-year collaboration between Seattle Office of Arts & Culture (ARTS) and Seattle Center, with support from Uptown Arts & Culture Coalition and the communities adjacent to Seattle Center campus. The project is made possible by a 10-year grant from Climate Pledge Arena and Seattle Kraken.
Join us as we introduce emerging and established artists and celebrate their talent on a newly revitalized Seattle Center campus. Artists are given a performance opportunity, allowing them to connect with new audiences, display their talents and advance their careers. Visitors to campus and the surrounding neighborhood benefit from surprising and delightful pop-up performances throughout the year.
Each year, artists are selected with an equity and social justice lens, ensuring equitable representation for underserved and emerging artists. Artistic genres include music, dance, theater, demonstrations, and multi-disciplinary work.
For up to date performance and schedule information, please visit Seattle Center's website.
Community Impact
These are numbers from October, 2021 to May, 2023.
$212K
given to artists to date
Awardees
For Malacarne, the World's a (Moving) Stage
"Bringing dance into daily life like this is so valuable for the different kind of human experience we now find ourselves in after the lockdowns and fear-based isolation of the last few years. I'd like to see more of it."
— Melody Datz Hansen, NWTheatre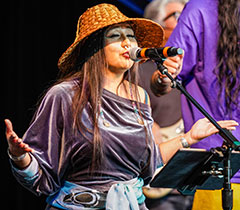 We brought Indigenous culture through music to people of all backgrounds. It was a great show. — Sondra Cunningham, Khu.éex'