Seattle City Hall, 600 4th Ave Floor 4, Seattle, WA98124
Did you miss our October 15th Citizenship Workshop?
Come to our next workshop on December 4!
Come to our second citizenship workshop, where our team of volunteer attorneys, paralegals, and interpreters will help you with your citizenship application.
It's FREE for all eligible legal permanent residents (green card holders).
Check back here later as the helpline number and online web form to register for the workshop will open soon.
OIRA and Seattle Metropolitan Credit Union proud to offer citizenship loans for aspiring Americans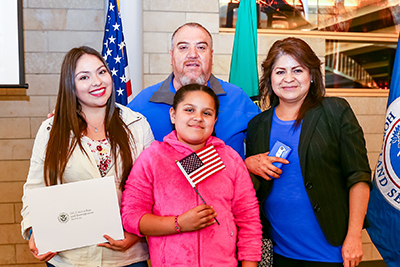 The City of Seattle and the
Seattle Metropolitan Credit Union
have teamed up for a new program offering loans to help legal permanent residents with low incomes overcome the high cost of becoming naturalized citizens.
You can learn more about these loans at the Seattle Metropolitan Credit Union website.
White House Task Force on New Americans Blog Post on Seattle Convening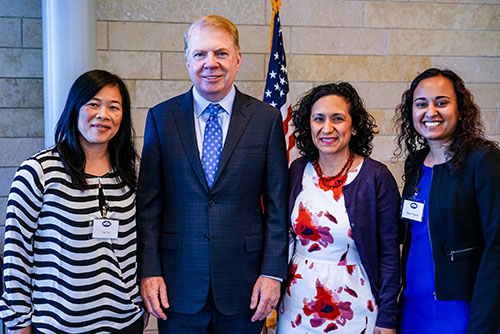 Last month, the White House Task Force on New Americans wrapped up its six-month, ten-city tour with its final Regional Convening on New Americans in Seattle. We were honored to have hosted the event bringing diverse sectors of the community together to spark conversations about how we all can be united in forwarding immigrant integration in Seattle.
Check out this blog post about the event at the White House blog.
"The convening focused on how public and private community partners can work collaboratively to ensure that immigrants and refugees have the tools and opportunities to succeed, prosper, and contribute to our nation."
Mayor Ed Murray's remarks on today's SCOTUS decision on DACA+/DAPA.
June 23, 2016 at the U.S. Courthouse in Seattle
Seattle stands with our brothers and sisters in the long fight for justice for immigrant families.
I firmly believe this decision is a temporary setback. We will continue to fight and we will prevail.
For decades, Seattle has believed that everyone must have access to critical city services regardless of how long you've lived here or your national origin.  
Remember: No City of Seattle official will ever ask you about your immigration status. No one should be afraid to call 911.
Today's decision demonstrates what's at stake when people decide to play politics with the courts. This is about human lives. This is about children who can't sleep at night for fear of being separated from their parents. Siblings who grew up together are at risk of being torn apart. This isn't American. And it isn't right.
And it means that more immigrants will fall victim to those who would prey on their vulnerability due to their undocumented status.
President Obama's executive actions are a sensible way forward to ensuring that immigrants who contribute to the strength of this economy can continue to safely work and live in this country.
One in 5 Seattle residents was born in another country.  
110,000 individuals in Washington State qualify for relief under this Administration's policy. About 33,000 live or work in the Seattle area. These immigrants must be able to live without fear. They contribute to our economy. They pay their taxes. They are an important part of the vibrant culture of our city.  
Seattle has worked with OneAmerica, Northwest Immigrant Rights Project, Asian Counseling and Referral Services, Casa Latina and many others to support the President's executive actions on immigration.
We have built awareness and educated the community so that people understand their options.
And we have worked to offer legal services so that people can benefit from these policies.
This 4 to 4 ruling, the Supreme Court's inability to act, is a stark reminder of why we must have a full bench – why the Senate's failure to confirm a Supreme Court Justice is holding us back as a nation.
And today is also a reminder of the consequences of the failure to reach an agreement on comprehensive immigration reform. We renew our call on Congress to adopt common-sense immigration reform so that we may promote the full integration of our friends and neighbors into all aspects of city life. As we move forward, Seattle stands committed to working with other cities through the
Cities for Action
coalition to ensure that these people – many have been here for decades – can continue to contribute to our community. In recent weeks, we've seen the power that hate speech and racism can have – how words can incite violence. Orlando was a tragedy for the LGBT community. It was also a tragedy for the Latino community.
The failure of the Court to act today is, at its core, about how too many view and value people who -- as President Obama said today -- are "Americans in every way but on paper."
Our country's failure to do the right thing contributes to a society that allows hate to grow. Too often, people are targeted simply because "they" are different from "us."
The Supreme Court could have helped change that narrative today.
We know that immigrants are at the core of our strength. We will not give up the fight for common-sense federal immigration policies.
Thanks to you, we did it!
We surpassed all our Seattle Votes goals thanks to YOU.
When we officially started collecting Seattle Votes surveys back in March 2016, we had a goal of at least
5,000 completed surveys
from immigrants and refugees in the Seattle-King County area. And we had a goal of at least
100 Seattle Votes Partners
, organizations helping us by outreaching into communities to complete surveys. As you can see below, we surpassed both goals thanks to your help.
Stay tuned as we'll be officially releasing the data in August 2016.