Seattle City Hall, 600 4th Avenue Seattle, WA98124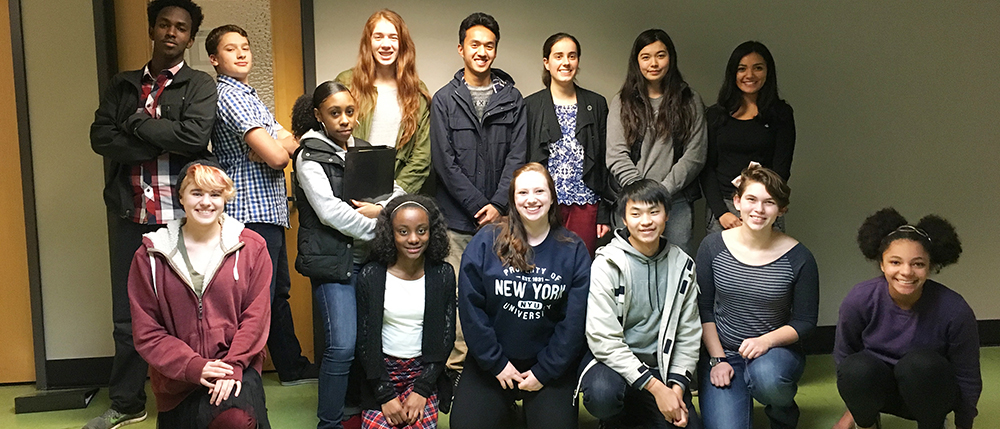 We are currently accepting applications for 2016-2017

Are you passionate about making sure the voices of Seattle's young people are heard? Do you have the time to commit? If you answer yes to both of those questions, you should apply to be a member of the Seattle Youth Commission!
Youth Commissioners

The Youth Commission is comprised of 15 Youth Commissioners between the ages of 13-19 years old. There is a Youth Commissioner that represents each of the 7 City Council Districts and 8 at-large members. Each commissioner serves a two-year term.
Youth Commissioners have the opportunity to:
Develop public-speaking, facilitation, organizing and communication skills
Cultivate a deeper appreciation of cultural competency and inclusive civic engagement
Learn from key community and City leaders and build new relationships
Discuss issues and solutions with other Seattle youth and develop projects that address those concerns
Advise the Mayor, City Council and City departments on issues that impact youth in Seattle
Collaborate on a community project with other Youth Commissioners
Plan an annual event (or several events) that connects youth to local government and topics they care about

Our Committees for 2015/16
Public Safety: The commission advocates for police accountability, especially around violence against civilians and to address and help to curb gun violence.
Affordability: The commission wants to help to increase affordable housing in ALL neighborhoods, prevent displacement & gentrification and increase access and resources for the homeless.
Youth Jobs: The commission is interested in increasing internship, employment and job training opportunities for young people and work towards pay equity for young people within the City of Seattle.
Get Involved
The Seattle Youth Commission meets twice a month on the 1st and 3rd Wednesdays, from 4:00-6:00 pm at Seattle City Hall (600 4th Avenue) in the Boards & Commissions Room (L280). Download the program year calendar.

To apply: Complete the online application OR download and complete the fillable PDF application and deliver it to our office by August 5 via:


Email:
jenny.frankl@seattle.gov


Postal Mail (must be received by Aug 5):
Seattle Department of Neighborhoods
c/o Seattle Youth Commission
PO Box 94649
Seattle, WA 98124-4649


Drop Off:
Seattle City Hall
600 4th Avenue, 4th Floor
Seattle, WA 98104