Exhibition Schedule
Exhibitions curated by the Ethnic Heritage Art Gallery can be seen on the third floor of the Seattle Municipal Tower. Learn more on the current exhibit below and take a look at what we have coming in the future.Interested in joining the roster? Visit the Office of Arts and Culture
Upcoming Exhibition Schedule 2019

"The Wardrobe Meets

the Wall"

by Tierney Hogan

Upcoming Exhibition Schedule 2019

"We Are One"

by Lawrence Pitre

Upcoming Exhibition Schedule 2019

"A Persian Spectra"

by Nasrin Afrouz

Artist Spotlight

Del A. Bermudez II

Needle Point Painter
"The Wardrobe Meets the Wall" (April-July 2019)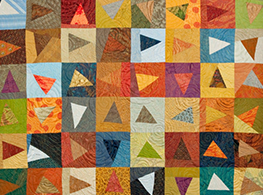 "The storyteller is the person who creates an atmosphere in which wisdom reveals itself" -Barry Lopez.

Tierney Davis Hogan uses recycled textiles as her medium to tell stories inspired by her life experiences, observations, struggles, dreams and hopes. Tierney began quilting in 1999 as a distraction from the rainy winters in Seattle. Her friend Judy D. convinced her try quilting and she made it through her first quilt, mentored by her friend Judy and the fabulous quilting instructor and author, Roxanne Carter Working. with recycled textiles reflects her values of environmental conservation. Tierney also allows her pieces to evolve organically and listens to the story they want to tell.
"A Persian Spectre" (January-April 2019)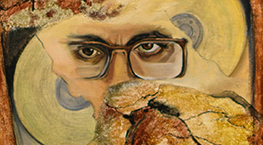 Born in Tehran, Iran, Nasrin Afrouz studied art and graduated from the University of Tehran with a bachelor's degree in fine arts in 1987. She also studied Persian Mythology at the University and completed a thesis, Mehr Means Love, about the Persian God Mithra. During the Iran-Iraq war, as a student Nasrin traveled and saw the devastation in the cities torn by Iraqi aggression. Being a woman, she was not allowed to go to the front lines of the war, though she was in touch with the pain and suffering of the women of her country that was caused by the war. She was particularly influenced emotionally by the ceremonies and rituals for the dead. This sparked Nasrin's curiosity for understanding these rituals which lead her to study ceremonies and then to study the ancient mythology and rituals of Iran. This process culminated to be her college thesis and a major theme in her artwork.
Featured Events
Coming Soon...