Land Acknowledgement
We acknowledge that we are located on ancestral lands of the Coast Salish peoples, specifically the Duwamish, Suquamish, Stillaguamish, and Muckleshoot Tribes. People that are still here and continue to honor their heritage.
---
Redistricting Commission
The Seattle Redistricting Commission is responsible for overseeing the development of new City Council district lines in response to the completed 2020 Census.
---
Sign Up for E-Mails
Get updates on the Seattle Redistricting Commission and find out how you can get involved.
About
Redistricting is the process of redrawing districts for each government body that uses district elections, including the U.S. House of Representatives, state legislatures, county boards of supervisors, City councils, school boards, and special districts. Through a City Charter mandated process, the Redistricting Commission is in charge of drawing new maps for City Council districts to make sure each district has about the same number of people amongst other requirements.
In 2022, Seattle will be adjusting the boundary lines of the seven Seattle City Council Districts to ensure that each district has the same amount of people. The redistricting process is done for every government body that uses district elections and takes place after each decennial census. As directed by Seattle Charter, the redistricting process requires a Commission of five appointed Seattle residents, who will be working with the most recent decennial census data, a set of rules, technical mapping expertise and public input to create new City Council district maps.

March 2023 Update:
District boundary changes go into effect January 2024. Nothing has changed for the current City Council. All of the current Councilmembers will keep representing the same people along the same district boundaries until their terms end.
In 2023, seven of the nine City Council seats will be up for election. Candidates will be running for office based on the newly developed district boundaries. When they take office in January 2024, they will be representing people based on the new district boundaries.
Who We Are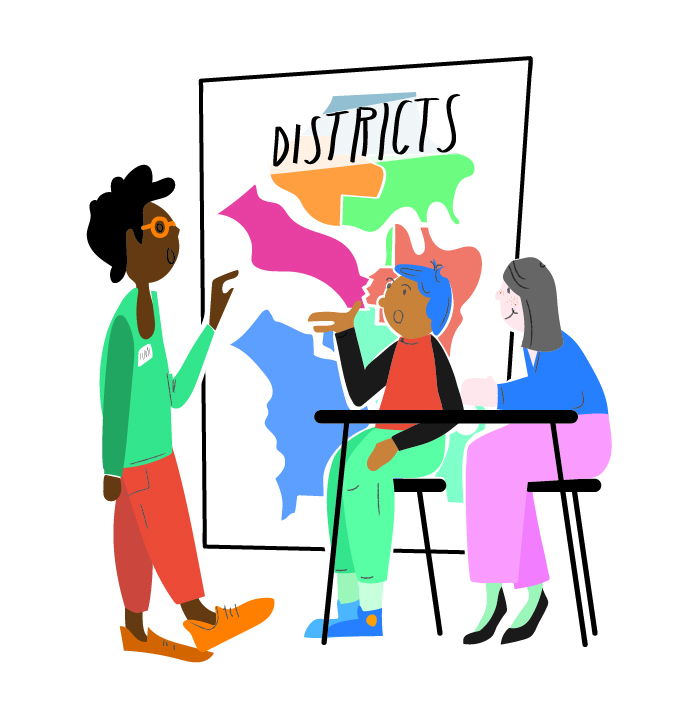 The Redistricting Commission is comprised of five members:
Two Commissioners are appointed by the City Council, confirmed via a two-thirds vote of the Council.
Two Commissioners are appointed by the Mayor.
One Commissioner is appointed by the initial four members of the Commission, approved via a majority vote.
Redistricting Commissioners shall serve, subject to other limitations under the Charter of the City of Seattle and applicable state law, until the districts proposal they have approved is submitted to the State of Washington no later than November 15, 2022.
Who We Are