Protecting Fish In The Skagit River
The Skagit River Project Fisheries Program is part of the project license issued by the Federal Energy Regulatory Commission in 1995. It has four major components: managing flows downstream of the dams; acquiring, protecting, and enhancing important fish habitat; research; and monitoring spawning salmon populations in the Skagit River between Newhalem and Rockport.
Flow Management
The historical spawning grounds for salmon in the Skagit River are located downstream of the three Skagit Project dams, below a natural fish migration barrier. However, if flows are not carefully managed the dams can negatively impact salmon by de-watering salmon eggs downstream or by stranding juvenile salmon on gravel bars. City Light has been regulating river flows from the Skagit Project to protect salmon since 1981.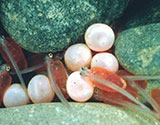 The flow-management plan developed as part of Settlement Agreement was incorporated into the Skagit River Hydroelectric Project License and requires City Light to strive for 100% protection of salmon and steelhead spawning nests (redds). Flows through the dams are adjusted on a seasonal, monthly, and daily basis to supply the right amount of water for spawning, incubation and protection of juvenile salmon.
In addition to managing flows, City Light works closely with tribal, state, and federal agencies to protect salmon and ensure a healthy ecosystem. Salmon have responded positively to flow management and the cooperative effort on the Skagit River:
Since 1990, spawning in the upper reaches of the Skagit River below the hydroelectric project have increased eightfold for chum salmon and fourfold for pink salmon. Summer-fall Chinook have responded well, with the proportion of fish using the river below the Skagit Project climbing from approximately 60% to 80% over the past 25 years.


The chum salmon return of 210,000 in 2002 was the largest return in recent times.


The largest pink salmon run on record occurred in 2009, with over 1.6 million spawners. Pink salmon populations have rapidly rebounded in the Skagit River following a record flood event in 2003, with the majority of fish spawning in the 25-mile reach below the Skagit Project.


The return of 25,000 Chinook salmon to the Skagit River Basin in 2004 represented a landmark event, the largest run in 25 years. Chinook salmon runs in the Skagit River also exceeded 20,000 spawners in 2005 and 2006. The number of Chinook salmon in the upper Skagit River reached the Endangered Species Act recovery goal of 17,000 spawners during this period, and was the only population in the Puget Sound to achieve this goal.


The 25-mile reach of river downstream of the Skagit Project is now considered by many to be the most important spawning reach in the region, with nearly half of the remaining naturally-produced Chinook salmon in the Puget Sound spawning in this reach.
Want more information on Skagit River flows and salmon? Check out the following:
Fish Habitat Acquisition, Protection, and Enhancement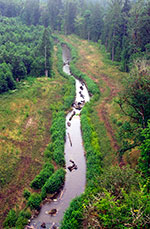 Over $2 million (in 1990; $3.8 million in 2014) of funding was allocated for fisheries habitat acquisition, protection, and restoration under the Fisheries Settlement Agreement for the Skagit River Project License. Since that time City Light has spent nearly $1.6 million to acquire and/or restore select areas of riparian and off-channel habitat.
Restoration activities have included:
removing culverts to restore use of tributary streams by spawning salmon,


reconnecting side channels that had been cut off from the river,


planting riparian vegetation in areas disturbed by grazing or agriculture to reduce sedimentation, and


recreating off-channel habitats that had been lost.


Additionally, City Light purchases salmonid habitat under the Endangered Species Act (ESA) Lands Program. This program was initiated in 1999 by the City Council to demonstrate the City's commitment to restore salmon runs in Puget Sound. This voluntary program includes habitat acquisition and restoration projects within the Skagit and Tolt/Snoqualmie watersheds. From 2000 through 2013, City Light has acquired 2,780 acres of river and riparian lands for the protection of listed fish species. Additionally, City Light has restored over 200 acres of salmonid habitat through the ESA Program. City Light applies for grants for acquisition and restoration projects, leveraging City funds to protect fish habitat. In 2008, the National Hydropower Association awarded the ESA Lands Program its Outstanding Stewards of America's Waters Award.
City Light also acquires and manages wildlife habitat under the Skagit River Wildlife Mitigation Lands Program. See a
map of lands
purchased under all three programs here:
Completed Habitat Acquisition and Restoration Projects

| Project | Type | Aquatic Habitat Area (sq ft) | Location (RM) |
| --- | --- | --- | --- |
| Newhalem Ponds | New channel construction | 81,000 | 90.2 |
| County Line Ponds | New channel construction | 22,000 | 89 |
| County Line Ponds Expansion | Added a pond | 730 | 89 |
| Taylor Channel | New off-channel construction | 5,694 | 79.4 |
| Powerline Channel | New off-channel construction | 7,600 | 72 |
| Illabot Channel | New off-channel construction | 4,102 | 75 |
| Johnson Slough | Off-channel habitat acquisition and restoration | 7,466 | 67.7 |
| Bacon Creek Rip-Rap Removal | Off-channel habitat restoration and floodplain re-connection | 792,792 | 83 |
| O'Brian Creek Culvert Replacement | Bridge installed to replace undersized culvert | 100,000 | 73 |
| Bacon Creek Road Replacement | Rip-rap removal and road replacement | 24,000 | 73 |
| Ross Island Slough Acquisition | Acquisition and restoration of off-channel habitat | 25,000 | 30 |
| Savage Slough Acquisition | Acquisition and riparian habitat restoration | In progress | 45.5 |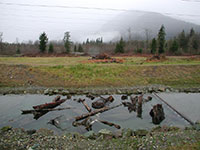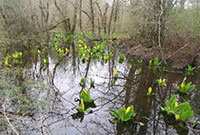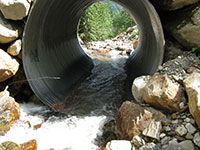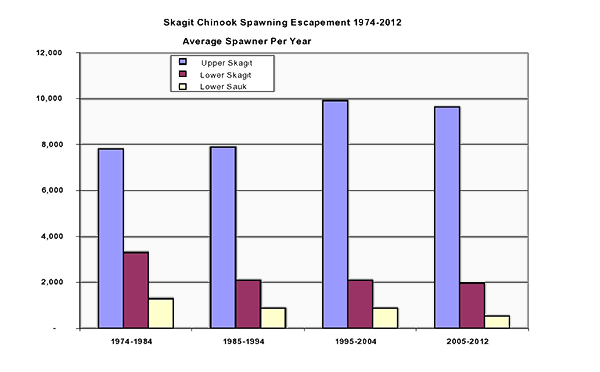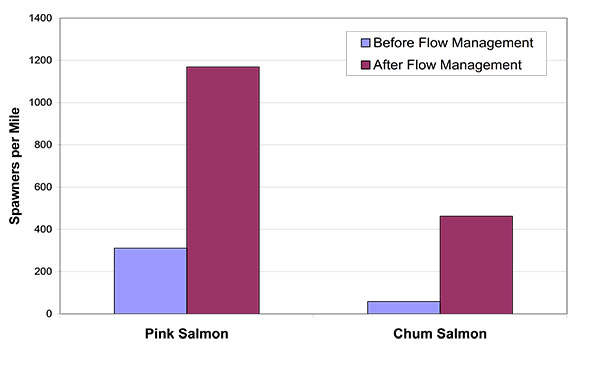 Fish Research
Seattle City Light has been a leader and key partner in groundbreaking research projects on fish species in the Skagit Watershed. Under the Settlement Agreement, over $4 million was allocated for fisheries research and more is known about salmonid populations and ecology in the Skagit River basin than in any other drainage to Puget Sound. Most of the research has been conducted under partnership and funding agreements with the Washington Department of Fish and Wildlife (WDFW), Upper Skagit Indian Tribe, Skagit River System Cooperative (SRSC), and University of Washington. Major research projects include: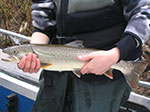 Bull Trout Feeding Ecology Study
To investigate the dynamic interactions of predator and prey populations within the Skagit River food web, City Light partnered with the School of Aquatic and Fishery Science at the University of Washington. The objective of this investigation was to determine the trophic ecology of bull trout, especially their role as predators and consumers in the river food web. The distribution, diets, and growth of bull trout in main stem and tributary habitats were sampled during 2007 and winter-spring 2008. Consumption rates were estimated with a bioenergetics model to determine the annual and seasonal contributions of different prey to the energy budgets of bull trout and to estimate their potential predation impacts on juvenile Pacific salmon populations. Salmon carcasses and unburied eggs contributed approximately 50% of the annual energy budget for large bull trout in mainstem habitats but were largely inaccessible to smaller bull trout in tributary habitats where their primary prey was aquatic insects. The remaining 50% of the energy budget was acquired from resident fishes, juvenile salmon, and immature aquatic insects.
Ecological, Genetic and Productivity Consequences of Interactions between Hatchery and Natural Origin Steelhead of the Skagit Watershed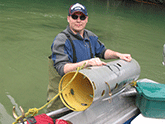 This cooperative study focuses on the potential effects of hatchery releases on natural origin steelhead survival and abundance from an ecological and genetic standpoint. The findings of this study will provide important input to the development of a Skagit specific recovery plan for steelhead that will address the full range of "factors of decline" and can be used by fish managers to form and support recovery decisions.
Study results
.
Chinook Salmon Life History Study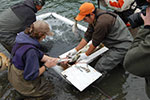 This study fits into a larger applied research framework by providing specific juvenile life history data to a habitat-based salmon production model. The Skagit Chinook Salmon Life History Study had four main objectives:
Identify juvenile life history types of wild Skagit ocean type Chinook salmon.


Estimate the distribution of juvenile life history type in the Skagit River by brood year and understand the causes of annual variation (e.g., impacts by varying population size and environmental conditions).


Estimate marine survival by juvenile life history types.


Estimate annual variation in marine survival by juvenile life history type and understand the causes of annual variation.
Taken as a whole, this body of work provided extensive data on the life history characteristics of Chinook salmon populations during their freshwater rearing phases and population response to variation in stream discharge, restoration, and land use management.
Skagit River Downstream Migrant Chinook Salmon Evaluation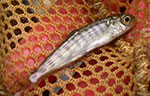 This 10 year study assessed natural origin downstream migrant Chinook salmon production. Chinook salmon outmigration total varied from one to five million natural-origin sub-yearlings annually. Egg-to-migrant survival also varied greatly, from 2 to 17%. Natural origin coho smolts, chum fry, pink fry, steelhead smolts, Dolly Varden trout/bull trout smolts catches were recorded. Egg-to-migrant survival was inversely related to flow level during vulnerable egg incubation periods each fall and winter.
Study results.
Inventory of Natural and Constructed Off-Channel Habitat in the Upper Skagit River Basin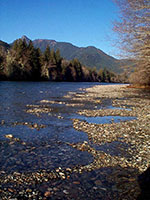 This inventory of natural and constructed off-channel habitat in the upper Skagit River Basin was conducted in 2004 to assess the loss of off-channel habitat attributed to the hydroelectric project and to establish the need for additional off-channel habitat within the affected reach. The study found that the density of natural off-channel habitat in the upper Skagit River reach (normalized by effective floodplain area) is lower than the habitat density in unregulated river reaches. The study also determined that when constructed habitat is factored into the analysis of off-channel habitat density, the upper Skagit River reach is comparable to other unregulated river reaches. In addition, the off-channel habitat inventory documented hydro-modified reaches that restrict available floodplain area, further limiting the formation of new off-channel habitat.
Study results.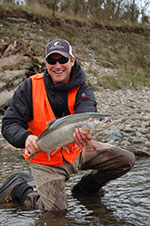 Additional Skagit fisheries research:
Abundance, Survival, and Life History Strategies of Juvenile Chinook Salmon in the Skagit River
.
Population structure and genetic assignment of bull trout (Salvelinus confluentus) in the Skagit River Basin
Biological Evaluation - Skagit River Hydroelectric Project License Amendment
.
Biological Evaluation - Supplement: Impacts of Entrainment on Bull Trout
Fish Population Monitoring
City Light monitors the salmon that spawn in the upper Skagit River annually in cooperation with the Skagit River System Cooperative. Monitoring results are provided to the Washington Department of Fish and Wildlife to estimate escapement (adult return) and are also used by City Light to manage the flows released from the Skagit Project to protect redds and juvenile salmon. Spawning timing is as follows: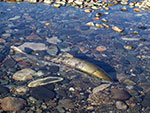 Chinook: August 20 - October 15, each year (flows < 4,500 cfs)
Pink: September 12 - October 31, odd years (flows <4,000 cfs)
Chum: November 16 - January 6 each year (<4,600 cfs)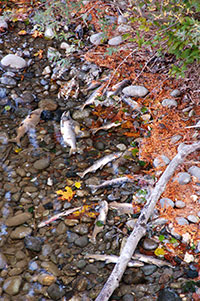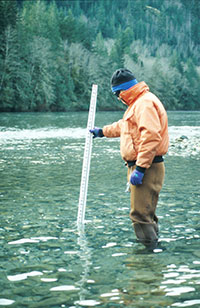 Videos:
River-2009 Record Salmon Return
Beaver Deceiver -- Beaver Dams along the Skagit River
Why Do We Study Bugs at Seattle City Light?