Seattle Municipal Tower, 700 5th Ave Suite 3900, Seattle, WA98104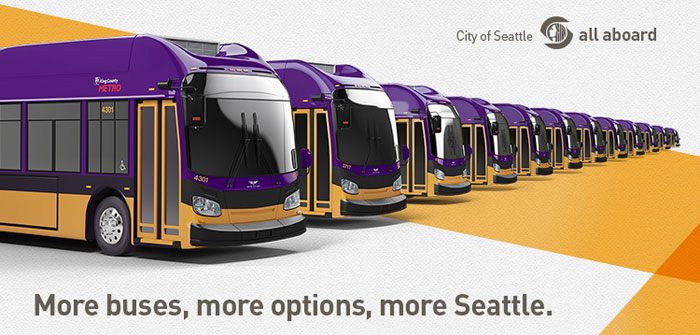 In September, SDOT will be adding ~35,000 annual hours of additional bus service to 14 routes operating in the City of Seattle. These investments increase the frequency, span, and late night availability of several Seattle routes – click here for more information.
Click for detailed information in Traditional Cantonese, Simplified Chinese, Vietnamese, Tagalog, Korean, Somali, and Spanish.
Now there are more Metro buses, running more hours to more places every day of the week. In fact, 85% of all Seattle's bus routes receive improvements.
It's easier to catch a bus during the middle of the day to shop or go to school. You don't have to dash from the office to make the "last good bus." And more buses are now running late into the night and on weekends when you have errands to run and places to be.
These improvements, designed by SDOT and implemented by King County Metro, mean that there will be more room on the bus and your bus will come more often.
Highlights
Added 270,000 annual service hours

37 routes have more bus trips
54 routes are more reliable
38 routes run more frequently

Issued 4,909 VLF Rebates
Registered 18,596 ORCA LIFT Cards to Seattle residents
Funding
In 2014, Seattle voters approved Proposition 1 to fund the purchase of increased Metro service and additional transit programs for Seattle residents.
This voter-approved funding measure includes a $60 vehicle license fee and 0.1% sales tax increase to generate about $45 million annually to improve transit availability and access for 6 years (2014-2020).
After just one year these investments are paying off. The Year 1 Performance Report is here.
---