Seattle Municipal Tower, 700 5th Ave Suite 3900, Seattle, WA98104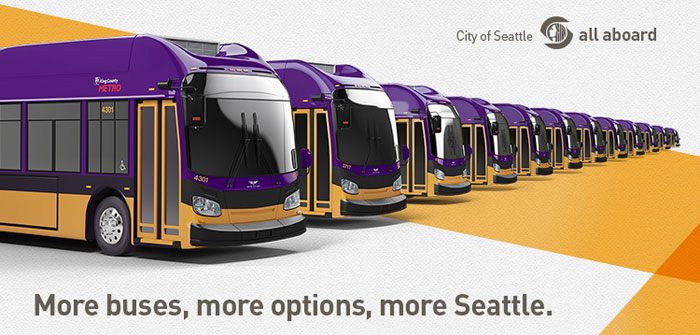 Now there are more Metro buses, running more hours and to more places every day of the week. In fact, 85% of all Seattle's bus routes are receiving improvements.
It's easier to catch a bus during the middle of the day to shop or go to school. You don't have to dash from the office to make the "last good bus." And more buses are now running late into the night and on weekends when you have errands to run and places to be.
These improvements, designed by SDOT and implemented by King County Metro, mean that there will be more room on the bus and your bus will come more often. And 70% of the improvements are for Seattle's off-peak bus service, to help you, your neighbors and visitors explore more of the Emerald City.
Highlights
Funding
Seattle residents voted for better bus service when Proposition 1 was approved in November 2014. Every year for the next six years, funds from Proposition 1 will be spent on improved bus service in the city. The project is funded by a $60 vehicle licenses fee and a 0.1% sales tax increase, which went into effect in spring 2015.
So, plan your trip today and hop aboard!
News
---