THE VIEW FROM DENNY PARK

News and Views from the Superintendent
No. 62 June 28, 2005

Gregory J. Nickels, Mayor

Kenneth R. Bounds, Superintendent

A periodic electronic newsletter about Parks and Recreation news, programs, projects and events from Seattle Parks and Recreation Superintendent Ken Bounds
---
Want
The View from Denny Park
delivered to your e-mail?
Subscribe
!
---
In this issue:
SR520 Public Meeting Tonight | Summer Means Beach, Wading Pools, Parks | Freeway Park is Hot! | Waterfront Planning | City Park Alliance | Loyal Heights Playfield Project | Wi-Fi at Public Places | City, Parks Win Diversity Award | Pro Parks Opportunity Fund | Anniversary of Playland | Upcoming Celebrations
---
SR520 PUBLIC MEETING TONIGHT
Tonight, June 28, at MOHAI, 2700 24th Ave. E, 6 to 8 p.m. there is an Open House on the SR520 Bridge Replacement and HOV Project, hosted by the Washington State Department of Transportation. Two alternatives are being evaluated, a 4-lane and a 6-lane option. We've been working closely with WSDOT regarding the impact of the alternatives on the Arboretum, Foster Island and other park land.
For more information, please call 206-781-3922
SUMMER MEANS BEACHES, WADING POOLS, PARKS


Magnuson Beach

School is out and our summer programs are in full swing. Starting last Saturday, we opened our nine lifeguarded beaches around the city. The beaches are open daily, weather permitting, from 11 a.m. to 7 p.m. and we strongly recommend swimming only where lifeguards are present.

Also open are our 28 wading pools (very popular with families with young children), our Summer Day Camps, and our Summer Playground Program, a free, supervised drop-in program. Many playground sites offer free sack lunch (in partnership with the Seattle Human Services Department). And don't forget all of the concerts, plays, environmental education, and special events in our parks.

The variety and volume of things to do are truly amazing. For a complete listing of summer activities at Seattle Parks and Recreation, please visit our web site at www.seattle.gov/parks
---
FREEWAY PARK IS HOT!


Freeway Park

Summer in the city also brings special summer programs for our downtown parks. June 20 marked the beginning of the "Hot Summer, Hot Park" activities at Freeway Park.

Throughout the next three months, Freeway Park visitors can enjoy a number of fun and engaging events at the park, including:
Tricycle Days: July 8, August 19, Sept. 23 9:30-10:30 a.m. Downtown day care centers will join forces for a day full of tricycle fun throughout the park!
Organic to Go Out to Lunch Concert Series: July 18, Aug. 29, noon to 1:30 p.m.
Seattle Night Out: Aug. 2, 5:30 to 7:30 p.m. A night to heighten awareness of crime prevention awareness and increase neighborhood support.
Navy Band: Aug. 4, noon to 1 p.m.
Game Center: June 20 to Sept. 2, 11 to 2 p.m. Backgammon, chess, checkers and cards on the outdoor patio furniture.
Sound Steps Senior Adult Walking Loop: June 20 to Sept, 2, Tuesdays 10 a.m. Take a brisk group walk around the park! Participants meet in front of the restrooms.
Beba's Outdoor Café: June 20 to Sept. 2, 11 a.m. to 2 p.m., Mondays, Wednesdays, and Fridays.
We are also making physical improvements to the park's lighting, fountains, vegetation, and signs to make Freeway Park safer and more attractive to visit. Please come downtown to take a look!
---
WATERFRONT PLANNING


Construction begins:
Fencing at Pier 58

A lot is going on at Seattle's waterfront, both actual construction and projects on the drawing board.

You may have seen work going on at the Seattle Aquarium. Beginning earlier this month, we are renovating the Aquarium's underlying structure at Pier 59. We are stabilizing the structure by installing new driven and posted piles and new concrete aprons (to replace existing wooden ones). Following the pile work, the east end of the building will be carefully removed; the existing building façade (the front of the building) will be stored at Pier 62/63 and restored before it is replaced next year.

We are also actively planning for the future of nearby Piers 62-63 and Waterfront Park. Our consultant team, led by MAKERS Architects, is analyzing the site and reviewing the options for Pier 62-63 and Waterfront Park. They also prepared three conceptual alternatives that show the range of possibilities for park development atop the future Alaskan Way tunnel and lid. This exciting potential project would better link the waterfront with the Pike Place Market and downtown.

We are working closely with other City departments on these plans: with the Department of Planning and Development on its Central Waterfront Concept effort, and with the Seattle Department of Transportation on the design of the future Alaskan Way surface street.
---
CITY PARK ALLIANCE
Earlier this month, I attended a one-day "summit" in Washington DC with 23 park directors of the 30 largest cities in the country, among them Los Angeles, New York, Dallas, Denver, Philadelphia, Jacksonville, and Chicago. We met to begin to craft a national urban park agenda. Given the current national administration's proclivity to ignore the needs of urban America, especially when it comes to issues of urban parks and recreation, we set out to develop an agenda that we could all endorse.
The themes coming out of the summit focus on the question of how parks and recreation agencies and our partners are actively engaged in the following urban issues: environmental stewardship, community development, health and fitness, and youth education. It is satisfying to learn that Seattle Parks and Recreation continues to lead the nation in these areas. Mayor Nickel's Green Seattle Partnership with the Cascade Land Conservancy is a unique effort to restore our urban forests. The Neighborhood Matching Fund, Starbucks Park Grants, volunteer projects, "friends of" groups, and, of course the Pro Parks Levy projects, developed through neighborhood planning, all contribute to community building and are the envy of other cities. The Family and Education Levy funded out-of-school programs with emphasis on academic achievement are ahead of the curve for most park agencies. Likewise, the Sound Steps Program for Seniors and our recent acceptance of 10 free automated external defibrillators from Philips Medical Systems for our pools are key parts of our Healthy Living Initiative. Although we have plenty to learn from other cities, we have a whole lot to be proud of.
The goal of the group is to eventually develop an agenda that is supported not only by the largest cities' elected officials, but also by the many partners with whom we work closely, both locally and nationally. I'll keep you posted on this group's progress.
---
LOYAL HEIGHTS PLAYFIELD PROJECT


Conceptual Plan

You may have heard of our plans for improvements to the playfield at Loyal Heights, which include the replacement of the existing grass field to a synthetic surface in 2006. Many people have written to me with strong feelings, both pro and con, about this plan.

I think a little background is important context for this project. The decision to install artificial turf was an element of the Joint Athletic Facilities Development Program (JAFDP), approved by the Board of Park Commissioners and me in 2002 after extensive public review and comment. The JAFDP has guided field improvements throughout the city over the past three years. The Loyal Heights project is funded by the 2000 voter-approved Pro Parks Levy.

Recognizing the difficulty and great expense of adding new athletic fields in the city, and given that the demand for field use far outstrips supply, the goal of the JAFDP is to maximize the use of existing fields, especially lighted fields, without having to convert non-playfield parkland to playfields. The conversion of lit grass fields adds capacity for field use during the winter and early spring when grass fields are no longer playable.

The new field surface will not be Astroturf, but a new synthetic material that is cost-effective and more environmentally sustainable than grass. The new synthetic surfaces look much more like natural grass than the old Astroturf fields, and cost very little to maintain.

Much of the project's $2.3 million cost will pay for field infrastructure, upgrading bathrooms to be wheelchair-accessible, and installing new fences. The synthetic field has a life expectancy of 15 years, and will be replaced at a cost of about $800,000. The cost of maintaining a grass athletic field is very high-including costs for water, fertilizer, and the repeated labor costs for mowing, striping, and other maintenance. Those factors make the cost of a grass field equivalent to the cost of the synthetic field over its 15-year lifespan.

Our extensive public involvement process for this project will continue when the Park Board holds a public hearing on the project on July 14, 6 p.m., at the Armory at South Lake Union, 860 Terry Ave. N. For more information on this project, please visit www.seattle.gov/parks/proparks/projects/loyalheightsplayfield.htm
---
WI-FI AT PUBLIC PLACES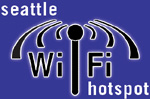 Earlier this month, Mayor Greg Nickels joined community and business leaders to launch a City pilot project providing free wireless Internet access in the Columbia City and the University District business districts.
Free Internet access will also be available within the next month in four downtown parks: Occidental, Freeway, Westlake and Victor Steinbrueck.
The goals of the City's Wi-Fi pilot project are to attract more customers to local business districts, support small businesses, encourage the use of public parks and facilities, and enable more citizens to access City services online.
For more information about the City's pilot Wi-Fi project, please call 206-684-8811.
---
CITY, PARKS WIN DIVERSITY AWARD
The Association of Washington Cities (AWC) has awarded a 2005 Diversity Champion Award to the City of Seattle and Parks and Recreation.
The AWC award this year honors 12 cities that have taken the initiative to support and honor the diversity of their community members; the organization rated the applications on the basis of how well each city celebrates, educates, collaborates, leads, empowers, and creates an impact on community diversity.
Seattle, under the leadership of Mayor Nickels, has undertaken a sweeping effort, the Race and Social Justice Initiative, to make cultural and ethnic diversity an asset, to eliminate institutional attitudes that result in racial disproportionality, and to transform our civic engagement processes to address these challenges.
In conferring the award, AWC recognized Seattle Parks for:
Engaging in cultural celebrations, setting a good example for the community;
Internal emphasis on diversity and multicultural outreach;
An active team of diverse employees;
A comprehensive strategic plan for diversity that promotes systematic change; and
Acting as a model for local governments across the state.
---
PRO PARKS OPPORTUNITY FUND
At its May 23 meeting, the Pro Parks Levy Oversight Committee recommended projects for the Levy's Opportunity Fund. In 2002, the Committee recommended first round allocations of $6 million from the $10 million fund. For the second round, the committee received 36 applications requesting $13 million. Recommended projects include funding for a new park in the 12th Ave. neighborhood and funding for developing parks acquired with first round allocations. See our web site for a complete list of projects: www.seattle.gov/parks/proparks/opportunityfund.htm.
---

Photo Courtesy of Seattle
Post-Intelligencer Collection
Museum of History & Industry
ANNIVERSARY OF PLAYLAND
This summer marks the 75th anniversary of the opening of Seattle's Playland amusement park, once a beloved annual tradition for local children and families. Playland was located at the site where Bitter Lake park and community center now sit.
To celebrate, Bitter Lake Community Center is offering fun and educational activities for anyone wanting to take a stroll down memory lane or learn more about the park:
Playland Lecture: On July 19, from 7 to 8:30 p.m., Kay Schlegel, curator of the Playland Exhibit at the Shoreline Historical Society, will discuss the history of Playland.
Playland Exhibit: A special Playland exhibit will be shown at the community center's Concert and Picnic in the Park event on Saturday, Aug. 13, from 4 to 6 p.m.
If you have any questions about the Playland events mentioned above, please call the Bitter Lake Community Center at 206-684-7524 or visit www.seattle.gov/parks/centers/bitterlk.htm
---
UPCOMING CELEBRATIONS
We are continuing to celebrate the completions of major projects at our parks. Two more park projects will be done soon, both funded by the Pro Parks Levy:
June 29: Gas Works Park Northwest Corner.
Work in the NW corner included capping contaminated soil with "clean soil," landscaping, irrigation, entryways, and accessible walkways.
July 9: Nantes Park. Nantes is Seattle's sister city on the Atlantic coast of France. Improvements include new plantings, a butterfly garden, benches, and a small gathering area.
I'll be in touch soon.