City of Seattle
---
Ed Murray, Mayor

NEWS ADVISORY
SUBJECT: City Attorney Applauds Passage, Signing of City Marijuana Legislation
FOR IMMEDIATE RELEASE:
7/17/2015 10:30:00 AM
FOR MORE INFORMATION CONTACT:
Kimberly Mills (206) 684-8602
City Attorney Pete Holmes applauded the new marijuana legislation signed Friday by Mayor Ed Murray. The City Council passed the legislation, which requires that all marijuana businesses in Seattle obtain a new regulatory business license, on Monday.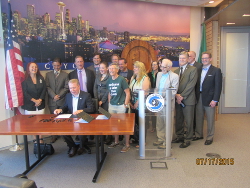 "The legislation demonstrates the City's commitment to working with the state to establish a fair, functional, and regulated marijuana market in Seattle," Holmes said Friday. "I-502's goal was to replace the illegal marijuana market with a legal, taxed, and regulated system. This year, the state Legislature took critical steps to harmonize our medical and recreational marijuana markets and reform certain aspects of I-502's regulatory system in a way that is fair to business owners and protects patients."
To handle additional civil enforcement responsibilities, among them enforcement of these new marijuana regulations, Holmes has created a Regulatory Enforcement and Economic Justice (REEJ) Section within the office's Civil Division.
REEJ will focus on regulatory enforcement work where the City is the plaintiff, and on enforcing its codes. The section will handle the incoming body of work created by the marijuana legislation as well as enforcement work initiated by the Department of Planning and Development, including the Rental Housing Inspection Program, and enforcement work initiated by the Office of Labor Standards and the Office of Civil Rights.