City of Seattle
---
Ed Murray, Mayor

NEWS ADVISORY
SUBJECT: City will collect a debt long owed by slumlords and create a park
FOR IMMEDIATE RELEASE:
3/13/2015 1:30:00 PM
FOR MORE INFORMATION CONTACT:
Jason Kelly, Mayor's Office Press Secretary, 206.684.3879
Kimberly Mills (206) 684-8602
Time is running out for Hugh and Martha Sisley to reach an agreement to pay their $3.3 million debt to the City as a result of decades of housing code violations in the Roosevelt neighborhood.
Sisley attorneys have been presented two options to pay the judgments: voluntary (preferred) or involuntary.
If the Sisleys deed to the City a now-vacant parcel of land along 14th Avenue NE stretching from 65th Street to 66th Street, the City will reduce the couple's overall judgment debt by the fair market value of the land. With title transferred to the City, Seattle Parks and Recreation will develop the property into green space.
Should the Sisleys balk at agreeing to offset the judgments with the property, the City plans to acquire the narrow, long parcel through a sheriff's auction.
At a press conference today, with several dozen Roosevelt and Ravenna neighbors in attendance, City Attorney Pete Holmes thanked the community for its patience and his colleagues at City Hall for their partnership. "With the Mayor and City Council's support and approval, we can now use this general fund asset to preserve valuable open space for a community that has suffered so long."
"Roosevelt has long wanted more park space to help accommodate the increase in residents coming to the neighborhood," Mayor Ed Murray said at the press conference that was held on 14th Avenue where the park will take shape. "Now we will have the resources to help make it happen."
The mayor's acting superintendent of Parks and Recreation, Christopher Williams, said in a statement: "We are thrilled to work with the City Attorney to acquire this property for a future park. This is a great opportunity to add precious open space in a rapidly growing neighborhood. We look forward to working with the community to plan and develop the park."
Joining Holmes and Murray at the site were Council President Tim Burgess and Councilmember Jean Godden, Parks committee chair, and Michael Shiosaki, director of Parks Planning and Development.
Referring to Sisley, Burgess said, "I'm pleased that we have the opportunity to transform one man's callous neglect into a community benefit for the Roosevelt neighborhood."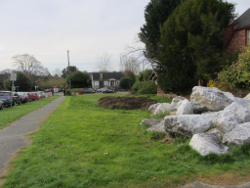 Godden, like all City officials, gave credit where credit was due. "Today's win is one for our neighborhood. It is because of their patience, vigilance, and willingness to keep the pressure on that we are standing here today. Thanks to Mayor Murray and our City Attorney Pete Holmes, we've taken the final step towards ending the decades-long scourge by this slumlord, who brought blight to Roosevelt and Ravenna, and will be replaced by green space for the neighborhood we can once again be proud to call our home."