City of Seattle
---
Ed Murray, Mayor

NEWS ADVISORY
SUBJECT: City Attorney partners with youth groups to curb drug use
FOR IMMEDIATE RELEASE:
3/11/2015 3:00:00 PM
FOR MORE INFORMATION CONTACT:
Mike Graham-Squire Manager of Youth and Health Services Neighborhood House 206) 353-7945 Pam Guinn, Branch President, Clear Channel Outdoor 206) 494-4228
Kimberly Mills (206) 684-8602
Precipitated by the state's legalization of marijuana for adults, a consortium of social service groups is partnering with the City Attorney's Office and Clear Channel Outdoor on a multi-media campaign emphasizing that most youth don't use drugs or alcohol.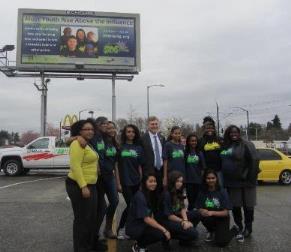 To boost the involvement of youth in drug and alcohol prevention activities, Clear Channel has donated billboard space this spring to promote a contest that encourages youth to submit selfies, via Instagram and Twitter, of themselves and their friends involving drug-free activities. It's all about youth, as youth will also judge the contest and award prizes. In addition, postcards, posters, Facebook, Twitter and Instagram will be deployed to encourage youth 13 to 20 to view the contest rules on www.206rising.org, a Neighborhood House project.
"Above the Influence," a program of the national Partnership for Drug-Free Kids, now has a local partner, Neighborhood House, which has served families and communities in Seattle since 1906. www.nhwa.org
Mark Okazaki, Neighborhood House executive director, says, "Today more than ever we need to reach out to youth and parents to educate them about drug prevention. Keeping our youth drug and alcohol free will not only improve their health but also their academic performance in school. We would like to thank the City Attorney's Office, Clear Channel Outdoor and other partners who have helped contribute to spread these billboards across the City."
Other Clear Channel billboards -- part of the first major youth drug prevention media campaign in Seattle since the passage of I-502 in 2012 -- will feature messages aimed at adults by doctors at Seattle Children's. Parents will be encouraged to speak with their children about the connection between marijuana use under age 21 and impaired driving, depression and learning problems at school.
"It's a long-overdue conversation with our children," Holmes said. "They're smarter than the fear tactics we've been presenting them."
The honest, fact-filled conversations this campaign is designed to inspire, Holmes said, is one antidote to the anti-drug messages that proliferated in the failed War on Drugs, which drove incarceration rates to all-time highs and was ruinous to whole communities.
"Clear Channel Outdoor-Seattle values the opportunity to partner with the city and non-profits to enhance the lives of those within our community," said Pam Guinn, President, Clear Channel Outdoor-Seattle. "We know from experience that our media is an effective means to communicate public service messages to a variety of audiences."
Businesses and individuals are asked to donate prizes through Neighborhood House at www.nhwa.org/makeadifference
Other campaign partners include Central Area Drug Free Communities Coalition, Coalition for Drug Free Youth/Navos, the Prevention WINS Coalition/Children's Hospital, WAPI Community Services, Healthy King County Coalition, Above the Influence/Partnership for Drug-Free Kids, SE Seattle PEACE Coalition, Mercer Island Youth and Family Services, Lao Khmu Community, Rainier Vista Boys and Girls Club, Aki Kurose Middle School and Washington Attorney General's Office.