The Skagit Environmental Endowment Commission (SEEC) promotes the protection of the environmental values and compatible recreational use of the upper Skagit Watershed. Seattle City Light helped establish the Commission and provides ongoing administrative and technical support.
SEEC was established in 1984 by a treaty between the U.S. and Canada. The treaty resolved a controversy over City Light's proposal to raise Ross Dam and flood part of the Skagit Valley in British Columbia. City Light agreed not to raise the dam and instead was assured low-cost hydroelectric power from B.C. Hydro. In addition, City Light and B.C. Hydro established the Skagit Environmental Endowment Fund to support education, recreation, and conservation projects in the Skagit Watershed upstream of Ross Dam.
SEEC has eight volunteer members, four appointed by the Seattle Mayor and four by the B.C. Premier. Eight alternate Commissioners are also appointed, and support is provided by staff at City Light and the B.C. Ministry of Environment. SEEC directs the investment of the Fund, while preserving the principal and using the net proceeds for beneficial projects through a five-year planning process.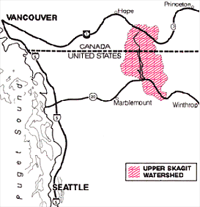 Education - In recent years, ongoing support for education and interpretation has been provided to the North Cascades Institute, Hope Mountain Centre, B.C. Parks, and North Cascades National Park.


Recreation - SEEC works with B.C. Parks and North Cascades National Park to accomplish specific trail and camp improvements. Support is also provided to the Student Conservation Association to maintain an international trail.


Ecosystem Management - To protect this unique international watershed, SEEC funds monitoring of fish, wildlife, and water quality and promotes collaboration among resource agency scientists on both sides of the border.


Land Management - A long-term SEEC goal is to increase levels of protection for public and private lands in the watershed. Opportunities are explored for acquisition of lands, access, and mineral rights in the private segments of the upper Skagit.
For further information visit the SEEC
website
.
Links and Resources
North Cascades National Park
North Cascades Institute
Skagit Valley Provincial Park
Mt. Baker-Snoqualmie National Forest
Okanogan-Wenatchee National Forest
Skagit Wild and Scenic River System
British Columbia Parks
Hope Mountain Center