Music
Northwest Folklife's Northwest Stories: Seattle Labor Chorus
At the 1997 Northwest Folklife Festival, a group of singers came together to join Pete Seeger for a special performance. And fifteen years later, that group -- the Seattle Labor Chorus -- is still going strong.
Seattle Channel Video
can be played in
Flash Player 9 and up
Seattle Presents showcases leading Seattle-area performers year round in the City Hall lobby and outdoors on the Civic Plaza.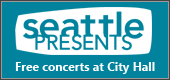 Upcoming Music Events
Upcoming Arts Events
Arts Blog Posts
Arts News Releases