Environment
Seattle leads the nation in innovative solutions to environmental challenges. Learn more about the Office of Sustainability and Environment and its work, as well as explore what's happening throughout City government and how you can get involved..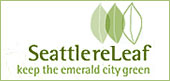 Seattle reLeaf provides residents information, volunteer opportunities and incentives to enhance our tree cover and increase the benefits trees bring to Seattle.
Seattle City Light works to offer a full-range of cost-effective energy efficiency service to our customers, in partnership with our communities to sustain our environment for future generations.
Upcoming Environment Events
Environment Blog Posts