Vol. 7, No. 25

November 27, 2013



FILM AND MUSIC HAPPY HOUR RETURNS DECEMBER 4 TO CELEBRATE YOU!
2013 has gone by fast and it's already time for the Annual Industry Update for film. Celebrate the achievements of the statewide film industry and get a first peek at how Amy Lillard and Washington Filmworks will be working on your behalf in the new year. The first 100 people through the door are guaranteed a drink ticket and snacks will be provided. Join us in raising our glasses to the achievements that we have made this year. There will not be a Happy Hour tonight, November 27.
THE OFFICE OF FILM + MUSIC IS HIRING A COMMUNICATIONS INTERN
The Office of Economic Development (OED) and Office of Film + Music (OFM) are looking for an intern for a six-month internship. Interns participate in a variety of activities for OED and OFM, including marketing, communication, and outreach tasks supporting the City's economic development mission. The program runs for six months, from January, 2013 - June, 2014, with ideally a week of training from December 16-23. Applications are due Wednesday, December 4. We look forward to your submissions.
JOIN EASY STREET RECORDS AND ZOMBIE ORPHEUS AT CITY BUSINESS CASUAL
City Business Casual returns Tuesday,December 10, with a In Good Company theme at the Renaissance Hotel. We are excited to feature happy hour pricing on drinks and discounted parking. We will be featuring our In Good Company recognized businesses, including Easy Street Records and Zombie Orpheus Entertainment, among others. Our special guests will join business-savvy city staff, business owners, and advocates for introductions and idea sharing from 5:00 p.m. to 7:00 p.m. at the Renaissance Hotel.
INDUSTRY NEWS AND UPDATES
KIA CAMPAIGN KICKS OFF BUSINESS DEVELOPMENT PLAN

The first commercial project to receive incentive dollars through the recently launched Commercial Business Development Plan, also known as Commercialize Seattle, was a national campaign for Kia Motors, produced by Recommended Media. Filming took place during the month of August and brought production to several areas of the state, including Seattle. "A number of factors brought this commercial to Washington," said Location Manager Doug duMas, "The variety of locations was a big incentive to come here, so was the funding assistance from the Commercial Business Development Plan."
REGISTRATION OPEN FOR FREEHOLD'S WINTER FILM DIRECTING COURSE
Freehold Theatre is now accepting applications for their Winter Film Directing Course. This hands-on directing workshop is designed for directors at all levels, and is a unique opportunity to work with two master teachers from two different worlds. John Jacobsen, co-founder and former Executive Director of TheFilmSchool, has written, directed, and produced feature films and commercials in LA and off Broadway in New York. Robin Lynn Smith is a founding partner and artistic director at Freehold and has worked for 30+ years acting, directing, and teaching. This course is a great opportunity for directors seeking practical and high standard setting experience.
LOCAL PRODUCTION COMPANY PRODUCE SHORT FILM FOR BIG COMPETITION
Local production company, NeeNee Productions, has created a short film titled "Home Again," for FilmAid and Michael Kiwanuka's film competition. Michael Kiwanku and FilmAid have joined forces to highlight the issues of displacement across the world caused by war, famine, persecution, and natural disaster. NeeNee Productions' film looks at a group of teenage girls from East Africa who chose to live together and create a new sense of home after being displaced from their land. The film advances in competition if it receives a high number of fan votes.
PEARL JAM'S TEN CLUB HOSTS A ONE-DAY POP UP SHOP AT SHOWBOX
Pearl Jam's Ten Club is hosting a One-Day Pop Up shop at Seattle's Showbox Market on December 7. The shop will provide Pearl Jam fans with an opportunity to purchase rare, limited-edition collectibles for themselves, and unique holiday gifts for loved-ones-who-love-Pearl Jam. All proceeds will benefit Pearl Jam's Vitalogy Foundation and local charities. Some highlighted items include: an on-site raffle for a Gibson "Jack Cassady" signature bass signed by all members of Pearl Jam, and the rare LP set from Pearl Jam's historic 2003 show at Benaroya Hall, among others.
SMALL BUSINESS SATURDAY IS THIS SATURDAY, NOVEMBER 30 - DON'T MISS OUT!
Small Business Saturday on November 30 completes the holiday trifecta. Large national retailers have Black Friday, online retailers have CyberMonday, and now small businesses finally have a day of their own during the critical holiday season. When consumers shop locally, they not only support local businesses, but also local communities. It's a great day to get out and shop at your favorite local small businesses such as local music and video rental stores. As part of Shop Small, you can also check out a pop-up store featuring local Only in Seattle businesses like Blackbird and Fantagraphics
We hope you'll shop small throughout the holiday season.
NOTHING AGAINST LIFE WINS AT THE SAN MARINO FILM FESTIVAL
Nothing Against Life, a Washington-made film directed by Julio Ramírez, and produced by Ramírez and Carl Adelson, premiered last week in competition at the San Marino Film Festival in Italy. The film is bringing home the Special Jury Award given by an international jury led by producer Michael Shamberg (Django Unchained, Pulp Fiction), and supported by the Italian Film Press Union. The Northwest Film Forum served as a fiscal sponsor, and Dorothy Bullitt was the Executive Producer. Leading the cast are Cynthia Geary, Fernando Noriega, Hillary Pickles and Keifer Grimm.
IF YOU LOVE
INDEPENDENT
FILM, SIGN UP FOR THE INDIEFLIX NEWSLETTER
Indieflix is an online curator of independently made films, and is a platform for independent filmmakers to have their work seen and receive vital revenue. Indieflix also provides a weekly newsletter that highlights independent filmmakers, their work, and key industry information that can help setup filmmakers for success. It is a must-subscribe!
CIVIC COCKTAIL WITH JAMES KEBLAS AND RANDY ENGSTROM
Civic Cocktail is a monthly panel discussion from Seattle Channel that focuses on Seattle's hottest topics with some of Seattle's most influential tastemakers. This month, James Keblas, director of the Office of Film + Music, and Randy Engstrom, director of the Office of Arts and Culture, will come together to discuss Seattle Life and Culture at Civic Cocktail with Seattle Times sketcher Gabriel Campanario. Their discussion will be moderated by Joe Connelly of Seattle PI and Deborah Wang of KUOW. Civic Cocktail takes place Wednesday, December 4, at 5:30 p.m., at Tom Douglas's Palace Ballroom.
SCARECROW VIDEO CELEBRATES 25 YEARS IN BUSINESS
Seattle's world-famous independently owned video store, Scarecrow Video, is turning 25. Scarecrow has amassed over 120,000 titles during its 25 years, boasting one of the world's largest collections. To honor customers' commitment to their store, Scarecrow will be offering a range of deals and markdowns, as well as raffles and giveaways, on-going screenings, a customer-curated special rental section, and a scavenger hunt.
WIN A FREE MEMBERSHIP TO MOHAI!
The Museum of History and Industry (MOHAI) is wrapping up their first year on South Lake Union, and has been noted for such exhibits as "Celluloid Seattle," and the Bezos Center for Innovation. In celebration of this feat, MOHAI is offering its visitors an opportunity to win a family plus membership, just by filling out a short survey on their visitor experience.
"BAND IN SEATTLE" TO PREMIERE IN EARLY DECEMBER
Brought to you by Seattle's Victory Studios, "Band in Seattle" is a new television series that showcases local music. In each episode, two up-and-coming Pacific Northwest bands will be featured, telling the stories behind their lives and songs, and performing live. "Band in Seattle" airs on December 7, at 11:00 p.m., on KSTW.
COMMERCIALIZE-IZED IT!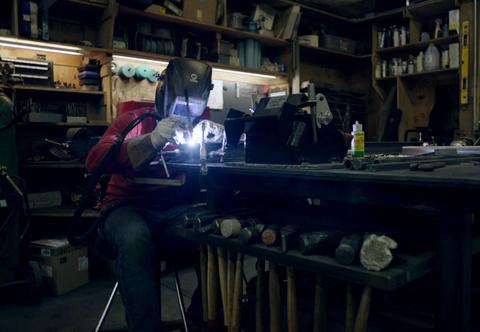 In support of Commercialize Seattle, the new business development campaign designed to drive local film production and advertising business, we will feature a commercial shot in Seattle and around Washington every week. This week's feature is from Kontent Partners, an ad firm that produces photography and motion pictures for clients such as Nike, Ford, and Microsoft. In their work for 12th Avenue Iron and Olson Kundig Architects, Kontent Partners crafted a beautiful sequence of shots that illustrates the collaboration between the two companies, and explains their history of partnership.
KICKSTART SEATTLE FILM + MUSIC PROJECTS
This week, a newly added project is
STREETWISE: Tiny Revisted
, a documentary that revisits the cast from the original Academy Award nominated documentary
STREETWISE
. Also, be sure to check out the soon-to-be expired campaign for Jason Stoke's
Bullet Bros
, a modern day "Contra" style shooter game!
TOP 10 NW MUSIC FOR WEEK OF 11/18
Compiled from figures at Sonic Boom Records (Ballard) and Easy Street Records (West Seattle).
1. Pearl Jam - Lightning Bolt
2. Head & The Heart - Let's Be Still
3. Sandrider - Godhead
4. La Luz - It's Alive
5. Jimi Hendrix Experience - Miami Pop Festival
6. Temple of the Dog - Temple of the Dog
7. Caspar Babypants - Baby Beatles
8. Father John Misty - Fear Fun
9. Benjamin Gibbard - Former Lives
10. Sol - Eyes Open
MOVIEMAKER'S 2013 INDIE-FRIENDLY BUSINESSES LIST

Every Fall, MovieMaker releases a list of 25 companies they've deemed especially "indie-friendly," because no independent MovieMaker these days has to go without help from generous, like-minded comrades. Whether it be audio equipment, production software, or distribution needs, MovieMaker's list has a wide variety of resources for indie filmmakers to turn to.
MACKLEMORE WINS AMERICAN MUSIC AWARD, MAKES CIVIL RIGHTS STATEMENT
At the American Music Awards Sunday night, Macklemore and Ryan Lewis' The Heist took the award for Favorite Rap/Hip-Hop Album. As always, Macklemore took the time to thank family, friends, and industry types, but he also stopped to address the reality that he was receiving this honor in the state of Florida, and his acceptance speech morphed into a social commentary on George Zimmerman, Trayvon Martin, and racial profiling. It was a brave move by an artist who toes the line of black culture and hip hop, and unprecedented access to white audiences as a white rapper.
ZIIBRA LANDS MAJOR NEW FINANCING
Yesterday, ZIIBRA, a micro-patronage platform for artists, and creators that serves as an artist market, secured $450,000 from undisclosed sources in new financing. This is an important financial leap for the startup company and the creative community who can benefit from ZIIBRA's services.
A GUIDED TOUR OF KEXP'S INCREDIBLE NEW HEADQUARTERS
KEXP has the plans set for their new headquarters. There will be a "mixing room," a place for people to engage with one another in a physical sense, instead of listening on the radio, now listens can actually meet each other and hang out with artists. The new headquarters also will include a performance studio so that 50-75 people will be able to come in and watch live performance from behind the glass as they're being filmed. Artists will also be provided with a new artist recharging station, where they can shower, do laundry, work, and even take a quick nap. Finally the new headquarters will include a double-size library.
QUEENSRYCHE RELEASES AD LUCEM MINI MOVIE
Legendary Seattle rockers Queensryche released "Ad Lucem," their 'mini movie,' with the tracks, "Spore," "Midnight Lullaby," "A World Without," and "X2" providing the score to the 10-plus minute story. Lead vocalist Todd LaTorre described the end result as "a roller coaster of emotion in an effort to find a healthy resolve."
SEATTLE BOASTS AN ASTONISHING YOUNG ORCHESTRA
Over every five years or so, the Seattle Youth Symphony Orchestra (SYSO) experiences 100% turnover, due to musicians graduating and heading off to college. How many musical groups contend with this and still manage to produce a polished performance for the public to enjoy? The SYSO family has four orchestras and upwards of 1,100 young musicians in its programs, which are geared to educate and train young players, not necessarily just for a musical career, but for acquiring skills useful in any career, like community and teamwork, self-discipline, and focus, all while having fun playing music. About half of the current SYSO members are new this season, and have never been on the Benaroya stage before, however the quality of their performance continues to be extraordinary.
LISTENING TO DEATH CAB FOR CUTIE'S TRANSATLANTICISM DEMO TAPES
Last month, Barsuk Records released digital only demo tapes for Death Cab for Cutie's Transatlanticism. They offer a glimpse into how bare bones thoughts and four-track melodies became songs that have been listened to millions of times.
QUICK LINKS