Vol. 7, No. 24

November 20, 2013



NEW YORK TIMES ON THE GENIUS OF COMMERCIALIZE SEATTLE
How do you sell to sellers? That was the quandary facing the creators of the campaign seeking to encourage agencies to produce more commercials in Seattle and Washington State. The campaign is the brainchild of Creature's creative team and is part of an initiative called Commercialize Seattle, sponsored by the Seattle Office of Film + Music and Washington Filmworks. The response has been a campaign that is whimsical, slightly sarcastic, and above all else, appealing to the creative crowd, with interactive features like the "Commercialize-izer" app, where users can create their own Seattle-based commercial. Office of Film + Music Director James Keblas says Commercialize Seattle is innovative because "the idea of commercializing Seattle is so anti-Seattle," adding that, "we're serious about business development, but not serious enough to not have some fun with it." Aside from the cleverly crafted campaign, there are serious benefits behind it. Washington Filmworks is currently making available $500,000 in incentives for commercial production companies, part of their filming incentive program with a total budget of $3.5 million.
FILM AND MUSIC HAPPY HOUR RETURNS DECEMBER 4 TO CELEBRATE YOU!
2013 has gone by fast and it's already time for the Annual Industry Update for film. Celebrate the achievements of the statewide film industry and get a first peek at how Washington Filmworks will be working on your behalf in the new year. The first 100 people through the door are guaranteed a drink ticket and snacks will be provided. Join us in raising our glasses to the achievements that we have made this year. There will not be a Happy Hour on November 27.
THE OFFICE OF FILM + MUSIC IS HIRING A COMMUNICATIONS INTERN
The Office of Economic Development (OED) and Office of Film + Music (OFM) are looking for an intern for a six-month internship. Interns participate in a variety of activities for OED and OFM, including marketing, communication, and outreach tasks supporting the City's economic development mission. The program runs for six months, from January, 2013 - June, 2014, with ideally a week of training from December 16-23. Applications are due Wednesday, December 4. We look forward to your submissions.
HELP SEATTLE SHOWCASE ITS MUSIC AT SEATAC AIRPORT
The Port of Seattle is soliciting proposals from interested firms to perform all necessary actions to develop and manage the Live Music Program for the Port of Seattle. This will include soliciting artist applications, screening and selecting artists, scheduling artists and providing on-site management to handle all needs related to the live music performances at Sea-Tac International Airport.
FILM AND MUSIC ON "ART ZONE" WITH NANCY GUPPY
This week, Seattle Channel's "Art Zone" with Nancy Guppy includes: a chat with Screenwriter Bob Nelson about "Nebraska," his Alexander Payne directed feature film starring Bruce Dern; animator Drew Christie suggests an alternative to the traditional Thanksgiving turkey...in the form of an animated Eel; and Bone Cave Ballet gives a live performance of their "prog rock."
INDUSTRY NEWS AND UPDATES
DESTINY CITY FILM FESTIVAL AND SCREENPLAY COMPETITION CALL FOR ENTRIES
The first annual Destiny City Film Festival (DCFF) is scheduled to take place July 31 - August 3, 2014, and will be hosted by the historic Blue Mouse Theater in Tacoma. DCFF is a homegrown, true-Tacoma community event, and is built to showcase the best independent films from the Pacific Northwest and beyond. Audiences and filmmakers attending the festival can expect top-quality programming of films, workshops, panel discussions, and a celebration of screenwriting. The call for submissions is now open. There will also be discounts for students and Washington state residents.
WEST OF REDEMPTION WRAPS PRINCIPAL PHOTOGRAPHY

The Washington Filmworks production incentive project West of Redemption wrapped principal photography after filming in the Spokane area this August and September. Set in 1994, West of Redemption tells the story of a married couple living in a remote farmhouse who are interrupted by a stranger, who is then taken prisoner by the husband and interrogated for reasons the stranger doesn't understand. The feature film is directed by Cornelia D. Moore and written by Meagan Daine. West of Redemption is a film from Kairos Productions in association with North By Northwest Productions.
AMERICAN ADVERTISING AWARDS COMES TO SEATTLE
The ADDY Awards are now The American Advertising Awards, and the deadline for submissions is January 1 0, 2014. Categories span from traditional, digital, social, and viral advertising, and anything in between. The American Advertising Awards is the only advertising competition that starts locally and expands nationally. Anyone can enter, big and small agencies are welcome.
SONIC BOOM RECORDS TO DONATE, TAKE DONATIONS FOR TYPHOON RESPONSE
Like many stores around the country, Sonic Boom Records will be participating in Black Friday on November 29. Additionally, Sonic Boom will be giving back in the aftermath of Typhoon Haiyan in the Philippines. The store will be donating $1 per customer and matching all customer donations up to a $500 cap, all going towards relief efforts.
NORTHWEST FILM FORUM SEEKING MEMBERSHIP COORDINATOR
Northwest Film Forum is seeking a responsible, detail-oriented person for their part-time, unpaid Membership Coordinator internship. The membership coordinator works with Northwest Film Forum staff to manage a year-round membership program; Film Forum members are audience members, filmmakers, film students, families, and donors at the heart of Northwest Film Forum's community. In this internship, the membership coordinator provides a crucial first point of contact for Film Forum members. The application deadline is December 6.
WEWORK HIRING COMMUNITY MANAGER/CITY LEAD FOR SEATTLE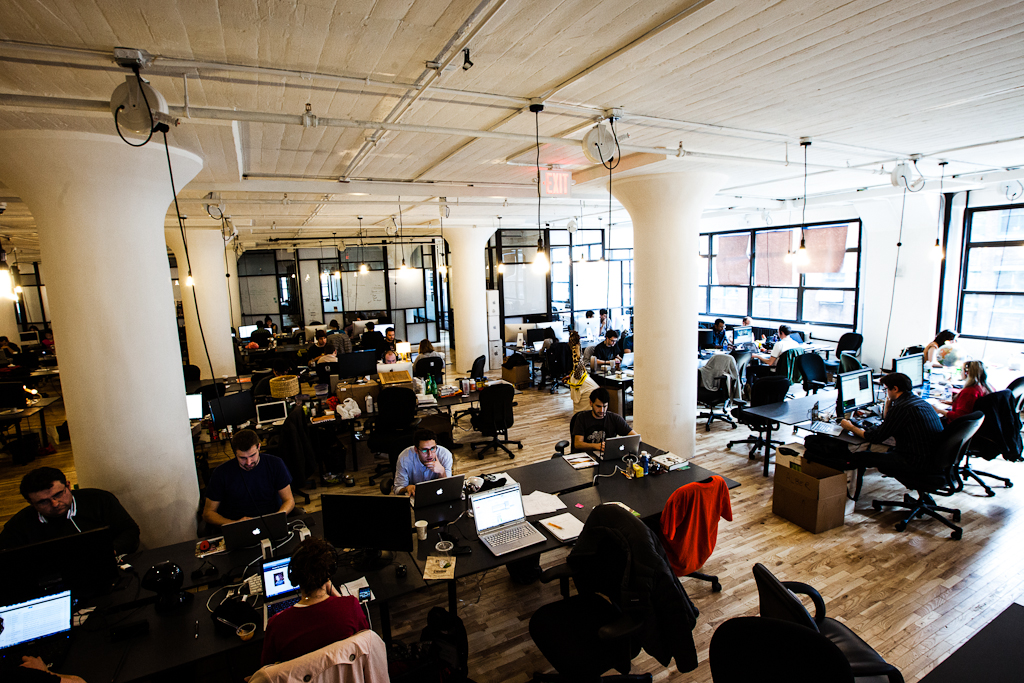 WeWork is an organization that empowers entrepreneurs and small businesses to succeed by providing beautiful workspaces, a collaborative community, and accessible services and benefits. WeWork is very compatible with the needs of filmmakers, musicians, and creatives. The Senior Community Manager/City Lead is responsible for ensuring the successful implementation of WeWork's Community Management responsibilities within Seattle, while supporting all aspects of a particular WeWork building. Working closely with a building's Community Management team, the position is responsible for filling its building, supporting the daily needs of members, and leading community building events. The position will also be responsible for creating a strong presence with key influencers in Seattle and maintaining those relationships.
SHORT FILM FRIDAY: "FUTURE MOVEMENT"
This week's short will be "Future Movement," a film directed by Kyle Seago and produced by the folks at STG. The work, which stars the noted local dancer Amy O'Neal, celebrates "15 years of dance and performance education" provided for area youth by STG. The music in "Future Movement" is dreamy and soothing, and the images seem to float from moment to moment like a color-bright cloud on a sunny autumn day.
-Charles Mudede
COMMERCIALIZE-IZED IT!
In support of Commercialize Seattle, the new business development campaign designed to drive local film production and advertising business, we will feature a commercial shot in Seattle and around Washington every week. This week's feature is from Remedy Pictures, a production company that creates meaningful and distinctive content. Their clients include MTV, Good Samaritan, and Visit Reno. In their work for Symetra, a financial firm, they directed and produced a humorous ad that features a grandfather directing a rant about finances towards his grandson.
KICKSTART SEATTLE FILM + MUSIC PROJECTS
This week, a newly added project is
Welcome to the Northwest,
a stunning
time-lapse film of some of the Northwest's most beautiful locations
.
Also, be sure to check o
ut the
soon-to-be expired campaign for Pepper Proud's new album
The Water Chapter,
a record inspired by the earth's most plentiful resource...water!
TOP 10 NW MUSIC FOR WEEK OF 11/11
Compiled from figures at Sonic Boom Records (Ballard) and Easy Street Records (West Seattle).
1. Pearl Jam - Lightning Bolt
2. Head & The Heart - Let's Be Still
3. Temple of the Dog - Temple of the Dog
4. La Luz - It's Alive
5. Macklemore & Ryan Lewis - The Heist
6. Caspar Babypants - Baby Beatles
7. Neko Case - The Worse Things Get, The Harder I fight, The More I Love You
8. Jimi Hendrix Experience - Miami Pop Festival
9. Death Cab for Cutie - Transatlanticism
10. Ayron Jones - The Way
WASHINGTON STATE, CHINA SIGN AGREEMENT TO STRENGTHEN FILM BUSINESS

DMG Entertainment, a major Chinese production company, will shoot a new Chinese-language drama show in Seattle. A memorandum was signed last week between DMG, Washington FilmWorks, and state officials. "China represents a major trading partner for a wide range of Washington State industries; the agreements signed with Chinese film and technology companies, like DMG, will be the foundation of our shared economic success," said Governor Inslee in response to the deal.
HOW AN ENDANGERED SEATTLE ICON COULD WIN YOU BACK

In an effort to draw more customers and combat declining sales, Seattle's world-famous video store, Scarecrow Video, has taken on a new business model with a focus on the in-store customer experience, which includes efforts to draw customers with coffee, beer, screenings, and even bar trivia. At Scarecrow, they sell themselves on their expertise. Their friendly staff is always front and center. Although they might not have the ease of access like online websites, Scarecrow's staff is full of movie experts who provide customers with personalized help, and it's that customer service that online movie platforms cannot compete with.
LOCAL RAPPER TAKES THE ROAD LESS TRAVELED
When Sol's Yours Truly rose to number one on the iTunes US Hip Hop Charts and garnered a spot on Billboard last year, no one expected him to just up and leave the music scene. But that's what he did, despite the buzz that was propelling him into the national hip hop spotlight. Sol received the University of Washington Bonderman's Travel Fellowship, a $20,000 grant that enabled him to travel around the world after his graduation. Now he's back, and has released a new album. Eyes Open chronicles his journey through some of the world's poorest countries and his decision to fall off the map in the face of growing success and recognition.
SUB POP REVEALS MYSTERY BAND SIGNEE
Last week, Sub Pop announced they had signed a popular new band to their label. However, they would not reveal who it was, and left fans to guess with the help of a 15 second instrumental sound clip of the mystery band's music. Yesterday, Sub Pop unveiled the mystery band to be the German group Notwist. Notwist has not released an album in six years and was once a prominent indie band.
QUICK LINKS