Vol. 6, No. 25




November 7, 2012
HAPPY HOUR RETURNS TONIGHT WITH FOCUS ON ENTERTAINMENT LAW
Whether you are just starting your business or have been operating as a sole proprietorship or general partnership, you may be wondering about incorporating your business activity. This month's guest speaker, attorney Aric Bomsztyk, will be talking about the benefits of incorporating your business as a limited liability company (LLC) and how to do it successfully. Join us tonight at Belltown's Spitfire Grill.
INDUSTRY NEWS AND UPDATES
WOMEN MAKE MOVIES IS HIRING A MARKETING MANAGER
Women Make Movies is seeking an energetic, dedicated, and highly motivated full-time Marketing Manager to promote and publicize WMM and its collection of films to customers, potential customers, filmmakers and the media. The Marketing Manager will be responsible for production management and distribution for all promotional and publicity materials and marketing collateral, including catalogs, website, emails, flyers, posters, postcards, brochures, DVD covers and press kits, in addition to copy development, branding, and promoting the Production Assistance Program. This position will manage a staff consisting of a Marketing Coordinator and Promotions Assistants.
SOUND OFF! APPLICATION DEADLINE EXTENDED TO NOVEMBER 8
Sound Off!, The Northwest's Premier 21 and Under Battle of the Bands, has extended its application deadline to this Thursday, November 8 at 11:59 p.m. The Sound Off! 2013 concerts will take place at EMP in February and March featuring prizes including high profile performances, radio airplay, gear, studio time, and music industry consultations.
SEATTLE THEATRE GROUP SEEKING MUSICIANS FOR ANNUAL MORE MUSIC
Seattle Theatre Group is seeking exceptional musicians ages 14-21 to audition for More Music @ The Moore. More Music @ The Moore is a training and performance program, providing young artists training and rehearsal time with professional musicians, production, and promotional support. All music styles are welcome, from rock to hip-hop to R&B to singer-songwriter to global, and more. Original works are preferred. Selected musicians and groups will perform in two shows at The Moore Theatre on March 29, 2013, learn from leading music industry professionals, and work with nationally-renowned Music Directors.
SPORTN' LIFE RECORDS CELEBRATES ITS 10TH ANNIVERSARY ON STAGE
BARBOZA
Sportn' Life Records has announced that it will celebrate its 10th anniversary with a show that includes the label's entire roster of talent on stage, including Fatal Lucciauno, Spac3man, Marissa, Fly Moon Royalty, and Larry Hawkins & Davey Jones. D. Black, now Nissim, will be making his comeback-after-retirement performance.
UNIVERSITY OF WASHINGTON WORLD SERIES LOOKING FOR VOLUNTEERS
UW World Series is looking for dedicated arts enthusiasts to help implement donor events in conjunction with concerts. For every ten hours of volunteer service (approximately two events), UW World Series is happy to offer volunteers two complimentary tickets to a performance of their choice. Work-study opportunities for University of Washington Students are also available.
NFFTY NAMES OWEN DAVIES AS NEW EXECUTIVE DIRECTOR
After a nationwide search, the National Film Festival for Talented Youth (NFFTY) has announced Owen Davies as their new Executive Director. Owen joins the leadership team consisting of Artistic Director Jesse Harris and Managing Director Lindsey LeDuc. "I couldn't be more excited to join NFFTY. In only six years, NFFTY has built an international reputation as the premier forum for young filmmakers from across the country and around the world," said Davies. "With such amazing films and talented filmmakers, NFFTY has enormous growth potential and I look forward to building exciting new initiatives and partnerships."
FILMMAKERS DEMYSTIFYING DISTRIBUTION WORKSHOP ANNOUNCED
NORTHWEST FILM FORUM
Since 2005, Northwest Film Forum (NWFF) has been distributing films using its institutional muscle and expertise to shepherd independent works into the marketplace. NWFF will host a low-cost class on November 18 for local filmmakers to learn more about promoting and marketing their films to the largest possible audience. The workshop reviews today's changing theatrical film exhibition landscape and realistic options to self-distribute successfully.
COUCH FEST RETURNS FOR FIFTH ANNUAL FESTIVAL
COUCH FEST
Couch Fest is a free film festival that replaces traditional theater venues with cozy residential venues. It's kind of like a pub crawl, but for watching movies. Attendees enjoy several programs of short films presented in living rooms around the city. Each unique program is 60 minutes; they start every 90 minutes to allow people to get from one house to another. Moviegoers can watch as many programs as they'd like. The 5th annual Couch Fest Film Festival will be held in residential homes in Seattle on Saturday, November 10. There will be films presented from such festivals as Sundance, SXSW, CFC Worldwide Shorts, Seattle International Film Festival, and the New Horizons Film Festival.
LIVE, INTERACTIVE WEBCAST SCREENING OF THE FUTURE OF MUSIC SUMMIT
BROWN PAPER TICKETS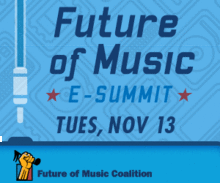 Come and watch "The Future of Music Summit," live from Washington DC, from the comfort of the Brown Paper Tickets Community Resource Center. This conference focuses on the connections between musicians and fans, policymakers and academics, legal experts and technologists, media professionals and entrepreneurs. The Future of Music Coalition is bringing representatives from all of these communities together for one jam-packed day of engagement on the issues that matter most to the music community.
ROUGH-CUT SCREENING OF COWBOY HAT DOCUMENTARY AT NWFF
NORTHWEST FILM FORUM
Come saddle up for a rough-cut screening of "Howdy Pardner - Tales of the Cowboy Hat," a documentary that chronicles the rise, fall, and rebirth of the cowboy hat as a symbol of the American spirit. The Seattle filmmaking team, and 4Culture and WIF grant recipients, David Wild and Lulu Gargiulo will be there to talk about the project. Participate in an after screening open discussion and questionnaire to provide feedback about the film. The screening takes place at Northwest Film Forum (NWFF) - Saturday, November 10, 3:00 p.m. to 5:00 p.m. The screening is free to the public, all ages are welcome.
TENTH ANNIVERSARY SCREENING OF HYPE! THIS SATURDAY
THREE IMAGINARY GIRLS
Three Imaginary Girls invites you to dig out your flannel and Docs - they're taking you back to the 1990s with a 10th anniversary screening of Hype! at the Grand Illusion Cinema on Saturday, November 10. Hype! is the definitive documentary about the Grunge scene, featuring interviews and performances from TAD, Mudhoney, Nirvana, Soundgarden, Coffin Break, The Gits, Love Battery, Flop, The Melvins, Mono Men, Supersuckers, Zipgun, Seaweed, Pearl Jam, 7 Year Bitch, Hovercraft, Gas Huffer, and The Fastbacks. Three Imaginary Girls have planned a great evening of fun, starting with some nostalgic clips of Seattle bands, and Grunge trivia hosted by Jen Koogler from Scarecrow Video - complete with prizes!
ANNUAL JOB SECTOR SURVEY: MAKE YOUR BUSINESS VOICE HEARD!
JOB SECTOR SURVEY
The Job Sector Survey is a cooperative project led by economic development organizations in King, Kitsap, Pierce, and Snohomish counties, including the Office of Economic Development. It is an annual, one-of-a-kind tool that provides a comprehensive, on-the-ground assessment of conditions, challenges, needs, and opportunities for regional employers of all types and sizes. Results are shared with elected officials and policymakers at the local, state and federal levels to help them understand business needs and how policy decisions impact your business. Please take ten minutes to fill out this brief but important survey about your business. It is important that Seattle's film, music, and interactive businesses are represented. Those who complete the survey will have their names entered into a drawing for two round-trip tickets from Southwest Airlines!
HELP "KICKSTART" SEATTLE FILM AND MUSIC PROJECTS
Kickstarter is an online "crowd-funding" resource that helps musicians, filmmakers and
producers of artistic projects reach out to friends and fans for financial support. Kickstarter allows artists the opportunity to give back to funders with special rewards, such as an exclusive album pre-release, a producer credit in a film, or even getting to meet the
artist in person. Seattle is a hotbed for film and music projects, and you can be a pivotal part of the production process by backing a project and spreading the word. Current

Seattle-based Kickstarter projects are listed below, ordered by time remaining. Click on the Kickstarter buttons to check out these local projects and discover even more happening around Seattle.
A live show with new video sketches, events, and observations.
An in-depth look at the international movement to gain meaningful protection for animals.
Seattle-based singer songwriter Dave Ellis comes full circle with his new CD - a choice collection of brave and soulful songs.
Pretty Broken Things is recording their first full length album at B50 studio in Ballard.
Help support a radio campaign to have this local album of cosmic-folk-rock spread around the nation.
A smart, sex-positive, independent sitcom looking for a chance to shoot its second season.
Performing the works of jazz great Jim Knapp, musician-led Scrape creates a new genre where chamber music meets improvisation.

A documentary chronicling the art, history and lives of prominent Northwest cartoonists and comic artists.
Why Kickstarter and not IndieGoGo?
The overwhelming basis for promoting Kickstarter as a project fund-raiser stems from the tool's clear and complete structure. It is a system that ensures artists approach each and every venture with a comprehensive business plan. The debatable result, where artists may or may not keep the funds they raise based on whether or not their project is funded fully, interests us because it protects project-backers. Indiegogo, although a great money-generating platform, does not provide the same level of investor protection when projects go by the wayside. At least for the time being, our office has decided to continue supporting Kickstarter.
TOP 10 NW MUSIC FOR WEEK OF 10/31-10/7
Compiled from figures at Sonic Boom (Ballard) and Easy Street (West Seattle and Queen Anne).
1. Macklemore and Ryan Lewis - "The Heist"
2. Rndm - "Acts"
3. Bejamin Gibbard - "Former Lives"
4. Various Artists - "Live at KEXP Vol. 8"
5. Band of Horses - "Mirage Rock"
6. Daughters of the Dead Sea - "The Killroom Sessions EP"
7. Blue Scholars - "Cinemetropolis"
8. Caspar Babypants - "Hot Dog!"
9. Heart - "Fanatic"
10. Sera Cahoone - "Deer Creek Canyon"
SHORT FILM FRIDAY:
We believe criticism is a hallmark of a successful film community. It gives us great pleasure to partner with The Stranger to bring you Short Film Fridays, local film reviews to expand the public appeal of our local movie making talent, continually advance the artistic quality of our work, and inspire more film critics to evaluate local film.
THE STRANGER
The film for this Friday, November 9, will not be a short film but test footage for a short film called "Prospect." Directed by Zeek Earl and Chris Caldwell (both local filmmakers), starring Callie Harlow, and beautifully photographed and scored, "Prospect" is about humans trying to make a fortune on a verdant and strange planet.
SCARECROW ON SEATTLE: THE RING (2002)
The Ring is an Americanized adaptation of Ringu, a 1998 Japanese horror film (or J-Horror to use the correct lingo) that was a massive hit in its native country, spawning numerous sequels and rip-offs. We could hardly keep up with Ringu-mania at Scarecrow and the endless requests for import DVDs. So it was no surprise that Hollywood snatched up the rights for a remake. For the most part, their version stays fairly close to original's concept-a haunted videotape filled with spooky, mostly black and white images, dooms any one who watches it to an early death. Naomi Watts stars as a Seattle Post-Intelligencer (before they went exclusively online) reporter named Rachel who loses her niece to the cursed videotape. She ends up pursuing a series of leads that takes her around the area with ferry rides and visits to mysterious lighthouses. Oh yeah, I forgot to mention that Rachel made the mistake of watching the tape so, she too, is destined for a gruesome fate unless she gets to the bottom of things.
Even though the film is only ten years old, The Ring has become very dated over the past decade and serves as a good example of how rapidly our lives have changed. In particular, the use of a faded but beloved form of physical media, the videotape, as a central plot device now seems quaint. At Scarecrow we still have thousands of rare and fascinating VHS tapes in our collection, but we are old school (and as far as we know, none of them are haunted).
Aside from the antiquated technology, there is a lot of local scenery to absorb in The Ring. One would presume that the crew would have filmed a day's worth of B-roll footage, maybe have Watts stroll through the Pike Place Market and then head up to Vancouver for the rest of the movie. Refreshingly, most of the film was shot here in good old Washington State. Aside from a quick glimpse of the monorail and a persistent drizzle, they avoid your stereotypical Seattle locations. Rachel's apartment building is one of those bland modern apartments on Western Avenue. At one point she visits a photo-processing lab whose address is given as 1925 Fifth Avenue, and she actually goes to that precise address. I don't think there ever was a photo lab in this spot but you can see the Avis car rental shop next door. I don't think they used the actual Seattle PI offices for interiors but they do use the proper PI font on the wall of whatever location they did use. While investigating the origins of the videotape, Rachel travels around to a few Washington islands and the Olympic Peninsula. She drives across Deception Pass Bridge and I think actually ends up on Fidalgo Island, which would be geographically correct. She takes a ferry to the fictitious Moesko Island to visit a lighthouse. The Port Townsend Ferry Terminal is used for the boarding shot, and you can see the Quinault ferry logo on the boat as she crosses the Sound. I don't recognize the lighthouse but it looks kind of weird so it may be a creation of Hollywood special effects. There are several other locations I can't place but, heck, if you are looking for a haunted videotape movie to watch this Halloween season, give The Ring a try and see if you recognize any of the locations.
-Spenser Hoyt
PADMA LAKSHMI SPEAKS OUT ON "TOP CHEF SEATTLE"
"A love letter to Seattle and its food scene": That's how Padma Lakshmi describes "Top Chef: Seattle," which premieres Wednesday night. The celebrity host said in a phone interview this week that she was enamored with her introduction to the "verdant and beautiful" city, probably her favorite location in the nine seasons she's been with the show ("other than being in New York, which allowed me to sleep in my own bed.") Twenty-one cheftestants, along with Lakshmi and judges Hugh Acheson, Tom Colicchio, Wolfgang Puck, and Gail Simmons spent seven weeks filming over the summer, spotlighting city landmarks from Fare Start to the Bite of Seattle.
SEATTLE TRADE LEADER TRIES NEW ROLE AS FILMMAKER
Trade Development Alliance President Sam Kaplan seems like one of the world's more easygoing guys, but the short film he just made makes one wonder. The online film is called "Please Hold," and in seven minutes chronicles the rising frustration of a man repeatedly put on hold by a succession of technical support lines. Kaplan and project partner and cinematographer Mike Williams, a college friend, created "Please Hold" with essentially no budget (except for the free food they gave to volunteer actors, grips and technicians). It includes an original score created by musician Reto Peter.
MORE ARTS = STRONGER ECONOMY, NEW RESEARCH FINDS
Randy Cohen, vice president of research and policy for Americans for the Arts, a Washington, DC-based nonprofit, recently shared insights from his group's study of arts trends nationwide. His message to business leaders emphasized the importance of investing in the arts as an industry, rather than treating arts as a luxury during times of prosperity and avoiding arts when the economy struggles. Increasing public and private support by using economic impact studies to leverage investment can help. But not every good idea needs to cost millions of dollars. "The city of Seattle sees itself as a music town, and it has a Music-On-Hold program. When you call a government office and get put on hold, you listen to music by Seattle musicians. They change it every quarter. It's so popular the mayor does the voice-overs, and they sell the music on a website. Sometimes, it just takes coordination of existing resources," says Cohen.
MEET THE INDEPENDENT VIDEO STORES MAKING IT IN THE AGE OF NETFLIX
ATLANTIC CITIES
Seattle's Scarecrow Video, which may the nation's largest surviving independent video store, opened an in-house coffee shop, and is in the process of building-out a screening room to draw in customers. Open for 24 years, Scarecrow has built up a shining reputation, even beyond Seattle, for its impressive array of 117,000-plus movies. Still, this success has sometimes been a hindrance. "We have a lot of buzz and a lot of good-will built up, but I think everyone tends to assume that we're doing well and they don't need to come in and support us," says Jen Koogler, Scarecrow's marketing coordinator. Beyond students and professors, clientele come from all walks of life and seek out all genres. "We're known for having everything. A lot of VHS and laser discs that simply were never released on DVD," says Koogler, who also produces blogs and video podcasts for the store.

SHABAZZ PALACES ANNOUNCE WINTER WORLD TOUR
Seattle hip-hop duo Shabazz Palaces have announced a world tour that will run until February 1. The tour kicks off in Europe, swings through Seattle in late December, and finishes with the finale in Chicago. The group will be joined by frequent local collaborators THEESatisfaction as well as indie rockers The Helio Sequence, when they swing through the southern United States. The groups 2011 release "Black Up" on Sup Pop records was a unique and critically acclaimed album that emphasized the qualities that distinguish the group amongst their peers.
TAKE FIVE: DIRECTOR OF LESLIE LASKEY FILM LOOKS TO 2013 FILM FESTIVAL
Director David Wild's "47 Views" of the iconic professor emeritus of Washington University's Sam Fox School of Design and Visual Arts was finished just in time to show to a private audience October 16 at The Chase, a theatre in St. Louis. Now, Wild and his wife, cinematographer Lulu Gargiulo, are hoping for a spot in St. Louis' 2013 lineup, Seattle's film festival and in a handful of other documentary festivals around the country. Wild and Gargiulo, who now live in Seattle, met Laskey there in 1996 through Wild's brother-in-law, who took a Laskey Art Kamp class. They were immediately hooked by the engaging personality and prolific creativity of the teacher, painter, sculptor and photographer.
BRAVO'S GEEK WEEK: SEATTLE'S "LOLWORK" TROUNCES "SILICON VALLEY"
SEATTLE TIMES
If there were a vote this week about which city has a better startup scene, Silicon Valley or Seattle, the Emerald City would win by a mile, at least among voters who watch the new "reality" shows set in the West Coast tech hubs. On Monday, Bravo aired the first episode of Randi Zuckerberg-produced "Startups: Silicon Valley," which follows a handful of improbably attractive young startup wannabes. Seattle's "LOLWork" debuts tonight at 11:00 p.m. on Bravo and is said to be "more enjoyable and authentic-feeling," since the stars are actually working at a real and profitable company. In fact, "LOLWorK" is so polished at and funny at times that you wonder if the workers are flexing their humor muscles for the film crew, helping them produce a Seattle tech version of "The Office."
LOCALLY PRODUCED FILM, ALL I WANT IS CHRISTMAS, AVAILABLE ON DEMAND
VIMEO
All I Want Is Christmas is a heart-warming holiday movie starring David DeLuise and Elliott Gould. The protagonist of the film, Ira J. Finkelstein, is obsessed with Christmas. He's seen every Christmas movie ever made and his dreams are filled with reindeer, sleigh rides and snow. The problem? Ira is Jewish and is only 11 years old. The feature was shot on location in Seattle, Tacoma and Leavenworth. Sue Corcoran is the director of the movie.All I Want Is Christmas debuts November 1 on Comcast, Cox, Amazon, Time Warner, and iTunes as an on demand purchase.
Seattle Office of Film + Music Staff
James Keblas,
Director
Chris Swenson,
Film Program Coordinator
Rachel Sawyer,
Music + Nightlife Program Coordinator
Romir Chaudhuri,
Intern
Rebecca Pirwitz
, Intern
Ryan Styrk, Intern