Vol. 6, No. 22




October 17, 2012
ROUNDING OUT THE NEXT FIFTY! WINNING NEIGHBORHOOD FILMS ANNOUNCED TONIGHT; CLOSING CEREMONIES THIS SUNDAY

SEATTLE CENTER
Celebrate great neighborhood stories tonight, October 17 with The Next Fifty! The culminating event of The Next Fifty's Civic Action Month will feature awards for winning films in the categories of Youth Filmmaker, Adult Filmmaker, and Civic Relevance, as well as other selected videos. Admission is free. Then on Sunday, October 21, the Closing Day Celebration for Next 50 will feature a festive finale, covering six months of anniversary activities which honor the past, celebrate the present, and envision future possibilities.
ART ZONE WITH NANCY GUPPY AIRS OCTOBER 19

ART ZONE
This week on Art Zone with Nancy Guppy, the great bass/baritone Greer Grimsely takes on Don Pizarro in Seattle Opera's production of "Fidelio." The show will have renowned Mexican-American guitarist and singer Omar Torrez performing in the Art Zone studio. In addition, coverage will be given to local artist Victoria Haven as she joins the ranks of powerful and creative women artists in SAM's "Elles: Women Artists from the Centre Pompidou, Paris." Also to be highlighted is AJ Epstein, founder of West of Lenin Theatre Space in Fremont, as he directs the Tommy Smith play "Demon Dreams."
PARKS AND RECREATION SEEKING TEEN PROGRAMS MANAGER
CITY OF SEATTLE
Seattle Parks and Recreation is seeking qualified candidates for a newly created Teen Program Manager position that will oversee and manage all department-wide Youth and Teen programming, including Parks Youth violence Prevention Initiative programming. This position will focus on integrating new and existing department-wide Youth and Teen programming to create quality, consistent, and diverse programs that are highly inclusive and meet the needs of Seattle's youth and teens. The scope of this position includes management and oversight of Teen Life Centers, Late Night programs, Outdoor Parks programs, and other Department-wide youth and teen programs.
GETTING GRILLS AND GROWING DREADS WITH MAYOR MIKE MCGINN

THE STRANGER
Seattle is a deeply musical city, and our mayor, Mike McGinn, is a devout music fan. Originally from Long Island, McGinn spent his teenage years in the context of local star Bruce Springsteen's Greetings from Asbury Park. He also had his ear pinned to the reggae sounds coming out of Queens, where Jamaicans were toasting over their records through sound systems on the streets. Earlier, McGinn's parents had immersed him in folk and big-band music as his mother used to strum Woody Guthrie on her guitar. This past Sunday afternoon, the mayor was organizing his CDs and invited Trent Moorman from The Stranger over to hear some tunes. When Trent got there, he found the mayor sitting beside disarrayed stacks of CDs and CD folders. Pink Floyd wafted out of two speakers.

INDUSTRY NEWS AND UPDATES
SCHOOLS SEEKING GUITAR INSTRUCTION METHODS: LOOK TO EMEDIA FOR AN EXCITING OPPORTUNITY

EMEDIA
eMedia Music is offering free guitars and a year's free usage of eMedia Guitar Method instructional software to one or more schools interested in starting a guitar instruction pilot program using eMedia's software. Schools that do not have a guitar program will be able to get started easily because eMedia Guitar Method is a complete, easy-to-follow guitar instruction curriculum. First priority will be given to schools with budgetary constraints seeking to expand their music instruction offerings. To apply, please complete the web form at www.emediamusic.com/guitarpilot.
FILMMAKERS: EARLY SUBMISSION DEADLINE FOR SIFF IS NOVEMBER 2

SIFF
The Seattle International Film Festival is seeking features, documentaries, short films, and animated pieces for the 39th annual festival. SIFF is the largest and most highly attended film festival in the United States, with more than 250 feature/documentary films and 150 short films presented to an audience of over 155,000 annually. One of the top festivals in North America, SIFF has been cited as one of the best "audience festivals" in the world. November 2, 2012 is the early submission deadline; December 7, 2012 is the regular submission deadline; and January 7, 2013 is the final submission deadline for the festival.
ARTISTS: CALL FOR FILM AND VIDEO ENTRIES FOR NEXT DANCE CINEMA SERIES

NW FILM FORUM
Artists are invited to submit innovative examples of film and video that reflect the body in motion or dance-based performance for entry in Next Dance Cinema. Single channel video will be accepted in the following categories: staged work remade for the camera, choreography created specifically for the camera, and features which involve the moving body articulated through animation and new media. All work must be no longer than 30 minutes in length. Selected works will be screened at 7 p.m. on December 10 at Northwest Film Forum. The deadline for applications is November 1.
2012 SEATTLE LESBIAN AND GAY FILM FESTIVAL CONTINUES THROUGH OCTOBER 21
THREE DOLLAR BILL CINEMA
Held annually in October since 1996, The Seattle Lesbian & Gay Film Festival has grown into the largest event of its kind in the Pacific Northwest, gaining industry and audience recognition for showcasing the latest and greatest in queer film, from major motion picture premieres to emerging talent. An important venue in the Seattle film scene, the festival provides unique opportunities for visiting and local filmmakers to engage and entertain over 10,000 attendees. The festival began on October 11 and runs through October 21.
SECOND ANNUAL INTERNATIONAL VIDEO STORE DAY TO BE HELD OCTOBER 20
This Saturday, October 20, marks the second annual International Video Store Day. The day's purpose is to promote the idea of supporting local, independent video stores, the locations that are owned and staffed by those who can be relied upon for reviews and recommendations and who truly love what they do. Festivities at Seattle's independent video store, The Scarecrow, will feature a VHS Art Show with handmade work from a variety of local artists paying homage to the painted covers of the early days of home video. The store will also have a special rental section of movies and TV shows shot in and around Seattle from their Scarecrow on Seattle column in the City's Office of Film + Music newsletter.
WARREN ETHERIDGE'S HIGH BAR WITH GUEST GAYLEN ROSS: ON MEMORY
THE HIGH BAR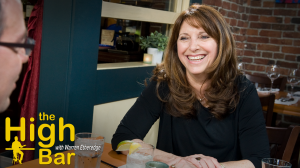 Do you remember? If you're fortunate, you do. Memory is an indispensable tool, but one, too often, it is a tool taken for granted. When Caris Corfman suffered a brain tumor, she survived yet her short-term memory did not. This would be a blow to anyone, but when your career, your passion is acting - a job dependent on the memorization of lines - such a loss could be a lethal blow. However, Caris battled back, staging a one-woman show to the amazement of many and with the support of a great circle of friends, including former Yale classmate, Lewis Black, and documentarian Gaylen Ross. Ross joins Warren Etherdige for her second appearance on The High Bar, this time to discuss her latest film, Caris' Peace, and to raise a toast to memory.
REMOTE TICKET LOCATION FOR SEATTLE THEATRE GROUP SHOWS ANNOUNCED
SEATTLE THEATRE GROUP
The Seattle Theatre Group (STG) and Sonic Boom Records have announced the availability of a remote ticket location for shows at The Paramount, The Moore and The Neptune Theatres. Tickets to performances at these venues are now available at Sonic Boom in Ballard. "The extended hours, simple fees, and ease of purchase options make this an ideal alternative for so many STG fans, many of whom frequent the record store and seek increased access to our shows," stated STG Director of Patron Services, Victoria Wimer-Contreras. STG is the non-profit arts organization that operates the historic Paramount, Moore and Neptune Theatres in Seattle, Washington.
HELP "KICKSTART" SEATTLE FILM AND MUSIC PROJECTS
Kickstarter is an online "crowd-funding" resource that helps musicians, filmmakers and
producers of artistic projects reach out to friends and fans for financial support. Kickstarter allows artists the opportunity to give back to funders with special rewards, such as an exclusive album pre-release, a producer credit in a film, or even getting to meet the
artist in person. Seattle is a hotbed for film and music projects, and you can be a pivotal part of the production process by backing a project and spreading the word. Current

Seattle-based Kickstarter projects are listed below, ordered by time remaining. Click on the Kickstarter buttons to check out these local projects and discover even more happening around Seattle.
This project is a satirical film inspired by slasher movies of the 70s and 80s (specifically the Texas Chainsaw Massacre series).
A short film about chance, serendipity, and magic that involves the pursuit of an American woman in Paris by an eccentric French man who has fallen madly in love with her.
Suzie & Ben Bradford, full-time local
musicians
are funding their
fourth
album.
A new full-length album of celestial pop by Cristina Orbe and Jahon Mikal needs funding.
A three piece organ driven Indie group is seeking to fund their first release.
NoRey will be touring the west coast this Autumn in support of their new E.P. (NoRey) and forthcoming studio album.

An alternative soul/rock band needs funding to release their upcoming album, "No Retreat".
A feature documentary that follows a platoon of hardcore war re-enactors striving to make an authentic recreation of the Vietnam War.

A Seattle singer and songwriter with a folk/pop influence is releasing her first E.P.
TOP 10 NW MUSIC FOR WEEK OF 10/10 - 10/17
Compiled from figures at Sonic Boom (Ballard) and Easy Street (West Seattle and Queen Anne).
1. Macklemore and Ryan Lewis - "The Heist"
2. Daughters of the Dead Sea - "The Killroom Sessions EP"
3. Band of Horses - "Mirage Rock"
4. Various Artists - "Live at KEXP, Vol. 8"
5. Sera Cahoone - "Dear Creek Canyon"
6. Pickwick - "Myths"
7. Physics - "Tomorrow People"
8. Fleet Foxes - "Sun Giant EP"
9. Brandi Carlile - "Bear Creek"
10. Helio Sequence - "Negotiations"
SHORT FILM FRIDAY: "RAINBOW"
THE STRANGER
The film for this Friday, October 19, will be "Rainbow," a short commissioned in 2007 by the Seattle International Film Festival for the Fly Filmmaking Challenge. The film stars Lisa Phillips and is directed by Dayna Hanson, a filmmaker/choreographer who recently won the Artist Trust's 2012 Arts Innovator Award. "Rainbow" gets us to the heart of our city by way of a moody bus ride. We see the passengers, the lights, and the buildings of the night.
SCARECROW ON SEATTLE:
WAITING FOR THE LIGHT (1990)
SCARECROW
This predictable comedy/drama stars Teri Garr as a hard-working single mom raising two rambunctious kids in 1962. The family moves out west from Chicago to assume proprietorship of a greasy spoon in a small Northwest town, accompanied by a mischief-making former vaudevillian aunt (Shirley MacLaine). Soon after they are settled, MacLaine and the kids pull a prank on a strange cantankerous neighbor and he mistakes the practical joke as a vision of an angel. The word quickly spreads about the so-called miracle, which garners lots of business for the struggling café but also leads to a suspicious reporter snooping into Garr's business.
Waiting For The Light is set during the Cuban Missile Crisis and features lots of news footage of JFK and Castro, as well as an overabundance of montages accompanied by overplayed early sixties pop tunes. The predictable story is enhanced by an enjoyable cast, but what makes Waiting For The Light particularly noteworthy is the fact that it was shot entirely within the friendly confines of Washington State. Aside from the appealing leads, other cast members include busy character actors like Vincent Schiavelli, Clancy Brown, and Jack McGee. There's even some local talent, including journalist Lou Guzzo as a TV newscaster, champion hog caller Douglas Moening, former KMTT DJ John Nelson, and local actor Arthur H. Cahn, who also appeared in Adventures in Spying. As far as local footage goes, there is a lot to enjoy. The city of Chicago is represented by a couple of blocks of South Jackson Street in the Pioneer Square area and a nice old cinema where Garr's character works (I don't recognize the movie theatre but I am guessing that it may be in Tacoma). As they head out west, there is a stunning shot of the family roadster tooling along a highway in beautiful central Washington and they make a stop at one the many fruit stands found in those parts. The majority of the story takes place in Buckley, which makes for an attractive, but somewhat generic, small town. Despite Waiting For The Light's shortcomings I imagine the locals brag more about this film than a straight-to-video Bigfoot movie called Clawed that was made around Buckley back in 2005.
- Spenser Hoyt
EARSHOT JAZZ FESTIVAL HITS A CREATIVE COLLABORATION NOTE WITH ARTISTS
EXAMINER
Usually, the annual Earshot Jazz Festival can read like a retread of the same talented but familiar faces - otherwise known as the hardest festival to break into - but not this year. With over 50 shows by hundreds and hundreds of the most eclectic, creative, and original voices in the Northwest and beyond, this year's 24th annual Earshot Jazz Festival which runs October 12 to November 4, really extends its reach outside cliquish borders to provide the audience with a true sampling of what's new and different. Participating Seattle venues are just as eclectic and include Benaroya Hall, Elliott Bay Book Company, Seattle Art Museum, Triple Door, Tula's, and Kirkland Performance Center.
MAPPING OUT THE ARTISTS AND VENUES OF CITY ARTS FEST 2012
SEATTLE MET
The third annual Heineken City Arts Fest returns to Seattle October 17 through October 20. The four-day music and arts fest, hosted by the free culture magazine, is literally all over the map. With no centralized location, concerts are clustered in three neighborhoods: Downtown Seattle, Capitol Hill, and SoDo. The insatiably curious former Talking Head David Byrne and Dallas singer-songwriter St. Vincent sing selections from "Love This Giant" as the opener of City Arts Festival, which also features Ghostland Observatory, Joshua Radin, A Fine Frenzy, the Maldives and many others. Art and performing arts are also on the lineup. Teatro ZinZanni turns its tent into the Paradise Club, circa 1962, for a re-imagined World's Fair party starring Elvis, Jimi Hendrix and Bruce Lee.
THE AGE OF THE DO-IT-YOURSELF ARTIST
ATLANTIC CITIES
Are we finally entering the age of the digital cultural entrepreneur? That is, has it now become possible for a gifted artist or writer to control the reins of his or her career from a laptop, scheduling gigs, selling books or recordings or images both digitally and physically, receiving payments, interacting with fans, and avoiding the "middleman" of the whole formal culture industry altogether? In light of all this confusion and uncertainty, writers in particular, and some other artists as well, are thinking less in terms of career paths than of projects - with Kickstarter as one prominent model.
RODRIGUEZ HELPS LIGHT IN THE ATTIC CELEBRATE 10 YEARS OF REVIVALS

SEATTLE TIMES
Light in the Attic, a Seattle record label specializing in reissues of overlooked gems, celebrated its 10th anniversary last Friday at Showbox at the Market. The headliner was Sixto Rodriguez, a 70s Detroit folk singer whose career has been revived by the label and by the documentary film, Searching for Sugar Man. Light in the Attic is a leader in a special echelon of the music business, reissuing old music on CD and LP - obscure personal favorites that co-owners Matt Sullivan and Josh Wright think have crossover appeal. Sullivan and Wright are especially good at this kind of musical detective work with "a CSI-worthy knack for finding hidden clues to overlooked old albums." With far-reaching distribution, deluxe packaging and elaborate liner notes, Light in the Attic starts with music but ends up with a story.

WASHINGTON RANKS FIRST AS THE MOST APP-INTENSE STATE
GEEKWIRE
According to a new study titled "The Geography of the App Economy," application development in Washington contributes 49,800 jobs with an economic impact of $2.7 billion. In terms of "app intensity," which measures the number of app economy jobs relative to the number of jobs in a state, Washington is the most "app intense," state in the country. That's about 4.5 app-related workers - anyone with a job related to app development (security, admin, customer service, etc.) - for every employee in Washington.
MICROSOFT LAUNCHES XBOX MUSIC SERVICE
VERGE
Microsoft rolled out a new music streaming service to many customers on Tuesday as part of an update to the Xbox gaming console, and will release it as a built-in feature on Windows 8 PCs and tablets starting on October 26. Customers will have the option to stream music for free with ads, or pay a monthly fee for a unlimited streaming subscription. Microsoft will also let customers purchase songs through Xbox Music for $0.99, which will operate similarly to Apple's and Amazon's music stores.
CRITIC JON CARAMANICA ON WHAT MUSIC GETS COVERED AND WHY IN 2012
Jon Caramanica is one of the key pop-music critics for The New York Times. He's also been on the forefront of journalists covering music that usually proves to be underrepresented in mainstream criticism, and is often experienced in ways outside of normal album cycles. He and Eric Ducker, an editor at The Daily Swarm, discuss the changing parameters of what gets covered in music journalism and how it gets covered, including Caramanica's opinion that critics, and publications in general, should be versatile in how they express themselves.

KNDD'S ANDREW HARMS LEAVING AFTER NEARLY 14 YEARS
KNDD'S Andrew Harms has stepped down after nearly 14 years at The End to pursue other opportunities. His last day will be November 2. Harms said, "As I look to the future, I'll always be grateful for the time I was able to spend working at this legendary station. Aside from traveling, working on my house and pulling my fantasy football teams out of the gutter - I have no solid plans at the moment. I firmly believe that work stuff will take care of itself and in the long run - this is without a shadow of a doubt the correct decision for me and my family. I've been at The End since I was 19, it's the only real place that I've worked - it's time to see what else is in this big world." Harms' on-air farewell will air on Friday, November 2.
HENRI THE EXISTENTIAL CAT WINS AWARD; DOESN'T CARE
PROVINCE
He is Henri the Existential Cat, certainly the most famous feline in Seattle, and now among the most famous in North America. At the Walker Art Center in Minneapolis in late August, a video about Henri, "Henri 2: Paw de Deux", by filmmaker Will Braden, won the first Internet Cat Video Film Festival. Will Braden, 32, a graduate of Western Washington University, studied at the Seattle Film Institute. Braden wrote the scripts, and his mother, who speaks fluent French, helped him with the pronunciations. Now Braden's website, which hosts content revolving around Henri, sells everything from T-shirts to mugs, and generates $800 to $1,000 a week in sales.
Seattle Office of Film + Music Staff
James Keblas,
Director
Chris Swenson,
Film Program Coordinator
Rachel Sawyer,
Music + Nightlife Program Coordinator
Romir Chaudhuri,
Intern
Rebecca Pirwitz
, Intern
Ryan Styrk, Intern