Vol. 6, No. 20




October 3, 2012
INDUSTRY LEADERS, ELECTED OFFICIALS, CANDIDATES MEET TONIGHT AT 5 P.M.
M
eet elected officials and candidates running to represent Seattle at the city, state, and national levels! The Office of Film + Music's Happy Hour tonight, October 3 at Spitfire is designed to help members of the local film, music, and interactive industries meet and share ideas with current elected officials, as well as those running to represent Seattle at the local, state, and national levels. Do not miss your chance to meet with policy makers who can directly influence the growth of our state's creative industries.
RANDY ENGSTROM APPOINTED INTERIM DIRECTOR OF SEATTLE OFFICE OF ARTS & CULTURAL AFFAIRS
Mayor Mike McGinn has announced Randy Engstrom as the interim director of Seattle's Office of Arts & Cultural Affairs. Engstrom is founder and president of Reflex Strategies, a cultural and community-based consulting services business, and is known for his work as the founding director of Youngstown Cultural Arts Center. He will begin as interim director on October 3. "I am extremely humbled and honored to have this opportunity. I look forward to an exciting year of building off of the work of an engaged and talented staff, a deeply connected arts commission, and a committed and supportive arts community in order to best leverage the important work of the office," said Engstrom.
REGISTER NOW FOR NIGHTLIFE EMPLOYEE

SECURITY TRAINING
OFFICE OF FILM + MUSIC
Registration is now open for the Seattle Police Department's "Security Training for Nightlife Professionals." Training will take place at 12 p.m. on Sunday, October 21. Guidance and instruction will be offered on topics such as risk prevention procedures, appropriate use of force, fire safety, report writing, checking for fake IDs, emergency response tactics and more. This is an important opportunity for nightlife employees to gain the skills they will need to safely interact with clientele and to deal with difficult situations. All training will take place at the headquarters of Seattle's Police Department.
INDUSTRY NEWS AND UPDATES
2012 CITY ARTS FEST ANNOUNCES FULL SCHEDULE AND LINEUP
CITY ARTS FEST
Planning your City Arts Fest concert-hopping just got easier. Now updated on the website of City Arts are schedule grids for Wednesday, October 17 through Saturday, October 20. Organized into timeslots, performances are easy to track, and festival-goers can now schedule themselves a customized week of concerts with shows from artists such as Yassim Bey (formerly Mos Def) and Two Door Cinema Club. Also, do not miss the posted line-up of special secret shows and the available list of happy hours during the Festival.
FREE WORKSHOPS AND OPEN HOUSE AT SEATTLE FILM INSTITUTE'S NEW LOCATION
SEATTLE FILM INSTITUTE
Join The Seattle Film Institute (SFI) on Saturday, October 6, for the Fall Open House and a special sneak preview of SFI's new home in Seattle. The ten thousand square foot facility includes a new soundstage, a recording studio, a 50 seat movie theater, and a digital editing lab. The Open House runs 11 a.m. to 1 p.m. and is preceded at 9:30 a.m. by two free workshops - a production workshop which provides an overview of lighting, interview and camera techniques, and a screenwriting
workshop
which goes over the process of writing in Seattle and selling to Hollywood.
LOCAL SIGHTINGS FILM FESTIVAL COMES TO A CLOSE, GRANTS ANNOUNCED
NORTHWEST FILM FORUM
The closing night of Northwest Film Forum's Local Sightings Film Festival is this Thursday, October 4. The evening includes the announcement of multiple cash awards, including the 2012 Northwest Film Fund, which will grant $17,000 to regional documentary filmmakers. The 2011 Film Fund winner, Off Label, screens as the closing night film. The full grant fund shortlist can be found at Northwest Film Forum's blog, Hot Splice.
CONNECT WITH SEATTLE ARTS SYMPOSIUM'S INAUGURAL MIXER
SEATTLE ARTS SYMPOSIUM
The Seattle Arts Symposium is a clearing house of events, programs, professional development trainings, and anything else related to the arts education programming in the greater Seattle area.

The Symposium will hold its Inaugural Mixer on Wednesday, November 7, 2012 from 6 p.m. to 8 p.m. at The Sitting Room in Lower Queen Anne. This is a low-key cocktail hour, and a great way to meet other arts providers in the community. Sharing
organizational
materials is encouraged.
BOEING AWARDS REEL GRRLS $75,000 GRANT
REEL GRRLS
This week, The Boeing Company awarded Reel Grrls a Change Capital Grant for $75,000. The grant will help Reel Grrls expand its social enterprise venture, Reel Grrls Productions, which assists young women explore careers in digital filmmaking and technology. According to James Keblas, Director of the City of Seattle 's Office of Film + Music, "Reel Grrls is more important now than ever before. Film production crews and the industry in general are still heavily male dominated. By offering advanced technical training, leadership skills, and job skills for young women, Reel Grrls Productions will help us change this at a time when considerable industry investments are being made."
FINAL SCHEDULE ANNOUNCED FOR MAELSTORM FILM FESTIVAL
MIFFF
The Maelstrom International Fantastic Film Festival (MIFFF), a three day showcase of international and independent films, has released its final
line-up
and schedule. The Festival's fourth year will see the debut of five feature films and over 40 short films.

MIFFF will be hosting its first ever Friday and Saturday night midnight screenings at the SIFF Cinema uptown, while day film screenings will take place in the SIFF Film Center.

The Festival will take place from October 5 to October 7.
HELP "KICKSTART" SEATTLE FILM AND MUSIC PROJECTS
Kickstarter is an online "crowd-funding" resource that helps musicians, filmmakers and
producers of artistic projects reach out to friends and fans for financial support. Kickstarter allows artists the opportunity to give back to funders with special rewards, such as an exclusive album pre-release, a producer credit in a film, or even getting to meet the
artist in person. Seattle is a hotbed for film and music projects, and you can be a pivotal part of the production process by backing a project and spreading the word. Current

Seattle-based Kickstarter projects are listed below, ordered by time remaining. Click on the Kickstarter buttons to check out these local projects and discover even more happening around Seattle.
A one hour broadcast documentary on Initiative 502.
The Aury Moore Band is currently working on their next CD and wants you to be a part!

People Tank are recording their first album with legendary producer Jack Endino (Nirvana, BlackBeatBlue, Dead Language).
The true story of legendary Northwest band Girl Trouble.
(Dis)Order is a play about mental disorders and humanity collaboratively created by young theatre artists in Seattle
This project is a satirical film inspired by slasher movies of the 70s and 80s (specifically the Texas Chainsaw Massacre series).
A short film about chance, serendipity, and magic that involves the pursuit of an American woman in Paris by an eccentric French man who has fallen madly in love with her.
A new full-length album of celestial pop by Cristina Orbe and Jahon Mikal needs funding.
A 3 piece Organ driven Indie group is seeking to fund their first release.
An alternative soul/rock band needs funding to release their upcoming album, No Retreat.
A feature documentary that follows a platoon of hardcore war re-enactors striving to make an authentic recreation of the Vietnam War.

TOP 10 NW MUSIC FOR WEEK OF 9/24 - 10/1
Compiled from figures at Sonic Boom (Ballard) and Easy Street (West Seattle and Queen Anne).
1. Sera Cahoone - "Deer Creek Canyon"
2. Band of Horses - "Mirage Rock"
3. Various artists - "KEXP Vol. 8"
4. THEEsatisfaction - "Awe Naturale"
5. Shins - "Port of Morrow"
6. Head and the Heart - "Head and the Heart"
7. Unnatural Helpers - "Land Grab"
8. Helio Sequence - "Negotiations"
9. Corin Tucker Band - "Kill My Blues"
10. Menomena - "Moms"
SHORT FILM FRIDAY: "BAD PENNY"
VIMEO
The film for this Friday, October 5 will be "Bad Penny," a short by Linas Philips, the 2007 winner of the Stranger's Genius award for film and the director of Walking to Werner and Bass Ackwards. "Bad Penny", which screened last week at the 2012 Local Sightings Festival, is NSFW.
SCARECROW ON SEATTLE:
ADVENTURES IN SPYING (1992)
SCARECROW
Adventures in Spying is an unremarkable yet amiable young adult mystery patterned on Alfred Hitchcock's Rear Window. Bernie Coulson stars as the film's mulleted hero/narrator, who is spending his aimless post-high school summer slumming it at Mom's house and helping his little brother with a paper route in the small town of Rockwater (portrayed by good old Gig Harbor, Washington). He spots a mysterious newcomer at the ferry terminal (portrayed by good old G. Gordon Liddy) and begins his "adventure in spying" with the help of his old pal Shoup (Corey The Chocolate War Gunnestad) and a new found love interest (Jill The Stepfather Schoelen). It turns out that G. Gordon is actually a notorious drug kingpin who faked his death in Seattle and then snuck off to Rockwater to continue his criminal activities. Veteran character actor Seymour Cassel is a New York cop (you can tell by his Mets baseball hat) who has been pursuing G. Gordon and even witnessed his alleged death in an exploding car. Cassel has a hunch it was all a set up and he soon arrives in Rockwater to pursue a few leads. The film culminates in a minor maritime action scene involving a boat chase and shoot-out.
Rounding out the cast is Michael Emil (who is best known for appearing in the films of his brother, Henry Jaglom), busy character actor Michael Bowen and a whole slew of local talents including John Shredder Orpheus Billingley, Ted G-Sale D'Arms, Robert Dogfight Munns, and Paul Joyride Fleming. Aside from the extensive use of Gig Harbor, the filmmakers shot several scenes in Seattle including some skyline views and a car chase down East Pike Street around Boren on lower Capitol Hill. Both the Steilacoom terminal and its namesake ferry are shown, and I think they actually use the Southworth ferry terminal for the one in the fictional town of Rockwater. According to the movie's end credits, some shooting took place in Tacoma but I didn't see anything that I recognized. All in all, this is a typical early nineties straight-to-video outing, but Adventures in Spying is notable for its oddball cast and thorough use of the Puget Sound area. Never released on DVD, you can find it on vintage VHS in Scarecrow Video's action packed "Bang!" section.
- Spenser Hoyt
SEATTLE IS THE NEW SEATTLE
MTV HIVE
Many people equate Seattle's grunge era with the do-it-yourself attitude, wondering if we'll ever see such a regional musical outbreak again. Grunge was all about being community-focused and non-commercial. However, Seattle is still very much of the DIY nature. Inspired by both the musical legacy of their city and the vibrant community of their neighbors to the south in Olympia, venues dedicated to do-it-yourself values and all-ages admission started hosting shows where Seattle-area youth could see bands both local and national, hang out, and in many cases, form bands of their own. Places like The Vera Project and The Old Fire House in suburban Redmond are not only prime hangout spots, but are also volunteer-operated, a perfect way for patrons to give back to the arts community.
MUDHONEY'S INFLUENCE ON ALTERNATIVE ROCK DOCUMENTED IN FILM
RAVALLI REPUBLIC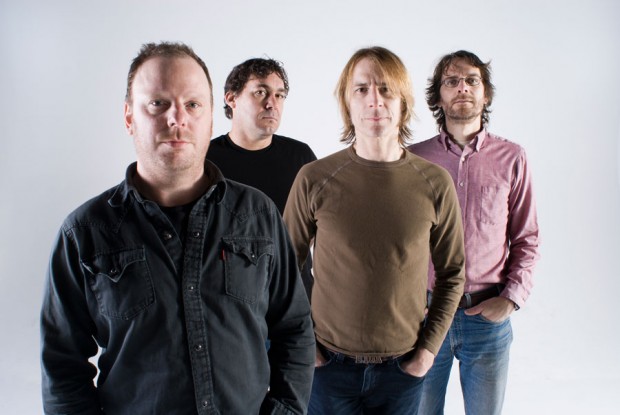 If you hate the term "grunge," imagine the burden on Mudhoney. More than 20 years ago, the band invented the term and pioneered the style, but never really reaped the monetary benefits of the genre's commercial explosion as some peers did. A new documentary, "I'm Now," is a beer-stained, high-volume, and often hilarious reminder of the group's contributions. The film, making its Montana premiere on Saturday at the Crystal Theatre with two screenings, was co-directed by Adam Pease and Ryan Short, a duo who previously made a documentary about the also-influential Seattle band Tad.
SEATTLE ARTIST CREATES AMBIENT CINEMA EXPERIMENT, UNDONE
ISO 50
C Andrew Rohrmann or scntfc is a Seattle-based multi-disciplinary audio + visual artist. He has been working in music, design, and media production for the past fifteen years. Rohrmann has completed many successful commissions including feature film scores, large scale audio installations, and art direction for commercial clients. He recently completed a new series, titled Undone. Undone is an experiment in ambient cinema, comprised of an ever-expanding series of short films revolving around the depiction of artificially constructed macroscopic environments. The intent is to evoke a sense of space that is ambiguous in terms of scale: simultaneously microscopically small and astronomically large.
FILMMAKERS: CREATE A SHORT VIDEO TO VOICE YOUR POLITICAL MESSAGE
SEATTLE TIMES
The Seattle Times is asking filmmakers to create their own fun, political messages that they wish they could see this election season. Here's the deal: You create a short video (30 seconds to one minute) that depicts a message you think is important to Washington state's voters. Feel free to add some humor to these videos. Spoofs on political ads are allowed, however, The Seattle Times asks that you not be insulting or hateful toward any particular candidate, political party or ballot initiative. To give you some inspiration for your own short spot, local filmmaker Will Braden created a video starring Henri the Existential Cat, otherwise known as Henri, le Chat Noir.
USEFUL iPHONE APPS FOR FILMMAKERS
NFFTY
You have a brand new iPhone. Now what? Well, for filmmakers and creative professionals, NFFTY (National Film Festival for Talented Youth) has put together a list of productive apps to help tweak and finish film projects. From an app that turns your smartphone into a portable scene slate to a story-board app that enables you to pre-visualize film scenes on your device, the list of applications put together by NFFTY is a helpful resource for movie makers looking to maximize the utility of their new smartphones.
SEATTLE-BASED FILMMAKER WINS POINT NORTH PITCH AWARD
INDIEWIRE
This past weekend at the Camden International Film Festival, Mike Attie and Meghan O'Hara's pitch for their Vietnam War reenactor film In Country, came out as the Points North Pitch winner. The pair's film was up against seven other projects, including Ben Niles' Some Kind of Spark, which won Indiewire and CIFF's Project of the Week contest this September. After expanding the Pitch contest to documentary filmmakers from across the U.S. (previously, the Pitch was only open to projects from New England-based filmmakers), Points North Producer Sean Flynn said the number of applicants doubled. Attie, in fact, is from Seattle.
MUSIC'S NEW MATH
NY MAG
With rapidly changing technology in the music world, how are musicians making their money? In previous decades, a best-selling album would help rake in profits for artists. However today, lesser-known artists have found more financial success by performing at larger venues. Bands such as Dispatch, who have around 300,000 facebook fans, are selling out shows at Madison Square Garden alongside more famous acts such as Swedish House Mafia, who have over 3 million facebook fans. As the years have progressed, there has been an increasingly concentrated group of artists who chart No. 1 songs. Since 2008, there have been 66 No. 1 songs, and six artists are behind almost half of them, whereas in 1986, there were 31 No. 1 songs by 29 different musicians and bands.
THE REVERB FESTIVAL CLASS OF 2012
SEATTLE WEEKLY
56 local bands will descend on Ballard this Saturday, October 6 for a thrilling evening full of music. Seattle Weekly has compiled a full list of performances. The shows will begin around 6 p.m. and will continue through 12:30 a.m. Venues for Reverb Festival include the 2 Bit Saloon, Sunset Tavern, Miro Tea, Conor Byrne Pub, Tractor Tavern, Hilliard's Beer, Salmon Bay Eagles Club, and New York Fashion Academy. All of these locations are in Ballard, save for Hilliard's Beer which is in Fremont. Notable bands performing include Soul Senate, Arrington de Dionyoso, and Monogamy Party.
SOUNDGARDEN TEASES COMEBACK ALBUM WITH NEW SINGLE
AV CLUB
Fans of Seattle grunge, rejoice, for your gravelly voiced heroes have returned. Soundgarden will release their first album in 15 years this November. As is required by music-industry law, the band has released the first single in advance. "Been Away Too Long." The single, as the accompanying press release puts it, is "a celebration of urban angst and rock." While King Animal, the band's new record, should satiate fans' hunger for Soundgarden's "revolutionary impact" (again, quoting the press release), "Been Away To Long" provides an acidic taste of what's in store.
OWNER OF EASY STREET RECORDS, MATT VAUGHAN, AND HIS MUSIC MEMENTOS
PSBJ
Matt Vaughan, the owner of Easy Street Records stores in West Seattle and Queen Anne, is a long-time supporter of Seattle's music scene. Vaughan started his business in 1987 when he was just 18. Back then, Seattle was quickly becoming known nationally for bands such as Nirvana, Pearl Jam, Alice in Chains, Soundgarden, Mudhoney and others. Over the years, Easy Street has also been visited by a number of well-known artists. All of which has given Vaughan an interesting collection of mementos, including a note left by Patti Smith asking to buy a copy of her 1975 debut album "Horses" on vinyl because she did not own a copy.
Seattle Office of Film + Music Staff
James Keblas,
Director
Chris Swenson,
Film Program Coordinator
Rachel Sawyer,
Music + Nightlife Program Coordinator
Romir Chaudhuri,
Intern
Rebecca Pirwitz
, Intern
Ryan Styrk, Intern