Vol. 7, No. 18

October 2, 2013




COMMERCIALIZE-IZED IT!
In support of Commercialize Seattle, the new business development campaign designed to drive local film production and advertising business, we will feature a commercial shot in Seattle and around Washington every week. This week's feature is from Straightface Studios, a visual effects company that provides animation and motion graphics for TV, film, web, and print. Their clients include T-Mobile, Microsoft, and Nike. In their work for a National Multiple Sclerosis Society "Is It The Rain?" commercial, they provide off coloring orange to illustrate people and objects against black and white landscapes, and large prominent text blocks that innocently ask about the possible causes of multiple sclerosis.
NEIGHBORHOOD AND COMMUNITY ARTS APPLICATIONS DUE OCTOBER 23
The City of Seattle Office of Arts & Culture's 2014 Neighborhood and Community Arts funding applications are now available. The Neighborhood & Community Arts program supports Seattle's neighborhood arts councils and community groups that produce events to promote arts, including film and music, and build community. By supporting these events, which promote creativity at a grassroots level, the Office of Arts & Culture is investing in dozens of festivals and community cultural projects. Last year the program provided $1,200 each to 40 groups to support public festivals and events. The deadline for applications is October 23.
ART ZONE WITH NANCY GUPPY
This week's episode of Seattle Channel's "Art Zone" with Nancy Guppy features: A performance by the acoustic trio Cuong Vu Trio; a chat with Earshot Jazz Executive Director John Gilbreath about Earshot Festival's 25th anniversary season; singer and songwriter Naomi Wachira sharing her inspiration for song lyrics; and a "video postcard" from The Stranger's 2013 Genius Awards.
INDUSTRY NEWS AND UPDATES
KASULKE, KANG, AND KENNEY NAMED FILM AND MUSIC GENIUSES
Congratulations Ben Kasulke (Film) and Eyvind Kang and Jessika Kenney (Music), who were honored as Geniuses at the 2013 Stranger Genius Awards! 2012
Mayor's Film Award
recipient Kasulke has worked with the likes of Lynn Shelton, Megan Griffiths, Dayna Hanson, and Amy Sedaris, and is "the premier cinematographer working in Seattle -- and perhaps all of independent cinema," according to
The Stranger
. Eyvind Kang and Jessika Kenney are known for their eclectic style, and use of viola, voice, Persian poetry, erhu, tuba, and "space and time." The duo is described by the Stranger as sounding like "the ancient world, a force of nature, and the voice of gods and ancestors," and broadcasting "maximal emotion through minimal means" from their music. The Genius Awards were held Saturday at the Moore Theatre.
LITTLE BIG SHOW IS BACK WITH THE JOY FORMIDABLE ON OCTOBER 17
KEXP, Starbucks, and STG are partnering together to present "Little Big Show," a concert series created to benefit Seattle's arts organizations. Throughout the year, KEXP, Starbucks, and STG will present bands at The Neptune, and donate 100% of ticket sales to a local non-profit. On Thursday, October 17, The Joy Formidable and Feral Children kickoff the concert series. All proceeds for this show benefit The Seattle Music partners, a non-profit organization that recruits, trains, and supports skilled high school, college-aged, and community musicians as volunteer music tutors and mentors who lead one-on-one music lessons each week with elementary school students in the Central District.
SEATTLE FILM INSTITUTE'S FALL OPEN HOUSE AND FREE WORKSHOPS
On October 5, the Seattle Film Institute is opening its doors for its fall open house event with free workshops. The Seattle Film Institute provides real world education from faculty anchored by film industry professionals, which features hands-on educational and practical experiences to provide the groundwork for professional careers. This is an excellent opportunity to see the facilities, meet faculty members and prospective students, and learn more about their programs. There will also be a free workshop on DSLR Filmmaking and a screenwriting workshop, "Creating Suspense." Both workshops start at 9:30 a.m., and the open house starts at 11:00 a.m.
2014 FOLKLIFE FESTIVAL SEEKS PERFORMERS & INSTRUCTORS
Northwest Folklife invites musicians, dancers, community groups, artists, storytellers, and instructors from the Greater Northwest to participate in the 43rd annual Northwest Folklife Festival. The festival will take place May 23 through May 26, 2014, at the Seattle Center. The Northwest Folklife Festival is the largest free community arts festival in the U.S. All interested participants must apply to participate; applications and more information can be found here.
PRACTICE SPACE SEATTLE: A RESOURCE FOR MUSICIANS
Bands can often find it difficult to find a comfortable place to practice. Started last spring, Practice Space Seattle was created to address those needs. Practice Space Seattle is an online resource for local musicians that offers practice space availability listings, as well as equipment repair providers, a recording services directory, a guide to getting airplay on local radio, information on how to join the local musicians union, and much more.
TOP 10 NW MUSIC FOR WEEK OF 9/23
Compiled from figures at Sonic Boom Records (Ballard) and Easy Street Records (West Seattle).
1. Nirvana - In Utero
2. Neko Case - The Worse Things Get, The Harder I fight, The More I Love You
3. Caspar Babypants - Baby Beatles
4. Moon Doggies - Adios I'm a Ghost
5. Star Anna - Go to Hell
6. Laura Veirs - Warp & Weft
7. Mark Lanegan - Imitations
8. Mark Pickerel and His Praying Hands - Tess
9. Shelby Earl - Swift Arrows
10. Pickwick - Can't Talk Medicine
KICKSTART SEATTLE FILM + MUSIC PROJECTS
When it comes to finding and supporting Seattle film and music projects, our Kickstarter Seattle page brings the newest film and musical projects from the hard working creatives of our fair city. This week, a newly added project is Kevin Owyang's indie flick Mooo, about "friends who help a low-life misogynist & filmmaker wannabe." Also, be sure to check out the soon-to-be expired project for Bitar, a touchscreen electric guitar app.
DANNY GLOVER HEADLINES SOCIAL JUSTICE FILM FESTIVAL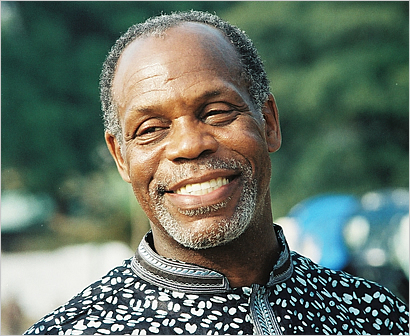 "Film can be such a powerful art form," says Anne Paxton, director of the 2013 Social Justice Film Festival (SJFF). "It can create a shift in people's thinking on a cultural level. The Thin Blue Line helped free a man who was unjustly accused of murder, and that's just one example." Beginning Oct. 10, the Social Justice Film Festival hosts a four-day lineup of similar, issue-oriented films. Screening on opening night is Mothers of Bedford, a new documentary about incarcerated mothers in New York State. Tula the Revolt, a Dutch film about the Curaçao Slave Revolt, makes its U.S. debut October 13 at the Cinerama, featuring a Q&A with star Danny Glover. Also that day, SJFF presents its Youth Visions competition for filmmakers aged 21 and under.
MOBY, LORDE, AND ZEDD HELP RING IN DECIBEL'S TENTH YEAR
ROLLING STONE
In 2013, the iconic talent that flocked to Seattle, and the fans that followed, redefined standards for Decibel Festival, as well as the city's role in the growing popularity and subsequent exploration of electronic dance music and pop at large. Decibel isn't explicitly about beats, dubstep breakdowns, and rallying concertgoers with the promise of a major DJ spectacle like Deadmau5, Skrillex or Calvin Harris. It's more of a collection of curated experiences that push the envelope of electronic music expectation. The electronic music festival had a jaw-droppingly good lineup, including Moby, Zedd, and Lorde.
CHRIS CORNELL ON SEATTLE'S GRUNGE ERA
On the heels of his tour, Chris Cornell of Soundgarden and Audioslave sits down with CNN to discuss his involvement and experience in Seattle's Grunge explosion. Chris details how Seattle's isolation allowed its music scene to grow organically, how Seattle bands grappled with
the transition from independence to commercial contracts
, and how he dealt with the news of Kurt Cobain's death.
LOCAL BAND THE STRANGE KIND SET TO PERFORM ON JIMMY KIMMEL LIVE
Since being profiled by "Art Zone" with Nancy Guppy, Xolie Morra and her band, The Strange Kind, have been invited to perform on "Jimmy Kimmel Live." Xolie Morra, the lead singer for The Strange Kind, is no ordinary musician. Xolie has aspergers, and says that she is not very comfortable in everyday life, but that the stage and music is where she has found comfort. On her condition, Xolie says "The Challenge that I was faced with over the past couple years has helped me connect with people, and to allow people to connect with me, but I would like people to focus on the music."
DAVE GROHL ON THE MAKING OF IN UTERO
ROLLING STONE
In Utero, which was rereleased last month, will always be remembered in infamy as Nirvana and Kurt Cobain's final work. In an interview with the Rolling Stone, drummer Dave Grohl says of In Utero, "You can describe it as a remarkable achievement, [and] you can also remember it as a really [messed-up] time." Grohl discusses the In Utero recording process that took place in a snowbound house in the middle of Minnesota, how drug use affected the band's final days, and his last conversation with Kurt Cobain.
QUICK LINKS