Vol. 6, No. 19




September 26, 2012
INDUSTRY LEADERS AND ELECTED OFFICIALS MEET UP NEXT WEEK
Meet elected officials and candidates running to represent Seattle at the city, state, and national levels! Our October 3 Happy Hour at Spitfire is designed to help members of the local film, music, and interactive industries meet and share ideas with current elected officials, as well as those running to represent Seattle at the local, state, and national levels. Don't miss your chance to meet with policy makers who can directly influence the growth of our state's creative industries.
SEATTLE CHAMBER PUBLIC AFFAIRS INTERNSHIP-POSTING CLOSES FRIDAY
SEATTLE CHAMBER
Seattle Chamber is currently seeking a public affairs intern. Interested applicants have until September 28 to apply. The position supports the policy and public affairs work for the Seattle Metropolitan Chamber of Commerce through research, analysis, writing and administrative support to the department. The internship will focus on a variety of policy issues including, but not limited to, transportation, education, trade, land use, taxation and utilities.
ART ZONE WITH NANCY GUPPY ON SEPTEMBER 28
SEATTLE CHANNEL
This friday, Nancy Guppy's Art Zone will profile successful screenwriter Bob Nelson, a former cast member of Almost Live. Nelson's current script "Nebraska" is being directed by the Descendants director, Alexander Payne. Also featured on the show is musical guest, Corespondents, who will perform in Studio AZ. Catch this and more on Friday at 8 p.m.
INDUSTRY NEWS AND UPDATES
FILMMAKERS: SEATTLE FILM SUMMIT
IS
THIS SATURDAY
SEATTLE FILM SUMMIT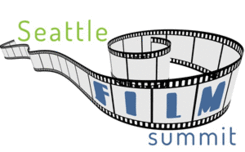 Join other film industry professionals this Saturday for the inaugural Seattle Film Summit. The Seattle Film Summit is convened to identify specific, practical ways in which the Washington State film community can innovate, develop, and cultivate a viable, robust film industry. Summit organizers are assembling industry professionals and leaders as featured panelists and delegates who will be on hand to help answer questions and lead discussions. The Seattle Film Summit is an official program of the 15th annual Local Sightings Film Festival and will be held at Northwest Film Forum from 10:00 a.m. - 4:00 p.m. this Saturday, September 29.
WASHINGTON FILMWORKS ANNOUNCES NEW BOARD MEMBER
WASHINGTON FILMWORKS
Governor Chris Gregoire has appointed Washington Filmworks' newest board member, Paul Matthaeus, to represent interactive media and emerging forms of motion picture production.
Paul Matthaeus started Digital Kitchen (DK) as the studio for the ad agency he founded in 1992. With training in photography, filmmaking, advertising and marketing communications, he chartered DK to advance experimentation and creativity in full-motion electronic media. DK was twice-voted best by the Association of Independent Commercial Producers, and in 2002 and 2007 won the Emmy® at the Academy of Television Arts & Sciences.
LOCAL AND INTERNATIONAL ACTS SET TO PERFORM AT POLISH FESTIVAL
POLISH FESTIVAL
The Polish Festival at the Seattle Center (September 30 from noon - 6 p.m.) will feature music and dance performances by several folk groups from the USA and Canada. Vivat Musica!, a local Polish Choir, will present a medley of Polish folk songs from different regions of Poland. Young Polanie, a youth folk group from Seattle's Polish Cultural Center, will perform traditional Polish dances. The program will conclude with a performance by local group, Knife in the Water Quartet, featuring Seattle jazz musicians.
FILMMAKERS: SUBMIT YOUR WORK TO THE SOUNDS OF SILENTS FILM PROJECT
SEATTLE INTERNATIONAL FILM FESTIVAL
The Seattle Composers' Alliance (SCA), Seattle Jazz Composers' Ensemble (SJCE) and Seattle International Film Festival (SIFF) are calling on filmmakers for submissions of original silent films and for composers to submit material which demonstrates their ability to score film and live performances. Submissions are required to be a completely silent film, up to five minutes long, in one of the four categories: narrative, documentary, experimental or animation. Films will be assigned to composers at the end of November, and composers will then have three months to write a score for the film. During that time, live workshops in Seattle will be made available, led by members of the SJCE. Submission deadline for both filmmakers and composers is November 2, 2012.
BEAT CONNECTION PERFORMS AT SEATTLE CHAMBER ANNUAL MEETING
SEATTLE CHAMBER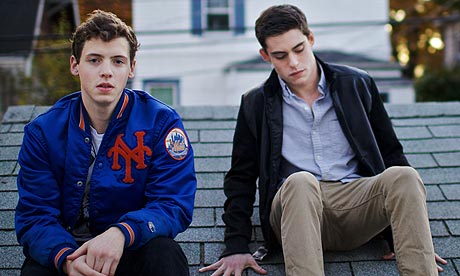 The 130th annual Seattle Chamber of Commerce Meeting ended with a bang by local group Beat Connection. Beat Connection began as the project of University of Washington students Reed Juenger and Jordan Koplowitz. The pair met as freshmen in 2008 and soon began DJ'ing and writing songs together in GarageBand. After hearing from guest speakers who work at prominent local companies such as Boeing, Starbucks, and Alaska Airlines, the musical duo finished things up with a performance for the audience. Beat Connection will also be on Jet City Stream playing tracks off their newest LP this Thursday at 3:30 p.m.
LORI GOLDSTON AND MEGAN GRIFFITHS WIN MUSIC AND FILM GENIUS AWARDS
THE STRANGER
Every fall since 2003, panelists from The Stranger have awarded $5,000 to five artists in five disciplines. On September 22, Lori Goldston (music) and Megan Griffiths (film) joined the "League of Geniuses" by winning the 2012 Stranger Genius Awards. Goldston, a classically trained cellist, led an orchestra through improvisation during the awards with little more than written text to inspire her musicians. Megan Griffiths illustrated her extensive range in the film category by following up her quiet feature about a diner (The Off Hours) with a horrific thriller about human trafficking (Eden).
FORMER CBS EXECUTIVE TO PRODUCE ORIGINAL VIDEO CONTENT FOR XBOX
MICROSOFT
Nancy Tellem, the former president of CBS, has been hired as president of Microsoft's Entertainment and Digital Media department. Tellem will oversee the launch of a newly created production studio in Los Angeles that will develop interactive and linear content for Xbox and other devices. In addition to running the production studio, she will help spearhead the company's efforts to turn Xbox into a destination where consumers can enjoy all their entertainment in one place.
HELP "KICKSTART" SEATTLE FILM AND MUSIC PROJECTS
Kickstarter is an online "crowd-funding" resource that helps musicians, filmmakers and
producers of artistic projects reach out to friends and fans for financial support. Kickstarter allows artists the opportunity to give back to funders with special rewards, such as an exclusive album pre-release, a producer credit in a film, or even getting to meet the
artist in person. Seattle is a hotbed for film and music projects, and you can be a pivotal part of the production process by backing a project and spreading the word. Current

Seattle-based Kickstarter projects are listed below, ordered by time remaining. Click on the Kickstarter buttons to check out these local projects and discover even more happening around Seattle.
A 26-piece chamber orchestra explores the subtleties of human consciousness, awareness and experience through sound.

A short film about the military career of Pvt. "Little" Sammy Vogel, a 7 ton, 40 foot long Army infantryman and Tyrannosaurus Rex.

An adventure-comedy-fantasy web series featuring cross-genre characters in a magical, fantastical realm.
A one hour broadcast documentary on Initiative 502.
This project is to fund six new works for solo cello, composed by Peter Vukmirovic Stevens and performed by Paige Stockley.

The Aury Moore Band is currently working on their next CD and wants you to be a part!

People Tank are recording their first album with legendary producer Jack Endino (Nirvana, BlackBeatBlue, Dead Language).
(Dis)Order is a play about mental disorders and humanity collaboratively created by young theatre artists in Seattle
This project is a satirical film inspired by slasher movies of the 70's and 80's (specifically the Texas Chainsaw Massacre series).
A short film about chance, serendipity, and magic that involves the pursuit of an American woman in Paris by an eccentric French man who has fallen madly in love with her.
An alternative soul/rock band needs funding to release their upcoming album, No Retreat.
TOP 10 NW MUSIC FOR WEEK OF 9/18 - 9/25
Compiled from figures at Sonic Boom (Ballard) and Easy Street (West Seattle and Queen Anne).
1. Band of Horses - "Mirage Rock"
2. Live at KEXP - "Live at KEXP Vol. 8"
3. THEESatisfaction - "Awe Naturale"
4. Allen Stone - "Allen Stone"
5. Brandie Carlile - "Bear Creek"
6. Physics - "Tomorrow People"
7. Caspar Babypants - "Hot Dog!"
8. Head and the Heart- "Head and the Heart"
9. Seapony - "Falling"
10. Helio Sequence - "Negotiations"
SHORT FILM FRIDAY: "OUR TIME TOGETHER"
VIMEO
The film for this Friday, September 28, will be "Our Time Together," a short directed by David R. Lipson and made from the "resources leftover from another production." The film sets the harsh realities of loneliness and longing against the blurred background of the city. The city almost never comes into focus; its merry/magic lights are, for the urban loner, as cold as the distant and wandering stars.
SCARECROW ON SEATTLE:
THE OFF HOURS (2011)
SCARECROW
You know when you wake up too early and everything is blurry? The world is fuzzy and your brain is slow to process what's going on? It usually wears off as you wake up, but some people, like many of the characters in The Off Hours, seem trapped in that state for years. Writer, director, and recent Stranger Genius Award winner Megan Griffiths' first feature is a heartbreakingly beautiful portrait of people stuck in their own cavernous ruts without the strength to climb out. The fine ensemble is led by Francine (Amy Seimetz), a night shift waitress at a tiny roadside diner who has spent a dozen years behind the counter either fending off truckers' advances or sneaking off for a tryst in the bathroom. Her boss Stu (Tony Doupe) is an alcoholic struggling to remain sober and keep a grip on the last fraying strands of contact with his teenage daughter. They and the rest of the characters crawl through their days, dulling themselves with sex, booze, coffee, video games, sleep-whatever fills the time. A break comes when Francine begins flirting with Oliver (Ross Partridge), a truck driver taking time from his banking career (and the family) for "perspective." His refusal to give in to her seduction causes Francine to take a moment and reflect on just what she's doing. Griffths' screenplay doesn't over explain or exploit the characters' past troubles for dramatic effect, and no one has a joyful, life changing experience that saves them from themselves. The script and subtle yet strong performances from the whole cast draw you in, and you can't help but be endeared to them and their fate. It's a story of people who've either forgotten or never known what they were supposed to be. As the film goes on, you root for them to wake up and figure it out.
Among the stories on the DVD's making of featurette, director of photography Benjamin Kasulke explains just what it takes to create a bleary 4 a.m. feel for every scene, even if it's supposed to be the middle of the day. We hear from producers and actors and others who enthusiastically came together to make Griffiths' movie. Your Sister's Sister writer/director Lynn Shelton, who has a small but memorable role in the film, was also a consulting producer. She comments on the great spirit of cooperation filmmakers have in Seattle and how after spending more time in L.A. she's come to value that spirit more and more.
The credits proudly state "This film was shot entirely on location in Washington State," mainly around nameless abandoned lots and railroad tracks and rundown motels. The diner, Ed's #1 Cafe in Burien, had been closed for years when Griffiths and crew came in to film. The only building I recognized outright was the Georgian Motel around 88th on Aurora. I think Francine and her foster brother Corey get drunk at the Zoo Tavern on Eastlake (with Sean Nelson tending bar), but it's hard to make out specifics in the shadows. The last scene gives Francine a glimpse of a bright Seattle skyline from Harbor Island. Hopefully for her, it's an indication of a better life ahead.
-Jen Koogler
CITY ARTS FEST OFFERS UNEXPECTED SURPRISES FOR EVERYONE
KOMO
The third annual Heineken City Arts Fest (October 17 - 20) will transform downtown Seattle into a playground for lovers of music and the arts. Wristbands and individual tickets are on sale now, and will give fans access to dozens of concerts at iconic venues, secret arts shows and unexpected experiences. City Arts Magazine Editor Leah Baultus exclaims, "On the music side, there's a huge range of stuff. One I'm really excited about is the Dave Byrne/St. Vincent show. We also have Reignwolf who's the big, hot music story out of Seattle right now. There's so much range in music line up this year. There's a ton, really something for everyone on the music side."
SEATTLE-BASED CREATIVE AGENCY, CINESAURUS, SATIRIZES SIZE OF NEW IPHONE
YOUTUBE
The team behind the "We're NASA and We Know It" viral video has produced a new satirical web hit. This time, the scope is on the larger screen size of the iPhone 5. Both videos are hosted at a new YouTube channel called YouTube.com/Satire. The channel is comprised of content created by local filmmakers from Cinesaurus, team members behind the Job Hunters web series, and other film and tech companies around Seattle.
CROWD FUNDING FOR MUSICIANS ISN'T THE FUTURE; IT'S THE PRESENT
NPR
As more and more people utilize Kickstarter to fund their music projects, there are simultaneously more people finding out that the service does not always work. Terry Roche, who put out more than a dozen albums since 1975 through major labels tried this approach recently without success. Yet local Seattle group, The Physics, succeeded as a result of their fan base's recent growth and web based social activity. The ability to work outside of a record label gives musicians who might not have a chance to be signed the opportunity to put their work in front of people who might like it.
CAN HAZ REALITY TV: NEW BRAVO SHOW SET IN SEATTLE
SEATTLE MAG
Adding to the recent announcement of Top Chef Seattle, Bravo will premiere their new reality show, LOLwork, which surrounds Ben Huh and his staff at Cheezburger - a Seattle start-up that provides online humor. Best known for their funny captions across cute photos of pets, the show hopes to track the shockingly banal process behind creating viral content at Cheezburger. The show stars real Cheezburger employees and was filmed entirely in Seattle.
DECIBEL FESTIVAL 2012 RADIATES EDM TALENT AND INDUSTRY EXPERTISE
CAPITOL HILL BLOG
Decibel is an ambitious festival. Besides the music showcases, one major aspect is the conference, which takes place largely at the Broadway Performance Hall. The conference includes workshops, keynotes, product demos, and much more. Electronic music enthusiasts would be well-advised to attend as much of this year's Decibel as possible. For fans of the upperclassmen, there's Orbital at the Paramount on Thursday, KEXP recommends dB in Dub and Cerebral Vortex at Neumos on Wednesday and Saturday respectively. Off the Hill there are also many don't-miss shows like Tipper, MIMOSA, and Starkey, at Showbox on Thursday.
CROWDS SWARM TO SUMMER CONCERTS DESPITE TOUGH ECONOMY
SEATTLE TIMES
Chateu Ste. Michelle, The Gorge, Woodland Park Zoo, and more all had especially strong ticket sales this past summer. This came at a time when Seattle's unemployment rate reached 8.3 percent. During hard times, consumers tend to defer big vacations and purchases, but individuals still view concerts as memorable experiences that are also a good value. Echoing this local trend, according to Pollstar, the top 100 North American tours in 2012 have sold a record 18.6 million tickets, an 11.3 percent increase over last year.
LOCAL LEGENDS PAT O'DAY AND MARCO COLLINS TO CO-HOST JET CITY STREAM
JET CITY STREAM
Marco Collins invites fellow Seattle radio legend Pat O'Day to co-host the Top 20 Seattle Songs. The two personalities have made a name for themselves by discovering the best sounds of Seattle from the '60s (O'Day) and the '90s (Collins). Both men have the distinct honor of being inducted into the Rock and Roll Hall of Fame. The Seattle Top 20 Countdown is a weekly feature hosted by Collins that covers the best-selling albums from Seattle artists, based on local record store sales.
SEATTLE TO HOST TOP CHEF SEASON 10, WOLFGANG PUCK TO JUDGE
SEATTLE TIMES
Top Chef Season 10, which airs its first episode on November 7, will be set in Seattle. Emeril Lagasse and Wolfgang Puck will join the judging panel, along with returning judges Tom Colicchio, Lakshmi, Hugh Acheson and Gail Simmons. In an introductory video, the celebs talked up Seattle, with Lakshmi calling it "verdant" and Acheson praising our "amazing, burgeoning food scene."
Seattle Office of Film + Music Staff
James Keblas,
Director
Chris Swenson,
Film Program Coordinator
Rachel Sawyer,
Music + Nightlife Program Coordinator
Romir Chaudhuri,
Intern
Rebecca Pirwitz
, Intern
Ryan Styrk, Intern