Vol. 7, No. 17

September 25, 2013




FILM PRODUCER, DIRECTOR DOUGLAS HORN HEADLINES HAPPY HOUR TONIGHT!
We are very excited for tonight's Happy Hour guest speaker Douglas Horn. As a feature film producer, director, and respected blogger in the film industry, Douglas Horn is on the cutting edge of industry trends. He will share new trends in film distribution, including VOD, day-and-date releases, and demand-based theatrical and non-theatrical exhibition. He's also got the inside track on emerging opportunities in film finance, such as crowd-investing and staged financing. Hear him discuss why the economics of independent film have been a crazy bet for the past five years, and why he thinks that these exciting changes now open a new chapter for independent producers with the right projects. Check out his blog here.
COMMERCIALIZE SEATTLE NOW
Advertisers and production companies, now is your opportunity to take part in Commercialize Seattle, the campaign that is driving local film production and advertising business. Sign up today to become a registered production company, and enjoy the attractive film incentives that the State is now offering. To register click here.
CITY OF MUSIC CAREER DAY BOASTS IMPRESSIVE ROSTER OF SPEAKERS
Students will be treated to a exciting lineup of impressive speakers starting with a keynote by KEXP's John Richards, giving students a broad array of music industry perspectives. City of Music performance artists include: Composer, Orchestrator, and Violinist Andrew Joslyn, Larry Mizell Jr., of Don't Talk to the Cops member, and contributor to The Stranger and KEXP, Seattle Rock Orchestra's Scott Teske, Blue Scholars M.C. Geo, and Cornish professor Gretta Harley. Music Industry experts include: Sportn' Life Music Group's DeVon Manier, booking agency Billions' Ali Hedrick, Sonic Boom Records' Jason Hughes, Sub Pop's Jeff Kleinsmith, Barsuk Records' Josh Rosenfeld, and Pearl Jam/Ten Club's Tim Beirman. The Vera Project will also host an interactive training with live sound, stage tech, recording, screen-printing, and more. Registration for Seattle area high school and college students is still open, but seats are going fast.
ART ZONE WITH NANCY GUPPY
This week's episode of Seattle Channel's "Art Zone" with Nancy Guppy features: A campfire side performance of songs from the newly released album Adios I'm a Ghost by The Moondoggies; And artist Etsuko Ichikawa, known for painting with molten glass, discusses her new film Echo at Satsop.
INDUSTRY NEWS AND UPDATES
NORTHWEST FILM FORUM PRESENTS 'LOCAL SIGHTINGS FILM FESTIVAL'
Northwest Film Forum is hosting their annual Local Sightings Film Festival beginning this Friday, September 27, and concluding on October 3. Local Sightings is a showcase of new films from the Northwest that puts homegrown talent in front of Seattle audiences and connects artists from Alaska to Oregon in a celebration of film from the region. Besides the new films and parties, there will be artist talks and networking events held throughout the week to allow film lovers and filmmakers to explore local creativity.
SEATTLE FILM SUMMIT IS THIS SATURDAY AT NORTHWEST FILM FORUM
The Seattle Film Summit seeks to empower and inspire Washington state media producers and filmmakers to discover and develop innovative methods of storytelling, funding and distribution. The goal of the summit is to build upon the robust local media production industry that provides well-paying, stable jobs for Washington state residents. Panel topics include the musical components of film, industry lessons learned the hard way, networking, crowd source funding, and life after "House of Cards." Panels feature well-known industry professionals, including director Megan Griffiths, Clatter&Din co-owner Peter Barnes, producer and screenwriter Douglas Horn, 48 Hour Film Project producer Krk Nordenstrom, location manager Dave Drummond, producer Mel Eslyn, CEO of Indieflix Scilla Andreen, and James Keblas and Chris Swenson of the Office of Film + Music. The Seattle Film Summit is this Saturday, September 28, from 10:00 a.m. to 4:30 p.m.
SPECIAL EVENT: AN INSIDER VIEW ON SUCCESSFUL KICKSTARTER CAMPAIGNS
Join us on November 6 for a special presentation from Kickstarter's Art Program Director Stephanie Pereira for a primer on how to bring a Kickstarter project to life. We'll take a look at some successful projects from across the site and discuss what kind of rewards work best, how to spread the word about your project, and other helpful tips. Stephanie has spent nearly a decade working in nonprofit arts management, and before joining Kickstarter, led public programs at Eyebeam Art and Technology Center in NYC. She holds an MA in Arts Administration from the School of the Art Institute of Chicago, and a BFA in Visual Art from Rutgers University. Kickstarter is a funding platform for creative projects. Everything from films, games, and music to art, design, and technology. Kickstarter is full of ambitious, innovative, and imaginative projects that are brought to life through the direct support of others.
EXPERIMENTAL MASHUP DEBUTS AT CHAMBER OF COMMERCE LUNCHEON
The Seattle Metropolitan Chamber of Commerce's annual luncheon will feature a unique selection of local Seattle music. Keeping up with the theme of "visionary aspiration," the meeting will feature an unprecedented mash-up performance by Seattle electro-soul duo Fly Moon Royalty and Seattle Opera cast member Karl Marx Reyes. For event details, click here.
FILMMAKERS: KCTS 9 WANTS YOUR WORK FOR 'REEL NW' SEASON FOUR
Indie filmmakers: Don't miss this opportunity to get your work in front of a TV audience on KCTS's Northwest Emmy-winning series "Reel NW." KCTS is looking for features, documentaries, and shorts with a "Northwest connection," either made by a Northwest filmmaker, shot in the Northwest, or featuring a Northwest subject. Selected films will air on KCTS during the upcoming fourth season of "Reel NW." The deadline for submissions is October 13. To register, click here.
EARSHOT JAZZ FESTIVAL KICKS-OFF NEXT WEEK
Seattle's annual Earshot Jazz Festival returns October 1 and continues through November 17, 2013, with more than 60 distinctive concert events in venues across the city. Known for adventurous, spot-on programming, and praised as one of the best festivals in America, the Earshot Jazz Festival brings jazz greats from around the world into creative collaboration with area musicians and audiences. Earshot also celebrates Seattle's place in the world of jazz, with concerts by their award-winning high-school jazz programs and their renowned resident artists.
WOMEN IN FILM TO HOST KICKSTARTER WORKSHOP WITH BEN DOBYNS
Women in Film Seattle is hosting a Kickstarter workshop featuring fundraising expert Ben Dobyns. The workshop will cover how to achieve pledge targets, how to prepare and successfully execute campaigns, and key strategies and benchmarks every campaign can utilize. Attendees will have the opportunity to present a Kickstarter project pitch and receive critical feedback. The event is October 26, 10 a.m. to 3 p.m., at the Inscape Arts Building.
TOP 10 NW MUSIC FOR WEEK OF 9/16
Compiled from figures at Sonic Boom Records (Ballard) and Easy Street Records (West Seattle).
1. Moon Doggies - Adios I'm a Ghost
2. Caspar Babypants - Baby Beatles
3. Mark Pickerel - Tess
4. Star Anna - Go to Hell
5. Campfire OK - When You Have Arrived
6. Neko Case - The Worse Things Get, The Harder I fight, The More I Love You
7. Macklemore and Ryan Lewis - The Heist
8. Mark Lanegan - Imitations
9. Pickwick - Can't Talk Medicine
10. Sadistik - Flowers For My Father
KICKSTART SEATTLE FILM + MUSIC PROJECTS
When it comes to finding and supporting Seattle film and music projects, our Kickstarter Seattle page brings the newest film and musical projects from the hard working creatives of our fair city. This week, a newly added project is Aaron Zig's debut album, that features collaborations with a range of well-known local musicians. Also, be sure to check out the soon-to-be expired project for
Midnight Veil,
an album with 12 songs, each with their own music video.
THE STRANGER GENIUS AWARDS RETURNS THIS WEEKEND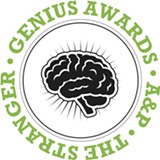 Arts editors from The Stranger and The Stranger's quarterly arts magazine A&P spent the past year taking note of the most compelling artists in Seattle, and have announced the finalists for this year's Genius Awards. This year's film category nominees include: Benjamin Kasulke, recognized for his work as one of Seattle's premier cinematographers; Scott Blake, noted for his only but superb short film "Surveyor;" and Zach Weintraub, for producing high quality works on extremely tight budgets. On the music side, the nominees are: Jherek Bischoff, self-taught music composer; Eyvind Kang and Jessika Kenney, experimental and eastern influenced duo; and Katie Kate, a local female rapper.
AFTER TEN YEARS, DECIBEL FESTIVAL BIGGER; STILL TRUE TO ITS ROOTS
Seattle's annual citywide electronic-music festival, Decibel Festival, is set to pack 11 local venues with more than 130 DJs and artists from around the world this weekend. Marking its tenth anniversary, the festival has experienced a transformation over the years from "niche underground scene," to mainstream festival hosting over 26,000 attendees last year. With the explosion of Electronic Dance Music in recent years, the appeal and audience of electronic music has drastically changed since the start of Decibel. However, the independent culture and non-corporate-affiliated event has stayed true to its underground roots. "We're keeping true to the diversity side of it...the historical side of electronic music, and the people that helped build the Decibel audience up over the years," says Decibel Festival founder Sean Horton.
LOCAL AD FIRM COPACINO + FUJIKADO SHINE IN NATIONAL SPOTLIGHT
When the Omnicom Group and the Publicis Groupe formed what would be the world's largest advertising agency holding group in July, Seattle advertising agency Copacino + Fujikado decided to congratulate them. Copacino + Fujikado, who sit on the board of Commercialize Seattle, erected a billboard in Seattle Center that read "Congrats to Publicis and Omnicom," and portrayed them as gigantic creatures resembling Godzilla and King Kong, shaking hands. This move has garnered national attention for the small agency of 35 employees, and even new clientel. "We had a company from Beijing contact us to work with them," said Brandy O'Briant, managing director, and potential employees have been reaching out.
YOU DON'T KNOW JACK
It was 23 years ago that Seattle producer Jack Endino ventured into a bar in Germany and realized that grunge had reached its tipping point, "three-quarters of what was in [the bar's] jukebox I had recorded," recalls Endino. This
Seattle Weekly
exposť covers Jack E
ndino's
legacy of continued popularity, and unceasing work ethic and devotion to his craft.
Having
recorded such bands as Mudhoney, Soundgarden, and Nirvana during the height of the Grunge era,
Endino still puts out work. Recently he made recordings for Black Tusk, High on Fire and Nirvana's
In Utero
demo tapes
.
DANNY BLAND'S NEW NOVEL: A TALE OF SEATTLE ROCK AND GRIT
Longtime local band manager and musician Danny Bland recollects an era of Seattle's history defined by hard rock and hard drugs in his new novel "In Case We Die." Published by Seattle's Fantagraphics Books, the novel is "chock full of blood and needles, cigarettes and rumpled beds" and provides a lens to experience the era which popularized the Seattle music scene.
COLUMBIA TOWER CLUB PRESENTS THE GIVERS BALL ENCORE GALA
COLUMBIA TOWER CLUB
The Columbia Tower Club is throwing their annual gala benefiting Seattle's non-profit community. Participants will enjoy a fun-filled evening of gourmet bites, live music, cash bar, and much, much more at a thousand feet above sea level. The Givers' Ball Encore is on Friday, October 25, at 8:00 p.m.
MUDHONEY ROCKS OUT IN NEW MUSIC VIDEO
ESQUIRE
The Seattle grunge group Mudhoney has just released a new music video for the latest single off their new record Vanishing Point, "The Only Son of the Widow from Nain." The video depicts a nightmarish hospital trip, complete with needles, operating tables, a ghoulish characters. The video was launched in anticipation of Mudhoney's U.S. tour which began Monday and visits Seattle on December 6 at Key Arena.
QUICK LINKS