Vol. 7, No. 16
September 18, 2013




FEATURE FILM PRODUCER, DIRECTOR DOUGLAS HORN HEADLINES HAPPY HOUR
Our September Happy Hour guest speaker will be Douglas Horn. As a feature film producer, director and respected blogger in the film industry, Douglas Horn will share new trends in film distribution, including VOD, day-and-date releases, and demand-based theatrical and non-theatrical exhibition. He's also got the inside track on emerging opportunities in film finance such as crowd-investing and staged financing. Hear him discuss why the economics of independent film have been a crazy bet for the past five years, and why he thinks that these exciting changes now open a new chapter for independent producers with the right projects. Make sure to join us next week on Wednesday, September 25 at the Spitfire for our September Film + Music + Interactive Happy Hour Event.
KEXP'S JOHN RICHARDS HEADLINES CITY OF MUSIC CAREER DAY OCTOBER 1
There's an exciting lineup of impressive speakers that give students a wide variety of industry perspectives at the City of Music Career Day on October 1. Headliners include KEXP's "The Morning Show" host and producer John Richards, Sub Pop creative director John Kleinsmith, and President of Hip Hop label Sportn' Life Music Group president and talent manager DeVon Manier, among others. Career Day is a one-day educational program that provides high school juniors and seniors, and college students direct access to music industry professionals through networking, experiential learning, engaging workshops, and performance. This free event is produced by One Reel, the organizers of Bumbershoot, and is open via a first-come, first-served registration portal.
ART ZONE WITH NANCY GUPPY
This week Seattle Channel's Art Zone with Nancy Guppy includes:
a chat with well-known Seattle actor Marianne Owen, who tells a true story from her life in the theater; Vox Mod performs a couple of songs in the Art Zone Studio; The Stranger editor Christopher Frizzelle curates Art Zone's weekly calendar of events; and a young filmmaker, Samantha Stendal, shares her powerful 30-second video ",A Needed Response", that went viral (over 2.5 million views) and landed her a spot on the Katie Curic show.
INDUSTRY NEWS AND UPDATES
TELEVISION SERIES 'BAND IN SEATTLE' SEEKS STUDIO AUDIENCE
"Band in Seattle" is a new television series that showcases local music. In each episode, two up-and-coming Pacific Northwest Bands will be featured, telling the stories behind their lives and songs, and performing live. The show is seeking a studio audience to rock-out to on-set live-performances from each band. "Band in Seattle" is shooting four more productions at Victory Studios in Interbay, and will be filming at 6:30 p.m. on Tuesday, September 24; Wednesday, September 25; Thursday, September 26; and Friday, September 27. For free tickets contact tickets@victorystudios.com
SEATTLE SYMPHONY INVITES YOU TO A FREE DAY OF MUSIC

The Seattle Symphony is hosting its Free Day of Music to celebrate the 15th anniversary of Benaroya Hall on Sunday, September 22 from 11 a.m. to 5 p.m. The event will consist of 35 local groups performing all kinds of music, ranging from Classical to Hip Hop on five different stages. The goal of the event is to provide inspiration to the community and appreciation of the arts. There will be instrument exploration and instrument making, and Soundbridge will be hosting free interactive classes for children. If you get hungry, local food trucks such as Street Treats will be lined up outside Benaroya Hall to provide food services to the public. The Seattle Symphony will also be performing two 45 minute concerts featuring collaboration with Native artists from several Northwest tribes.
NATIONAL FILM FEST FOR TALENTED YOUTH ANNOUNCES CALL FOR ENTRIES
The National Film Festival for Talented Youth (NFFTY) is now accepting entries for their 2014 festival. In its seventh year, NFFTY brings together the best young directors and future leaders of the entertainment industry for four days of films, networking, panels, and parties. Over 1,000 young directors from over 40 U.S. states and 20 countries are expected to enter their films into the festival. NFFTY is accepting entries for the 2014 film festival until January 31, 2014.
DECIBEL FESTIVAL CELEBRATES ITS 10 YEAR ANNIVERSARY
Decibel Festival returns September 25 through September 29 to celebrate their ten-year anniversary. Decibel festival is a grassroots, volunteer-run festival which focuses on underground and experimental forms of music and art from around the world. The festival will host 130 artists from 20 different countries, and 26 club showcases. Decibel focuses on live performance, interactive multimedia art, and state-of-the-art sound and technology-based education. Besides performances there will be a free educational forum, featuring well-established community producers, DJs, visual artists, writers, and other professionals in the industry.
FILMMAKERS: DIRECTING AND ACTING CLASSES OPEN FOR REGISTRATION
Freehold Theatre has begun registration for their fall classes, including the Directing and Acting for the Camera course with John Jacobsen, producer and host of American Public Television's "The Artist Toolbox," and principal partner of the film company MogaJacobsen. This course is a hands-on lab for directors and actors who want to work in film and television. Directors will explore the facets of the directorial process, and learn how to interpret and translate the written ideas of a screenplay into cinematic form. The class will be offered every Wednesday, from 6:00 p.m. to 10:00 p.m., beginning October 2 and running through December 4.
NORTHWEST FILM FORUM PRESENTS 'LOCAL SIGHTINGS FILM FESTIVAL'
Northwest Film Forum is hosting their annual Local Sightings Film Festival beginning September 27 and concluding on October 3. Local Sightings is a showcase of new films from the Northwest that puts homegrown talent in front of Seattle audiences and connects artists from Alaska to Oregon in a celebration of film from the region. Besides the new films and parties, there will be artist talks and networking events held throughout the week to allow film lovers and filmmakers to explore local creativity.
THE LESBIAN & GAY FILM FESTIVAL RETURNS OCTOBER 10
The Seattle Lesbian & Gay Film Festival returns October 10, running through October 20. This event, which has been held annually since 1996, has grown into the largest event of its kind in the Pacific Northwest, gaining industry and audience recognition for showcasing the latest and greatest in queer film. The festival features everything from major motion pictures to emerging talent. This event provides a unique opportunity for local and visiting filmmakers to engage with the film community and showcase their works to over 10,000 attendees.
NORTHWEST PRODUCTION INDEX LAUNCHES SOCIAL MEDIA PRESENCE
Northwest Production Index (NPI), a local production agency which provides a guide to the vast resources supporting the film, television, and digital media industries in the Pacific Northwest, has ramped up by expanding into the world of social media. NPI helps the Seattle film community find resources for: short films, independent films, documentaries, and film festivals, regardless of budget. For the latest industry news, updates, and currently and incoming local projects check out their Facebook and Twitter.
SEATTLE THEATRE GROUP SEEKS EXECUTIVE ADMINISTRATOR
Seattle Theatre Group (STG) is accepting applications for its
part-time Executive Assistant/Contract Administrator position. The Executive Assistant/Contract Administrator will work in tandem with the Senior Director of Programming to carry out daily responsibilities and participate in all phases of event promotion, from conception and booking, through settlement, reporting, and evaluation. This position plays a critical role in developing and maintaining agent, artist, management, and STG staff relationships in order to ensure effective working relationships within the organization, among other responsibilities.
BIG PICTURE IS HOSTING A SCI-FI FILM SERIES
Sci-Fi movie buffs beware, Big Picture will be hosting an Educated Sci-Fi Film series every Wednesday at 7 p.m. at Henry and Oscar's. Films will be introduced by Seattle Futurist Glenn Hiemstra, Founder of Futurist.com, and each event will feature an appearance by a science fiction author whose books will be available at the show. Admission is free to the opening night event for those who RSVP before September 24.
MARCH FOURTH HEADLINES FINAL 'OUT TO LUNCH' SERIES PERFORMANCE
The Out to Lunch Summer Concert Series provides an eclectic soundtrack to lunch-goers downtown, featured in various parks and venues throughout downtown and open to the public. The series is an effort put on by the Metropolitan Improvement District in cooperation with the Downtown Seattle Association, taking place every Wednesday and Friday from noon until 1:30 p.m. This Friday "musical and visual energy" March Fourth plays at Westlake Park in the finale of the series.
SHORT FILM FRIDAY:
"
ODE TO OCTAVIA PART 12"
The short this Friday will be "Ode to Octavia part 12: (Sparkles)... Recollections of the Wraith," a video by the art activist, former gallery owner, current member of the Black Constellation, afro-futurist, and flanuer Maikoiyo Alley-Barnes. The film, which was shot in the Methow Valley, is an ethereal movement of trees, tall grass, dusky light, mysterious music, and beautiful people wearing beautiful clothes. The video was initially screened during Moment Magnitude at the Frye Art Museum.
-Charles Mudede
TOP 10 NW MUSIC FOR WEEK OF 9/9

OFFICE OF FILM + MUSIC
Compiled from figures at Sonic Boom Records (Ballard) and Easy Street Records (West Seattle).
1. Moondoggies - Adios I'm a Ghost
2. Macklemore & Ryan Lewis - The Heist
3. Neko Case - The Worse Things Get, The Harder I Fight, The More I Love You
4.
Pickwick -
Can't Talk Medicine
5. Caspar Babypants - Sing Along!
6. Microphones - Glow Pt.2
7. Mark Pickerel & His Praying Hands - Trees
8. Sol - Eyes Open
9. Laura Veirs - Warp and Waff
10. Walking Paper - Walking Papers
KICKSTART SEATTLE FILM + MUSIC PROJECTS
When it comes to finding and supporting Seattle film and music projects, our Kickstarter Seattle page brings the newest film and musical projects from the hard working creatives of our fair city. This week, a newly added project is Bitar, a touch screen-based musical creation and recording app. Also, be sure to check out the soon-to-be expired project for DaNelle Daymon and the Greater Works Chorale, a premiere Northwest choir hoping to raise funds for their trip to Detroit's "How Sweet the Sound" choral competition.
A CENTURY OF LOCAL FILM AT THE MUSUEM OF HISTORY AND INDUSTRY
With Lynn Shelton's Touchy Feely being the latest example of Seattle-made cinema reaching a national audience, and with serious filmgoers returning to the Harvard Exit and Sundance for the fall season of Oscar contenders, Seattle Weekly film critic Robert Horton revisits the Celluloid Seattle exhibit at The Museum of History and Industry. The exhibit celebrates both Seattle-made movies, and the actual consumer experience from nickelodeon days to the digital present. Horton provides his own historic and insider perspective, taking note of Seattle's Gold Rush town beginnings to its eventual transformation into a world-class city, and its effect on the films that represent it.
THE CLASSICAL MUSIC OF AUTUMN
SUNBREAK
As the summer sun sets and autumn begins, Seattle's musicians are returning to the city's halls and auditoriums for the start of a new concert season. The Seattle Symphony is always one of the first to kick things off with their annual opening night concert and gala in mid-September. Several other early-bird ensembles will follow suit, though many local groups don't begin their concert season until next month. On September 13, the Russian Chamber Music Foundation of Seattle kicks-off the season with pieces by Frolov, Shchedrin, and Zapolsky. On September 19, Town Hall Seattle celebrates composers of the 20th and 21st centuries, and a season preview with conductor Joshua Roman. And on September 28, the Byrd Ensemble will sing music by Thomas Tallis, William Byrd, and other famous Renaissance Brits.
BEHIND THE SCENES OF MEGAN GRIFFITHS' NEW FILM, EDEN
Megan Griffiths' Eden, which was released this summer, is about a Korean-American girl who is abducted and forced into prostitution. The film explores the challenges of young girls who are forced into the human trafficking ring. Griffiths explains why she chose to be based in the Seattle, stating that Seattle has, "an incredible filmmaking community [with] very passionate [and] creative people who are self-motivated. The city itself, the film offices and vendors, also bend over backwards to help local talent." When asked about the rise of women in the filmmaking industry, Griffiths says that "I live in a town that is completely dominated by female filmmakers. There must be something in the water in Seattle."
HERE'S WHY SEATTLE, NOT SILICON VALLEY, IS THE GAMING INDUSTRY'S EPICENTER
GEEKWIRE
Seattle is known for its coffee and for the Space Needle, but what often gets overlooked is its flourishing gaming industry. From Microsoft to Valve, to the numerous independent companies, the Seattle area is full of developers and designers putting out title after title. With local programs such as Redmond's DigiPen University and Northeastern University's new graduate Seattle Campus, which will soon introduce a game design program, Seattle is churning out young talent geared towards the gaming industry. With over 16,500 employees working at nearly 300 different gaming companies, Seattle is definitely the gaming industry's epicenter.
THE STRANGER GENIUS AWARDS RETURNS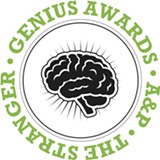 Arts editors from The Stranger and The Stranger's quarterly arts magazine A&P spent the past year taking note of the most compelling artists in Seattle. As a result, three finalists in five separate disciplines: art, theater, literature, film, and music, will display their work to judges on September 24 at the Moore Theatre. According to The Stranger, winners will be awarded a cash prize and an "obscene amount of attention." While there is no application process, in order to be recognized an artist must simply create a work that "provokes critical attention."
MACKLEMORE & RYAN LEWIS LEAD MTV EUROPEAN MUSIC AWARD NOMINATIONS
KING5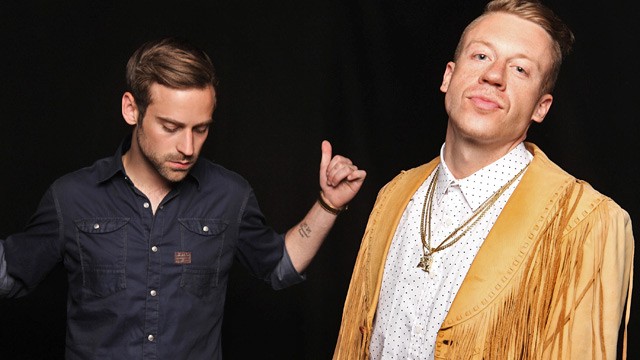 Macklemore and Ryan Lewis continue to receive recognition for their work. The Seattle-based hip hop duo leads the 2013 MTV European Music Award nominations with five nods, tied with Justin Timberlake. The breakthrough duo will compete for the Best New Artist, Best Hip Hop Act, Best Song, Best U.S. and World Stage Act prizes.
HOW TO WRITE A HIPSTER ROCK ANTHEM
BUZZFEED
Looking to write that break-through song that will propel you into stardom? By combining elements from bands like Arcade Fire, the Lumineers, and Vampire Weekend, BuzzFeed has created the perfect recipe for writing a hipster rock anthem that is a surefire formula for success. Some necessary components include: Use of handclaps, lyrics about a failed relationship, yelling "Hey," a repetitive chorus that's easy to sing along to, lyrics about childhood, lyrics about fear of adulthood, and of course a disco beat.
QUICK LINKS