Vol. 7, No. 15
September 11, 2013




SAVE THE DATE: CITY OF MUSIC CAREER DAY
City of Music Career Day returns Tuesday, October 1. Career Day is a one-day educational program that provides high school juniors and seniors, and college students direct access to music industry professionals through networking, experiential learning, engaging workshops, and performance. Student participants will be exposed to a wide range of career opportunities in music including performance, management, concert production, arts organizations, record label operations, retail, licensing, and more. This free event is produced by One Reel, the organizers of Bumbershoot, and is open via a first-come, first-served registration portal. Keynote speaker, panelists, and performers will be announced soon.
ART ZONE WITH NANCY GUPPY IS BACK FOR THEIR FALL SEASON
Seattle Channel's Art Zone is back from a summer hiatus and premieres this Friday at 8:00 p.m. on Seattle Channel and includes: Music from punk band Fastbacks; a chat with Lane Czaplinski, Artistic Director at On the Boards, about their upcoming season; a profile piece on Jade Curtis, member of Spectrum Dance; a glance at "the art of tattooing"; and a visit to Hedgebrook, a women writer's retreat on Whidbey Island that is celebrating its 25th anniversary with the publication of a gorgeous cookbook: "Hedgebrook Cookbook: Celebrating Radical Hospitality."
SEATTLE MUNICIPAL TOWER SUMMER CONCERT SERIES - BUSKERS WEEK
In 2004, The City of Seattle designated the first Monday after Labor Day through the following Sunday as Buskers Week. In honor of Buskers Week, the Seattle Municipal Tower will be participating in this year's celebration by featuring five performances by Seattle street musicians on the Level Six Plaza during the course of this week. All performances will be from 11:30 a.m. to 1:30 p.m. Performers include: Wasserman, Raven Zoe, Razz, Jim Page, and Whitney Monge.
SEATTLE CHANNEL WANTS YOUR INPUT ON THEIR WEBSITE REDESIGN
The Seattle Channel wants to create a more user-friendly website, where visitors can easily find programs and video about Seattle government, people, culture and community. They have created a short, eight-question, online survey, which will be key to their website redesign process. The deadline for public feedback is October 4.
HAPPY HOUR RETURNS
SEPTEMBER
25
Mark your calendars and save the date! Happy Hour returns on September 25
at the Spitfire Grill. More details coming soon.
INDUSTRY NEWS AND UPDATES
STATE, COUNTY, AND CITY HOST FORUM: NEW HEALTHCARE OPTIONS FOR ARTISTS
Health insurance can be a confusing topic, but with the changes to the Affordable Care Act, figuring out health insurance might be even more complicated than ever. This forum will give straightforward answers on what you can expect from the Affordable Care Act, and will provide the different options for you and your family. Public Health Seattle - King County will provide in-person assistors, who will work hand-in-hand to help you sign up for new options based on your eligibility. This free forum, hosted by Public Health Seattle-King County, Washington Health Foundation, Artist Trust, Office of Arts & Culture, and the Seattle's Mayors Office, will be held on October 14, from
6:00 p.m-8:30 p.m. at the Seattle City Hall's Bertha Knight Landes Room, 600 4th Ave Seattle, WA.
MUSIC BUSINESS 101: STEVE RENNIE SHARES SECRETS OF SUCCESS
While the landscape of the music business is constantly changing, one thing remains the same: it's all about who you know. Networking is the key to a successful music career. In this one-day course, learn how instructor Steve Rennie went from booking shows in Hollywood to managing platinum-selling rock band Incubus. Steve's legendary networking skills vaulted him from concert promoter to record label executive, manager, and all-around industry pioneer. Using tactics gleaned from 35 years in the music business, Steve will show you how to identify and connect with the right people, grow your circle of influence, and build a targeted plan for making it big. Music Business 101 - Networking webcasts live tomorrow September 12 via the creativeLIVE website. You can enroll, watch, and participate for free during the live webcast, and in case you miss it, the rebroadcast will remain for 24 hours after each class day is finished.
EMP'S SCIENCE FICTION + FANTASY SHORT FILM FESTIVAL ACCEPTING ENTRIES
Organized in partnership with the Seattle International Film Festival, the Experience Music Project Fiction + Fantasy Short Film Festival will present 20 short films at Seattle's historic Cinerama Theater in early 2014. The festival will accept animated or live-action submissions in science fiction including futuristic stories, space adventure, technological speculation, and social experiments. Fantasy submissions may include sword and sorcery, folklore, urban fantasy, magic, and mythic adventure. A hand-selected jury comprised of science fiction and fantasy professionals in film, television, and literature will award the winners. The late deadline for submissions has been extended to September 15, 2013.
REVERB FEST RENAMED 'MACEFIELD MUSIC FEST' TO HONOR EDITH MACEFIELD
The annual Reverb Fest has been revived and renamed, thanks to a coalition of Ballard organizers. "Macefield Music Fest" to honor Edith Macefield, the woman who has become a symbol of Ballard's independent spirit. Macefield rose to fame after refusing a $1 million offer to sell her home to developers who wanted to turn the area into an LA Fitness. The festival will host 25 bands at three local venues in Ballard. The lineup includes performers Afro Cop, Funky 2 Death, Key Nyata, Vox Mod, and many more. The festival kicks off on October 5.
SEATTLE TRUE INDEPENDENT FILM FESTIVAL ANNOUNCES NEW FILM CATEGORIES
Seattle True Independent Film Festival (STIFF) is announcing the addition of two new categories for submissions, Experimental Films and Web Series. STIFF will accept a variety of narrative, documentary, and reality genres for these categories. STIFF desires submissions with a variety of run times, showing what filmmakers can do with 2-3 min, 5-8 min, 10-12 min, and 12-20 min. STIFF encourages submission from existing web series and advises filmmakers that the "audience will not be lost if you don't send us your first episode or feel you have to pack several episodes together, the purpose of the screening is to make our audience curious and want to go on the web and see more."
TELEVISION SERIES 'BAND IN SEATTLE' SEEKS STUDIO AUDIENCE
"Band in Seattle" is a new television series that showcases local music. In each episode, two up-and-coming Pacific Northwest Bands will be featured, telling the stories behind their lives and songs, and performing live. The show is seeking a studio audience to rock-out to on-set live-performances from each band. "Band in Seattle" begins shooting this week at Victory Studios in West Seattle, and will be shot on Wednesday
and Thursday of this week, and Tuesday through Friday of next week.
FILMMAKERS: THE HEALTHY AGING PARTNERSHIP IS CALLING FOR MOVIE SHORTS
The Healthy Aging Partnership (HAP) is hosting its first ever film festival, Celebrating Aging in America: A Film Festival in Honor of the Older Americans Act 50th Anniversary. HAP is looking for film makers of all ages to create films that highlight the many aspects of positive aging. Multicultural and intergenerational collaboration is encouraged in order to enhance and foster the supportive community needed to age well. Some guidelines include: a short film, 20 minutes or less with a complete list of credits, must be family-friendly, and the filmmaker must be a Washington State resident. The due date for submissions is April 7, 2014, and there will be cash reward for the winners.
FIRST ANNUAL SEATTLE INTERACTIVE DOCUMENTARY SUMMIT
The Interactive Documentary Summit is coming to Seattle for the first time to offer a special program that focuses on how story, technology, and advocacy connect. This two-day event will include panel discussions, presentations, and case studies which emphasize the interactive documentary's potential to serve as an advocacy and public education platform for influencing measurable change. The summit will be held on October 24-25 at the Phinney Ridge Community Center.
HEY MARSEILLES AND MANGO SON HEADLINE THIS WEEKS 'OUT TO LUNCH'
The Out to Lunch Summer Concert Series provides an eclectic soundtrack to lunch-goers downtown, featured in various parks and venues throughout downtown and open to the public. The series is an effort put on by the Metropolitan Improvement District in cooperation with the Downtown Seattle Association, taking place every Wednesday and Friday from noon until 1:30 p.m. This Friday the up-and-coming Hey Marseilles plays at Freeway Park and next Wednesday Latin salsa group Mango Son performs at the Courthouse.
ARTS EDUCATION INITIATIVE TO PROVIDE YOUNGSTERS WITH ACCESS TO THE ARTS
The partnership between the City of Seattle and the Seattle School District's new arts education initiative, The Creative Advantage, provides K-2 students with arts education in all Seattle classrooms. The Creative Advantage is a unique public-private partnership that reinvests in Seattle students and the community's economic and creative future by addressing inequalities in access to the arts. The goal is to provide all students with an education that prepares them for success not only in school but also in life, and to prepare students with 21st century skills such as critical thinking, collaboration, and perseverance for success in the future.
SCARECROW ON SEATTLE: BUTTERFLY DREAMING
Andrew Bowen is Rob Pollack, a smart guy with bad dreams. As a matter of fact, his dreams are so powerful, they begin to overtake his conscious life. Butterfly Dreaming is structured to confound viewers and immerse us in Rob's hallucinatory existence as he comes to terms with both the loss of his spouse and his tenuous grasp on reality. His problems start after he's in a bad car crash that kills his....
To read the full review, visit Scarecrow on Seattle.
(Scarecrow on Seattle will now post full film reviews online the second Wednesday of each month, we will provide excerpts in our newsletter and links to the full reviews on Scarecrow's site.)
SHORT FILM FRIDAY: "TINY LIVING"
The short this Friday will be "Tiny Living," a video essay by Flora Lichtman, which is a part of the web series Science Friday Podcast and also be shown on September 14 with other shorts during SIFF's section of the Seattle Design Festival. Set in a rural area outside of our city, the film is about a young and creative couple who live in a tiny house. Theirs is the future of living, which is microliving--living with as little possessions and room as possible. The house cost the couple $20,000 to make and mostly runs on solar power. The couple seems happy and liberated from the heaviness of owning too much dumb stuff. The other shorts in the festival show other equally interesting aspects of contemporary urban life.
-Charles Mudede
TOP 10 NW MUSIC FOR WEEK OF 9/2

OFFICE OF FILM + MUSIC
Compiled from figures at Sonic Boom Records (Ballard) and Easy Street Records (West Seattle).
1. Moondoggies - Adios I'm a Ghost
2. Macklemore & Ryan Lewis - The Heist
3. Girl on Fire - Not Broken
4. Neko Case -
The Worse Things Get, The Harder I Fight, The More I Love You
5. Laura Veirs - Warp and Waff
6. Sadistik - Flowers for my Father
7. Pickwick - Can't Talk Medicine
8. Rose Windows - Sun Dogs
9. Alice in Chains - The Devil Put Dinosaurs Here
10. Shelby - Swift Arrows
HELP "KICKSTART" SEATTLE FILM + MUSIC PROJECTS
When it comes to finding and supporting Seattle film and music projects, we bring you a list of current projects that need your help. Beautifully designed and continuously updated, our Seattle Kickstarter page brings the newest film and musical projects from the hard working creatives that our fair city produces. Check it out and check back frequently for updates!
Kickstarter is an online "crowd-funding" resource that helps musicians, filmmakers and
producers of artistic projects reach out to friends and fans for financial support. Kickstarter allows artists the opportunity to give back to funders with special rewards, such as an exclusive album pre-release, a producer credit in a film, or even getting to meet the
artist in person. Seattle is a hotbed for film and music projects, and you can be a pivotal part of the production process by backing a project and spreading the word.
MACKLEMORE & RYAN LEWIS RELEASE 'WHITE WALLS'
MTV
Fresh off of a couple of MTV Video Music Awards, Macklemore & Ryan Lewis debuted their latest music video, "White Walls." The video features several iconic locations in Seattle, plus Los Angeles-based rapper School Boy-Q and Flavr Blue member, and Blue Scholars manager Hollis. Sir-Mix-A-Lot is featured in a cameo near the end of the video, hoisting the Cadillac that he once rode in during the "Posse on Broadway" music video onto a flatbed truck, fittingly retiring it.
SEATTLE LAUNCHES CURATED PAGE ON KICKSTARTER
The Office of Film + Music launched their very own curated page on Kickstarter last week. The page is intended to help spread the word on Seattle-based film and music projects, hoping to help discover the next Seattle icon. As the number of crowdfunding projects has increased dramatically, Kickstarter has continued to review and implement new methodologies for segmenting projects for user ease of access. Kickstarter quickly leveraged the fact that communities are not just defined by geographies but affinities allowing committed curated pages the opportunity to promote and share targeted sub-categories.
LYNN SHELTON KEEPS THINGS LOCAL WITH TOUCHY FEELY
THE OREGONIAN
Seattle filmmaker Lynn Shelton's new movie, Touch Feely, is a low-key comedy of relationships, and like her other works, probes the blurred lines between physical and emotional connections. In this interview with The Oregonian, Shelton discusses her attachment to filming in Seattle, connecting her characters in their middle class roots to the audience, and incorporating local musicians into the movie.
ALICE IN CHAINS LIGHTS UP SEATTLE IN BRAND NEW VIDEO FOR 'VOICES'
VEVO
Alice in Chains pays homage to their Seattle roots in their latest music video, "Voices," a haunting track from their new album The Devil Put Dinosaurs Here. In the video, images of the skyline from West Seattle, and a shot of the inside of Pioneer Square's The Central Saloon open the dark and melodramatic video. The Moore Theatre and Paramount Theatre are fixtures throughout the duration, with the lyrics to "Voices" lit up on their respective marquees.
NEW YORK TAKES NOTICE OF LYNN SHELTON'S TOUCHY FEELY
Joe Neumaier of the New York Daily News describes Lynn Shelton's latest film as a "veer toward whimsy and artifice." The Daily praises the film for "going with the flow," and its karmic give-and-take script. Rosemarie Dewitt, who takes a lead role in the film as a massage therapist who develops an aversion for human contact just as her business takes off, is singled out by The Daily for really looking at home in her role.
MEGAN GRIFFITHS 'LUCKY THEM' PREMIERS IN TORONTO
The Film Lucky Them, the latest from Megan Griffiths, charmed audiences and potential buyers at its world premiere in Toronto. The low seven-figure budget film, which was shot in and around Seattle, features actors Toni Collette, Thomas Haden Church, Ryan Eggold, and Nina Arianda. Emily Wachtel, the writer and producer of the film, had a bumpy 11-year journey. After spending years trying to attract potential producers, Wachtel eventually found a major investor, Griffiths, who joined Wachtel in June 2012. Griffiths first suggestion was to reset the New-York story to Seattle, stating that "it's such a music town, a wonderful place to shoot, and I have such a great team."
NEW FOREIGN MUSIC APPLICATION FEE CAUSING MAJOR CONFUSION
Recently the Social Development and Multicultural Minister Jason Kenney announced that Canada will add a new application fee of $275 per musician for foreign musicians to perform in Canada, as a way to ensure that Canadians are given the first chance at available jobs. However, the new fee has caused some confusion and opposition within the Canadian music industry. The new law exempts large music festivals, large venues, clubs, and American Federation of Musicians from paying the fee, and as a result, many are voicing their opinion, that these new fees are hurting small music venues and the arts in Canada. Shortly after the new fee was announced, an online petition spread like wild fire, attracting more than 75,000 signatures within two days. While some veteran promoters are playing down the impact of the new fee, small venue owners are not happy with the possibility of losing business.
2013 KOBE JAZZ VOCAL QUEEN PERFORMS IN SEATTLE
SEATTLE-KOBE SISTER CITY ASSOCIATION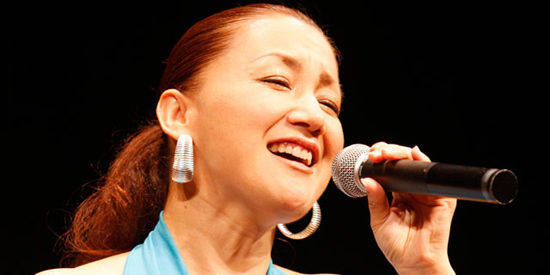 Aki Miyafuji is the 2013 Kobe Jazz Vocal Queen, winner of a jazz contest in Seattle's oldest sister city of Kobe, Japan. Miyafuji was fascinated with jazz music and started singing in 1994, and she became a professional jazz vocalist after studying jazz. She will be performing at The Pacific Jazz Institute at Dimitriou's Jazz Alley on September 30, with doors opening at 6:00 p.m. Joining her are local musicians Randy Halberstadt (piano), Mark Ivester (drums), and Jeff Johnson (bass). Miyafuji and her band will be performing a variety of jazz pieces including, swing, Latin, Japanese, and slow jazz.
DAVE GROHL SHARES MEMORIES, AND UNRELEASED TRACKS FROM IN UTERO
The legendary Seattle grunge group Nirvana, a group who became a pop culture symbol for an entire generation, celebrates its 20th anniversary this year. In honor of the anniversary, their final album, In Utero, is being reissued with some new additions: a remastered version of the original record, a remixed version, a DVD, a disc of live recordings, photos and liner notes, and a bunch of unreleased demos. Krist Novoselic and Dave Grohl stopped by KUOW talk about the making of In Utero, and to share memories from when they were just kids in the studio.
QUICK LINKS

CITY BUSINESS CASUAL
- Returns
September
12 with a "Pathways to Careers: Education and Training" Theme!