Vol. 6, No. 15




September 5, 2012
EVERGREEN APPS CHALLENGE SEEKING APPLICATION DEVELOPERS
CITY OF SEATTLE
Seattle, King County and Washington State are teaming up to offer more than $75,000 in prize money for development of apps that use government data and stimulate economic development throughout the state. Support comes from the Washington State Broadband Office which is a program of the State Department of Commerce. The challenge officially opens today and is open to anyone who lives, works or studies in Washington State. The Evergreen Apps Challenge closes September 6, 2012, and awards will be presented on October 1 in Seattle.
GUIDE TO THE 'OUT TO LUNCH' DOWNTOWN CONCERT SERIES
OUT TO LUNCH
Still looking for a way to spend your summer in Seattle? Check out the Downtown Seattle Association's (DSA) summer event guide, including a preview of this summer's Out to Lunch Concert Series, which began July 11 and continues until September 21. The series will be holding free concerts every Wednesday and Friday from 12:00 p.m. - 1:30 p.m. in various locations around Downtown. This week, Pokey LaFarge will be playing at Columbia Center!
INDUSTRY NEWS AND UPDATES
ARTIST TRUST HOLDING HEALTHCARE AND BUSINESS WORKSHOPS
ARTIST TRUST
Artist Trust will be holding a series of workshops this Fall, including a healthcare workshop for artists on September 12 and a Business of Photography workshop that helps artists jump start or refresh their career with essential resources, funding opportunities, peer-to-peer evaluation, networking and hands-on feedback.
FILMMAKERS, NEXT 50 SEEKING ENTRIES FOR INSPIRATIONAL VIDEO CONTEST
NEXT 50
Focusing on topics like creative thought, scientific discoveries, entrepreneurs and business solutions, Next 50 wants filmmakers to send in their vision of the unlimited possibilities that will shape our future. Or, filmmakers may choose to highlight the advances that currently shape the way we live, work, and play. Either way, the films must be two minutes in length or shorter.
HAPPY 10TH ANNIVERSARY LIGHT IN THE ATTIC RECORDS!
LIGHT IN THE ATTIC
Over the past decade Light In The Attic has grown into one of the most prominent indie labels around. Focusing on quality reissues and a diverse roster of new bands, the label continues to grow with each year surpassing the last. To celebrate its 10-year anniversary, Light In The Attic has put together two special concerts in Seattle and L.A. featuring various acclaimed artists including Washingtonians Donnie & Joe Emerson playing their first ever Seattle show . In addition to the live performances, cinemas all over the country, including our own Harvard Exit Twin, are currently showing the documentary Searching for Sugar Man about the life of Detroit singer-songwriter and Light in the Attic artist Sixto Rodriguez.
SEATTLE MUSIC PARTNERS SEEKING MUSICIANS
SEATTLE MUSIC PARTNERS
Seattle Music Partners' free after school program is now in its 13th year providing underserved elementary students in the Seattle Central District with individual music lessons and ensemble experience each week. They are looking for volunteers who are eager to work with beginning music students in the 4th and 5th grade. It's a great chance for young and old to gain teaching and leadership experience while giving back to the community. No teaching experience is necessary.
DOCFOREST, ANNUAL DOCUMENTARY FILMMAKERS RETREAT
SEATTLE DOCUMENTARY ASSOCIATION
DocForest, Seattle Documentary Association's Annual Documentary Filmmaker Retreat, will be held September 14 - 16. Friday, September 14 begins with Happy Hour from 6 p.m. to 8 p.m. Nosh, raise a glass, decompress, mingle, and relax in the Kitsap Forest Theater's 300-acre old growth forest. Happy Hour will be followed by the Rapid Recharge event. Share your personal favorite work and what you've been up to for the year! In order to get a chance to see everyone's work, clips are to be five minutes or less.
HELP "KICKSTART" SEATTLE FILM AND MUSIC PROJECTS
Kickstarter is an online "crowd-funding" resource that helps musicians, filmmakers and
producers of artistic projects reach out to friends and fans for financial support. Kickstarter allows artists the opportunity to give back to funders with special rewards, such as an exclusive album pre-release, a producer credit in a film, or even getting to meet the
artist in person. Seattle is a hotbed for film and music projects, and you can be a pivotal part of the production process by backing a project and spreading the word. Current

Seattle-based Kickstarter projects are listed below, ordered by time remaining. Click on the Kickstarter buttons to check out these local projects and discover even more happening around Seattle.
THE PINTADOS PROJECT - September 7 (2 days)
This film is a journey into the convergence of ancient Filipino traditions and modern expressions of a nation reclaiming its cultural identity.
THE GAMERS: HANDS OF FATE - September 7 (2 days)
A dice-hurling, waffle-devouring, GM-infuriating romp through worlds of sword, sorcery, and surrealism.
A psychodrama and surreal story about a hard-of-hearing teenager who juggles family, peers and culture conflicts, while in search of her own sexual and identity freedom and self-realization.
NEW ALBUM BY STEVE TRESELER GROUP FEATURING INGRID JENSEN
-
September 8 (3 days)
An album of original jazz from the Seattle-based saxophonist featuring world-renowned trumpet player Ingrid Jensen.
An anti-commercial, a negative production, a showcase of the shadow that exists underneath the green grid of the metropolis of Seattle.

An untold piece of Civil Rights History, buried for generations - now on film for the first time.
GRL Talk is an inspiring collection of ROCKRGRL's timeless quotes.

A misfortunate web comedy about misfit actors cast in an action kung fu show.

Leslie Dietz, Rudy Yuly, 2 acoustics, and legendary Seattle producer Conrad Uno need help funding their first album.
Help bring Seattle punk group Sick Secret's glorious, ear blistering jams to the masses.

People Tank are recording their first album with legendary producer Jack Endino (Nirvana, BlackBeatBlue, Dead Language).
A short film about chance, serendipity and magic involving an American woman in Paris as she is pursued by an eccentric French man who has fallen madly in love with her upon seeing her profile on an online social site.
TOP 10 NW MUSIC FOR WEEK OF 8/27 - 9/2
Compiled from figures at Sonic Boom (Ballard) and Easy Street (West Seattle and Queen Anne).
1. Various Artists - "Live at KEXP (Vol. 8)"
2. Poor Moon - "Poor Moon"
3. Minus the Bear - "Infinity Overhead"
4. Pickwick - "Myths"
5. Allen Stone - "Allen Stone"
6. Brandi Carlile - "Bear Creek"
7. Caspar Babypants - "Hot Dog"
8. Head and the Heart - "Head and the Heart"
9. Lemolo - "Kaleidoscope"
10. Japandroids - "Celebration Rock"
FILM PRODUCTION OF THE WEEK: "YOU GO THROUGH VLADIMIR"
HAND CRANK FILMS
Seattle production company Hand Crank Films was started in 2005, and has worked on numerous commercial projects for clients ranging from the Bill and Melinda Gates Foundation to Outdoor Research. Hand Crank Films wrapped the first of two web commercials commemorating the launch of Mackie's new DLM Speaker series. "You Go Through Vladimir" was shot in 3 days, utilized a variety of locations, talent, and crew to produce the piece, and was directed by Caleb Young.
"Working with the crews in Seattle and the surrounding areas is always a good experience," says producer Chris Donaldson. "We had to move fast with numerous set-ups, and once again we found the crew and talent ready to roll and make it happen. Can't wait to shoot the second installment in October, which promises to include a reappearance of Vladimir and other odd characters."
Hand Crank Films employed 12 Washington cast and crew, as well as numerous talent. The piece is currently online and included in Mackie's extensive global marketing efforts.
SHORT FILM FRIDAY: "MOVING"
THE STRANGER
The short film for this Friday, September 7, will be "Moving," a short written and directed by Megan Griffiths (Eden, The Off Hours) for the 2009 SIFF Fly Films program. Starring Lynn Shelton, Sam Wilson, Abby Dylan, Tony Doupe and Evan Mosher, and concerning a close and problematic relationship between aunt and her nephew, "Moving" is tightly shot, beautifully scored, and has a sad ending.
LOS ANGELES IS BUZZING ABOUT DECIBEL FESTIVAL 2012
EXAMINER
Pack up your sweaters and umbrellas, Los Angeles, because the choice destination this Fall is Decibel in Seattle, Washington! What is Decibel, you ask? Decibel Festival is an annual Seattle festival of electronic music, performance, visual art and new media. Generally taking place the last week of September, it has booked over 800 artists ranging from experimental, to leading-edge electronic dance music and visual art. With a focus on live performance, interactive multimedia art, state-of-the-art sound and technology-based education, Decibel has solidified itself as one of the premier electronic music festivals and promotional organizations in the world.
COVERAGE OF MACKLEMORE AT MARINERS, PRAISE FOR FREE YR RADIO
SEATTLE TIMES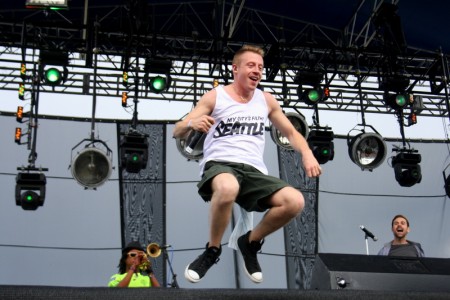 Columnist Nicole Brodeur had nothing but praise for Mackelmore as he threw the first pitch at the Mariner's ball game last Friday. Alongside his musical partner Ryan Lewis, Macklemore leaves for a world tour in two weeks. The Seattle hip-hop group drops a new album, "The Heist," on October 9. Brodeur also lauded the annual Women of Inspiration on Thursday at KeyArena. The event showcased the Toyota Free Yr Radio program, which partnered kids from the all-ages arts nonprofit The Vera Project with KEXP deejays like Sharlese Metcalf and DJ Chilly.
ANTICIPATION BUILDS FOR CITY ARTS FEST 2012
HERALD NET
The initial 2012 Seattle City Arts Fest lineup already looked fantastic, but recent announcements regarding artists scheduled to perform give a glimpse at the immense talent and variety of the performers at the festival. These announcements revealed that Mos Def, Reign Wolf, and Motopony will be making an appearance. Also, a set from Jonathan Russell of The Head And The Heart is to be expected! With huge out-of-town bands like Ghostland Observatory and Two Door Cinema Club alongside a plethora of local Seattle bands, the 2012 City Arts Festival is shaping up to be an incredible event.
BUMBERSHOOT 2012 WRAP UP
THREE IMAGINARY GIRLS
Even though Bumbershoot was cut down to three days instead of four, the festival seems mellower overall. Sure there are still a lot of people, but it's not so many that one can't deal with it, more or less. The atmosphere at Bumbershoot is still composed of the same great ingredients: a combination of seeing old favorites play, the adventure of wandering around and listening to bands that one may not have heard of, and the Seattle-based pride of seeing local talent perform for fans that grew up alongside their favorite musicans.
Seattle Office of Film + Music Staff
James Keblas, Director
Chris Swenson, Film Program Coordinator
Rachel Sawyer, Music + Nightlife Program Coordinator
Romir Chaudhuri, Intern
Ryan Styrk, Intern
Rebecca Pirwitz, Intern