Vol. 7, No. 14
September 4, 2013




INTRODUCING THE OFFICIAL KICKSTARTER SEATTLE PAGE
When it comes to finding and supporting Seattle film and music projects, we bring you a list of current projects that need your help. Now, we have our very own page on Kickstarter. Beautifully designed and continuously updated, our Seattle Kickstarter page will bring the newest film and musical projects from the hard working creatives that our fair city produces. Check it out and check back frequently for updates!
ENTERTAINMENT EMPLOYERS: CHIME IN ON JOBS ASSISTANCE ORDINANCE
On June 10, Seattle City Council passed the Jobs Assistance Ordinance, which sets new rules for employers to follow when using arrest and conviction records for employment decisions about jobs that are located in Seattle. The Seattle Office for Civil Rights has just issued draft Administrative Rules for implementing the new law when it goes into effect on November 1, 2013. The City is encouraging feedback from business owners, and will be holding a public meeting to discuss the ordinance on September 17, from 7:00-9:00 p.m., at the New Holly Gathering Hall, and is accepting feedback through September 20.
INDUSTRY NEWS AND UPDATES
DICK'S DRIVE-IN 60TH ANNIVERSARY PARTY IS THIS SUNDAY ON CAPITOL HILL
On September 8, Dick's Drive-In celebrates their 60 years in Seattle by throwing a free block party in front of its Broadway location. The block party is set to close off the 100 block of Broadway E and is slated to go from noon to 10:00 p.m., with live performances by six local bands.
DECIBEL FESTIVAL, dB CONFERENCE CONNECTS MUSIC FANS WITH THE INDUSTRY
Details of Decibel's dB Conference have been announced, revealing a three-day program to connect festival-goers with the music industry. This year's conference will be increasing its focus on workshops, product demos and hands on interaction with hardware and software companies looking to educate their audience. In addition, they'll be hosting several lectures featuring artists performing at the 2013 Decibel Festival.
SEATTLE UNIVERSITY LAUNCHES FELLOWSHIPS FOR FILMMAKERS
Seattle University has created the Film & Family Homelessness Project, establishing four fellowships for Western Washington filmmakers to explore and illuminate stories of the thousands of Washington families who are homeless or living in poverty. Selected film fellows will each be responsible for producing a 5-10 minute short film in any genre. Each fellow will receive a stipend, crew, equipment, and support they need during the five-month fellowship. Applications are now open and will close October 11. The Film & Family Homelessness Project is funded by a grant from the Bill & Melinda Gates Foundation.
SEATTLE'S NIGHT MARKET AND AUTUMN MOON FESTIVAL DOUBLES IN SIZE
Seattle's Night Market and Autumn Moon Festival are returning this year at Chinatown-International District historic Union Station on Saturday, September 7 between 6 p.m. and midnight. Experience the live music, delicious food, dance, culture, and craft vendors as Union Station Plaza is transformed into a lively night market. There will be an International Dance Party at 8 p.m. with Japanese and Korean pop music. With more than 20 of the most renowned food trucks in the region also participating at this unique event, there will definitely not be a lack of great Asian-inspired dishes to indulge in. Admission is free.
PEPPER PROUD & HANNALEE HEADLINE 'OUT TO LUNCH' CONCERT SERIES
The Out to Lunch Summer Concert Series provides an eclectic soundtrack to lunch-goers downtown, featured in various parks and venues throughout downtown and open to the public. The series is an effort put on by the Metropolitan Improvement District in cooperation with the Downtown Seattle Association, taking place every Wednesday and Friday from noon until 1:30 p.m. This Friday folk artist Pepper Proud plays at the Bank of America Plaza and next Wednesday indie artist Stephen Kellogg plays at the Federal Courthouse.
SPECIAL SCREEN OF NEW PBS DOCUMENTARY THE GRADUATES/LOS GRADUADOS
Community Cinema and Seattle Latino City Employees are hosting a free screening of the new PBS documentary The Graduates/Los Graduados on September 7 at 2:00 p.m. The Graduates/Los Graduados explores the many roots of the Latino dropout crisis through the eyes of six inspiring young students from across the United States who are part of an on-going effort to increase graduation rates for a growing Latino population.
SEATTLE SYMPHONY INVITES YOU TO FREE DAY OF MUSIC
The Seattle Symphony is hosting its Free Day of Music to celebrate the 15th anniversary of Benaroya Hall on Sunday, September 22 from 11 a.m. to 5 p.m. The event will consist of 35 local groups performing all kinds of music, ranging from Classical to Hip Hop on five different stages. The goal of the event is to provide inspiration to the community and appreciation of the arts. There will be instrument exploration and instrument making, and Soundbridge will be hosting free interactive classes for children. If you get hungry, local food trucks such as Street Treats will be lined up outside Benaroya Hall to provide food services to the public. The Seattle Symphony will also be performing two 45 minute concerts featuring collaboration with Native artists from several Northwest tribes.
SEATTLE FILM INSTITUTE OFFERING MOTION GRAPHICS PROGRAM
The Seattle Film Institute's (SFI) Motion Graphics Program program provides a thorough immersion into this rapidly growing field that combines film, audio, graphic design, and animation. This time-based form of visual communication creates the appearance of motion and transformation, and can be applied to film title sequences, broadcast advertising, digital game production, the web, visual presentations, and kinetic art. Students learn both the artistic and technical aspects of motion design, with a strong grounding in traditional filmmaking skills. Upon graduation, all students are eligible to participate in SFI's nationally renowned internship program. Professional Certificate and BA options are available. The program begins September 1, and scholarships are available.
THIS YEAR MARKS THE 25TH ANNIVERSARY OF THE EARSHOT JAZZ FESTIVAL
Seattle's annual Earshot Jazz Festival returns October 1 and continues through November 17, 2013, with more than 60 distinctive concert events in venues all around the city. Known for adventurous, spot-on programming, and praised as one of the best festivals in America, the Earshot Jazz Festival brings jazz greats from around the world into creative collaboration with area musicians and audiences. Earshot also celebrates Seattle's place in the world of jazz, with concerts by their award-winning high-school jazz programs and their renowned resident artists.
SHORT FILM FRIDAY: CRASHING WAVES
The short this Friday will be "Crashing Waves," a film that's simply packed with lots of local talent. It is directed by Britta Johnson, stars DK Pan and Haruko Nishimura, is photographed Ben Kasulke, and scored by Lori Goldston. The story concerns the way "two shipwreck victims spend their days on a deserted" island. They pull the foamy sea up the beach like a tablecloth, help the sun set with cupped hands, sleep, and have feverish dreams. The humans are watched by crabs.
TOP 10 NW MUSIC FOR WEEK OF 8/26

OFFICE OF FILM + MUSIC
Compiled from figures at Sonic Boom Records (Ballard) and Easy Street Records (West Seattle).
1. Moondoggies - Adios I'm a Ghost
2. Macklemore & Ryan Lewis - The Heist
3. Walking Papers - Walking Papers
4.

Pickwick -
Can't Talk Medicine
5. Laura Veirs - Warp and Waff
6. Death Cab for Cutie - Transatlanticism
7. Sadistik - Flowers for my Father
8. Sweet Water - Dance Floor Kills
9. Hey Marseilles - Lines We Trace
10. Don't Talk to the Cops - Champions of Breakfast
HELP "KICKSTART" SEATTLE FILM AND MUSIC PROJECTS
Kickstarter is an online "crowd-funding" resource that helps musicians, filmmakers and
producers of artistic projects reach out to friends and fans for financial support. Kickstarter allows artists the opportunity to give back to funders with special rewards, such as an exclusive album pre-release, a producer credit in a film, or even getting to meet the
artist in person. Seattle is a hotbed for film and music projects, and you can be a pivotal part of the production process by backing a project and spreading the word. All Current Seattle-based Kickstarter projects are listed on our
Kickstarter page
.
EH? CANADA IMPOSES 'RIDICULOUS' FEE THAT WILL AFFECT SEATTLE BANDS
SEATTLE WEEKLY
Seattle's small touring bands will have to make a hard decision when deciding whether or not to perform across the border in Canada. Due to new legislation in Canada, bands seeking entrance into the country to perform will now face a steep $275 application fee; along with a $425 fee for each approved band member (original fee was $150). These harsh price hikes will make it much harder for local Seattle bands break even when performing in Canada. The legislation was put into action in order to ensure that venues seek to "hire Canadians first before hiring temporary foreign workers" according to the Ministry of Employment.
HEART, DEATH CAB FOR CUTIE CELEBRATE AT BUMBERSHOOT 2013
ROLLING STONE
This year's three-day Bumbershoot festival featured many notable acts including Kendrick Lamar, Death Cab for Cutie, and recently inducted Rock and Roll Hall of Famer's Heart, who closed out day one of the event performing their biggest hits, including "Barracuda." Sunday paid homage to local to Northwest label Barsuk Records, who celebrated 15 years in existence. Acts included David Bazan, Ra Ra Riot, and a close-out by Death Cab for Cutie. The festival's final day included vibe gurus Alt.-j and MGMT.
COMMERCIALIZE SEATTLE ATTEMPTS TO TURN FILM INTO CASH
SEATTLE WEEKLY
Led by a coalition formed by the Office of Film + Music, Washington Filmworks, and local ad agencies Creature and World Famous, the Commercialize Seattle campaign officially debuted Wednesday night at Spitfire in Belltown. Local actors, directors and producers piled into the bar to hear how Commercialize Seattle was planning on turning Northwest film into cold hard cash. The answer, as the title suggested, is a newfound focus on incentivizing commercial film work (or in essence, advertisements) in Washington State. "We're selling the region, but not to everybody," said James Keblas, director of the Office of Film + Music. "We're selling it to creatives. The last thing they need to hear is more corporate BS. It sort of echoes the 'Loser' campaign Sub Pop ran in the '90s. We're not better than everyone else, we're just doing our own thing, and it's different and unique."
THE NORTHWEST'S OWN SPUD GOODMAN RETURNS TO THE AIRWAVES
After ten years, "The Spud Goodman Show" is returning to the airwaves, and Goodman has picked up his signature spatula and is already sipping from his bottle of Pepto Bismol. Goodman has returned to the airwaves with plans on getting involved again in the local music scene. The show has always been centered on the show's musical guests, and his recent podcast features Seattle's Seeing Blind. According to Goodman, "that's all we want to book, upcoming Northwest bands."
ON FINAL DAY, BUMBERSHOOT REACHES ATTENDANCE LANDMARK
At this year's Bumbershoot, a significant milestone was crossed with the arrival of the seven-millionth visitor on Day 3 of the music and arts festival. One Reel's senior director of community engagement Aubrey Gerbauer said they "anticipated the arrival to happen at about 6 p.m.," and rewarded their lucky visitor, a nurse from Tacoma, with a swag bag that included memorabilia of year's past, this year's Bumbershoot goodies and a surprise for future Bumbershoots. With advanced ticket sales of 120,000, a decision to focus on local acts (40% of the acts are from the Northwest), and a strategic decision not to compete with major music festivals, attendance was projected to rise this year compared to previous years.
MACKLEMORE & RYAN LEWIS'S THE HEIST REACHES MAJOR MILESTONE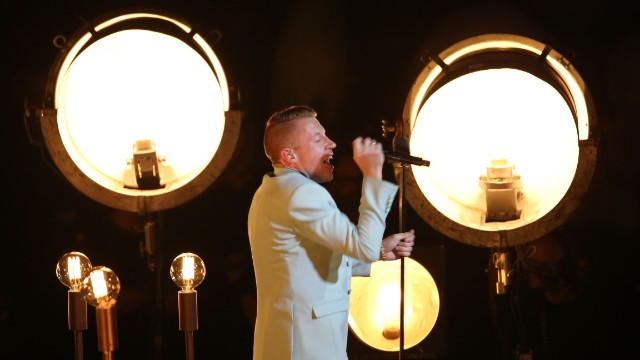 Seattle Hip Hop duo, Macklemore and Ryan Lewis continue to shine as their breakthrough album, The Heist has recently gone platinum by selling over one million copies. Their three hit singles, "Thrift Shop," "Same Love," and "Can't Hold Us," along with three recent MTV Video Music Awards, are just some of the few accomplishments this duo has achieved. But Lewis and Haggerty explain how even they had their own doubts about their music careers.
SURF'S UP: LA LUZ RIDES THE WAVES OF A VERY EARLY SUCCESS
With the heavy influence of folksy indie and electronic dance pop in Seattle-area music, some festival-goers at the Capitol Hill Block Party may have been surprised to hear the wailing guitar and four-part vocal harmony of a '60s-inspired surf rock group. But there was La Luz, with their choreographed dance moves and hypnotic melodies. Despite the fact that the band itself is just under a year old, the La Luz has been touring almost nonstop, playing across the country, as well as plenty of shows at home. La Luz has big plans -- after playing several shows and festivals in Seattle and Portland in this month, they'll be on tour with the legendary (and ever-evolving) of Montreal, a pairing that front woman Shana Cleveland said came together online.
QUICK LINKS

CITY BUSINESS CASUAL
- Returns
September
12 with a "Pathways to Careers: Education and Training" Theme!