Vol. 7, No. 11
August 14, 2013




TOP CITIES TO EARN A LIVING IN THE MUSIC INDUSTRY
TRIMPIN DEBUTS NEW SOUND SCULPTURE IN SEATTLE
SEATTLE PARKS AND RECREATION
Join the Children's PlayGarden, a nonprofit partner of Seattle Parks and Recreation, to celebrate the dedication of artist Trimpin's Bongobenny Quintet, a musical fence. Guests will meet Trimpin, a world-renowned sound artist and pioneer in the field of computer-programmed instruments and "sound sculptures", and enjoy a special performance by the PlayGarden Children's Choir. The free event takes place at the PlayGarden in Colman Playground, 1740 23rd Ave. S, from 10 a.m. to noon on Saturday, August 17.
PLAY IN THE STREETS AND LISTEN TO MUSIC THIS SATURDAY
This Saturday, the Seattle Department of Transportation is partnering with the Rainier Chamber of Commerce and the Columbia City Business Association to close down a section of Rainier Avenue to cars and have a block party. In addition to the food trucks and games, there will be live performances by bassist Charles Mack, rock band Guardian Alien, and many more. There will also be a world dance party. This year's theme is "Picnic in the Street." Bring your blanket or lawn chairs and lounge along Rainier.
HAPPY HOUR RETURNS ON AUGUST 28
OFFICE OF FILM + MUSIC
Mark your calendars and save the date, Happy Hour returns on August 28
at the Spitfire Grill! More details coming soon.
INDUSTRY NEWS AND UPDATES
SUBMIT TO THE SCI-FI AND FANTASY SHORT FILM FESTIVAL TOMORROW
The regular deadline for submissions to the Science Fiction and Fantasy Short Film Festival is tomorrow, August 15. Organized in partnership with the Seattle International Film Festival (SIFF), the event will present 20 short films at Seattle's historic Cinerama Theater in early 2014. Filmmakers can still submit their shorts until September 15.
MUDHONEY AND GRIZZLED MIGHTY PLAY THIS WEEK'S 'CONCERTS AT THE MURAL'
KEXP 90.3FM and Seattle Center have teamed up to present "Concerts at the Mural," a series of eclectic concerts on some of the summer's sultriest weekends. Take advantage of the warm summer nights and take in the tunes from some of KEXP's favorite artists. This week's lineup includes Mudhoney, The Grizzled Mighty, and Dude York.
SEATTLE FILM INSTITUTE IS HAVING AN OPEN HOUSE
Join the Seattle Film Institute (SFI) for an informational meeting about their Professional Certificate Programs, Undergraduate Degree Programs, and Graduate Degree Programs on Saturday, August 17, at 11:00 a.m. SFI's next program start date is September 16, their new home brings an expansive facility including a sound stage and recording studio, a 50-seat screening room, and a digital editing lab.
THE DUSTY 45s AND BIG SANDY AND HIS FLY-RITE BOYS HEADLINE 'OUT TO LUNCH'
DOWNTOWN SEATTLE
The Out to Lunch Summer Concert Series provides an eclectic soundtrack to lunch-goers downtown, featured in various parks and venues throughout downtown and open to the public. The series is an effort put on by the Metropolitan Improvement District in cooperation with the Downtown Seattle Association, taking place every Wednesday and Friday from noon until 1:30 p.m. This Friday check out blues band The Dusty 45s on the Harbor steps, and next Wednesday drop by Two Union to hear the jazzy Big Sandy and His Fly-Rite Boys.
OTHELLO PARK INTERNATIONAL MUSIC & ARTS FESTIVAL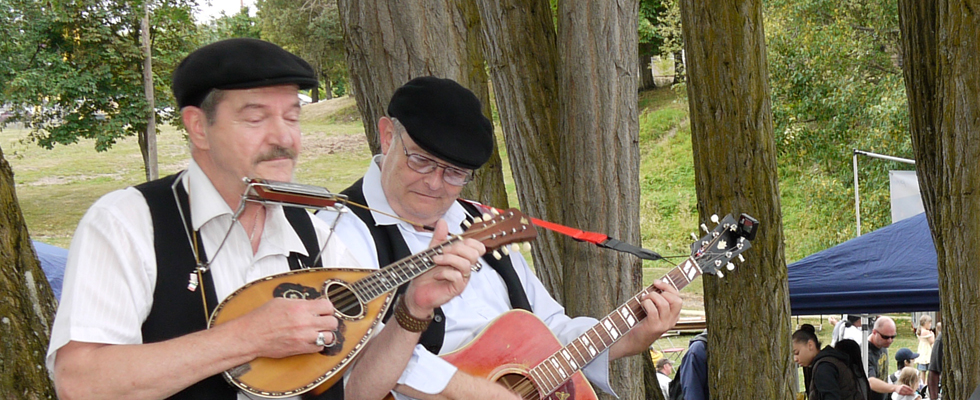 The Othello Park Alliance will host an afternoon of live performances, hands-on youth and art activities, and community building with the 2013 Othello Park International Music & Art Festival on August 18. The dynamic entertainment line-up includes music and dance performances that highlight Southeast Seattle's diverse styles and cultures. Headlining musical acts include Bembe Ole' and Pearl Django. Festival-goers will also have the opportunity to enjoy food from area restaurants and various food vendors. In keeping with the family-oriented arts and music theme of the festival, attendees will have the chance to create art: an "Art Creation Station" will engage youth and the young-at-heart in a variety of hands-on visual arts activities led by local artists.
TOP 10 NW MUSIC FOR WEEK OF 8/5

OFFICE OF FILM + MUSIC
Compiled from figures at Sonic Boom Records (Ballard) and Easy Street Records (West Seattle).
1. Macklemore & Ryan Lewis - The Heist
2. Rose Windows - Sun Dogs
3. Walking Paper - Walking Papers
4. Pickwick - Can't Talk Medicine
5. Mad Season - Above
6. Shelby Earl - Swift Arrows
7. Mudhoney - Vanishing Point
8. Alela Diane - About Farewell
9. Alice in Chains - Devil Put Dinosaurs Here
10. Caspar Babypants - Hot Dog
HELP "KICKSTART" SEATTLE FILM AND MUSIC PROJECTS
Kickstarter is an online "crowd-funding" resource that helps musicians, filmmakers and
producers of artistic projects reach out to friends and fans for financial support. Kickstarter allows artists the opportunity to give back to funders with special rewards, such as an exclusive album pre-release, a producer credit in a film, or even getting to meet the
artist in person. Seattle is a hotbed for film and music projects, and you can be a pivotal part of the production process by backing a project and spreading the word. Current Seattle-based Kickstarter projects are listed below, in order of imminence, from soonest-ending project to furthest out. Click on the Kickstarter buttons to check out these local projects and discover even more happening around Seattle.
CHASE & TRINITY MUSIC VIDEO PROJECT - August 17 (2 days)
(Music Video) Chase & Trinity need to pay creative videographers to make music videos to promote their new album.
CASTAWAY WITH PURPOSE - August 18 (4 days)
(Film) A feature documentary on the incredible journey of Erden Eurc, who circumnavigated the glob under his own power by boot, bike, and boat.
THE DEVIL WALKS IN SALEM - August 21 (6 days)
(Film) A narrative film short inspired by the Salem witch trials.
WE MAKE SEATTLE (A SHORT FILM) - August 26 (12 days)
(Film) A short film about why Seattle is the greatest city in the world for entrepreneurs, creators, and makers of all kinds.
DWARVEN DELVE - August 29 (15 days)
(Interactive) An action puzzle crawl in which players lead a band of dwarves through dungeons they create on the fly.
GABE MUCH RECORDS GOSPEL FOLK ALBUM - August 30 (16 days)
(Album) Seattle Pacific student and performer Gabe Much is set to study in Europe, and he needs help bringing gospel music with him. Gabe plans to sell his CD out of his guitar case while he busks.
NEW STUDIO ALBUM FROM ARTHUR MIGLIAZZA: LAYIN IT DOWN - August 30 (16 Days)
(Music) Arthur Migliazza is looking to pay for studio time for his new album Layin It Down, to include solo piano numbers, some piano-guitar duets, and more.
DIANA: A SHORT FILM - September 3 (19 days)
(Film) Two travellers search the world for their missing friend and invoke powerful magic to bring her back to life.
POLLY O'KEARY AND THE RHYTHM METHOD NEW ALBUM - September 5 (21 days)
(Music) After a four-year hiatus, the multi award-winning Seattle blues band is back and ready to record.
(Album) Slow Bird needs help paying for mixing and mastering, and production and packaging for their upcoming album.
SEATTLE-MADE FILM 'LUCKY THEM' TO PREMIERE AT TORONTO FILM FESTIVAL
Lucky Them directed by Seattle filmmaker Megan Griffiths and shot here earlier this year, will have its world premiere at the Toronto International Film Festival (TIFF) next month. Griffiths, director of Eden and The Off Hours will be making her TIFF debut. The film tells the story of a rock journalist who is tasked with the painful assignment of exploring her own past.
COPACINO AND FUJIKADO RECOGNIZED AS REGION'S BEST AD AGENCY
Ad Age, a national marketing news organization, has crowned Seattle-based advertising firm Copacino and Fujikado as the Northwest's best Small Agency of the Year. Copacino and Fujikado started as a startup comprised of two home computers, a used copier and some freelance income and has evolved into a $4.8 million revenue generating firm. Ad Age cites Copacino and Fujikado's for their 2 Days in Seattle campaign with Visit Seattle, formerly the Seattle Convention & Visitors Bureau, that increased Seattle's tourism traffic during the off season through social media advertisements targeting users in other large West Coast cities.
'PEARL JAM 20' TO AIR ON VH1
Pearl Jam 20 traces the band's early years as the musicians first come together, deal with their fast-rising fame, and decide to step away from it. Director Cameron Crowe also packs in more than 1,200 hours of rare and never-before-seen footage of Pearl Jam, and tracks the rockers over the years as they continue their legacy through their 20th anniversary. Pearl Jam 20 will air on October 12.
AGE IS JUST A NUMBER FOR THESE FEMALE DIRECTORS
The film industry has a history of age discrimination when it comes to talent. Though most eyes are set on young up and comers, there are many successful female directors who didn't make their first film until after 40 years old. Seattle's own Lynn Shelton didn't make her first film We Go Way Back until 40 and she has continued to make hits like Humpday and Your Sister's Sister. Colleagues of Shelton include Julie Taymor, Sophia Coppola, and Claire Denis.
HOW SHOULD SEATTLE JUDGE MACKLEMORE'S SUCCESS?
KUOW
What happens when your favorite artist goes "mainstream"? Seattle has seen many local bands blow up and become mainstays on the national music scene, the latest being Macklemore. KUOW's RadioActive Youth Media brings together Macklemore producer and collaborator Hollis Wong-Wear and a former Macklemore fan to discuss how people judge an artist after they reach stardom.
THE NEW RULES OF SCREENWRITING
Damon Lindelof, the the ubiquitous ­screenwriter-producer whose name seems attached to all of Hollywood's biggest blockbusters, is doing his damnedest to get small. When ever-larger sums are spent to make and market ever-fewer, ever-bigger movies, and those movies are aimed at Imax screens, then gigantic special effects are expected, with larger-than-life characters wielding those effects. Writers used to ask: "How do we top ourselves?" Now the question is: "How do we stop ourselves?"
ISHMAEL BUTLER OF SHABAZZ PALACES IS SUB POP'S NEW A&R REP
Grammy-winning rapper, producer, and member of hip-hop outfit Shabazz Palaces, Ishmael Butler has signed on with Sub Pop records as a part of their A&R team. "It seemed like something that was mutually advantageous for everybody. It's been working out well so far," Butler said in an interview. As an A&R rep at Sub Pop, he'll approach the industry from a different perspective, helping to sign and nurture new artists while continuing work on Shabazz Palaces' next album.
17 REASONS WHY WOMEN ACTUALLY MAKE BETTER DIRECTORS
Jill Soloway, director of Afternoon Delight, has compiled a humorous list that separates the girls from the boys, pinning women as the top directors in film. Soloway cites that women are more attuned to feelings, and have a easier time crafting emotion-laden movies that win the hearts of all viewers. Women are willing to ask for directions and collaborate with others, something that stubborn men just can't bring themselves to do. And Soloway notes that "the vagina has a lot to say."
THE MOONDOGGIES PLAY EASY STREET IN SUPPORT OF NEW ALBUM
Born amid the beards-n-belt buckles boom of the mid-'00s, the Moondoggies initially appeared not as inspired freewheelers, but as studious acolytes of rustic Americana. Since their inception the band has experimented with their sound and after a three-year hiatus have produced their new album Adios I'm a Ghost. The album which was recorded at the legendary Bear Creek Recording Studio is being haled as their strongest collection of songs yet. The Moondoggies played Tuesday night at Easy Street Records.
QUICK LINKS

CITY BUSINESS CASUAL
- Returns
September
12 with a "Pathways to Careers: Education and Training" Theme!