Vol. 7, No. 8
July 24, 2013




JULY HAPPY HOUR: HOW A FILM DIRECTOR MAKES A LIVING WORKING IN SEATTLE
From directing corporate videos to collaborating on narrative projects, Seattle's film directors need to be a resourceful bunch to make a living. At July's Happy Hour, James Keblas will once again walk the audience through a soon-to-be-published infographic, this time illustrating how one Seattle film director has found success in a versatile and creative approach to filmmaking.
THE OFFICE OF FILM + MUSIC IS HIRING INTERNS
The Office of Economic Development and Office of Film + Music are looking for interns for a six month internship. Interns participate in a variety of activities for OED & OFM, including marketing, communication, and outreach tasks supporting the City's economic development mission. The program runs for six months, from September 3, 2013-March 1, 2014, with ideally a week of training starting August 26. The deadline for applications is Thursday, August 8.
TOWN SQUARE HIGHLIGHTS TOURISM, HOSPITALITY, AND MUSIC
Town Square is a Seattle Channel original series dedicated to connecting people and ideas, by covering lectures, debates, and forums recorded throughout the city. They recently featured a talk on Tourism, Restaurants, Hospitality, and Music, put on by the Seattle Metropolitan Chamber of Commerce at the Chamber's first installment of their Economic Tonic. The Economic Tonic is a set of panel-based discussions that combines new data about the local four-county region with industry leaders' insight about what those findings mean for our local economy. The first installment focused on responses to the recent Seattle Jobs Sector Survey from leaders in the hospitality, arts, restaurant and tourism (HART) sector, and what the report tells us about the current and future state of their industries.
INDUSTRY NEWS AND UPDATES
THE CAPITOL HILL BLOCK PARTY HAS ARRIVED
The Capitol Hill Block Party will showcase over 100 of the best Northwest and national bands and DJs this weekend on Capitol Hill. Music lovers will be able to enjoy six stages of sound this Friday, Saturday, and Sunday including the likes of The Flaming Lips, Hey Marseilles, Purity Ring, and many more! Surrounded by all of the great amenities offered in the heart of beautiful Seattle, the Block Party is all about independent music and culture, thought, and progressive politics. Food trucks, local non-profits, local pro-music politicians, KEXP, and The Capitol Hill Chamber of Commerce, will all be on hand to partake in the festivities.
10 EASY(ISH) STEPS TO MAKING THE INDIE MOVIE OF YOUR DREAMS
Karl Jacob, writer, director, and actor, whose new drama, Pollywogs lays out a roadmap for BuzzFeed to making a great movie without a Hollywood budget. With a cameo from 2012 Mayor's Film Award recipient Ben Kasulke, Jacob lists everything from the insightful, like building a story around available resources and targeting specific festivals for distribution, to the simple, such as meditation and exercise.
WAYNE COYNE TO INTRODUCE "THE FEARLESS FREAKS" AT NW FILM FORUM
In celebration of the Flaming Lips performance at the Capitol Hill Block Party, on July 28 the Northwest Film Forum is playing a matinee of The Fearless Freaks that will precede the band's 8:15 p.m. performance. Fifteen years in the making, this documentary follows the group as they go from Norman, Oklahoma punk band to free-floating rock-and-roll circus act, complete with home movies, personal interviews, and rare-behind-the-scenes. Flaming Lips frontman Wayne Coyne is set to give the film a special introduction.
MAKING EVENTS WORK FOR YOU
The Workshop, a strategic event planning organization based in Seattle, has published a short guide on how to make events work best for any business, non-profit, or organization. Today, the impact and purpose of events have shifted from simply gala's and fun parties, to engagement-driven functions that fit in with organizational long terms goals and advance the bottom line. To jumpstart your organization's events, The Workshop has included an events checklist that includes: defining a clear strategic purpose for your event, telling your organizational story in an approachable and honest manner, and looking for genuine interaction points with guests during an event, as opposed to pushing your message on them.
FILMMAKERS: NEXT SEATTLE WEBSERIES MEETUP IS JULY 30
The Seattle Webseries Meetup is a free-to-join collective of filmmakers from the Northwest who are interested in creating content for the web. This month, pick the brains of Film + Music Office's Chris Swenson and Washington Filmworks' Krys Karns about all things permitting and location filming in Seattle and in Washington, and share what you've been working on or are planning. The Meetup is 7:00 p.m., Tuesday July 30, at the Seattle Film Institute's new Interbay location.
ASHTON KUTCHER'S THRASH-LAB IS LOOKING FOR ORIGINAL CONTENT CREATORS
Visual and creative content curators Thrash-Lab is holding a contest to find new and original content. Owned by Ashton Kutcher, the company is looking for high-quality content creators for their new premium channel on Youtube. The selected projects will be featured on their page and the top three creators will receive cash prizes ranging from $7,500 to $15,000. The deadline for submissions is August 15 and must be in the list of categories provided by Thrash-Lab.
TAKE A BREAK FROM WORK AND ENJOY LIVE MUSIC AT LUNCH
Now in its 35th year, the Out to Lunch Summer Concert Series is still providing an eclectic soundtrack to lunch-goers downtown. The series is an effort put on by the Metropolitan Improvement District in cooperation with the Downtown Seattle Association, and is featured in various parks and venues throughout downtown. A diverse cast of local artists are featured, from reggae to classical. There is music for everyone. The concerts take place every Wednesday and Friday from noon until 1:30 p.m. and are open to the public. The concert series ends on September 20, so there is still plenty of time to get out, enjoy the sun, and catch a gig!
SHORT FILM FRIDAY: "SALT & PEPPER"
This week's short will be "Salt & Pepper," a film Keith Rivers, a Seattle native who likes "music, running, reading, writing, singing, skiing, hiking, and rock climbing." The film, which is breezy, shot with a Red, and beautifully scored by Patrick Watson, is about a couple who own a collection of over 2,000 different types of salt and pepper shakers. But all is not bliss in this salt and pepper paradise. The children of the couple are not impressed with or as dedicated to this eccentric collection; they want to sell it and pay some pressing bills. All of this would not be a problem if the passion for salt and pepper shakers was coded in the genes.
TOP 10 NW MUSIC FOR WEEK OF 7/15 -7/19
OFFICE OF FILM + MUSIC
Compiled from figures at Sonic Boom Records (Ballard) and Easy Street Records (West Seattle).
1. Rose Windows - Sun Dogs
2. Stone Gossard - Moonlander
3. Pickwick - Can't Talk Medicine
4. Macklemore & Ryan Lewis - The Heist
5. Sadistik - Flowers For My Father
6. Don't Talk to the Cops - Champions of Breakfast
7. Alice in Chains - Devil Put Dinosaurs Here
8. Band of Horses - Everything All the Time
9. Mad Season - Above
10. Head and the Heart - The Head and the Heart
HELP "KICKSTART" SEATTLE FILM AND MUSIC PROJECTS
Kickstarter is an online "crowd-funding" resource that helps musicians, filmmakers and
producers of artistic projects reach out to friends and fans for financial support. Kickstarter allows artists the opportunity to give back to funders with special rewards, such as an exclusive album pre-release, a producer credit in a film, or even getting to meet the
artist in person. Seattle is a hotbed for film and music projects, and you can be a pivotal part of the production process by backing a project and spreading the word. Current Seattle-based Kickstarter projects are listed below, in order of imminence, from soonest-ending project to furthest out. Click on the Kickstarter buttons to check out these local projects and discover even more happening around Seattle.
(Film) The film adaptation of a transcendental rock musical, set in the Hoh Rainforest.
SALVAGE TRADER: A 2D SPACE ADVENTURE - July 30 (6 days)
(Interactive) Explore the galaxy, complete missions, build your ship, fight pirates and do some trade in a 2D space adventure.
REAL ADULT FEELINGS: SEASON 2 - August 1 (8 days)
(Webseries) "Real Adult Feelings" is raising money to shoot the second season of their mildly beloved comedy series.
BLOODGOOD'S FIRST ALBUM - August 7 (13 days)
(Music) Christian Metal Band BLOODGOOD is recording their first album in 22 years.
ROCKETMEN THE WEBSERIES - August 10 (16 days)
(Webseries) A deranged serial adventure following several blue collar workers who happen to be rocketmen.
CHASE & TRINITY MUSIC VIDEO PROJECT - August 17 (23 days)
(Music Video) Chase & Trinity need to pay creative videographers to make music videos to promote their new album.
CASTAWAY WITH PURPOSE - August 18 (24 days)
(Film) A feature documentary on the incredible journey of Erden Eurc, who circumnavigated the glob under his own power by boot, bike, and boat.
THE DEVIL WALKS IN SALEM - August 21 (27 days)
(Film) A narrative film short inspired by the Salem witch trials.
LOCAL FILMMAKERS RECOGNIZED AS TOP NEW FACES IN INDEPENDENT FILM
Filmmaker Magazine has selected Ewan McNicol and Anna Sandilands as two of the top 25 new faces in independent film. The pair are creative directors and principals at Lucid Inc., a documentary film studio located in Belltown. Ewan and Anna have received praise for their 2012 release of The Roper, a Sundance Official Selection, and winner of the 2013 Webby Award for "Best Documentary." Past Filmmaker Magazine selectees have included Ryan Gosling, Lena Dunham, and Hilary Swank.
SHELBY EARL RELEASES NEW ALBUM SWIFT ARROWS
Rather than following up her debut album with a meticulously polished studio production, Shelby Earl recorded her new album Swift Arrows in only eight days, using a lot of first takes and live recordings as the foundation. The stripped down album celebrates the possibility of imperfection in the music itself, as well as in Earl's life. On her latest music Earl says, "There are some tough life events that happen. The main theme on the record is going through something really challenging that does not take you out."
PAUL MCCARTNEY ROCKS SAFECO WITH GRHOL AND NOVOSELIC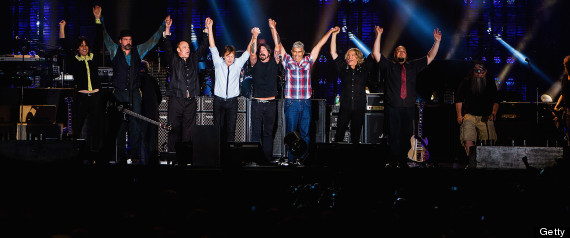 To the delight of the 45,000 people in attendance for Safeco Field's first ever-public concert on Friday night, Paul McCartney didn't let down the crowd's understandably high expectations. McCartney's set lasted almost three hours, and included a mix of Beatles and Wings classics. But what really stole the show was McCartney's encore introduction of Nirvana's three remaining members, Dave Grohl, Krist Novoselic, and Pat Smear, who joined him on stage for two encores, including Helter Skelter, and the shows finale, The End.
OUTDOOR MOVIE FUN AT SHILSHOLE BAY MARINA
The Port of Seattle is hosting their second annual Free Movies at the Marina Night at the Shilshole Bay Marina. The Port will host movie nights on August 16, and August 23. The Free Movies at the Marina Night are family-oriented events, and children's favorites "Escape from Planet Earth" and "Dolphin Tale" are set to be played.