Vol. 7, No. 5
June 26, 2013




The Film + Music Newsletter Will Return on July 10!
THIS IS A REAL JOB: HOW 3 SEATTLE MUSICIANS ARE MAKING IT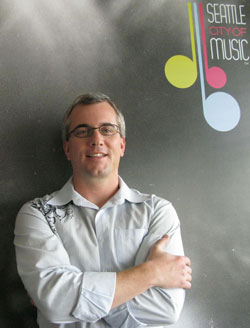 At tonight's Film + Music + Interactive Happy Hour, James Keblas will walk the audience through a soon-to-be published infographic illustrating how three Seattle musicians from diverse genres are making a living on music alone. This revealing presentation categorizes a musician's revenue potential into six areas and shows how the percentages change depending on your musical style, ranging from hip-hop to rock to classical. If you're a musician on the make, this presentation will help you better understand how to leave that part-time barista job and make the leap to full-time musicianship.
MAYOR MCGINN GIVES PROGRESS UPDATE ON SEATTLE JOBS PLAN
Yesterday at the South Seattle Community College Georgetown Campus, Mayor Mike McGinn updated the public on the progress of the Seattle Jobs Plan, launched three years ago, and described future efforts to support job creation in Seattle. The creative industries are represented in the report, including updated figures on film permitting and the appeal of working on films in Seattle for director Lynn Shelton. View the Seattle Jobs Plan 2013 Report.
ARTS INFORMATION SESSION FOR LATINO/A ARTISTS ANNOUNCED
A new two-part information series for Latina/o artists launches this July featuring information, resources and contacts to help give artists better access funding opportunities. The "Artists Up" series will take place on July 8 and July 15 at the Langston Hughes Performing Arts Institute. The sessions are designed to demystify funding programs and processes, share best-practices through peer learning and build connections between artists and funders in order to better serve all artists throughout Seattle, King County and Washington State. The July 15 session will feature a Latino/a artist panel who will share their experiences and tips for successful projects. The panel will be facilitated by writer Felicia Gonzalez and includes artists Juan Alonso, Alma Garcia, Jovino Neto Santos, Monica Rojas Stewart and Michelle de la Vega. Interpreters and translated materials will be available along with light refreshments.
INDUSTRY NEWS AND UPDATES
JONATHAN PONEMAN, JENNIFER ROTH ANNOUNCED AS SEAFAIR 2013 ROYALTY
The 64th annual Seafair festivities commenced this past Saturday at the Festival Kick Off Event on the official first day of summer. This year's festival theme is the Captain of Summer! The royalty program recognizes those that have made a positive impact in our community with meaningful contributions. Sub Pop records founder Jonathan Poneman and film producer Jennifer Roth were announced as King Neptune LXIV and Queen Alcyone XIV of this year's festivities. They will appear at major festival events and encourage all to take part in Seattle's summer celebration. The 2013 King Neptune LXIV and Queen Alcyone XIV have been given the ceremonial sword to "knight" deserving individuals for their contributions to Seattle's quality of life.
SEATTLE OPERA BRINGS ON AIDAN LANG AS DIRECTOR IN 2014
On Sept. 1, 2014, after current general director Speight Jenkins retires, Aidan Lang, director of New Zealand Opera, will become the new general director of Seattle Opera. Jenkins has already planned the Opera's 2014-15 season. Lang will work with him in planning 2015-16, and will be in sole charge of 2016-17 program planning. So far, Lang has found few "important operas by important composers" that haven't been staged here over the past 50 years. One exception may be Benjamin Britten's operas, which he feels have been underrepresented. Lang will aim to make the Seattle Opera more "theatrical" including bringing humor into the equation with a possible collaboration with Sub Pop band Flight of the Conchords.
SEATTLE FILM INSTITUTE ANNOUNCES SCHOLARSHIPS FOR DEGREE PROGRAMS
This week, The Seattle Film Institute announced that significant scholarship support is available for their undergraduate and graduate degree programs: MFA in Filmmaking, MFA/MA in Producing, MM (Master of Music) in Composing For Film, and BA in Film. No separate scholarship application is necessary. As part of the admissions essay, applicants should identify themselves as a scholarship candidate and specifically discuss how the program of their choice enhances their professional development and career opportunities. The Seattle Film Institute recently moved into their brand new location at 3210 16th Avenue West.
WSSN FILM SHOWCASE SEEKING SUBMISSIONS
WASHINGTON STATE STUDIO NETWORK
Submission of films to the Washington State Studio Network (WSSN) showcase Summer Edition is still open. Submissions are currently being accepted until June 30. Selected submissions will be showing in theaters in Bellingham and Edmonds July 26 and July 28. The showcase will include films in categories such as trailers, animation, documentary, music videos, commercial, experimental and youth (17 and under). The WSSN Film Showcases happen four times a year (one for every season), and aim to provide filmmakers the opportunity to get their work into movie theaters and shown to an eager public.
CLINTON SMITH TAPPED BY ORCHESTRA SEATTLE/SEATTLE CHAMBER SINGERS
Seattle Opera isn't the only arts group with appointment news these days. After a multiyear search following the 2010 death of former music director George Shangrow, Orchestra Seattle/Seattle Chamber Singers (OSSCS) have hired Clinton Smith as music director. Smith, a native Texan, will continue as artistic director and principal conductor of the St. Cloud Symphony and will conduct the University of Michigan Opera Theater's production of "The Barber of Seville" in the coming season while he takes over the position at OSSCS. Smith will kick off the group's 44th season with a concert on Sept. 28 with more details to be announced soon.
MUSIC AND HOW THE MONEY FLOWS INFOGRAPHIC SERIES RELEASED
The landscape of compensation in the music industry is complex. The difficulty of keeping things straight can cause a headache and with the advent digital music in the internet age, the processes by which music is licensed and how royalties are distributed are varied. The Future of Music Coalition has released a set of infographics that visualize how the money flows from various services and platforms back to labels, publishers, artists, and composers/songwriters.
WEST SEATTLE SUMMER FEST BRINGS LOCAL MUSIC, ART, AND MORE
West Seattle Summer Fest is rapidly approaching, with shopping, art, food, and of course, great local music. The music lineup was also just released this week, with local musicians like Caspar Babypants, Young Fresh Fellows, Rat City Brass, and Blackheart Honeymoon taking part. This three-day festival, July 12 -14, is a great opportunity to take in some live music and explore what West Seattle has to offer.
TOP 10 NW MUSIC FOR WEEK OF 6/17 - 6/21
OFFICE OF FILM + MUSIC
Compiled from figures at Sonic Boom Records (Ballard) and Easy Street Records (West Seattle).
1.
Macklemore & Ryan Lewis -
The Heist
2.

Mark Lanegan & Duke Garwood -

Black Pudding
3.

Alice in Chains

-

Devil Put Dinosaurs Here
4. Sean Nelson - Make Good Choices
5. Pickwick - Can't Talk Medicine
6.
Sadistik -
Flowers For My Father
7. Mudhoney -
Vanishing Point
8. Mad Season - Above
9.
Don't Talk To The Cops -
Champions of Breakfast
10. Eddie Spaghetti -
Value of Nothing
HELP "KICKSTART" SEATTLE FILM AND MUSIC PROJECTS
Kickstarter is an online "crowd-funding" resource that helps musicians, filmmakers and
producers of artistic projects reach out to friends and fans for financial support. Kickstarter allows artists the opportunity to give back to funders with special rewards, such as an exclusive album pre-release, a producer credit in a film, or even getting to meet the
artist in person. Seattle is a hotbed for film and music projects, and you can be a pivotal part of the production process by backing a project and spreading the word. Current

Seattle-based Kickstarter projects are listed below, in order of imminence, from soonest-ending project to furthest out. Click on the Kickstarter buttons to check out these local projects and discover even more happening around Seattle.
THE DANNY QUINTERO CHRISTMAS ALBUM - June 28 (1 day)
(Music) Danny "Mr. Christmas" Quintero wants to make his Christmas album dream come true.
TASTE - June 30 (4 days)
(Film) A coming of age story of two chefs in their mid-thirties living in Seattle.
FULL-LENGTH ALBUM BY JUSTIN FROESE - July 3 (17 days)
(Music) Seattle musician looking to record his best album yet.
RAZZ'S SOLO ALBUM! - July 7 (10 days)
(Music) An electric violinist wants to record her first solo album
MAY NAMBA'S STORY - July 8 (12 days)
(Documentary) Highlighting May Namba's impact on the world, a documentary film will examine her WWII incarceration, resilience, and community service.
MOMENTA - July 10 (14 days)
(Documentary) Exploring the various viewpoints on the coal export debate in our region and the current state of renewable energy alternatives.
CAPITOL HILL - July 10 (14 days)
(Film) An independent film project that looks to capture the gritty, independent spirit of the grunge revolution in Seattle.
ROB ROWE- WHITEWAITS ALBUM - July 14 (17 days)
(Music) Rob Rowe has recorded his first-ever side project and wants you to be a part of the release.
20 YEARS STRONG: 'SLEEPLESS IN SEATTLE' STILL BRINGS IN TOURISM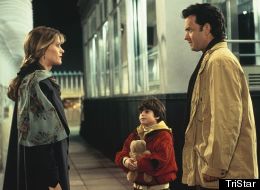 20 years ago yesterday, Sam Baldwin and Annie Reed officially met at the top of the Empire State Building, pleasantries were exchanged and audiences wept with joy.
Sleepless in Seattle
enjoys its 20
th
anniversary this year and Nora Ephron's sharp dialogue and charm still resonates and continues to bring fans to its namesake city. The film continues to bring tourists to spots like Sam Baldwin's house boat, Pike Place Market, Alki Beach, and more.
SEATTLE RANKS FIRST IN INDIE MUSIC SALES
Seattle prides itself on a strong indie music culture, from the wonderful KEXP to the legacy of Pearl Jam, to the rise of artists such as Macklemore & Ryan Lewis. Now there's some evidence that Seattle has more indie street cred than anywhere else in the country. According to Amazon's new "Cities That Rock" list, Seattle ranks first in indie music albums sold per capita. In general, Seattle also ranks seventh in sales of MP3s, CDs, and vinyl records according to Amazon internal sales data.
GOTTA STAY FRESH
With decades of experience and a slew of gold records, Jake One is Seattle's preeminent hip-hop producer. Born Jacob Dutton, the 37-year-old native has provided beats for superstars like Rick Ross, Wiz Khalifa and J. Cole while also working with the best local talent and underground favorites. Ten years his junior, Keyboard Kid, aka Greg Phillips, gained international recognition for his copious productions for Bay Area rap enigma Lil B.
City Arts
spoke with Jake One and Keyboard Kid about growing up in the Seattle area, what their work is like, and the state of the music industry today.
COURT RULING CREATES TWO QUEENSRYCHES
There's only one Pearl Jam, one Soundgarden and one Alice in Chains. But not so for another huge Seattle band: there are two Queensrÿches. For the time being. The Grammy-nominated, progressive heavy-metal quartet - which has sold more than 30 million albums worldwide since the early 1980s - has fractured into two separate, contentious groups, each using the name. At least until a lawsuit is settled on or before Nov. 18, and a decision is made about rights to the Queensrÿche brand. Known for such soaring rockers as "I Don't Believe in Love," "Silent Lucidity" and "Eyes of a Stranger," the original members of Queensrÿche are in a battle for control of their musical empire. "It's kind of like a divorce," drummer Scott Rockenfield says. "We're going through a long relationship, and now it's gotten to the point where the divorce needs to happen."
'TENTH AND PIKE' MINI-DOC ABOUT BRENT AMAKER & THE RODEO MURAL
If you were to create a sonic hybrid between the pop-like Americana iconography of a hot and dusty Tarantino flick with the sly late 1970s German presence of Wim Wenders, you'd get the strange and wonderful musicians that make up Brent Amaker and The Rodeo. With their new LP
Year of the Dragon
being released this summer, Seattle artist Jeff "Weirdo" Jacobson has created a 30-foot mural in their honor. A new mini-documentary called
Tenth and Pike
shows the creative process of the mural that is on the side of the music venue, Neumo's at the corner of Tenth Avenue and Pike Street in the heart of Capitol Hill.
WEST SEATTLE FILMMAKER WORKING ON SHORT HORROR FILM PROJECT
A local film maker Gavin Keefe is hoping to get support for a film with a budget that in normal film making circles would be considered just enough to cover coffee and transportation. "Bedtime Stories, A Horror Short" is, as he describes the project, a "true to the genre horror short" that "focuses more on the plot and character development rather than cheap scares and cheesy sfx." The story centers around a woman named Mia as she adjusts to her mother's remarriage and an evil presence that's brought into the house. "This is more than just a haunting movie," said Keefe, "it's about the relationship struggles of a new family, with an evil entity that won't stop until it gets what it wants. Keefe added, " Support for helping out with this project is overflowing... and tons of local talent is coming in from Olympia, Tacoma and Seattle."
NIGHTS AND WEEKENDS: HOW ONE SEATTLE BAND BALANCES LIFE AND MUSIC
Seattle has long been hailed as a great city for new music -- but for the dedicated musicians who are trying to make a living touring, recording and playing, the journey is marked by a difficult balancing act. How does a group of likeminded people find the time to practice, write, fundraise and book shows between eight-hour desk jobs? Local band Cumulus talked with KOMO News about the balance between making a living with music and holding down another job.
CELLIST EDWARD ARRON ENTHUSES ABOUT SCMS'S SUMMER FESTIVAL
Cellist Edward Arron was raised in the heart of New York's classical music scene but has Seattle roots. In addition to being a regular at the Seattle Chamber Music Society's (SCMS) summer and winter festivals since 2009, Arron himself runs four chamber-music series on the east coast. To watch Arron in concert is to understand viscerally why chamber music appeals so much to him. "It's a dialogue, rather than a recitation... ... It's a magical art form" Arron says. Seattle, he adds, is one of the prime spots for making that magic happen: "This is a festival that has perhaps the most dedicated die-hard audience I've ever encountered." He credits the festival's success to founding director Toby Saks' gimmick-free approach to staging the music. Ehnes, who succeeded Saks last year, has kept the festival on the same path, Arron says. This year's summer festival will run from June 29 to July 26 and will feature Arron playing works by Saint-Saens, Beethoven, and more.
SEATTLE MUSIC PARTNERS HELPS BRIDGE MUSIC EDUCATION FUNDING GAP
Seattle Music Partners is a non-profit organization that's been in existence for about 13 years. "What we do at Seattle Music Partners is provide free after school music instruction for 4th and 5th graders in the underserved schools in Seattle's Central District," said program executive director Scott Gelband. He and his staff recruit talented musicians who are high school aged or older to teach the lessons. The program also provides each student with an instrument, free of charge. "We just want to give them that opportunity to fall in love with music and carry it with them for the rest of their lives," Gelband said.