Vol. 7, No. 4
June 19, 2013




THIS IS A REAL JOB: HOW 3 SEATTLE MUSICIANS ARE MAKING IT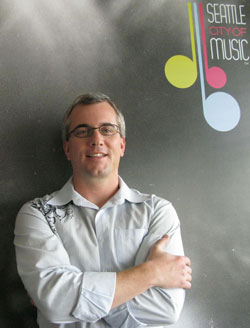 At the June 26 Film + Music + Interactive Happy Hour, James Keblas will walk the audience through a soon-to-be published infographic illustrating how three Seattle musicians from diverse genres are making a living on music alone. This revealing presentation categorizes a musician's revenue potential into six areas and shows how the percentages change depending on your musical style, ranging from hip-hop to rock to classical. If you're a musician on the make, this presentation will help you better understand how to leave that part-time barista job and make the leap to full-time musicianship.
LIVE MUSIC AT SEA-TAC AIRPORT EXTENDED THROUGH THE YEAR
After a highly successful pilot program, the Port of Seattle is extending live music performances through the end of the year at Seattle-Tacoma International Airport. The twelve week pilot program began in March with live music performances from local, Northwest artists at multiple locations in the terminal as part of the Sea-Tac Airport Experience The City of Music program - a cooperative effort by the Port of Seattle, Seattle Music Commission and PlayNetwork. "There has been a tremendously positive response from the traveling public for the live performances," said Port of Seattle Commissioner John Creighton. "Passengers have been pleasantly surprised by the entertainment and our performers have received encouraging feedback. It really does improve the passenger experience and celebrate our unique Northwest musical heritage. "
INDUSTRY NEWS AND UPDATES
FREMONT FAIR FEATURES LOCAL LIVE MUSIC IN ABUNDANCE
The Fremont Solstice Parade starts at 3:00pm this Saturday, June 22, but you can enjoy free and fun live music all weekend courtesy of the 2013 Fremont Fair
. Want to hear some ska? The Fabulous Party Boys will be playing. In the mood for some roots music from a Seattle-based stringband? The Warren G. Hardings will be taking the stage, too. Want to hear an electro/pop dance band? You can catch local band Richie Aldente this weekend. A super-diverse, local lineup of musicians will be a part of the Fremont Fair, the Solstice Parade, and plenty of local vendors.
LOCAL MUSIC AT THE ROCK 'N' ROLL SEATTLE MARATHON
Did we mention the Fremont Fair and Solstice Parade is this Saturday, June 22? Well, so is the annual Rock 'n' Roll Marathon, featuring over 40 local acts performing on stages along the marathon route. Runners and passers-by can catch everything from DJ sets (DJ Taco Supreme), to blues (Dead Man), to Psychedelic Rock (Acapulco Lips), to Jazz (Lance Randall & The Nu Jazz Playas) and more.
SASQUATCH! EXPANDS TO TWO WEEKENDS IN 2014
The Sasquatch! Music Festival has announced that their event will now run for two weekends, starting in 2014. The lineups will be totally different from one another. Unlike Coachella, another two-weekend festival, the two events will not happen in immediate succession. Sasquatch! Week 1 is 5/23-25 while Week 2 is a few weeks later on 7/4-6. This means that two separate and totally different weekends of Sasquatch! Will give good reason for out-of-towners to head back to Quincy, Washington for round two of the festival.
THE FILM SCHOOL ANNOUNCES NEW SCHOLARSHIP FOR SUMMER PROGRAM
TheFilmSchool is awarding three scholarships to local filmmakers in the amount of $1,000 each that can be applied toward the 2013 film writing and directing intensive this summer. The course teaches the principles and mechanisms of structure and character, as well as the courage of personal storytelling, through six distinct approaches. This scholarship is awarded based on talent, so applicants are encouraged to submit only their best writing samples as part of their application.
BARSUK RECORDS CELEBRATES 15 YEARS
This year Seattle's Barsuk Records will celebrate their fifteenth anniversary. After kicking things off in early September with an incredible day of Barsuk artists at Bumbershoot, the celebration will be picking up again November 7-10 with a ton of Barsuk artists past and present for four major shows in Seattle venues: Showbox at the Market, Neptune Theatre, Neumos and Barboza, and The Tractor Tavern. The lineup for November shows is expected to be released at the end of the month. Wristbands for the four-show celebration in November just went on sale.
NORTHWEST FILM FORUM SEEKING A NEW PROGRAM DIRECTOR
Northwest Film Forum is seeking a new Program Director as it prepares to bid farewell to Adam Sekuler in 2013. Sekuler has led the Film Forum's cinema programming department since 2006, and will step down in October of this year. The Program Director, working with the Executive Director, determines the artistic vision of the Film Forum, works to stay on budget, to increase audiences for and audience awareness of compelling new cinema and cinema of the past worth rediscovering.
'BFE' RECEIVES SPECIAL MENTION AT CHAMPS-ÉLYSÉES FILM FESTIVAL
Seattle-based filmmaker, Shawn Telford's indie film BFE received a special mention at the Champs Elysees Film Festival in Paris, France over the weekend. BFE was one of six American independent films chosen to screen at the festival through the US in Progress initiative. The program is a joint effort by the American Film Festival in Wroclaw, Poland, the Champs-Élysées Film Festival, and Black Rabbit Films. The objective of US in Progress is to present American independent films in their post-production phase to potential European buyers in order to encourage their distribution and broadcast across Europe. Out of the six films presented, BFE was one of two that received accolades this year.
EMP's Sci-fi + Fantasy Short Film Festival Now Accepting Entries
EMP Museum is now accepting entries for the ninth-annual 2014 Science Fiction + Fantasy Short Film Festival. Organized in partnership with the Seattle International Film Festival (SIFF), the event will present 20 short films at Seattle's historic Cinerama Theater in early 2014. The Science Fiction + Fantasy Short Film Festival encourages the submission of original science fiction and fantasy short films. The festival will accept animated or live-action submissions in science fiction (futuristic stories, space adventure, technological speculation, social experiments, utopia and dystopia), and fantasy (sword and sorcery, folklore, urban fantasy, magic, and mythic adventure).
FREE PROFESSIONAL DEVELOPMENT EVENT FOR DOCUMENTARY FILMMAKERS
The Northwest Film Forum will host a free, public discussion for documentary filmmakers this Saturday, June 22. Money for Docs will bring together local filmmakers who have successfully raised money for their documentary projects from a broad array of funders. How did they do it? Learn how you too can crack the funding nut. Panelists include Mike Attie (In Country), Amy Benson (The Girl Who Knew Too Much), Elisa Haradon and Gabriel Miller (Sweetheart Deal).
BALLARD HIGH SCHOOL PRODUCERS HONORED AT REGIONAL EMMY AWARDS
Each year, the Northwest Chapter of the National Academy of Television Arts & Sciences presents High School Awards of Excellence to celebrate the most outstanding high school productions from Oregon, Washington, Idaho, Montana and Alaska. When the envelopes were opened on June 15 at the 50th Annual Regional Emmy Awards, students from the Ballard High School Video Production Program won 3 of the four categories in which they had been nominated: Community/Public Service Announcements, Long Form: Fiction, and Photographer/Editor. The productions were nominated, and the winners determined, by a jury of Academy members. This marks the seventh year in a row that Ballard High School video producers have been winners at the event.
SHORT FILM FRIDAY: "DIAMOND BOX"
This Friday's short will be "Diamond Box," a short doc by a rising star of Seattle's world, Rodrigo Valenzuela. At the center of the black-and-white video are Mexican men Valenzuela hired not to work on a yard or lift boxes onto a truck but to tell their stories and be filmed hanging out in hotel rooms and other anonymous spaces. Their stories, which invariably describe the dangers/horrors of crossing the border and the relentless difficulties of living in a society with no rights and little idea of what the future holds (making enough money, falling sick with no health insurance, getting arrested and deported) are, of course, bleak. The men sit and look at the camera or sit and look at each other with the stunned curiosity of a person who has been unexpectedly displaced from the constant storms and stresses of the real world. This sudden peace seems so strange to them.
-Charles Mudede
TOP 10 NW MUSIC FOR WEEK OF 6/10 - 6/14
OFFICE OF FILM + MUSIC
Compiled from figures at Sonic Boom Records (Ballard) and Easy Street Records (West Seattle).
1.
Macklemore & Ryan Lewis -
The Heist
2. Alice in Chains
-
Devil Out Dinosaurs Here
3. Mother Love Bone
- Mother Love Bone [Import]
4. Case Studies - This is Another Life
5. Damien Jurado - Where Shall You Take Me
6. Mad Season - Above
7. Don't Talk To The Cops -
Champions of Breakfast
8. Sadistik - Flowers For My Father
9. Mark Lanegan & Duke Garwood - Black Pudding
10. Sean Nelson - Make Good Choices
HELP "KICKSTART" SEATTLE FILM AND MUSIC PROJECTS
Kickstarter is an online "crowd-funding" resource that helps musicians, filmmakers and
producers of artistic projects reach out to friends and fans for financial support. Kickstarter allows artists the opportunity to give back to funders with special rewards, such as an exclusive album pre-release, a producer credit in a film, or even getting to meet the
artist in person. Seattle is a hotbed for film and music projects, and you can be a pivotal part of the production process by backing a project and spreading the word. Current

Seattle-based Kickstarter projects are listed below, in order of imminence, from soonest-ending project to furthest out. Click on the Kickstarter buttons to check out these local projects and discover even more happening around Seattle.
(Music) Seattle pop band Richie Aldente is finishing their second studio album.
YEVTUSHENKO'S FIRST FULL-LENGTH ALBUM - June 23 (4 days)
(Music) Unsigned indie-rock band looking to fund their first full-length album.
THE DANNY QUINTERO CHRISTMAS ALBUM - June 28 (8 days)
(Music) Danny "Mr. Christmas" Quintero wants to make his Christmas album dream come true.
FULL-LENGTH ALBUM BY JUSTIN FROESE - July 3 (14 days)
(Music) Seattle musician looking to record his best album yet.
RAZZ'S SOLO ALBUM! - July 7 (17 days)
(Music) An electric violinist wants to record her first solo album
MAY NAMBA'S STORY - July 8 (19 days)
(Documentary) Highlighting May Namba's impact on the world, a documentary film will examine her WWII incarceration, resilience, and community service.
MOMENTA - July 10 (21 days)
(Documentary) Exploring the various viewpoints on the coal export debate in our region and the current state of renewable energy alternatives.
CAPITOL HILL - July 10 (21 days)
(Film) An independent film project that looks to capture the gritty, independent spirit of the grunge revolution in Seattle.
ROB ROWE- WHITEWAITS ALBUM - July 14 (24 days)
(Music) Rob Rowe has recorded his first-ever side project and wants you to be a part of the release.
WHY SASQUATCH! AND SIFF MAKE SUCH GOOD CULTURAL COMPANIONS
Sasquatch! and the nearby Seattle International Film Festival (SIFF) have more in common than close proximity. When experienced in tandem, the two serve as ideal pre-summer companion pieces, says Indiewire. Next year, SIFF will celebrate its 40th anniversary. One of the largest festivals in North America in size and scope, this year's incarnation lasted over three weeks and was comprised of over 270 features. While Sasquatch, started in 2002, has only enjoyed a history quarter of SIFF's length, it too has grown in prominence on both a national and global scale. Timing, traits, and a few peculiar synergies of this years' pair of festivals seems to make the two seem like perfect cultural companions.
FARMERS MARKETS AND LOCAL CELEBS IN 'LOCALLY GROWN'
Farmers markets. A spoofy plotline. Local guest stars. Could this be Seattle's Portlandia? At the least, it's 'Locally Grown,' a comedy web show based on a fictional farmers market, shot partly at the Ballard Farmers Market and Shoreline Community College. Familiar faces from Seattle's theatrical community and celebrity scene show up as characters or in guest cameos, including Dave Dederer, formerly of The Presidents of the United States of America. A comedy about farmers markets seemed a natural to creator and co-writer Simon Hamlin, a local kid who remembers picking Pike Place Market for his seventh-grade school report on "my favorite spot in Seattle." The web series premiered last week.
SEATTLE WIND SYMPOHNY PRESENTS A STAR-SPANGLED SPECTACULAR
The Seattle Wind Symphony will be giving a free concert at Benaroya Hall on the evening of July 3 full of patriotic music and fun. Guests will hear Leonard Bernstein's Overture to Candide, Carmen Dragon's America, The Beautiful, Frank Ticheli's Amazing Grace, Peter Tchaikovsky's Overture "1812," and Sousa's Stars and Stripes Forever. Kids and grandparents are welcome. This event is free, but tickets should be reserved early.
'CASPAR BABYPANTS MUSIC TIME' APP IS A MUST HAVE
Caspar Babypants, the children's music side project of Chris Ballew, also a member of the Presidents of the United States of America, released an app that is fun for both children and adults. The app lets kids play along with Caspar Babypants tracks, using a virtual guitar, xylophone or drum set on screen. The instruments change notes to stay in key as the song is playing, which lets kids focus on rhythm and musical creativity. For more advanced users (or their parents), the app also includes a mode that shows the chords, to play along with a real instrument.
FILM ISN'T DEAD - KODAK SIGNS DEAL WITH STUDIOS
After 20th Century Fox announced last year that they would be ending domestic distribution of movies on film, they have become the sixth studio to sign an exclusive deal with Kodak's Film Division for motion picture film stock. Similar deals have been struck with the Walt Disney Company, Warner Bros. Entertainment Inc., NBC Universal Inc., Paramount Pictures Corp., and Sony Pictures. Kodak and other film stock companies like Fuji has been slowing down their motion picture film manufacturing over the past few years. The future of film did not seem bright, but these new deals show a reinvestment into old school filming methods.
THE SEATTLE SYMPHONY'S WATER MUSIC: A WORLD PREMIERE EXPLORES THE SEA
In the top left corner of the first page of his score for Become Ocean, where most any other composer would put a simple metronome marking or an Italian direction, John Luther Adams wrote the single word "Inexorable." It suggests not only the steady tempo of his new orchestral work-a commission from the Seattle Symphony, which will premiere it Thursday night-but the natural processes, outside of human control, that have inspired his approach to composition. Mr. Adams' composition will be premiered by Ludovic Morlot and the Seattle Symphony Orchestra.
CENTRAL CINEMA, AMONG OTHERS, USE CROWDFUNDING FOR DCP UPGRADES
As the move toward digital distribution gets more apparent, many independent theaters are working to upgrade their projectors to the new industry standard. The Digital Cinema Package (DCP) was created with a group of major studios to standardize the transition from film projection to the new digital film landscape. If theaters do not upgrade, they will lose out on access to many films. The upgrades required cost a lot of money and range from buying new projection and sound equipment to even constructing new rooms to properly house the equipment. As a result, Central Cinema and others has resorted to crowdfunding campaigns to help fund the transition.
THE NEW SOUND OF SEATTLE
From lyrical hip-hop, to sad songs, to garage R&B, Seattle Met has identified three local acts that have what it takes to break out of the Northwest market and deliver our distinctly Seattle sound to the world. They look at the sound, influences, and future of three artists: Pickwick, rap group The Physics, and singer-songwriter Shelby Earl. Hear what these local musicians have to say.
SEATTLE MUSIC STICKS TOGETHER: AMAZON, RHAPSODY HELP IVAN & ALYOSHA
Seattle folk-rock ensemble Ivan & Alyosha's tour struck a sour note recently when the band's van and a trailer full of gear were stolen in Atlanta, Georgia. While the van was eventually recovered, the band noted in a statement on its website that "there have been no signs of our trailer or gear since." Fortunately, Seattle's music community looks out for eachother. Rhapsody donated $10,000 and Amazon contributed $5,000 to the band to help them get new equipment and continue touring. Fans can contribute to new gear for Ivan & Alyosha through a campaign on Pledge Music.