Vol. 7, No. 2
June 5, 2013




OFFICE OF ARTS & CULTURE OFFERS FUNDING FOR MEDIA/FILM ARTISTS
The CityArtist Projects program provides funding for Seattle-based individual artists to develop and present their work. The program focuses on different disciplines in alternating years. The 2014 cycle will award grants to artists working media/film, as well as literary and visual artists. The Office of Arts & Culture encourages a broad range of artistic and cultural expression that reflects Seattle's diversity for the CityArtist Projects program. Last year, $161,000 was awarded to artists. The deadline is July 17.
MUSIC AND VIDEO ART ON THIS WEEK'S 'ART ZONE' WITH NANCY GUPPY
This week on Art Zone, Nancy hosts the Bellow Brothers for a few rockin' twangy tunes in Studio AZ. Artists Julia Bruk, Kira Burge, and Julia Greenway will also talk about "Interstitial Theater," a video/new media art gallery on wheels. Art Zone premieres Friday, June 7 at 8:00 p.m. on Seattle Channel and forever online.
INDUSTRY NEWS AND UPDATES
TAKE IN LOCAL MUSIC AT KEXP'S FREE SUMMER SHOWS AT THE MURAL
This August, Seattle Center and KEXP will be teaming up to present four free, all-ages concerts at the Mural Amphitheatre. The concerts are tailored for the culturally curious and feature a ton of local bands, like Rose Windows, The Grizzled Mighty, and Mudhoney. These shows are open to the public, with "seating" on the lawn and a beer/wine garden for attendees over 21.
SEATTLE SYMPHONY PERFORMS WORKS COMPOSED BY UW STUDENTS
Symphonic works by University of Washington Composition graduate students Doug Niemela and Jeff Bowen were performed by the Seattle Symphony at Benaroya Hall on June 4 as part of the Seattle Symphony's New Music Works initiative. Jeff Bowen's Stalasso presents three "readings" (in the form of three movements) of a single musical object--a transcription of a short guitar improvisation that serves as the source material for the piece. Doug Niemela's African Bagatelles draws inspiration from the polyphonic ensembles in Central Africa.
FILM INCENTIVE PROGRAMS NOT ONLY ABOUT FILM
Incentive programs aren't just for film. The interactive and gaming worlds have tapped into incentive-driven funding as well. The UK and Montreal are two areas that have implemented tax incentive programs for game developers, comparable to those offered to film production. According to the Washington State Bureau of Labor Statistics, Washington is home to somewhere between 9,900 - 27,680 computer programmers. With creative and tech industries in our own backyard, Washington has the resources to become a top producer in the video game industry. Combine that with an incentive tailored to video game producers, and the possibilities are endless.
NW FILM FORUM SUCCESSFULLY RAISES FUNDS FOR DIGITAL CINEMA UPGRADE
For the last month, The Northwest Film Forum ran a crowdfunded effort to upgrade their main cinema to show films in the Digital Cinema Package (DCP) format, in addition to 35mm and others. As of last Sunday, the project met its goal on Kickstarter, with over $51,000 raised from almost 500 backers. The cinema will now be able to show a more diverse array of films, thanks to upgraded technology. The staff recorded a thank you video for all the people who invested in their facility upgrades.
SOCIAL JUSTICE FILM FESTIVAL PUBLICITY INTERN POSITION AVAILABLE
The Social Justice Film Festival Publicity Intern plays a crucial part in shaping the vision and outcome of a young film festival focused on social justice issues, helping to screen festival films and involved with the production of the festival. The position is responsible for helping to build awareness about the festival through contacting the press, relevant partner organizations, students, and university programs; distributing festival posters and flyers, representing the festival at meetings, and playing an important role in devising a publicity strategy. Interested applicants should submit a
résumé, cover letter, and short writing sample to
laura@socialjusticefilmfestival.org.
CHECK OUT LOCAL YOUTH FILMS AT ADOBE YOUTH VOICES
Adobe Youth Voices is a program run by a partnership between Adobe, Reel Grrls, and the City of Seattle, and this Sunday they want to show you some great film projects by young people in Seattle. The Sunday event at the EMP Museum will show works by students from Seattle Public Schools, a number of Community Centers, KCTS 9, Youth in Focus, and much more. Celebrate a year of creating with a purpose by reserving your free ticket to Adobe Youth Voices Live.
SUB POP RECORDS AND HOTEL MAX TEAM UP TO CREATE MUSIC EXPERIENCE
Hotel Max and Sub Pop Records has teamed up to deliver a Sub Pop-centric floor at their location in Downtown. The fifth floor of Hotel Max has fixed up with black and white photography from the talents of Charles Peterson and his documentation of Seattle's Sub Pop heyday. It was a natural fit for Sub Pop to come in and curate a musical experience within the rooms. Record players and a custom-picked library of old and new vinyl will be available in each room, along with QR codes so guests can purchase the music to take back home with them. Album art of Sub Pop's recent releases will be hung up, and the Sub Pop TV channel will run a continuous loop of classic and newer videos from their catalogue.
FREE CLASSICAL MUSIC CONCERT AT SEATTLE CENTRAL LIBRARY
Classical music fans can enjoy a free, no rsvp-required concert next Saturday at the Central Library in the Microsoft Auditorium. Polish pianist Marzena Lilian Szlaga will be performing Chopin's greatest hits for this special performance, including some of his mazurkas, nocturnes, fantasies, waltzes, ballads and more.
SOUTH SEATTLE CITY OF MUSIC SUMMIT THIS FRIDAY, JUNE 7
Rainier Beach High School, in conjunction with the Seattle Music Commission, Umoja PEACE Center and Seattle Parks Deptartment's Power of Place will host the first annual South Seattle Music Summit this Friday. The free event will showcase the talent of Rainier Beach students and help support the development of a vibrant music scene as a part of Seattle's City of Music Initiative. Guest speakers include Jody McKinley (Rhapsody International), Devon Manier (Sport'N Life Management), Clarence Robinson (Rainier Beach High School/ Youth Orchestra), and many more.
ZOMBIE ORPHEUS GOES TRANSMEDIA
Local company Zombie Orpheus Entertainment is known for their web series, but now they have made the jump into a new transmedia endeavor. The project is a card game, "Romance of the Nine Empires," created along with Alderac Entertainment Group for Zombie Orpheus' film Gamers 3. Their new film will be premiering at GenCon this August.
'NIGHTS AT THE NEPTUNE' MAKES THEATER AVAILABLE TO ARTISTS, COMMUNITY
The Seattle Theater Group is launching its new initiative to make the Neptune Theater more accessible to artists and the community. Supported by the City of Seattle Department of Neighborhoods' Neighborhood Matching Fund, the initial eight programs give a voice to emerging projects and underserved populations, and encourage exploration of issues that include race and social justice. Using a proposal submission process, the programs were selected by a group of artists, arts managers, and community leaders. All programs are of the artists' design, and will be supported with the provision of basic theatre staffing, technical support, marketing and public relations. They are all open to the public and free of charge.
LIVE MUSIC AT GEORGETOWN CARNIVAL THIS SATURDAY, JUNE 8
GEORGETOWN MERCHANTS ASSOCIATION
The free annual Georgetown Carnival is a dream come true, with stiltwalkers, carnival games, and confections. Check out local art, live music, beer gardens, and the world famous power tool races. Musical performances of diverse sounds are featured on the carnival stage and throughout the art walk , enhancing your visual experience with the sounds of DJ Luscious Leopard Lips on a Theremin synethsizer and Blues/Americana guitarist Bobcat Bob.
NW FILM FORUM CHILDREN'S FILM FESTIVAL INTERNSHIP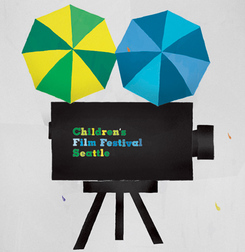 The Children's Film Festival Seattle is in its ninth year, and is one of the largest festivals of its kind on the west coast. Northwest film Forum is seeking interns for the festival who can commit to working for the festival from June 2013 through January 2014. However, summer research positions are available for those who must return to school in the fall. Hours are flexible and interns will keep track of film entries, maintain the festival website, and help the Director program the festival.
SHORT FILM FRIDAY: "A LIFE WELL LIVED"
This week's short film will be "A Life Well Lived: Jim Whittaker & 50 Years of Everest," a documentary directed by local filmmaker/cinematographer Eric Becker. The subject of the doc is Jim Whittaker, a Seattleite and handsome octogenarian who in 1963 became the first American to reach the summit of Mt. Everest. Those who are familiar with Becker's work will not be surprised the doc's impressive editing and photography.
-Charles Mudede
TOP 10 NW MUSIC FOR WEEK OF 5/27 - 6/2
OFFICE OF FILM + MUSIC
Compiled from figures at Sonic Boom Records (Ballard) and Easy Street Records (West Seattle).
1.
Alice in Chains
-
Devil Out Dinosaurs Here
2. Macklemore & Ryan Lewis - The Heist
4. Mark Lanegan & Duke Garwood - Black Pudding
5. Pickwick - Can't Talk Medicine
6. Blackheart Honeymoon -
Nothing and Everything Else
7.
Sadistik -
Flowers for my Father
8. The Postal Service - Give Up (10th Anniversary)
9.
Mudhoney -
Vanishing Point
10. D
eep Sea Diver -
History Speaks
HELP "KICKSTART" SEATTLE FILM AND MUSIC PROJECTS
Kickstarter is an online "crowd-funding" resource that helps musicians, filmmakers and
producers of artistic projects reach out to friends and fans for financial support. Kickstarter allows artists the opportunity to give back to funders with special rewards, such as an exclusive album pre-release, a producer credit in a film, or even getting to meet the
artist in person. Seattle is a hotbed for film and music projects, and you can be a pivotal part of the production process by backing a project and spreading the word. Current

Seattle-based Kickstarter projects are listed below, in order of imminence, from soonest-ending project to furthest out. Click on the Kickstarter buttons to check out these local projects and discover even more happening around Seattle.
NEW BLAKE NOBLE ALBUM 'UNDERDOG' - June 6 (1 day)
(Music) Aussie Percussive Guitarist & Didgeridoo player Blake Noble is a musician on the rise, and is recording his second album with a full band.
THE WORLD'S LARGEST PLASTIC BAG TREE - June 12 (7 days)
(Film) A narrative film about three best friends and their last summer of high school together.
SEATTLE 48 HOUR FILM PROJECT
- June 14 (10 days)
(Film Competition) In their 9th year, the Seattle leg of the 48 Hour Film Project hopes to be bigger and better than ever.
WINNING DAD
- June 17 (11 days)
(Film) What happens when a young man tricks his homophobic father into a camping trip with his secret boyfriend?
(Film) A father must choose between medicine and myth to save his terminally ill daughter.
(Music) Seattle pop band Richie Aldente is finishing their second studio album.
YEVTUSHENKO'S FIRST FULL-LENGTH ALBUM - June 23 (18 days)
(Music) Unsigned indie-rock band looking to fund their first full-length album.
BRUCE LEE'S EARLY SEATTLE DAYS - June 30 (24 days)
(Documentary) Film exploring the early years of Bruce Lee, includes interviews with his students and his first love.
FULL-LENGTH ALBUM BY JUSTIN FROESE - July 3 (28 days)
(Music) Seattle musician looking to record his best album yet.
MAY NAMBA'S STORY - July 8 (32 days)
(Documentary) Highlighting May Namba's impact on the world, a documentary film will examine her WWII incarceration, resilience, and community service.
SUB POP FOUNDER FINDS CALM IN DIRE DIAGNOSIS
You could always count on Jonathan Poneman to keep things calm, even amid the chaos that often reigned at Sub Pop Records. When Seattle was the center of the music universe, Sub Pop was the center of Seattle, the place where Nirvana was launched and where Mudhoney still kicks out the jams. However, Poneman, who co-founded the label in 1988, has always been just a little to the side of the spotlight. After years as a steadying presence at Sub Pop Records, Poneman found himself slowing down. He was diagnosed with Parkinson's disease, but is vowing not to let the disease stop him. With Sub Pop still a tremendously successful business about to celebrate 25 years, Jonathon accepts his disease but refuses to be passive because of it.
SEATTLE IS NATION'S FIFTH-LARGEST CENTER FOR POPULAR MUSIC PRODUCTION
Pop music has never been just about the music. Commercially produced and distributed pop music is both a reflection and a commodification of mass-market tastes and values, and a calculated driver of consumption for those cities in which it is produced. Seattle is the nation's fifth most dominant center for popular music production, with leading popularity in the folk and rock music genres. While Seattle may not have pop celebrities of L.A., it holds a significant presence on the national pop music landscape, reflecting the health and talent of the city's local music industry.
INTERVIEWS: EARLY SEATTLE MUSIC, HOW HENDRIX BECAME HENDRIX, AND HEART
This week on KUOW's The Conversation, listeners took a long, strange journey through some interesting corners of Seattle's musical history. Historian Kurt Armbruster talks about Seattle music "before it rocked"- including pioneer and labor-union inspired music and the local pop music of the 50s and early 60s. Then, author Steven Roby sat down to talk about the development of Jimi Hendrix in his years in Seattle and on the road as a sideman with groups like the Isley Brothers. The third segment is all about the story of Heart and how two middle-class girls from Bellevue ended up international superstars.
RHAPSODY EXPANDING NAPSTER BRAND INTO EUROPE
Napster lives on. Earlier this week, Rhapsody announced the decision to expand the fabled Napster brand into 14 European countries. That follows an earlier acquisition of the brand by Rhapsody, and puts a long-harbored expansion plan by the company into motion. "Music streaming has taken off in Europe," said Thorsten Schliesche, Senior Vice President and General Manager, Europe, for Napster. "People are open to convenient and legal ways to discover music. We look forward to accompanying our listeners on that journey, offering them a great experience and a deep catalog of music."
DAVE DEDERER TALKS SEATTLE MUSIC
Comedic web series Locally Grown, set in a Seattle farmers market, sat down for an interview with Dave Dederer, guitarist of the Presidents of the United States of America to talk about Seattle music. Dave talks about growing up in Seattle, playing music in Capitol Hill basements and catching shows from bands like The Heaters and The Cowboys in the late 70s. Dave also talks about perceptions about musicians from Seattle and why it is so cool to see Macklemore hit it big. Dave also talks about Seattle and its farmers markets.
DISTANCE IS RELATIVE: SEATTLEITE CREATES ALBUM WITH FRIEND IN JAPAN
Distance is relative. Ten years ago, Ben Gibbard and Jimmy Tamborello released an album called Give Up that they made by sending tapes back and forth in the mail. Today, collaborating from afar is a bit easier with more accessible digital recording. A local (or at least, half-local) group has collaborated from afar to make a soothing album. We Are Loud Whispers' debut electropop album Suchness was assembled via email exchanges between Seattleite singer Sonya Westcott (Arthur & Yu) and Japanese musician Ayumu Haitani (4 Bonjour's Parties), despite the pair not seeing each other in person since 2007. The result is a collection peaceful pop tunes that mixes feelings of intimacy and distance.
PEARL JAM'S STONE GOSSARD ON MUSIC, HIS NEW ALBUM, HIS CAREER
Pearl Jam guitarist Stone Gossard was on KUOW last Friday to talk about his musical foundations and his career. Stone talks about the Seattle music scene before things blew up in the early 1990s, and how the industry was different then. Stone also talks about his second solo album, "Moondlander," which will be released soon. One track was released each week in anticipation of the album's release. The interview with Stone Gossard begins at about the 25-minute mark.
SIFF FILM PUTS UW BREAST-CANCER RESEARCHER IN SPOTLIGHT
Dr. Mary-Claire King, a geneticist at the University of Washington, is a cancer survivor determined to understand why cancer repeatedly struck the women in her family. Dr. King's groundbreaking, decades-long work to discover the gene that leads to increased risk of breast and ovarian cancer is the subject of feature SIFF film Decoding Annie Parker, the directorial debut of Steven Bernstein who has spent the last six years on the project. Director Bernstein, actress Anne Parker, and Dr. King will all appear at the two SIFF film screenings June 6 and June 8, and screening proceeds will benefit Dr. King's lab at the University of Washington.
'WOMEN WHO ROCK' EXHIBIT TO HIT THE EMP JUNE 15
The EMP's new exhibit, "Women Who Rock: Vision, Passion, Power," is a ground-breaking and provocative exhibit that illustrates the important roles women have played in rock music, from its inception through today. Opening to the public June 15, the exhibit highlights the flashpoints, the firsts, the best, the celebrated and sometimes lesser-known women who moved rock and roll music and American culture forward. Notable artifacts featured include Lady Gaga's piano, Madonna's bustier from the Blonde Ambition Tour, Wanda Jackson's acoustic guitar, and The Runaways' 'Cherry Bomb' lyrics.
SEATTLE STARTUP FILMS CONCERTS SO YOU DON'T HAVE TO
If you've been to a live concert lately, you've seen it: Hundreds of smartphones, screens glowing, held high above the crowd by enthusiastic fans bent on capturing the moment - even if that means missing the moment. Enter Seattle startup Lively and its founder, Dean Graziano. "I'm a huge music fan and I was at KeyArena for the Deck the Hall Ball, enjoying the show," Graziano said. "I noticed everyone had their camera up video-recording the show. I was thinking to myself, there's got to be a better way to capture the experience these fans want, and create a revenue stream for the bands." Graziano founded Lively, which records audio or video of bands for them and then splits revenue from downloads with the musicians, with 70% going to bands, and 30% going to Lively.
BEHIND THE SCENES: UNDERWATER FILMING WITH WEST SEATTLE FILMMAKER
West Seattle is home to an award-winning filmmaker and environmental activist, "Diver Laura" James. "Diver Laura" creates striking underwater footage, and doing that is much more complicated than just jumping into the water with a camera. A new profile of Laura's work, made for the Puget Sound Starts Here campaign, tells the story of how she gets such amazing views.
KYLE MACLAHLAN CALLS HIS UW ACTOR TRAINING 'ESSENTIAL'
Before Kyle MacLachlan attained instant fame in Dune, before he continued his association with director David Lynch in Blue Velvet and "Twin Peaks," before "Sex and the City" and "Desperate Housewives" and "Portlandia" ... there was the University of Washington. MacLachlan, in town earlier this week for a tribute at the Seattle International Film Festival (where he was presented with the SIFF Award for Outstanding Achievement in Acting), is a Yakima native and a graduate of the UW's Professional Actor Training Program. "Thirty years later, I'm still feeling the vibrations of what they taught," said MacLachlan.