Vol. 6, No. 52
May 22, 2013




AMY LILLARD SHARES IMPACT OF LOCAL FILM INDUSTRY AT HAPPY HOUR
Information is power. This spring film industry workers across the state participated in a jobs survey designed to gather information about how film professionals create their careers in Washington State. The information collected paints a compelling picture about how film professionals create year round work, and how the film industry contributes to the larger creative economy. Amy Lillard, Executive Director of Washington Filmworks, will present the results from the jobs survey and an overview of the first annual report on the state of Washington's film industry at Film + Music + Interactive Happy Hour on Wednesday, May 29 at Spitfire.
SEATTLE OFFICE OF ARTS & CULTURE UNVEILS NEW LOGO AND BRAND
This Monday, Seattle's Office of Arts and Cultural Affairs officially unveiled their new brand and identity. The office will now be called the Office of Arts and Culture and the rebranding includes a new logo. "This move comes at a significant time for us. It's the 40th anniversary of our public art program, and we've just committed new resources to ensure that our partnership on arts education with Seattle Schools will be successful," said newly appointed Director Randy Engstrom. "At the same time we're hiring a new position in cultural facilities that will move our work forward for cultural space. We've got a lot of forward momentum and want to be able to proudly put our stamp on our work." The Office's new tagline is "Making art work."
INDUSTRY NEWS AND UPDATES
SEA-TAC AIRPORT HAS HIGH TRAFFIC, LIVE MUSIC, AND LEASING OPPORTUNITIES
Looking for a new business location? Seattle-Tacoma International Airport serves 75,000 travelers/potential customers each day. It has recently become an even more lively place to do business with the addition of live performers through the Experience the City of Music program. A limited number of new leasing opportunities in Sea-Tac Airport will be open soon, and an upcoming outreach session is a chance to learn more about doing business at the Airport. The event will be held tomorrow, May 24, from 4:00 to 5:30 p.m. at the Airport's Conference Center.
SIFF 'FLY FILMS' PREMIER ON MAY 27
In March and April, SIFF set loose four filmmaking teams into four Seattle neighborhoods to produce this year's "Fly Film Challenge" short films. Local filmmakers Ben Andrews, Amy Esner, LuLu Gargiulo, and Curtis Taylor chose their neighborhood location from a hat, and then assembled all-local casts and crews to work exclusively on the Capitol Hill, Fremont, Georgetown, and Chinatown/International District, respectively. Each team had five days to shoot and edit their film. Washington Filmworks, producers of the Fly Film series, enlisted the City's Office of Economic Development to connect the filmmakers with neighborhood chamber liaisons from each of the four neighborhoods. Directors for each of the four Fly Films are scheduled to attend the May 27 premier at the Egyptian Theatre.
RHAPSODY, FIRST MUSIC SERVICE TO SUPPORT 'GIVE FANS THE CREDIT' INITIATIVE
Rhapsody announced last week that they are the first digital music service to support the Recording Academy's "Give Fans The Credit" initiative. The program advocates for the inclusion of credits for songwriters, non-featured performers such as session musicians and backing vocalists, producers, and engineers in digital music. In most digital music services, consumers can only see the song title, album, artist, featured artist. "Rhapsody listeners are avid music fans who value the craft of musicianship and recording, and they want to know who was involved in bringing a song to life," said Jon Irwin, president, Rhapsody. "We have a responsibility to our listeners to back this initiative, and further, view the inclusion of more complete credits as a truly useful feature that will only deepen our listeners' connection to their favorite artists and songs."
MACKLEMORE & RYAN LEWIS STAR IN NATURE CONSERVANCY VIDEO
Seattle musicians Macklemore and Ryan Lewis have volunteered their vocal talents to The All Hands on Earth Campaign from The Nature Conservancy. The campaign offers various ideas about what people can do to help make the world they live on a better place, for example, taking shorter showers or shopping at farmers markets. In the video Macklemore explains that as a kid growing up, he would spend most of his time outside at Seattle parks where he really learned how to rap, and offers ideas and ways to keep kids outside and active in their environment.
FILM ON THE HILL NETWORKING EVENT
The Capitol Hill Chamber of Commerce is hosting a networking event for the Capitol Hill film community on Thursday, May 30 at the newly opened 24-hour diner, Lost Lake Cafe + Lounge. The event is meant to nurture relationships between the chamber and professionals in and around Capitol Hill. Featured guests include James Keblas and Chris Swenson of the Office of Film + Music, Amy Lillard of Washington Filmworks, and more.
LIVELY APP ALLOWS FANS TO TAKE CONCERT MEMORIES HOME
The bootleg has upgraded to the professional level. The new Seattle startup, Lively, created an app service that allows concert goers to get high quality audio and video replays of a performance almost immediately after a show. "Each live show is such a unique performance and an individual experience for each fan; we just saw the need for a better way to capture the experience," said owner, Dean Graziano. Bands or concert venues can download the Lively software onto an iPad, and then plug that device into the audio booth. The audio is then immediately uploaded via the Lively app to consumers, made available right after the show.
WINNERS OF CLASSICAL KING FM'S YOUNG ARTIST AWARDS ANNOUNCED
Local Washingtonians, Olivia Marckx, a 13-year-old cellist who lives in Bellevue, and Sarah Hall, an 18-year-old violinist who lives in Arlington, have won awards from the King FM Young Artist Awards competition. 70 youth entered the competition. Both Olivia and Sarah will perform live in a special broadcast on NW Focus Live at 8 p.m. on May 24.
RECORDING ACADEMY'S NORTHWEST CHAPTER SEEKS GRAMMY U STUDENT REP
The Pacific Northwest Chapter of the Recording Academy is seeking qualified and interested college-enrolled applicants to be a GRAMMY U Student Representative. The Student Representative will work at the Chapter office, at local events, and on campus during regular business hours, as well as some evenings and weekends. This is a great opportunity for students looking to sharpen their marketing, finance, technical and creative skills while working for the Recording Academy.
WASHINGTON-FILMED THRILLER 'I AM ZOZO' GETS U.S. DISTRIBUTION
Image Entertainment has acquired U.S. rights for the psychological thriller,
I Am ZoZo,
a film that evokes beauty, mysticism, and terror with shots of the San Juan Islands. Shot entirely on Kodak Super 8mm negative film stock, the film about five young people who play with a Ouija board and attract the attention of a malevolent demon received 'Best Feature' and 'Audience Choice' awards at last year's U.S. Super 8 Film Festival.
REEL GRRLS SEEKING INTERNS
Reel Grrls is a year-round training program designed to help empower young women from diverse communities through media production. The organization is currently seeking interns in a variety of fields. Available positions include: Film Festival & Distribution Intern, Technical Intern, HR Intern, Social Enterprise Intern, and Board Liaison Intern. Those seeking an opportunity to gain experience and potentially earn college credit can apply for these upcoming internships.
'THE BUSINESS OF HIP HOP, R&B, AND SOUL MUSIC' AT EMP
On Saturday June 1, the Recording Academy Pacific Northwest Chapter will host a special event at EMP that deals with making a living as a musician. 'The Business of Hip Hop, R&B, and Soul Music' will bring together musicians and industry professionals from the Pacific Northwest and beyond to explore the business side of music. Panels will talk about topics like the revenue streams that musicians can tap into, how to break out of your local market, and how making connections will help your chances of success. Also included are a keynote address from MC Lyte, and a learning lab on mastering and recording, among other sessions.
FREE "ASK THE FESTIVAL DIRECTORS" EVENT ON MAY 26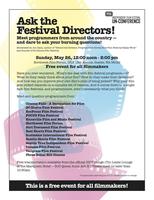 Are you a filmmaker who wants to learn more about the world of film festivals? Maybe even how you can get your film selected to be screened at a festival? This Sunday at the Northwest Film Forum, a free event will allow filmmakers to meet and question programmers from festivals all over the country. Programmers from festivals like the DC Shorts Film Festival, EcoFocus, the Scottsdale International Film Festival, the Seattle True Independent Film Festival, and Three Dollar Bill Cinema will be there.
UW MUSIC PROFESSOR INVENTS SAXOPHONE MODIFICATION
University of Washington Professor Michael Brockman is co-artistic director of the Seattle Repertory Jazz Orchestra, director of the UW Jazz in Paris program, and a player in his own octet. Brockman can now add another accolade to that list: inventor. After finding a way to navigate some unique technical limitations of the sax while maintaining a natural sound, he came up with the "Broctave key." Brockman's altered key consists of a piston-operated valve in a key installed atop an existing octave key. Depression of the valve on top of the key already in place can allow further modulation and control of a given note, increasing a player's ability to play in tune and with flexible artistry.
SHORT FILM FRIDAY: THE SIFF EDITION
This week's short film is another music video (I will return to proper short films next week) for Hey Marseilles's "Heart Beats." The reason for picking the video is the local cinematographer Benjamin Kasulke, who helped make it with "Hayley Young, Sean Donavan, Mel Eslyn, Jeremy Mackie, and a zillion others." In this year's SIFF, Kasulke's work can be seen in 2 local productions--Lynn Shelton's
Touchy Feely
and Dayna Hansen's
Improvement Club
. "Heart Beats" captures Seattle perfectly.
-Charles Mudede
TOP 10 NW MUSIC FOR WEEK OF 5/13 - 5/19
OFFICE OF FILM + MUSIC
Compiled from figures at Sonic Boom Records (Ballard) and Easy Street Records (West Seattle).
1. Macklemore & Ryan Lewis - The Heist
2. Sadistik - Flowers For My Father
3. Mad Season - Above
4. Lanegan, Mark & Duke Garwood - Black Pudding
5. Mudhoney - Vanishing Point
6. Postal Service - Give Up (10th Anniversary)
7. Caspar Babypants - I Found You!
8. Pickwick - Can't Talk Medicine
9. Jimi Hendrix - People Hell & Angels

10. Cave Singers - Naomi
HELP "KICKSTART" SEATTLE FILM AND MUSIC PROJECTS
Kickstarter is an online "crowd-funding" resource that helps musicians, filmmakers and
producers of artistic projects reach out to friends and fans for financial support. Kickstarter allows artists the opportunity to give back to funders with special rewards, such as an exclusive album pre-release, a producer credit in a film, or even getting to meet the
artist in person. Seattle is a hotbed for film and music projects, and you can be a pivotal part of the production process by backing a project and spreading the word. Current

Seattle-based Kickstarter projects are listed below, in order of imminence, from soonest-ending project to furthest out. Click on the Kickstarter buttons to check out these local projects and discover even more happening around Seattle.
(Project) A new performance space in Seattle where performers do not have to pay to perform.
LIFE IN CODE: SERIES 1-
May 29 (9 days)
(Web Series) Life in Code is a web series that will tell the stories of women and their stories of working in computer programming.
THE BOBS 'BIOGRAPHIES' RECORDING PROJECT - May 31 (10 days)
(Music) A-cappella originals the Bobs are recording an album of songs about famous and (not-quite-so famous) historical figures.
(Documentary) The Glamour and The Squalor is about the rise, fall, and reemergence of radio personality Marco Collins.
DIGITAL CINEMA AT NORTHWEST FILM FORUM - June 2 (12 days)
(Project) Northwest Film Forum needs help in transitioning to a brave new digital future by installing DCP technology in their cinemas.
MANOS -THE HANDS OF FELT DVD - June 3 (13 days)
(Film) Rachel Jackson needs help in bringing her puppet show based on the world's worst movie to DVD.
CLOSURE / ADOPTION DOCUMENTARY - June 3 (13 days)
(Film) A documentary about a trans-racial adoptee who finds her birth mother at age 26, and meets the rest of a family who didn't know she existed.
NEW BLAKE NOBLE ALBUM 'UNDERDOG' - June 6 (16 days)
(Music) Aussie Percussive Guitarist & Didgeridoo player Blake Noble is a musician on the rise, and is recording his second album with a full band.
SEATTLE 48 HOUR FILM PROJECT
- June 14 (24 days)
(Film Competition) In their 9th year, the Seattle leg of the 48 Hour Film Project hopes to be bigger and better than ever.
WINNING DAD
- June 17 (27 days)
(Film) What happens when a young man tricks his homophobic father into a camping trip with his secret boyfriend?
LYNN SHELTON: SEATTLE IS "THE CANVAS THAT I PAINT EVERYTHING ON"
In all the films that she writes and directs, Lynn Shelton shines the spotlight on Seattle. Her latest project, Touchy Feely, was filmed entirely in the city, mainly in the Central District and "all over Capitol Hill," according to Shelton. "I'm really, really excited about its local premiere," she said of her film, which will be featured during the Seattle International Film Festival. Shelton is a big supporter of the Seattle and Washington film industry. "We have an incredibly talented group of collaborators who call Seattle home. I live here. I love making movies here. It's in my bones. It's in my blood." Shelton also says that our state has a very competitive film incentive program offered by Washington Filmworks, and mentions just how powerful cinema can be for our economy - noting the $100 million in tourism business that arrived here after Sleepless in Seattle was released.
NEW FILM CHRONICLING THE RISE, FALL, AND REEMERGENCE OF MARCO COLLINS
You can't tell the history of the Seattle music scene without Marco Collins, the influential local DJ credited with breaking bands like Nirvana and Pearl Jam. "I grew up listening to him every single night," said Andy Mininger, producer of The Glamour and the Squalor." Mininger and his partner Mark Evans had wanted to make a movie about the Seattle grunge scene in the early 90s, and decided to tell it through Marco's eyes. "I always had this approach that you make the community a part of your radio station and the payback will be tenfold," he said. But despite his enthusiasm for the music being made in Seattle at the time, he never imagined where it would lead.
INTERVIEW WITH MATT BAYLES OF RED ROOM STUDIOS
Matt Bayles is a Seattle-based producer/engineer/mixer (and founding member of the band Minus the Bear) who owns and runs the beloved Red Room recording studio. Bayles's production renders songs raw, yet contained. He recently took some time to talk The Stranger about his experience mixing and producing music for Pearl Jam, Rocky Votolato, Blood Brothers, and more. Though he has his own approach and style Bayles ultimately says, "My job is to make the most of whatever limitations there may be, whether that be quality of studio, the band's equipment, the amount of time we have, and so on. Those parameters may be viewed as limitations, but they can bring unexpected character to a recording, and character is a good thing, in my opinion."
THE CEILING CAN'T HOLD THEM: 'THE OTHERSIDE' AT SIFF
The Otherside is this year's local-music-zeitgeist documentary premiering in SIFF's "Face the Music" program. Directed by Daniel Torok and produced by J.R. Celski and Vinny Dom, it's an inside look at the Seattle hip-hop scene, following its subject wherever it may go. Torok lays his groundwork early with heavyweights paying authoritative, if cursory, respect to the past. KEXP DJ, MC, and Stranger columnist Larry Mizell Jr. remembers long-gone venues Rock Candy and the Paradox, and influential regional compilations 14 Fathoms Deep, Do the Math, and Classic Elements. The evenly handed film gives credit to many homegrown artists but also looks towards the future of hip-hop in the northwest. The particular focus on the rise of Macklemore and Ryan Lewis shows a light that's beginning to shine on what many may consider a new era for hip-hop and Seattle, a new hub for musical and cultural creation.
AN ORAL HISTORY OF 'ALMOST LIVE!'
It was always on. Ask enough people about Almost Live!, the Seattle sketch comedy show that both skewered and defined Western Washington from 1984 to 1999 (and in perpetuity in reruns), and it starts to sound like the test pattern on every TV screen after hours. It's hard to appreciate something until it's gone-and Almost Live! has never left. Over 15 seasons on KING-TV, the local NBC affiliate, the series went from a bare-bones talk show on Sunday evenings to the lead-in for Saturday Night Live, taking over the coveted 11:30 time slot and winning more local Emmys than the cast could haul home. (A few trophies ended up at Goodwill.) Interviews with a dozen cast members unearth the history of the show, including the show's local brand of humor like Ballard Vice sketches and a Space Needle prank on April Fool's Day.
'BIG STAR: NOTHING CAN HURT ME' DEBUTS AT SIFF
Last year's Oscar-winning documentary Searching for Sugarman shined a spotlight on an artist who, despite obvious talent and critical acclaim, somehow slipped through the cracks, but later discovered his bootlegged music was as beloved as Bob Dylan in South Africa. Memphis band Big Star didn't have quite so dramatic of a tale to tell as Rodriguez, but their musical career also dissolved before they realized how much of an impact they had on future generations of musicians. Big Star: Nothing Can Hurt Me is a feature-length documentary about the legendary band that inspired bands like R.E.M., The Replacements, The Flaming Lips, and Wilco. You can catch the film and learn more about Big Star's legacy at SIFF.
A FIENDISH CONVERSATION WITH CUONG VU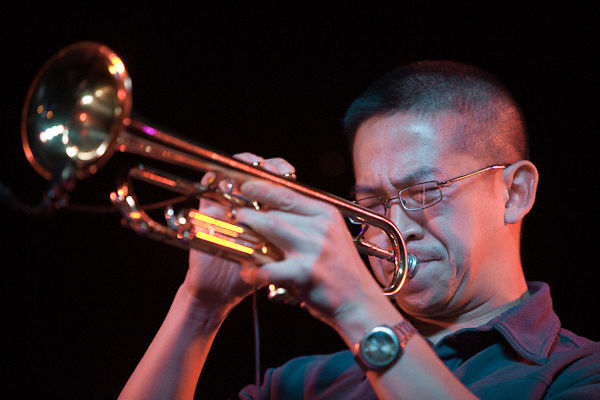 Influential trumpeter and University of Washington Professor Cuong Vu recently talked with Seattle Met magazine about the Seattle jazz scene. Cuong Vu grew up in the Seattle area and after studying music in the Northeast, he is back in Seattle and Chair of the UW Jazz Studies Program, still pushing and experimenting with his music. In his interview, Vu talks about the advanced players coming out of local high schools today, and the ways that Seattle influenced his music (including Nirvana's sound and energy). He also recommends some impressive up-and-coming local acts like Honey Noble, Heatwarmer, and Insistent Caterpillars.
BALLARD STUDENT FILMMAKERS WIN AWARDS AT LOCAL FESTIVAL
Ballard High School students took home a bevy of awards at the 15th annual Northwest High School Film Festival in Seattle. The students won 15 awards and honors across six different categories at the festival, which is the largest and longest running festival for high school filmmakers in the region. There were 370 films entered in the competition from 24 different high schools. Among the winners for Awards of Excellence were "Sundown" by Vann Fulfs, Bryan Quandt, and Jacob Scott; "Viking Robotics" by Ben Fuesel and Bryan Quandt; and "The Door" by Liam Moser, Cecilia Orozco-Chavez, and Kimi Rutledge.