Vol. 6, No. 48
May 1, 2013




RANDY ENGSTROM CONFIRMED AS OFFICE OF ARTS & CULTURE DIRECTOR
Randy Engstrom was confirmed by Seattle City Council as permanent Director of the Office of Arts & Culture this week. Engstrom has been serving as Interim Director since October 2012. "It is a great honor to be confirmed as the Director of the Seattle Office of Arts and Culture," Engstrom said. "Seattle is one of the most vibrant cities in the world - creativity is a natural resource here. I look forward to working with our partners to ensure art and culture continue to thrive in Seattle." Engstrom brings a strong background in community organizing for arts and culture.
FILM, MUSIC, AND DANCE ON THIS WEEK'S 'ART ZONE' WITH NANCY GUPPY
This week on Art Zone, Nancy takes a look at "Nebraska," a road picture from a local screenwriter and director duo which will make its world premiere at Cannes. Virtuoso guitarist Jeff Fielder puts together his dream band for an AZ studio performance, Richard Peterson opens for Jeff Bridges at the Moore Theater, and dancer/choreographer Ezra Dickenson performs her work on Seattle's streets.
Art Zone premiers Friday, May 3 at 8:00 p.m on The Seattle Channel and forever online
.
INDUSTRY NEWS AND UPDATES
SEATTLE FILM FEATURED IN THIS MONTH'S 'CITY ARTS' ISSUE
This month's issue of City Arts features all things Seattle film. Director Megan Griffiths is featured on the cover and in a great cover story called "Life in Pictures" that gives you a glimpse into the personality of one of Seattle's most successful directors. Also featured is "45 Days of Seattle Film," a set of articles that take you behind the scenes at World Famous Productions, and show the journey of filmmaker Dayna Hanson premiering her film at SXSW, trace the creation of a punk-rock documentary, and much more.
NFFTY 2013 HITS RECORD ATTENDANCE
This past weekend NFFTY 2013 saw tremendous success as the festival hit a record number of attendees totaling nearly 12,000. The success includes a 60 percent increase in screening attendance over that of other years. Nearly 200 youth filmmakers from around the world traveled to Seattle to showcase their films to giant audiences of fellow filmmakers and film fans. NFFTY 2013 winners of Jury Awards, Audience Awards, New Talent Awards, and 48-Hour Film Off Winner are now posted to the NFFTY website.
CO-FOUNDER JOHN JACOBSEN LEAVING SEATTLE'S THEFILMSCHOOL
John Jacobsen, Co-Founder and Executive Director of Seattle's TheFilmSchool for the last ten years, has announced that he will be transitioning out of the organization this year. "While it is sad to be leaving, I share the energy and enthusiasm of the Board of Directors as plans are being made to meet the challenges of the next phase of the school's journey." Jacobsen expressed the excitement he has in TheFilmSchool as they transition from his leadership, saying "Enrollment has doubled in the last year alone, and we now have over 1,000 graduates from all around the world, many of whom call our program "life changing" as they go out to write, direct, and produce features that play on screens across the globe, including those at Sundance and Cannes."
SEATTLE TRUE INDEPENDENT FILM FESTIVAL KICKS OFF FRIDAY
This Friday will mark the beginning of STIFF (The Seattle True Independent Film Festival), a festival with lots of of films, shorts, animations, and more. STIFF has been around for eight years and proudly bills itself as a festival with no VIP areas or dignitaries, just nine days of
underground, experimental and zero-budget films.
The films featured don't have big budgets or Hollywood stars, but they rely on creativity and passion to tell the story. STIFF starts Friday and runs through May 11, and it features eight local feature films and over 20 local short films.
"REEL NW" BROADCAST HIGHLIGHTS SIFF FLY FILMS AND INTERVIEWS DIRECTORS
KCTS9 program "Reel NW" returns for a third season featuring the best in independent film from the Northwest on May 24. The hour-long program will take a look at four Fly Films of 2012 in anticipation of Fly Films 2013 hitting the big screen at SIFF. The broadcast includes interviews with the film directors and showcases the films in light of the vibrant film community in Seattle.
'EDEN' PLAYING AT SIFF UPTOWN ALONG WITH Q&A SESSION AND PANEL
Eden, the award-winning film directed by Megan Griffiths, opens theatrically this Friday at SIFF Cinema Uptown and runs from May 3 to May 15. Following the 7:00 p.m. Friday May 3rd screening of Eden, there will be a panel discussion with Producer Colin Plank, Washington State Senator Jeanne Kohl-Welles, Assistant U.S. Attorney Ye-Ting Woo, and other experts on human trafficking. Following the Saturday, May 4 7:00 pm screening, David Schmader of The Stranger will lead a Q&A featuring Eden Director Megan Griffiths and Producers Colin Plank and Jacob Mosler.
LOCAL ACTS HEADLINE 'NOISE FOR THE NEEDY' FESTIVAL
Noise for the Needy (NFTN), Seattle's premier benefit music festival, raises money for Seattle charities through an annual series of music events that bring musicians, promoters, artists, and volunteers together to support those in need. The 2013 Noise For the Needy festival will be held in Ballard from June 20 to 23. Local acts at the festival include Brite Lines, the Polyrhythmics, and the Brambles. Bands and performers interested in being a part of this festival are still being accepted. Proceeds from tickets (which are currently on sale) will benefit the Ballard Food Bank, which has been serving Ballard, Magnolia, and Queen Anne for over 40 years.
Zaki*Rose'S FIRST INDUSTRY MIXER AND ARTIST SHOWCASE
Zaki*Rose is hosting their first Industry Mixer & Artist Showcase on May 2 at Amber Restaurant & Lounge in Belltown. This event will let you see a slice of Seattle fashion, music, and technology while networking with the creative colleagues, partners, and collaborators that Zaki*Rose will bring together.
SIFF 2013 TRAILER RELEASED
The enchanting trailer for SIFF 2013, which was made by World Famous Productions, has been released. The trailer, a part of the "SIFFcurious" campaign, follows a young woman on a transformative journey fueled by film. Her curiosity takes her through scenes of iconic films screened at SIFF over the years including
2001: A Space Odyssey, Star Wars Episode V: The Empire Strikes Back, Dr. Strangelove, The Exorcist, Alien, and many more. SIFF begins on May 16.
APP LETS YOU CREATE 'MUSICAL ARTIFACTS' OF SEATTLE MUSIC SCENE
Have you ever seen a concert bill and wondered what the bands sound like? An app from Artifact Technologies, a Seattle geo-tech startup, will let you interact directly with Seattle's music scene. The app is called Fonograf, and it shows you all the nearby music venues, tells you who's playing, and lets you listen and watch music that bands have made available. Local musicians are getting involved with the app, and testers are needed to submit info for band profiles.
7TH ANNUAL RAINIER INDEPENDENT FILM FESTIVAL LINEUP ANNOUNCED
RAINIER INDEPENDENT FILM FESTIVAL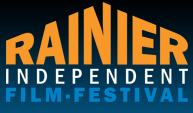 The official lineup for the 7th Annual Rainier Independent Film Festival was announced last week. The 37 films come from regional and global filmmakers. RIFF will premier films including many local filmmakers to the festival, including Todd Warger and Brian Young, who will attend and present their film, The Mountain Runners, based on the true story of the Mount Baker Marathon races that took place from 1911-1913. The dynamic lineup is programmed by guest curator and Seattle film industry mogul Warren Etheredge, and includes Andrew Bird: Fever Year, South by Southwest Film Festival award winner Loves Her Gun, and Redwood Highway.
SHORT FILM FRIDAY: 'NO MORE WAITING'
This week's short will be "No More Waiting," a film by Pierce Adler, a 19-year-old filmmaker who is currently studying at NYU. The film, which is lyrical and intelligently edited, was shot in Seattle (Adler's hometown) with a one-man crew. What the young filmmaker displays in this short is a good eye for a good image.
-Charles Mudede
TOP 10 NW MUSIC FOR WEEK OF 4/22 - 4/26
OFFICE OF FILM + MUSIC
Compiled from figures at Sonic Boom Records (Ballard) and Easy Street Records (West Seattle).
1. Macklemore & Ryan Lewis - The Heist
2. The Postal Service - Give Up (10th Anniversary)
3. Mad Season - Above
4. Cave Singers - Naomi
5. Jimi Hendrix - People, Hell & Angels
6. Mudhoney - Vanishing Point
7. Pickwick - Can't Talk Medicine
8. Robert Delong -
Just Movement
9. Telekinesis - Domarion
10. Soundgarden - King Animal
HELP "KICKSTART" SEATTLE FILM AND MUSIC PROJECTS
Kickstarter is an online "crowd-funding" resource that helps musicians, filmmakers and
producers of artistic projects reach out to friends and fans for financial support. Kickstarter allows artists the opportunity to give back to funders with special rewards, such as an exclusive album pre-release, a producer credit in a film, or even getting to meet the
artist in person. Seattle is a hotbed for film and music projects, and you can be a pivotal part of the production process by backing a project and spreading the word. Current

Seattle-based Kickstarter projects are listed below, in order of imminence, from soonest-ending project to furthest out. Click on the Kickstarter buttons to check out these local projects and discover even more happening around Seattle.
(Game) Sea of Stars is the third installment of the Infinite Space game series, looking to accomplish their stretch goals that include in-game features and expanding platforms.
FAINTLY'S NEW ALBUM AND STUDIO TO MAKE IT IN - May 6 (4 days)
(Music) The band Faintly is looking to build their own studio and record their debut album.
OLIVIA DE LA CRUZ: FIRST FULL LENGTH ALBUM - May 15 (14 days)
(Music) Olivia is looking to produce her first full length album.
ULTIMATE CHIPTUNE WEEKEND - May 16 (14 days)
(Music) Ultimate Chiptune weekend is a 3-day festival celebrating various forms of dance-oriented Chiptune music made from old video-game hardware or software.
(Film) The Bond is a short film that follows a man who embezzles a $10,000 bond from his wife and invests it in Iraqi Dinar in hopes to make a large profit as the currency revalues.
MASSIVE MONKEES STUDIO: THE BEACON - May 20 (18 days)
(Project) Help the Massive Monkees make necessary studio upgrades to continue operations long-term for our students, performers and community.
CLAREMONT - May 20 (18 days)
(Film) Claremont is a short film that depicts a woman trapped in a psychological maelstrom, consumed by the allure of losing control and uses sex to upset the power dynamic in her favor.
(Web Series) Life in Code is a web series that will tell the stories of women and their stories of working in computer programming
(Documentary) The Glamour and The Squalor is about the rise, fall and reemergence of radio personality Marco Collins
DIGITAL CINEMA AT NORTHWEST FILM FORUM - June 2 (31 days)
(Project) Northwest Film Forum needs help in transitioning to a brave new digital future by installing DCP technology in their cinemas.
BEAR CREEK STUDIO: A REFUGE FOR SEATTLE'S MUSIC SCENE
Within an old barn on Maltby Road, surrounded by 10 acres of pastures and wood, lies a haven for recording musicians. Bear Creek Studio is a family owned recording facility that has seen the likes of James Brown, Eric Clapton, Soundgarden, Brandi Carlile, and many more walk through their doors. The tranquil setting and blend of entrepreneurial spirit and down-home hospitality has made the studio the best kept secret in the Northwest. Bear Creek has been booked solid for 35 years since it's opening in 1977 and is still going strong, providing a haven that allows people to really focus on what matters most: the music.
STRANGER ON MEGAN GRIFFITHS' 'EDEN': GO SEE IT
Being led into the depths of Eden feels like nothing so much as following Clarice Starling into that pitch-black basement at the end of The Silence of the Lambs-only in Eden, the villains aren't cartoon psychopaths. They're terrifyingly average fellow humans who've somehow found a way around whatever it is inside of us that objects to kidnapping, rape, slavery, and murder. And in Eden, that trapped-in-a-basement-with-monsters terror isn't reserved for the thrilling climax. It emanates from virtually every frame of the film, which methodically follows a teenage American girl (dubbed "Eden" by her captors) as she's forced to survive in the world of underage sex trafficking.
TIMBER! MUSIC FESTIVAL ADDS MORE PERFORMERS TO LINEUP
The first few rounds of lineup announcements were exciting, but some new additions make July's Timber! Outdoor Music Festival even more appealing. New additions to the lineup include Noah Gundersen with the Passenger String Quartet, Zoe Muth & The Lost High Rollers, Avians Alight, and more. They join an already-great lineup that includes Helio Sequence, Lemolo, Bryan John Appleby, and Quasi. Fans of camping and music should head to Carnation, Washington this Summer for a nice festival experience at Timber!
3 LOCAL PRODUCTIONS VOTED BEST WEB SERIES OF ALL TIME
A ranker list of the best web series of all time has put three Seattle-based productions at the top. The number one spot goes to
Glitch, a comedy series about a video game tester who has bugs and glitches in real life. The number two spot is held by Zombie Orpheus Entertainment's Journey Quest, following a group of dysfunctional adventurers on a quest to discover the mythical Sword of Fighting. Further down the list is Chop Socky Boom, a comedy surrounding a group of misfit actors casted in an action kung fu show. The Collectibles rounds out the Seattle-based productions at 41. This comedy follows a bunch of super hero office workers in the style of The Office and Arrested Development.
WEST SEATTLEITE FINISHES INDEPENDENT FILM AFTER 12 YEARS
West Seattle's Jay Rowlands has been in love with cars, motorcycles and racing since early childhood and now that lifelong passion is coming to life with his independently financed, written, produced and directed racing film called Clutch set for a June release. Rowlands has been working as a bartender for 12 years while honing his acting and directing skills. The film hearkens back to 1970s muscle car racing flicks and over 150 cars are featured in the film. He called the process of finishing his film an "Insane, amazing, life changing, character building journey ... full of learning, creativity, collaboration, lots of friendship and hard work."
'EDEN' NOMINATED FOR MILAN FILM FESTIVAL AWARDS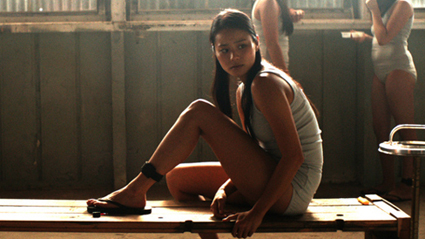 Megan Griffiths' film Eden has gotten a lot of attention at film festivals, and the Milan International Film Festival has announced a bevy of nominations for the film this year. Griffiths is up for best directing, and also for best screenwriting along with Richard Phillips, Jr. Lead actress Jamie Chung is up for best acting performance, Sean Porter is up for best cinematography, and Eric Frith is up for best editing.
LEGENDARY DJ MARCO COLLINS FEATURED IN NEW DOCUMENTARY
An upcoming Seattle-based documentary will feature Seattle DJ (and Rock and Roll Hall-of Famer) Marco Collins. Collins was instrumental in breaking "alternative' artists in the 1990's like Nirvana while the Music Director at The End radio station. The documentary is called The Glamour and the Squalor and its director Mark Evans put out a call-to-contribute to Seattle-area music fans who may have been chronicling the rise of the grunge-era in the Pacific Northwest in the during the early-mid-90s.