Vol. 6, No. 45
April 10, 2013




HAPPY HOUR: SIFF ON 'MAKING THE MOST OF YOUR FESTIVAL EXPERIENCE'
Learn how to make the most of your film festival experience whether traveling to Cannes or hanging out at the Seattle International Film Festival. As a filmmaker, attending a film festival is not just about getting tickets to screenings. It is a great opportunity to network, meet like minded compatriots and future collaborators to further your career, whether you have a film in a festival or not. Carl Spence, Artistic and Co-director of SIFF has traveled to festivals around the world from Rio de Janeiro to Pusan and everywhere in-between. He will offer tips, anecdotes, insight and vital information for making your festival experience a success. As a special bonus we will announce the line-up of films debuting at the Seattle International Film Festival as part of the Northwest Connections program.
RHAPSODY REPRESENTING ON SEATTLE MUSIC COMMISSION
The newest addition to the 21-member Seattle Music Commission is Rhapsody Vice President Jody McKinley. Jody is an avid fan of music and live performances, who has been able to combine his passion for live music with his work through performance sponsorships and promotional events, including participation by many Seattle-area musicians. The Seattle Music Commission consists of various business leaders in the local music scene who work to expand and protect Seattle's musical legacy.
SEATTLE CHANNEL SEEKING COMMUNICATIONS INTERN
Have you ever wanted to work with the Seattle Channel? They are seeking undergraduate candidates for a communications internship through April 24. Strong written and verbal communications skills are required and experience with e-mail marketing, social media and blogging is a plus, along with an interest and knowledge of local public affairs, arts, and the Seattle community.
'ART ZONE' WITH NANCY GUPPY AIRS FRIDAY, APRIL 5
This week on Art Zone, Nancy goes behind the scenes with Tony Fulghum as he directs his short film, "Some Place Close." Ayron Jones and the Way will play a few tunes in studio, and photographer John Keatley chats about his overflowing plate of cool projects. The outstanding New Century Theatre Company presents The Trial by Franz Kafka. Art Zone premiers Friday, April 12 at 8:00 p.m on The Seattle Channel and forever online.
INDUSTRY NEWS AND UPDATES
SUB POP ANNOUNCES SILVER JUBILEE LINEUP
With anticipation mounting for the July 13 Silver Jubilee, Sub Pop Records has released their initial lineup of bands performing at the event. Mudhoney, Father John Misty, and J Mascis are among the bands that will help celebrate Sub Pop's 25
th
anniversary. Along with live music, the event will have food trucks, beer gardens, gallery exhibits, and other activities. The Silver Jubilee is free and will take place in the neighborhood of Georgetown on Airport Way.
SUICIDE SQUEEZE RECORDS ANNOUNCES 2013 SINGLES SERIES
Suicide Squeeze Records originated with the intention of documenting the most influential Pacific NW indie rock bands of the era. At the time, this included Modest Mouse, Elliott Smith, 764-Hero & many more via 7"'s. Today, Suicide Squeeze is pleased to announce their 17th singles series, which features Cloud Nothings, Antwon, Destruction Unit, Natural Child and many more. Head over to the SPIN website to hear a brand new single from an upcoming Numerators 7", which will be available on April 30.
METEROPOLOGIE SEEKING SEATTLE MUSIC HISTORY TOUR GUIDES
Metropologie, a boutique touring company that provides specialized walking programs to travelers and locals on a wide range of Seattle topics, is looking for knowledgeable musicians, music critics and music historians to create and lead guided walking programs on Seattle's music history in all genres of music. Guides must be able to present information in an enjoyable, engaging, informative, substantial and interactive way to small groups of people. People of all ages with experience are encouraged to apply via email.
SEATTLE WOMEN JAZZ FESTIVAL
The Seattle Women in Jazz Festival, the first festival of its kind locally, will highlight some of Seattle's best jazz bands, led and/or comprised of women in this year's festival, April 26-28. The festival will also work to engage youth in the art of jazz and to reach out to potential audience members who may not have previously attended a jazz concert. The lineup this year includes 23 artists and tickets are available for each individual performance.
WANT TO INTERN FOR SIFF? NOW'S YOUR CHANCE
Recognized as one of the top film festivals in North America, the Seattle International Film Festival (SIFF) is the largest, most highly-attended film festival in the United States, reaching more than 150,000 annually. SIFF is looking for organized, efficient, resourceful interns across a wide range of departments. Open positions include Information Systems, Community Outreach, Interactive Marketing, and Graphic Design.
NFFTY ANNOUNCES FILMMAKER PANELS
NFFTY has announced the line-up of panels taking place during this year's film festival. The panels feature leaders in the entertainment industry from all over the world. The first panel, "A Web of Content: Filmmaking in the Digital Age," will discuss the current landscape of digital filmmaking. Attendees can learn how to harness the power of the Web to create revenue from filmmaking in the digital world. The second panel, "Create a Career: Life After NFFTY," will discuss how to make career choices, find specific trades, and navigate the film industry to create a prosperous career. The final panel, "Masterclass: Documentaries the Danish Way," will discuss the unique, artistic storytelling techniques behind Danish documentary films.
GRAMMY FOUNDATION ACCEPTING NOMINATIONS FOR MUSIC EDUCATOR AWARD
The GRAMMY Foundation is currently accepting nominations for the 2013 GRAMMY Music Educator Award to honor exceptional teachers. The foundation will select 10 finalists and one winner to be recognized for their remarkable impact on music education. The winner will be flown to Los Angeles to accept the Award and attend the GRAMMYs, and receive a $10,000 honorarium. All finalists will receive a $1,000 honorarium as well. The nomination deadline is April 15.
JAZZ RECORDING FROM SEATTLE'S PAST UNEARTHED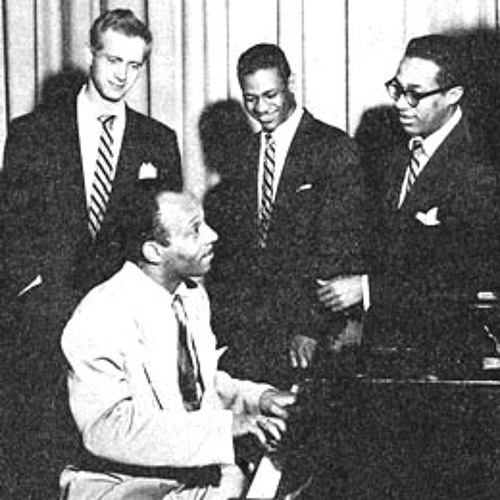 Seattle jazz fans can now check out a rare historical recording that has been digitally spliced together. This nearly two-hour long set from the Cecil Young Quartet was performed in Seattle at the Women's Club on March 11, 1951. The bopping rhythm and blues infused, and sometimes vaudevillian, Cecil Young Quartet was made up of Gerald Brashear on tenor saxophone and percussion, Traff Hubert on bass, Jimmie Rodgers on drums, and--of course--Cecil Young on piano and vocals. According to a 1951 Seattle Times preview, this show was the quartet's first public performance.
SEATTLE SUPER GROUP RNDM ANNOUNCES LIVE SHOW AND TV PERFORMANCE
Following up on the release of their debut album, "Acts," in October of last year, RNDM (pronounced R-N-D-M), a musical group featuring Pearl Jam bassist Jeff Ament, singer-songwriter Joseph Arthur, and drummer Richard Stuverud, announces three live shows at the Tractor Tavern in Seattle. The band is also scheduled to perform on TBS's "Conan" May 9, airing on TBS at 11 pm.
TOP 10 NW MUSIC FOR WEEK OF 4/1 - 4/5
OFFICE OF FILM + MUSIC
Compiled from figures at Sonic Boom Records (Ballard) and Easy Street Records (West Seattle).
1. Mudhoney - Vanishing Point
2. Telekinesis - Dormarion
3. Mad Season - Above
4. Pickwick - Can't Talk Medicine
5. Macklemore & Ryan Lewis - The Heist
6
.
Jimi Hendrix -
People, Hell & Angels
8. Mudhoney - Superfuzz Bigmuff
9. Cave Singers - Naomi
10. Hey Marseilles - Lines We Trace
HELP "KICKSTART" SEATTLE FILM AND MUSIC PROJECTS
Kickstarter is an online "crowd-funding" resource that helps musicians, filmmakers and
producers of artistic projects reach out to friends and fans for financial support. Kickstarter allows artists the opportunity to give back to funders with special rewards, such as an exclusive album pre-release, a producer credit in a film, or even getting to meet the
artist in person. Seattle is a hotbed for film and music projects, and you can be a pivotal part of the production process by backing a project and spreading the word. Current

Seattle-based Kickstarter projects are listed below, in order of imminence, from soonest-ending project to furthest out. Click on the Kickstarter buttons to check out these local projects and discover even more happening around Seattle.
A newly-wed couple moves into a secluded home atop the cascade mountains to escape the outside world, only to find its dark secret. Will you contribute to this supernatural Seattle project?
Pianist Chelsea Bloomberg is recording an album of works by Liszt and Schubert. Will you help her fund the album?
McTuff is an instrumental Hammond organ trio that performs jazz, funk, and rock in an energetic and spontaneous style all their own. Help them put out their third album!
Rocker Leona X is making a totally independent album
through
Kickstarter. See if you want to help her record her own album.
Female musicians have been contributing to jazz for a very long time, facing all types of obstacles along the way. Will you help tell their amazing stories?
When physical attraction proves to be an obstacle rather than an opportunity, a man and woman are compelled to look to the stars for answers. Are the stars aligned for your involvement with this film?
The 619 Western Ave Building in Pioneer Square was once a lumber and supplies warehouse. It grew into a thriving space for art of all types- from fine art to avant garde to Marvel comics. Will you be inspired to help produce this documentary?
A long time (12 years) ago in a galaxy far, far away (a suburb of Seattle) three people working full-time in the game industry got together in their spare time and created something with a long name: Strange Adventures in Infinite Space. Now the third installment of the series in underway and they need your help to finish the game and get in the hands of gamers. Will you help them achieve their goal?
We all have things we want to share with the world, but are just waiting for the right time to do so. Faintly's time is now. Frontman Ian Ketterer makes a passionate and inspiring stance in his goal to raise $20,000 for his band to build their own studio and record their debut album. Will you help them achieve their goal?
Your heart will be captured by Olivia's soulful, lyrical songs and she's ready to produce the now! You can be part of making it happen!
SHORT FILM FRIDAY: 'SERIAL BOMBER'
In the tradition of "mad bomber" movies, this crime thriller is about a guy who likes to blow stuff up. An assembled crack team of anti-mad bomber agents try to capture the elusive criminal who has been blowing up Japanese businessmen and professors with things like booby-trapped VCRs. The serial bomber, Chris Murdoch, is in love with a Japanese woman who is going to college in Seattle and the agents try to use her to stop all the violence. The film features several shots of our city during the Christmas season, with several shots of the city's skyline and the Space Needle with its special lighted Christmas Tree hat.
To read the full review, visit Scarecrow on Seattle.
(Scarecrow on Seattle will now post full film reviews online the second Wednesday of each month, we will provide excerpts in our newsletter and links to the full reviews on Scarecrow's site.)
CREATIVE CLASS: THE VALUE OF ARTS EDUCATION
In a world of standardized testing, the arts have come to be considered "enrichment" opportunities rather than an essential means to better learning. This wasn't always the case. Arts education was given high priority on federal and state levels in the '60s and '70s. Federal cuts during the Reagan-led '80s initiated the shift away from arts instruction, further diminished by the standardized test boom of the '90s. Today we're at a much-publicized crisis point for art in schools. It's almost extinct.
City Arts has a great story on the value of arts education, and what it means for Seattle's future.
ROLLING STONE MAGAZINE NAMES CROCODILE ONE OF THE BEST CLUBS IN US
Opened in 1991, this 525-person club hosted every important band of the grunge era, including Nirvana and Mudhoney in 1992 for $3. Most affectionately known as The Croc, this long-time Seattle venue favorite was named seventh best club in America on Rolling Stone list of 20 venues that rock.
SEATTLE'S EBBETS FIELD FLANNELS CREATES UNIFORMS FOR FILM '42'
Seattle's Ebbets Field Flannels was founded twenty-five years ago out of one man's obsession with the woolen, heathered flannel jerseys worn in the days of Jackie Robinson. Ebbets Field Flannels' founder, Jerry Cohen, was approached by upcoming major motion picture, 42, to design and produce hundreds of historically accurate Negro League and minor league jerseys for the film. Cohen worked with the movie's costume designers and came up with exact - or as exact as possible in 2013 - uniform replicas for six teams from the 1940s. Ebbets made about 200 full uniforms including jerseys, pants and caps, and even had to figure out a way to make woolen stirrups out of hockey socks. "It's as good as any baseball movie I've ever seen," Cohen said of the film's aesthetic accuracy. "And I've seen all of them."
'THE BROTHER FROM ANOTHER PLANET' OPENS LANGSTON HUGHES FILM FEST
The 10th edition of Seattle's Langston Hughes African American Film Festival kicks off a nine-day run on Saturday. For the first time, all festival events will be held at the freshly renovated Langston Hughes Performing Arts Institute. The opening night film has been chosen to be John Sayles' 1984 satire "The Brother from Another Planet." Leader actor Joe Morton will be in attendance along with Mayor Mike McGinn on April 13. The festival is also including a "Brother"-like program: "Science Fiction and the Future Through the African, African American & Black British Lens" on April 17.
CHINESE HIT FILM BOOSTS TRAVELERS' INTERESTS IN SEATTLE
After Finding My Mr Right became a smash hit, Chinese audiences were drawn to the beautiful scenery of Seattle, where the story takes place. According to tuniu.com, a leading tourism website, since the movie premiered in mid-March, more Chinese people are seeking travel information about Seattle from tour agencies. Data from the website showed that the movie boosted the tour consultations and orders to the United States. In the past, tourist routes in the US were usually 8 to 14 days and included Los Angeles, New York, Las Vegas, and Hawaii. However, after the movie became popular, tour agencies have adjusted their tourist routes so that people can have more choices, and visit Seattle.
LUDOVIC MORLOT NAMED CHAIR OF ORCHESTRAL CONDUCTING STUDIES
Seattle Symphony's Musical Director, Ludovic Morlot, has been named to oversee the University of Washington's Orchestral Conducting Program. As Chair of Orchestral Conducting Studies at the School of Music, Morlot will take the lead role in shaping the training and recruitment of graduate conducting students starting in Fall 2013. Morlot's new position as a member of the School of Music faculty comes one year after his March 2012 appointment as Affiliate Professor of Music at the UW. Another newcomer to the School of Music, David Rahbee, will work closely with Morlot to develop a top-notch program in orchestral studies. Rahbee has accepted an initial one-year appointment as Director of the University of Washington Symphony Orchestra, effective Fall Quarter 2013.
2013 SIFF ANNOUNCES OPENING NIGHT FILM
Joss Whedon's
Much Ado About Nothing
will open the 2013 Seattle International Film Festival, running May 16-June 9, 2013.
The film was shot in twelve days, uses the original text, and was edited on a laptop while Whedon was still in production for The Avengers. It also marks Whedon's debut as a composer. Whedon will be in attendance at the SIFF screening, along with the aforementioned cast members.
PAUL MCCARTNEY ADDS SEATTLE DATE ON NEW TOUR
Beatlemania is about to return to Seattle once again. Paul McCartney has announced that Seattle has been added to his "Out There" tour schedule. The show will be held at Seattle's Safeco Field July 19. This is first time McCartney has appeared in Seattle since 2005. The "Out There" tour promises "brand new, never before seen production" and songs spanning his entire career, as a Beatle, a solo artist, and member of Wings.
ARTS EDUCATION CAN TRANSFORM YOUNG PEOPLE
The Seattle Symphony's new educational program, LinkUp, is working to bring greater arts education to Seattle public schools. Through a partnership with the Seattle Public Schools, the program gives students opportunities to exercise their curiosity and creativity through active classroom participation. With curriculum materials developed by Carnegie Hall's Weill Music Institute, LinkUp will help elementary-school age children learn to play recorders over the course of five- to ten-week residencies. The student's work will culminate in concerts at Benaroya Hall, where they will play along with the symphony from their seats. This new program leads the way in the greater conversation about the values and enduring skills that arts education instills in young people, and the need for further promotion of such programs in the education system.
RISD PRESIDENT PASSIONATELY PLEADS FOR STEAM EDUCATION
John Maeda grew up in southern Seattle and excelled in art and math during his primary schooling. Growing up before the creative economy that is now dominating with Amazon and Microsoft, Maeda still found his way into the fields of technology, art and design. Eighteen years into his career he has made strides in both the technology and artistic realms, attaining degrees from MIT and Tsukuba University in Japan, Maeda is now the President of The Rhode Island School of Design, a leading voice in the strive to bring the arts into the forefront of education. He has learned a lot from his life so far, but he states it all started in his hometown of Seattle.