Vol. 6, No. 43
March 27, 2013




TONIGHT: STEVE EDMISTON ON 'HOW TO RIG THE CROWDFUNDING SYSTEM'
Crowdfunding has become the new favorite financing strategy for small-name initiatives. Steve Edmiston sees crowdfunding as a win or lose situation. The consequences of a failed crowdfunding initiative can leave a mark on your work, but the strategist who knows how to play the system can come out on top. Steve Edmiston, a local business and entertainment attorney with Invicta Law Group, as well as independent screenwriter and producer, owner and producer of EKE Pictures, and owner of Storybox Studios, will speak about how to rig the crowdfunding system to win big at our Film + Music + Interactive Happy Hour. Join us tonight for tips and strategies drawn from his experience, as well as a recent academic study of 47,000 crowdfunding projects by Ethan Mollick of the Wharton School of Business at the University of Pennsylvania.
LIVE MUSIC PROGRAM TAKES OFF AT SEA-TAC AIRPORT
The next time you head to Seattle-Tacoma International Airport, you might not need those headphones. Live music from local artists began at multiple locations in the terminal as the next upgrade to the Sea-Tac Experience the City of Music Initiative. The twelve-week pilot program aims to enhance the traveler experience with musicians playing at food courts, train stations, and the arrivals hall within the airport. "A live music program at the airport is not only a great way to further anchor our region's gateway in our rich, local music culture, but also gives local musicians a new venue to gain exposure and earn a paycheck," said Mayor Mike McGinn. "It's exciting to see the Sea-Tac Airport's Experience the City of Music Initiative grow to include live performances."
'ART ZONE' WITH NANCY GUPPY AIRS FRIDAY, MARCH 29
This week on
Art Zone
, Theoretics bring some hip hop to Studio AZ. Local actor Suzy Hunt channels the big personality of Big Edie in the ACT/5th Avenue productions of "Grey Gardens: The Musical." Velocity Dance Center honors legendary choreographer and dancer Shirley Jenkins.
Art Zone
premiers Friday, March 29 at 8:00 p.m on The Seattle Channel and forever online.
INDUSTRY NEWS AND UPDATES
MAKE YOUR VOICE HEARD WITH THIS IMPORTANT FILM SURVEY
The First Annual Film Industry Jobs Survey from Washington Filmworks is designed to help better understand how Washington State film industry professionals create their careers, and how the film industry contributes to the larger creative economy.The results of this survey will be included in Washington Filmworks' Annual Report on the Film Industry, which will be published in April. Take five minutes to make your voice heard!
KEXP SEEKING ONLINE CONTENT PRODUCER

Friends of KEXP is currently seeking a new member of the KEXP Programming Team. If you want to be a part of the KEXP team, they are looking for qualified applicants interested in work as an online content producer. This is a full-time, exempt position with competitive pay and good benefits. Duties include coordinating the online content for KEXP, compiling and analyzing metrics, independently generating and updating content, and more.
SIFF SEEKING INTERACTIVE MARKETING MANAGER
The Seattle International Film Festival (SIFF) is coming in late May, and right now they are seeking an Interactive Marketing Manager. The Interactive Marketing Manager will be responsible for implementing SIFF's overall communications and marketing plan to build awareness about SIFF within the community, and to increase film screening attendance and ticket sales. Those experience working with film festivals need look no further.
PERFORM YOUR MUSIC AT SEA-TAC AIRPORT
Play your own music, make new fans, and GET PAID. Musicians wanted for airport live music gigs - with a "stage" space designated, but no sound reinforcement. Musicians will perform at various locations inside Sea-Tac Airport. This call for musicians is open to string, reed, and key players. Percussion instrumentalists will not be considered. For more information and how to apply, view the "Submit Your Music" section.
CREATIVE ARTS EXCHANGE GRANTS AVAILABLE
The Creative Arts Exchange is providing grants for four of their programs, one of which focuses on urban arts and hip-hop. The Arts in Collaboration program provides people to people exchanges in urban arts and hip hop that incorporates artistic collaboration, professional development and outreach to youth to explore and address conflict resolution strategies. The application deadline for the $800,000 Arts in Collaboration grant is May 6, 2013 and is open to all public and private U.S. nonprofit educational and arts organizations.
'STANLEY' FROM SEATTLE'S DIGITAL KITCHEN FINALIST FOR SHORTY AWARDS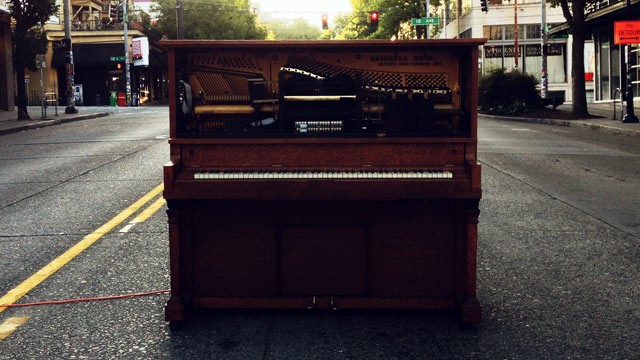 The fourth annual Shorty Awards celebrates and honors the best short-form content creators within the realm of social media. Seattle's Digital Kitchen has once again secured a spot as a finalist in the category of- "Best Use of Social Media in Real Life ("IRL") with their interactive player piano, affectingly named Stanley. Stanley is the world's first instrument to have a real life conversation with its audience and field its own song requests via Twitter. He has resonated with thousands of people, blogs and news outlets around the world, totaling more than 25 million PR impressions. Stanley connected with fans not just as an innovative application of technology, but as a genuine personal experience. He still receives song requests to this day. This is the second year Digital Kitchen has been a finalist, with them winning the same category in 2012 for the "Search Engine for the Real World" campaign for Dodge.
APRIL IS PUBLIC RADIO MUSIC MONTH
Music in America would be very different without public radio. That's why April is public radio music month. Seattle music stations KEXP 90.3 and Classical KING FM 98.1 are both participating in Public Radio Music Month. KING FM will be producing a live performance with pianist Craig Sheppard in mid-April as a part of the month. Show your appreciation for public radio in the month of April and stay tuned for more details!
MOIRA SCOTT PAYNE NAMED PROVOST, VP OF ACADEMIC AFFAIRS AT CORNISH
Last week, Cornish college of the Arts President Nancy J. Uscher announced the appointment of Moira Scott Payne as Provost and Vice President of Academic Affairs. Moira Scott Payne is currently Programme Director of Art and Media, at Duncan of Jordanstone College of Art and Design, University of Dundee, in Scotland. Ms. Scott Payne has visited and lectured in art colleges across the U.S. and the UK. She will assume her new position at Cornish in October 2013.
RECORDING ACADEMY'S 'PNW SONGWRITER'S SUMMIT' IS COMING SOON
The Recording Academy Pacific Northwest Chapter will present a large event for musicians looking to dive into the art, the craft, and the business of songwriting. On April 6 at the EMP Museum this event will bring together successful members of the music industry for eight discussions including "Placement and Pitching," "My Hit Song," and "Show Me the Money: Alternative Revenue Streams." The event is free for Recording Academy and GRAMMY U members, and tickets are available for non-members.
MAKE YOUR 3-MINUTE MASTERPIECE
Attention filmmakers: the '3-Minute Masterpiece' contest is back! Shoot your best under-3 minute digital video, upload it to YouTube, and submit it to the Seattle Times. You could win a full-series pass to this year's Seattle International Film Festival and have your short film shown on the Seattle Times' website and at SIFF. Short films should be submitted by April 15.
Be a part of the largest youth film festival in the world - right here in Seattle. The National Film Festival for Talented Youth (NFFTY) is seeking film-loving volunteers of all ages for everything from taking tickets to ushering guests to seats. You'll have a great time and make new friends while working with a film festival. It's your chance to support the future of film, while earning a free t-shirt and day-pass to NFFTY.
SEE SOME SEATTLE 'ROCKTOGRAPHY' AT THE TRIPLE DOOR
Throughout April, The Triple Door will be showcasing the work of 20 of Seattle's top concert photographers in The Musiquarium Lounge. You can see the work of Seattle's best "rocktographers" beginning at a happy hour next Thursday, April 4 at the Musiquarium Lounge. It will kick off The Triple Door's First Thursdays program highlighting new local art every month. Photographers Suzi Pratt, Mat Hayward, Jason Tang, Christopher Nelson, and others will have their work shown.
DANCE-IN TAKING PLACE ON THE STEPS OF THE CAPITOL BUILDING
On April 1, there will be a dance-in on the steps of the Capitol in Olympia. This event is to support a bill to get rid of the "dance tax" which has impacted numerous music venues here in Seattle and across the State. Rain or shine, the dance-in will be held during the afternoon.
MUDHONEY IN-STORE PERFORMANCE AT EASY STREET
To celebrate the triple anniversary of Easy Street Records, Sub Pop Records, and the band Mudhoney, Easy Street is hosting a night with the musical group on April 1. Mudhoney's new album, Vanishing Point, will be available to purchase a day before it goes on sale. The free celebration begins at 8:00 p.m. at Easy Street Records in West Seattle.

UWTV'S 'BACKSTORY' SHOW WANTS TO SHOW YOUR INDEPENDENT FILM
Want to get your independent film in 1.3 million Washington homes? UWTV is searching for a whole new crop of films for their weekly series "Backstory: The Filmmaker's Vision," which will begin airing in early summer. The series will enter its third season on UWTV Channel 27with host and Associate Professor of Drama, Andrew Tsao. The program includes a sit-down interview with the filmmaker, director or writer about their creative process and a wrap-up of the film that airs at the end of the program. The entire film will be aired on UWTV, and can be of any length or format, from a short to feature-length, animation to documentary. If you would like to submit your film for consideration, please email producer Cara Podenski at cpod@uw.edu with a link to your film or trailer and your contact information (DO NOT EMAIL FILM FILES). Please note that availability for a UW campus interview is essential, so local filmmakers are highly encouraged.
TOP 10 NW MUSIC FOR WEEK OF 3/18 - 3/24
OFFICE OF FILM + MUSIC
Compiled from figures at Sonic Boom Records (Ballard) and Easy Street Records (West Seattle).
1. Cave Singers - Naomi
2. Pickwick - Can't Talk Medicine
3. Jimi Hendrix - People, Hell & Angels
4. Hey Marseilles - Lines We Trace
5. Macklemore & Ryan Lewis - The Heist
6
.
Father John Misty -
Fear Fun
7.
Caspar Babypants
-
I Found You!
8. Blue Scholars - Cinematropolis
9. Sera Cahoone - Deer Creek Canyon
10. Eddie Vedder - Ukelele Songs
HELP "KICKSTART" SEATTLE FILM AND MUSIC PROJECTS
Kickstarter is an online "crowd-funding" resource that helps musicians, filmmakers and
producers of artistic projects reach out to friends and fans for financial support. Kickstarter allows artists the opportunity to give back to funders with special rewards, such as an exclusive album pre-release, a producer credit in a film, or even getting to meet the
artist in person. Seattle is a hotbed for film and music projects, and you can be a pivotal part of the production process by backing a project and spreading the word. Current

Seattle-based Kickstarter projects are listed below, in order of imminence, from soonest-ending project to furthest out. Click on the Kickstarter buttons to check out these local projects and discover even more happening around Seattle.
Seattle group Project Lionheart has their album mixed, mastered and ready to go. All they need to do now is print it and promote it. Will you help?
A new action drama webseries will pull Greek myth into the modern day with main characters Apollo and Ariadne. Will you help them?
These three local female artists are bringing video art to eight different neighborhoods across Seattle via Interstitial Theatre's mobile screen. Will you help them promote video art
in our community?



ECHOES - A SHORT FILM - April 4 (7 days)

Director Van Alan resides in Seattle and has a number of music videos under his belt. His new scary short film, "Echoes" features music from Aaron Marsh of Copeland and acting from Linn Bjornland of Grimm and Tony Duope of Safety Not Guaranteed. Will you help the project be realized?
In a dystopian world, it's not about who you know, but who you kill. After college, citizens fight in an arena from 9 a.m.-5 p.m. daily, hoping to be placed into a career. Will you help the creators make season 2 bigger?
This film follows the incredible and honest journey of a truly remarkable individual managing the beginnings of gender re-assignment. Help bring the film to a festival near you!
They've
funded the production, mixing and mastering of the album themselves. They've ventured out of town, from Orcas Island to Portland, and have consistently impressed listeners. Now they need your help to get their first LP in your hands and spread the word to new listeners. Will you help?
McTuff is an instrumental Hammond organ trio that performs jazz, funk, and rock in an energetic and spontaneous style all their own. Help them put out their third album!
Female musicians have been contributing to jazz for a very long time, facing all types of obstacles aong the way. Will you help tell their amazing story?
The 619 Western Ave Building in Pioneer Square was once a lumber and supplies warehouse. It grew into a thriving space for art of all types- from fine art to avant garde to Marvel comics. Will you be inspired to help produce this documentary?
SHORT FILM FRIDAY: 'BIPOLAND'
THE STRANGER
This week's short will be "Bipoland," a film by the very talented local filmmaker Matty Brown. Like his other short, "Look Up at the Stars, Portugal!," "Bipoland" is a stunning, gorgeous, and epic swirl of colors and bold images. He writes: "This piece was supposed to be about Auschwitz, but in making the video the surprise was how vibrant, tough, and full of life the Polish people are. I was as emotionally impacted with these new wonderful friends and sensory overload of the gorgeous present-day country as I was with sympathy and sadness at the camps. Even though they are very tough souls, I started to admire them and their country." For the best results, he recommends that you watch the short with earphones.
SEA-TAC AIRPORT INTRODUCING TRAVELERS TO LOCAL MUSIC
KOMO NEWS
Sir Mix-A-Lot was once banned from daytime MTV for his lyrics. Now his music and his voice welcomes travelers to Sea-Tac Airport through the Experience the City of Music Initiative. Sir Mix-A-Lot has his music featured in the Airport, as well as in the recorded overhead messages for travelers. "It's cool to see something as serious as Sea-Tac embrace the local arts," said Sir Mix-A-Lot. "It just trips me out. That's pretty bold." The Experience the City of Music Initiative is a cooperative effort between the Port of Seattle, The Seattle Music Commission, the Seattle Office of Film + Music, and PlayNetwork. Mix and other Seattle music icons like Quincy Jones have lent their voices to the initiative.
'EDEN' RANKED ONE OF THE BEST INDIE FILMS OF 2013 (SO FAR)
Eden currently holds the number-five spot on 2013's best indie films list provided by Indiewire's critic network, Criticwire. Eden might not have a very large number of reviews yet, but it is averaging an 'A-' grade, the fifth-highest average grade on the list. Megan Griffiths' film premiered in New York last week.
LOCAL HIP HOP DUO THEESATISFACTION TALK FASHION
When Northwest natives Catherine Harris-White and Stasia Irons set out on their first tour as THEESatisfaction, they dubbed the trip the Black Weirdo Tour. It's an apt tag for the mash-up of geek-world techno, throwback pop culture, and insider/outsider codes that color their live stage presence and the bass-heavy, indie rap flow on records like Awe Naturale (Sub Pop). Catherine and Stasia discuss their unique style in an interview with Seattle Met.
Siff Unveils New 'African Pictures' Program Selections for 2013
In 2012, the Seattle International Film Festival received a $150,000 multi-year grant from the Academy of Motion Picture Arts and Sciences for their "African Pictures" program. The funds will go towards showcasing the burgeoning and diverse brands of cinema that are emerging across continental Africa. The result of the first year of the grant brings 11 African films to the festival. The program announcement preceded a special screening of the Kenyan film Nairobi Half Life in partnership with the Feature Film Project. "Beneath the Sahara, features like Nairobi Half Life announce the arrival of accomplished work with a uniquely African voice," said SIFF Programmer Dustin Kaspar. "Reflecting the maturation of Nigeria's Nollywood cinema, the blossoming filmmaking communities in Uganda and Rwanda, and the strong creative craft of South Africa's industry, SIFF will bring a broad spectrum of African Pictures (and many of the filmmakers) to Seattle this May and June." The list includes several titles that you might be familiar with like: The African Cypher (South Africa), Coming Forth by Day (Egypt), Comrade President (Camarada Presidente) (Zimbabwe), Fanie Fourie's Lobola (South Africa), and Last Flight To Abuja (Nigeria).
SEATTLE BAND 'HALF LIGHT' WANTS FOOTAGE OF YOUR BIKE COMMUTE
Seattle-based dream-pop band Half Light needs help from local cyclists. They are looking for cycling footage to use in a video for their song "Emerald City" off their upcoming album Things to Figure Out. Their website provides more information, saying: "We want to stitch together video that shows the glory of our city as seen from the saddle by using footage taken by cyclists during their rides all over the Seattle. In particular we want footage taken in sunshine (or Half Light) that is not too shaky, bumpy or rough (easy to look at and follow) and shows the beautiful places in our city." The footage that they pick will be credited accordingly.
AMAZON STUDIOS TO BEGIN MAKING 'ZOMBIELAND' SHOW
Continuing its investment in original content, Amazon today announced it is greenlighting "Zombieland," a new comedy series based on the Columbia Pictures movie of the same name, which will be made available for free to Amazon Instant Video and LOVEFiLM UK subscribers. This is Amazon Studios' seventh original comedy series, which joins six original children's series also in production. This project stands apart from Amazon Studios' other endeavors in that there is already a fan base for "Zombieland" in fans of the 2009 film, and Amazon hopes to capitalize on the name recognition of the project.
WEST SEATTLE FILMMAKERS SCORE FINANCIAL BACKING FROM WA FILMWORKS
Here's the pitch: This is the story of "a career politician who suffers a brain injury that begins to derail his promising career as he begins to experience supernatural visitors and a growing rift with his dedicated wife."Sounds a bit more interesting than Tyler Perry's latest offering, right? It's the synopsis of "The Servant," a film written by director and writer Nathan Williams, and coming to fruition with the help of two producers representing West Seattle - Gevin Booth and Ian Bell. "The Servant" was one of five projects selected by Washington Filmworks in their first ever Innovation Lab competition.
SEATTLE'S NEWEST LIVE MUSIC VENUE: SEA-TAC AIRPORT
Sea-Tac Airport thinks local music is important. They play the music of local artists throughout the airport and all the messaging is voiced by Seattle musicians, from Macklemore and Sir-Mix-A-Lot to Jerry Cantrell and Alice In Chains. Now they've taken it a step further with live performances in the terminals in a 12-week pilot program. "We're going to bring in different genres," says Sea-Tac's Music Program Coordinator Tami Kuiken. "We're going to have people playing mostly acoustic type instruments. We'll be doing anything from jazz to blues to folk, even some pop. We'll have guitars, violin, a maybe some a cappella." She says they want to recruit everyone from teenagers to 70 year olds for the program.