Vol. 6, No. 38
February 20, 2013




SCOTT MCKINLEY PRESENTS: 'LAUNCHING SEATTLE MUSIC TV' ON FEBRUARY 27
FMI HAPPY HOUR
The Film + Music + Interactive Happy Hour returns February 27 with special guest Scott McKinley, executive producer of Seattle Music TV (SMTV), owner/operator of CaviGold Records LLC, owner/operator of Seattle Music Photography, and manager for the Seattle rock band LACERO. Scott will speak about the motivation behind SMTV and how his team will be bringing Seattle's music scene to screens and speakers around the nation with exclusive performances, music videos, artist spotlights, and more. The monthly Happy Hour is a meet-up for leaders in film, music, and interactive industries to share, learn, and make meaningful business connections. Please mark your calendars and join others in this great networking event at Spitfire in Belltown.
SEATTLE SYMPHONY PLAYING A FREE CONCERT AT CITY HALL TOMORROW
OFFICE OF ARTS & CULTURAL AFFAIRS
The Seattle Symphony will give a free lunchtime concert in the City Hall lobby tomorrow, February 21 at noon. Mayor Mike McGinn will be welcoming attendees to the event, and there will be a post-performance coffee reception for audience members. The concert is standing-room only, will feature sixteen year-old violinist Amelia Sie from Bellevue, and will be directed by Assistant Conductor Stilian Kirov
.
'ART ZONE' WITH NANCY GUPPY AIRS FRIDAY, FEBRUARY 22
ART ZONE
This week on "Art Zone," Nancy welcomes Kevin Brown & Co. for some bluegrass music in anticipation of Wintergrass 2013. Nancy will take a look at the upcoming Seattle Jewish Film Festival, which will hit Seattle for nine days.
Brangien Davis, Arts & Culture Editor of Seattle Magazine, previews the spring arts guide. "Art Zone" will
also profile Kevin Kaiser, head of Evergreen City Ballet and former Pacific Northwest Ballet dancer.
"Art Zone" airs Friday, February 22 at 8:00 p.m. on Seattle Channel 21 and forever online.
INDUSTRY NEWS AND UPDATES
RECOGNIZING WOMEN IN SEATTLE MUSIC DURING 'WOMEN WHO ROCK MONTH'
February brings much recognition to the women who played a big role in Seattle's music scene, including Mayor McGinn proclaiming February as "Seattle Women Who Rock Month," and the premier of the play "These Streets," which highlights the contributions of women in the grunge scene. To celebrate the women who rocked Seattle music, KEXP took a look back at some of the best bands and female artists who keep invigorating Seattle rock'n'roll. A few of those artists are: Goodness, The Gits, Fastbacks, Hammerbox, and Bikini Kill.
4TH ANNUAL HIP-HOP LEADERSHIP CONFERENCE IS THIS SATURDAY
This Saturday, the 4th annual Seattle Hip-Hop Leadership Conference will bring together leaders of Seattle's hip hop and digital media communities for discussions on a number of topics. This event will feature a discussion sponsored by the Seattle Music Commission called "Making A Living in Today's Music Industry," which will feature major stakeholders in the Seattle music scene discussing music-related revenue streams. Other discussion topics will include brand storytelling across multiple platforms and the effect of digital media on the music industry. The Hip-Hop Leadership Conference will be held at Seattle Central Community College on Saturday, February 23.
DEADLINE TO APPLY FOR 3-WEEK SCREENWRITING BOOTCAMP IS FEBRUARY 22
THEFILMSCHOOL
TheFilmSchool is now accepting applications for the Spring 2013 Screenwriting Bootcamp (March 2 - March 23). The deadline to apply is February 22. Low-income applicants can apply for scholarships for bootcamp sessions at TheFilmSchool. This is a three-week intensive program where participants will learn the principles and mechanisms of structure and character and will gain experience in exercising the courage necessary for personal storytelling. Students in this program come from all walks of life and all levels of filmmaking. This session, students will have the opportunity to learn from Warren Etheredge, John Jacobsen, Tom Skerritt, and Stewart Stern.
9TH ANNUAL SEATTLE-KOBE FEMALE JAZZ VOCALIST AUDITION IS FEBRUARY 25
JAZZ ALLEY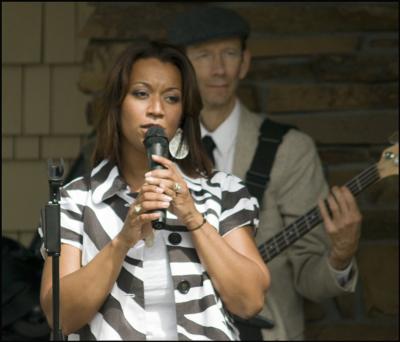 The Seattle-Kobe Sister City Association (SKSCA) is hosting the 9th Annual Seattle-Kobe Female Jazz Vocalist Finals at Dimitriou's Jazz Alley on February 25. The SKSCA will send one teenage female and one adult female jazz vocalist from the greater Seattle area to our sister city of Kobe, Japan in May 2013 to be a guest singer at the 14th Annual Kobe Jazz Vocal Queen Contest. Five high school finalists and five adult finalists have been invited to give a final live audition at Dimitriou's Jazz Alley on the evening of Monday, February 25. Family, friends, and community members are encouraged to come and support the finalists.
SPROUT IS CALLING ALL FILMMAKERS FOR ITS NEXT DINNER
Whether you work in digital or celluloid, documentary or drama, art house or spaghetti western, Sprout wants to show your creative work on the big screen. Sprout is a locally sourced dinner that funds creative projects with a vote. Participants pay nominal entrance fees to show their work at the event, the price of which includes a ballot and a meal made by a local guest chef. Diners then vote on a variety of artists' projects, however the upcoming Sprout event is the first media-specific event. The March 30 Sprout 9 will celebrate filmmakers of all genres who tell unique stories through moving pictures. Grantees are awarded upwards of $1,000 to pursue creative projects. The deadline for proposals is March 12, and those selected will present their projects on March 30.
9 BALLARD HIGH SCHOOL FILMS NAMED FINALISTS IN NATIONAL FESTIVAL
Nine works by students from Ballard High School's Video Production Program have been named finalists in the 17th Annual Derek Freese Youth Media Film Festival. This festival draws competition from high school filmmakers throughout the nation and is judged by professors from Temple University's School of Film & Media Arts, filmmakers, and members of the Derek Freese Foundation. Finalists' films will be screened and prizes awarded in each category during the festival in Philadelphia on Saturday. Ballard High School will also screen four of the films on Friday night.
SEATTLE ART MUSEUM UNVEILS LED DISPLAY 'MIRROR' ON MARCH 24
SAM will host a free celebration for the inauguration of "MIRROR," a permanent art installation created for the museum's façade by internationally acclaimed artist Doug Aitken. The celebration on March 24 will feature conversations with Aitken, architects, artists, musicians, and an unveiling of the installation on an outdoor stage. "MIRROR" is an expansive LED display, compiled from hundreds of hours of footage Aitken filmed around Seattle and Washington State. Seattle Mayor Mike McGinn will welcome the public to the celebration, Seattle Symphony musicians will play music by Steve Reich and Terry Riley, food trucks will be on-hand to provide a variety of meal options, and a variety of free events will be available for interested attendees. To reserve your free tickets to the event, visit SAM's website on or after February 20.
TOP 10 NW MUSIC FOR WEEK OF 2/05 - 2/11
OFFICE OF FILM + MUSIC
Compiled from figures at Sonic Boom (Ballard) and Easy Street (West Seattle).
1. Macklemore & Ryan Lewis - The Heist
2. Soundgarden - King Animal
3. Father John Misty - Fear Fun
4. Maldives - Muscle for the Wing
5. Caspar Babypants - I Found You!
6. Ben Gibbard - Former Lives
7. Brandi Carlile - Live at Easy Street Records
8. Neko Case - Fox Confessor Brings the Flood
9. Lemolo - Kaleidoscope
10. Blind Pilot - We Are the Tide
HELP "KICKSTART" SEATTLE FILM AND MUSIC PROJECTS
Kickstarter is an online "crowd-funding" resource that helps musicians, filmmakers and
producers of artistic projects reach out to friends and fans for financial support. Kickstarter allows artists the opportunity to give back to funders with special rewards, such as an exclusive album pre-release, a producer credit in a film, or even getting to meet the
artist in person. Seattle is a hotbed for film and music projects, and you can be a pivotal part of the production process by backing a project and spreading the word. Current

Seattle-based Kickstarter projects are listed below, in order of imminence, from soonest-ending project to furthest out. Click on the Kickstarter buttons to check out these local projects and discover even more happening around Seattle.
A documentary about love and loss in a community.
SPINE
- February 23 (3 days)
Spine is a 2-D skeletal animation tool designed specifically for game development. Bring your games to life quickly and easily!
ROAM
- February 24 (4 days)
Scavenge. Build. Fight. Survive. Introducing ROAM, an online co-op action game set in a procedurally generated world.
A short film about a poverty-stricken father and sun who struggle to survive in a region of the Middle East that is frequently targeted by unmanned aerial strikes.
The series explores the development of humanity as it leaves the modern era and extends its reach into the stars.
Help Improvement Club get to the SXSW '13 Film Festival. Improvement Club is a feature film by Dayna Hanson.
The wonderful world of Zangadoo Kangaroo & Friends. From the Billabong to the Outback and everywhere in between.
Cumulus has paid for recording expenses and now needs help finishing their first full-length album.
Squatch is a full-length feature film telling the story of four college friends on a camping trip in the Pacific Northwest.
A showcase of new talent in the form of completely student run production of bare: A Pop Opera.
Why Kickstarter and not IndieGoGo?
The overwhelming basis for promoting Kickstarter as a project fundraiser stems from the tool's clear and complete structure. It is a system that ensures artists approach each and every venture with a comprehensive business plan. The debatable result, wherein artists may or may not keep the funds they raise based on whether or not their project is funded fully, interests us because it protects project backers. IndieGoGo, although a great money-generating platform, does not provide the same level of investor protection when projects go by the wayside. At least for the time being, our office has decided to continue supporting Kickstarter.
SCARECROW ON SEATTLE: 'TRACK OF THE CAT' (1954)
The best way to describe this week's Scarecrow on Seattle (and environs) entry might be "a fascinating failure." Track of the Cat, starring Robert Mitchum, Tab Hunter, Beulah Bondi, and Teresa Wright, was filmed on Mount Rainier under difficult, unpredictable weather conditions. It is presumed that Rainier is a stand-in for the Rocky Mountains, as the only time the script mentions an actual, nearby location, it's the city of Aspen. Why director William Wellman brought cast and crew up Mount Rainier is anyone's guess. Producer John Wayne docked a boat here, so one could imagine that it was his idea to pay tribute to its beauty. Or Wellman could have fallen in love with it while up here in 1935 shooting Call of the Wild. In fact, he enlisted ace Western cinematographer William H. Clothier, whose mastery of color Western landscapes nabbed him two Oscars, to shoot the film. But Wellman had long wanted to make a black and white film in color, so they sucked nearly all of the color out of the film when designing the sets and costumes. Aside from Robert Mitchum's blazing red coat and the green pine trees that dot Rainier, nearly everything is black, white, or grey. . .

To read the full review, visit Scarecrow on Seattle.
(Scarecrow on Seattle will now post full film reviews online the second Wednesday of each month, we will provide excerpts in our newsletter and links to the full reviews on Scarecrow's site.)
GUIDE TO SEATTLE OSCAR PARTIES 2013
CBS SEATTLE
Enjoy a spectacular night on the town with food, drinks, red-carpet treatment, and a chance to give back. CBS Seattle provides a list of some places for locals to watch the 2013 Oscars. The list includes: Oscar Experience Seattle Gala & Auction (benefit for Starlight Children's Foundation Northwest), Walk the Red Carpet for Seattle Children's Hospital, Oscars Party at Purr Cocktail Lounge (co-hosted by Seattle Gay News and Purr), Academy Awards Party & Fundraiser at Theatre on the Square, and the 8th Annual Academy Awards Party at The Social.
QUINCY JONES LAUNCHES MUSIC EDUCATION APP
BILLBOARD
Quincy Jones says he has co-created the music version of the Rosetta Stone program. The 79-year-old composer-producer launched a new music education application Tuesday called Playground Sessions, which teaches users how to play the piano. He said the app will help children and adults learn how to read music and understand the mechanics of piano playing. Playground Sessions features about 70 popular songs by Beyonce and Justin Bieber, and well-known tunes like Katy Perry's "Firework" and Frank Sinatra's "New York, New York." "Our kids in this country know less than any other country," Jones said of music education in the United States. "We need something like Playground Sessions to push us forward."
SEND-OFF PARTY AT NEUMOS FOR SEATTLE MUSICIANS HEADED TO SXSW
On March 5 at Neumos, there will be a send-off party for some of the musicians performing at Austin's SXSW Festival this year. Seattle acts Lemolo, OCNotes, Scpac3man, and Seacats will play a show, with all benefits going to the artists to help them get to Austin for the festival. Tickets are available online and there is a Facebook event page for the concert with more details.
THE NEW LIVE MUSIC EXPERIENCE: TECH, BANDS, AND FANS
HYPEBOT
In 2005, "live" was considered the golden goose of the music sector, all hopes were invested in the small venues and festivals, while pundits and executives preached it to be the future; the alternatives to the sinking and piracy-ridden recording industry. By 2010, hopes were still up, but there were many issues still to be faced: rising booking fees, rising ticket prices, and a slew of cancelled or underperforming concerts and festivals. Nonetheless, income from live was one of the primary reasons behind it. So what's next for live performances? Here, two recent phenomenons are analyzed: holograms and live streams.
FIRST GLIMPSE OF 'DESTINY': THE NEXT BIG THING FROM 'HALO' CREATOR, BUNGIE
GEEKWIRE
Bungie finally lifted the curtains on its online multiplayer game called Destiny, the first title under Bungie's name since the company spun off from Microsoft in 2007. The first look comes from a four-minute documentary. The game, which will be available on both PS3 and Xbox 360, lets players create customizable characters and travel to other planets after a cataclysm destroys much of Earth. As one of the few survivors, players must defend Earth and reclaim the solar system. There is no release date set for the game, which is being published by Activision, a Bungie partner.
Seattle Office of Film + Music Staff
James Keblas, Director
Karin Zaugg Black, Communications Director
Chris Swenson,
Film + S

pecial Events Program Manager
Rachel Sawyer, Creative Industries Business Development Manager
Sam Mouser, Permit Specialist
Julie Borden, Film + Special Events Administrative Specialist