Vol. 7, No. 35

February 20, 2014



ROAST THE KEBLAS!
A community celebration of James Keblas' nine-year-legacy will be held on Wednesday, February 26 at Showbox at the Market. Come armed with war stories of fighting in the trenches to make Seattle a great place to make a living making film and music. A surprise panel of James's friends, colleagues, and admirers will show their gratitude with cheap jokes and low blows. There will be film, music and merriment galore. This event is free, open to the public, and is 21+. The usual Happy Hour program returns on March 26 at Spitfire.
FILMMAKERS: WASHINGTON FILMWORKS JOB AND VENDOR SURVEYS NEED YOU
Whether you work in film, own a production company, or your business works with filmmakers, take the 2nd annual Washington Filmworks (WF) Job Survey and new Vendor Survey. Results from the surveys will inform the WF legislative agenda as we work to create a stronger and more sustainable local film industry. Principals of a production company or film support service company should additionally take the Vendor Survey. Both are available through March 15.
FILM AND MUSIC ON "ART ZONE" WITH NANCY GUPPY
This week Seattle Channel's "Art Zone" with Nancy Guppy includes: a visit from Michael Wansley, aka The Wanz, who has spent the past year touring the world with Macklemore and Ryan Lewis; new music from Tacocat; an interrogation of Randy Engstrom about what he does as Executive Director of the City's Office of Arts & Culture; and Peter Boal, the Artistic Director of Pacific Northwest Ballet, curates the events calendar.
INDUSTRY NEWS AND UPDATES
BUSINESS AFTER HOURS - MUSIC EDITION
Join the Seattle Metropolitan Chamber of Commerce for their first music casual entertainment event. Get an inside look at Seattle's music industry, and meet music-centric companies and organizations that are looking to connect and work with Seattle-area businesses. The event is scheduled for March 20 at 5:30-7:30 p.m. at Lively Lounge, a new Seattle startup bringing artists and fans together to capture live performances. Register by March 18 for early bird tickets.
KEXP DEBUTS LIVE HD-QUALITY VIDEO STREAMING WITH PIXIES PERFORMANCE
KEXP premiered live HD-quality streaming video this week with an in-studio performance by The Pixies. Streaming video is the latest chapter in KEXP's story of tech innovation in the radio industry: KEXP was the first to offer CD-quality audio streaming on the internet. The new free streaming-video service now puts fans smack in the middle of performances as they happen. "It's just part of the legacy of what KEXP has done," says KEXP video producer Scott Holpainen. "Innovate and provide listeners with experiences that are very rich."
KCTS SELECTS ROB DUNLOP AS PRESIDENT/CEO
The Board of Directors of KCTS Television announced that media veteran Rob Dunlop has accepted the position of President/CEO. Dunlop is a seasoned television executive with more than two decades of experience and has been chosen to lead the PBS member station. Dunlop anticipates a platform for experimentation and redefinition of television today. "With Rob at the helm of KCTS 9, we can now start on the journey to becoming a great media outlet in the digital age," said Board Chair Paula Rosput Reynolds.
ALASKA AIRLINES, SEATTLE INTERNATIONAL FILM FESTIVAL TEAM UP
Alaska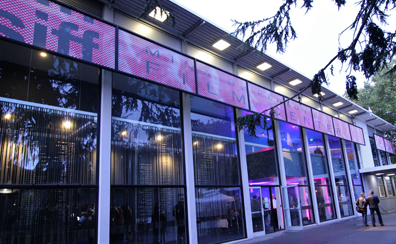 Airlines and the Seattle International Film Festival (SIFF) are sponsoring a short-film competition about travel, which filmmakers can enter as long as they use the Alaska Airlines' logo, airplanes, or ads in the film. The films in the competition can range between 30 seconds to two minutes in length, and there will be three award categories: 'Critics' Choice, Best Emerging Filmmaker, and Best Individual Youth Film. All genres of filmmaking are eligible, including, but not limited to: animation, documentary, drama, and stop-motion.
KICKSTART SEATTLE FILM + MUSIC PROJECTS
This week, a newly added project is "Disordered Loves EP," this is the third album from singer/songwriter Jordan Lake who features a unique blend of electro-pop-rock. Check out "Jinkx Monsoon," a feature length documentary that takes a behind-the-scenes look into the personality and passion of a drag queen. Also be sure to check out the soon-to-be-expired project "Goodness Tour," a full-length release from Clinton Fearson & Boogie Brown.
The Associated Students of the University of Washington Arts & Entertainment and Rainy Dawg Radio present a local music showcase of up and coming Seattle artists tonight. Three of Seattle's dreamiest hazy pop purveyors grace Parnassus café located in the basement of the UW Art building. Benoit Pioulard will bring ambient folk music and Bardo: Basho with slow techno vibes are among the line-up for the evening. The event is free and doors open at 7 p.m.
THE TENTH ANNUAL SEATTLE-KOBE FEMALE JAZZ VOCALIST AUDITION
The Pacific Jazz Institute and the Seattle-Kobe Sister City Association present the Tenth Annual Seattle-Kobe female jazz vocalist audition. One high school-aged vocalist and one adult female jazz vocalist from the greater Seattle area will be selected to be guest singers at the 15th Annual Kobe Jazz Vocal Queen Contest in Seattle's sister city of Kobe, Japan in May 2014. 12 vocal finalists will be singing at the event on Monday, February 24, with doors opening at 5:30 p.m. at Dimitriou's Jazz Alley downtown.
Located near Seattle's historic intersection of 23rd Ave and Union Street, the plucking of a ukulele or beats from a drum kit exuding the sound of music come from a converted house-turned-music-school. Meter Music School provides private music lessons to young and old with the provision of a creative space to a neighborhood in flux. Founder and owner Brendan Bosworth aims to provide a place that people can come excited to challenge and express themselves freely in a comfortable setting.
LOCAL SHORT FILM FEATURES BALLARD VIOLIN MAKER
Local film director Ed Sozinho produced a short film featuring Ballard violin maker David Van Zandt's work. The film features the talent and hard work of Van Zandt, highlighting the eight week process that goes into crafting aged wood into a violin. Each of his instruments is built from start to finish with his own hands using fine raw materials. "Handcraftsmanship has become more scarce and intriguing in today's digital world," said Sozinho with hope the local community enjoys the new short film.
TWO NEW SEATTLE MUSIC TV SHOWS
Everyone knows the Seattle music scene is thriving. What you might not have known - until now - are the two new TV shows that have sprung up featuring local bands. "Hangin Tuff" and "Band In Seattle" are two very different, but equally interesting programs that aim to bring eyeballs and awareness to local Northwest music by shooting TV-style episodes and airing them for audiences.
QUICK LINKS

Make sure your friends and colleagues are signed up for our Newsletter!
Click
here
for the signup page.