Vol. 6, No. 34
January 23, 2013




MUSIC LEGEND QUINCY JONES LENDS HIS VOICE TO SEA-TAC AIRPORT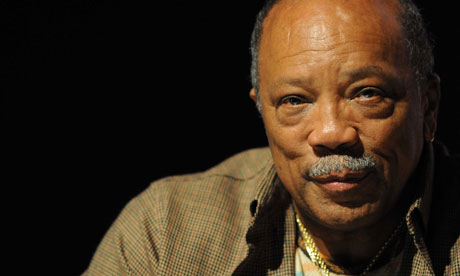 Your next trip to Seattle-Tacoma International Airport just got upgraded with the sweet, warm voice of legendary Seattle musician Quincy Jones. In Quincy's unique soulful style, he will be welcoming travelers to Seattle, telling them about the local music playing overhead, giving security advice, and even talking about the Airport's progressive environmental stewardship programs. Jones is the latest local artist to participate in The Sea-Tac Airport City of Music program, a cooperative effort by the Port of Seattle, Seattle Music Commission, and PlayNetwork. The program enhances the experience of millions of travelers each year by combining overhead music from a diverse variety of Northwest artists, curated videos on terminal and baggage claim monitors, and a multi-channel web radio player available through the free Wi-Fi network. In addition to his announcements, you can also hear music from Quincy Jones on the airport playlist, which has grown to 400 songs from 150 Northwest artists.
MAYOR MCGINN CELEBRATES
CAPITOL HILL'S ART, MUSIC, AND NIGHTLIFE CULTURE
ARTPLACE
A new report released earlier this month by ArtPlace identifies Capitol Hill and the Pike-Pine Corridor as one of America's Top Twelve ArtPlaces, defined as communities that successfully combine the arts, artists, and venues for creativity and expression with independent businesses, restaurants, and a walkable lifestyle to create vibrant neighborhoods. Capitol Hill ranked impressively compared to both local and national neighborhoods, securing the number 12 spot. Press are invited to join the Mayor, Director of the Seattle Office of Arts & Cultural Affairs Randy Engstrom, and ArtPlace Director Carol Coletta to accept a certificate honoring Capitol Hill for being one of the nation's "Top Twelve ArtPlaces" on Friday, January 25 at 11:30 a.m. at Velocity Dance Center.
ART ZONE WITH NANCY GUPPY AIRS FRIDAY, JANUARY 25
ART ZONE
This week on Art Zone, Nancy Guppy features "Welcome to Seattle," an installment from the comedic web series "Local Brew." Plus, Cascadia '10 bring their Afro-funk sound to the Art Zone studio and Nancy presents highlights from the National Festival of Talented Youth (NFFTY), including info on their fast-approaching submissions deadline. Plus, Jet City Improv and Book-It Repertory Theatre have fun with Jane Austen's classics in "Austen Translation." Art Zone airs Friday, January 25 at 8:00 p.m. on Seattle Channel 21 and is also available online indefinitely.
'ONLY IN SEATTLE' DEALS AT GEORGETOWN RECORDS, FANTAGRAPHICS, THE MIX
ONLY IN SEATTLE
Georgetown Records, Fantagraphics Bookstore & Gallery, and The Mix (and 12 other Georgetown businesses) will be offering unique discounts through January 29 as part of
Only in Seattle
, an initiative to support local neighborhoods and their small businesses. Georgetown Records and Fantagraphics are both offering 20 percent off your total purchase, and The Mix is offering half off a beer, well drink, or menu item. To receive your deals, download the free Chinook Book mobile app and present the
Only In Seattle
deal to merchants.
ROBERT HORTON PRESENTS: 'SEATTLE ON SCREEN' ON JANUARY 30
Film + Music + Interactive Happy Hour returns January 30 with special guest Robert Horton, local film critic and curator of MOHAI's new Celluloid Seattle exhibit. Robert will speak about Seattle as an "imagined place," and how the rest of the world has used Seattle as a character in film. The monthly Happy Hour is a meet-up for leaders in film, music, and interactive industries to share, learn, and make meaningful business connections. Please mark your calendars and join others in this great networking event at Spitfire in Belltown.
INDUSTRY NEWS AND UPDATES
SEATTLE RANKED #3 CITY FOR INDEPENDENT FILMMAKERS
SEATTLE FILM + MUSIC BLOG
In order to compile the list of the top 10 cities for moviemakers in 2013, Moviemaker.com determined the current ideal description of a city to film in is, "an affordable, intellectually vibrant community that gives tax incentives for in-city or in-state production, and which offers moviemakers access both to equipment and groundbreaking film screenings." The subsequent statistics they compiled for each city led to the final five criteria to judge cities: film community (scored on a 10-point scale), access to new films (10-point scale), access to equipment (7-point scale), cost of living (reverse 5-point scale), and tax incentives (4-point scale). Seattle ranked number three on the list with a total score of 30.5 (out of a maximum of 36), with only Austin and New York ranking higher. Los Angeles and Portland were numbers four and five on 2013's list.
SEAFAIR NAMED BEST/FAIR FESTIVAL AT GALA AWARDS
SPECIAL EVENTS MAGAZINE
Seattle's Seafair Festival was named Best Fair/Festival last week at the Gala Awards in Chicago. Seafair, Seattle's hometown tradition since 1950, is an eight-week festival that brings the community together with more than 75 events for 2 million people. Signature events include the Torchlight Parade with more than 1,000 participants, Fleet Week, a marathon with 27,000 runners, and the Pirates Landing, where more than 10,000 locals descend on Alki Beach to watch the famed Seafair Pirates land and take over the the city for the summer. The Gala Award is recognized as the most prestigious award for special events.
BELLTOWN COMMUNITY CENTER OFFERS MY FIRST MOVIE
BELLTOWN COMMUNITY CENTER
Belltown Community Center, Seattle Parks and Recreation's newest community center, will offer "My First Movie" on Saturday, January 26. The free showing of Winnie the Pooh will take place in a theater-like setting and is the perfect opportunity to introduce young children to their first movie-going experience (without the expense or behavior expectations of real movie theaters). The movie will be projected on a 70-inch screen with popcorn and concessions will be available.

NORTHWEST ARTISTS TO BE CELEBRATED AT 'BANDS ON THE BIG SCREEN'
NW FOLKLIFE
Northwest Folklife is partnering with Team Up For Nonprofits to present a night of local talent on January 31 at SIFF Cinema at the Uptown. "Bands on the Big Screen" is a benefit screening for Northwest Folklife dedicated to showcasing the talents of five local filmmakers working with local music. Directors Jon Jon Augustavo, Brad Curran, Hayley Young, Stephan Gray, and Tyler Kalberg will present music videos by Macklemore & Ryan Lewis, Pickwick, Allen Stone, Dark Time Sunshine, Kaylee Cole and many more. The 90-minute screening will be followed by an audience Q & A with the directors.
NFFTY DEADLINE FOR SUBMISSIONS IS JANUARY 31
NFFTY
January 31 is the final deadline for National Film Festival for Talented Youth (NFFTY) 2013 submissions, which offers young filmmakers an unforgettable experience. NFFTY is the largest youth film festival in the world. In 2012, 222 films from the best filmmakers age 22 and younger were screened. Filmmakers represented 30 states and 20 countries and the festival drew 10,000 attendees. NFFTY 2013 will take place April 25-28 right here in Seattle.
NEW DATE: 'WUNDERBAR WINTERTIME BASH'

EVENT ON JANUARY 31
SEATTLE COMPOSERS ALLIANCE
The Seattle Composers Alliance (SCA) will be having an informal networking event on Thursday, January 31 at the Blue Star Café & Pub in Wallingford. The "Wunderbar Wintertime Bash" will start at 7:00 p.m. and is great for composers, filmmakers looking to network with composers, and anyone interested in exchanging a business card with SCA members.
ERAS OF BLACK FILM: SHORT FILM CONTEST, DEADLINE IS JANUARY 31
PURPLE REELS PRODUCTIONS
The deadline to enter the Eras of Black Film (EBF): Short Film Contest is January 31. The contest is open to Seattle area youth ages 13 to 18 and the grand prize winner will receive a Canon HD camera. EBF serves as a platform to encourage, motivate, and expose the next generation of youth filmmakers. Submissions must represent an era between 1800 and 2013 and follow one of three prompts, detailed on the website. Films must be 12 minutes or less.
DEADLINE TO APPLY FOR YOUTH ARTS FUNDING IS FEBRUARY 4
SEATTLE OFFICE OF ARTS & CULTURAL AFFAIRS
The Office of Arts & Cultural Affairs is currently accepting project applications for its Youth Arts Program. The program supports arts training opportunities across artistic disciplines (including visual arts, literary arts, theater, music, dance, and film) for Seattle's middle- and high-school youth during non-school hours . The deadline to apply for funding is Monday, February 4 at 11:00 p.m. Elligible applicants include: individual arts teachers, artist teams, arts and cultural organizations, and youth-service agencies with a non-profit status or with fiscal scholarship.
NORTHWEST FOLKLIFE NOW HIRING PROGRAMMING INTERNS
NW FOLKLIFE
Northwest Folklife is looking for two music-loving interns to help with the upcoming 2013 Northwest Folklife Festival. Interns will get behind-the-scenes experience at a major music festival and gain valuable experience for future careers in event planning, festival production, music industry, non-profit management, marketing, fundraising, and other fields. Interns at NW Folklife play a significant role in putting on the largest, free community arts festival in the nation and will learn how to increase visibility and strengthen the sustainability of a non-profit organization. The internship commitment is February 2013 to June 2013, working approximately 20-25 hours per week.
GAME NITE: CELEBRATE THE OPENING OF THE ART OF VIDEO GAMES EXHIBIT
EMP MUSEUM
Celebrate the opening of The Art of Video Games exhibit at EMP Museum with a family-friendly "Game Nite" on Friday, February 15. Enjoy tournament-style gaming on popular consoles on EMP's monumental Sky Church screen, classic tabletop gaming with Blue Highway Games, spotlight talks that offer insight into the lives of industry professionals, and a test arcade where audiences can sample the latest and greatest projects from local up-and-coming game designers.
WOMEN IN FILM HOSTS FILMMAKER FORUM

THIS SATURDAY
WOMEN IN FILM SEATTLE
Women in Film (WIF) Seattle will host a filmmaker forum, "Beyond the Director," during Seattle International Film Festival's (SIFF) Women in Cinema Festival. The forum will be a panel discussion with women working behind the camera. Join professional Seattle cinematographers, production managers, set designers, key grips, script supervisors, and stunt women for a glimpse into their unique roles. As this is a free, ticketed event, be sure to reserve your seat in advance.
RECOVERY SUPPORT GROUP FOR SEATTLE MUSIC COMMUNITY EVERY TUESDAY
MUSICIAN'S ASSOCIATION OF SEATTLE
The Musician's Association of Seattle and MusiCares co-host a weekly support group for members of the Seattle music community who are recovering addicts. The support group is open to Seattle musicians, touring musicians, and others who make their living in music. Those actively recovering and interested in participating are welcome.
THE FILM SCHOOL SEEKING INTERN
THE FILM SCHOOL
The Film School is now seeking an intern who is passionate about writing and film. Eligible applicants include: bloggers with consistent schedules, prolific writers and film aficionados, applicants that can make deadlines consistently, people who are internet-savvy, real "people persons", and humans. Perks of the internship include a full scholarship to The Film School's three-week "Screenwriting Bootcamp" (with the completion of over 200 work hours), and a free enrollment to one of the school's workshops (with the completion of 50-100 work hours). The intern will gain exposure to several facets of the film industry from their festival work and will become familiar with groups like Northwest Film Forum, Women in Film, and more.
10 THINGS FOR YOUR NOTEBOOK TO PREP FOR YOUR COMMERCIAL VIDEO SHOOT
CHASE JARVIS BLOG
In preparation for your commercial video shoot, the team at Seattle's Chase Jarvis studios recommends that you assemble a Production Book. This contains critical information that all professional houses put together and it's something clients and agencies expect from you on any large-scale shoot. It can be distributed to all parties via email prior to the shoot, and a printed copy should accompany you on set. Production Books should include these 10 things (at the very least), including a cover sheet, contact info, a shot list, and location info.
FILM PRODUCTION OF THE WEEK

This column highlights the amazing artistic efforts of our local filmmaking community and the broad positive economic impact it has on our region. This week we profile:




MYMY PRODUCTIONS' 'LUCKY THEM'
IMDB
If you see a grip truck, movie lighting, and cameras near your favorite nightlife location this February, it could be for Megan Griffith's new feature film Lucky Them. Griffiths (Eden, The Off Hours) and coproducer Lacey Leavitt (Touchy Feely, Safety Not Guaranteed) have assembled a local crew for the film, which follows a Seattle music writer on her quest to track down her ex-boyfriend, a Seattle music legend who's been missing for ten years.
"Megan and I are thrilled to be filming Lucky Them in Seattle. We love our city and its music scene, so to be able to feature some of our favorite places and people in the project has been wonderful," Leavitt explained. "We could've made this film in several cities, but it means so much to us - and brings a real authenticity to the film - to make it here."
The production is filming through the end of February and is hiring over 60 local cast and crew. The production team also includes Executive Producers Joanne Woodward and Peer Pederson, and Producers Emily Wachtel, Amy Hobby, and Adam Gibbs.
HELP "KICKSTART" SEATTLE FILM AND MUSIC PROJECTS
Kickstarter is an online "crowd-funding" resource that helps musicians, filmmakers and
producers of artistic projects reach out to friends and fans for financial support. Kickstarter allows artists the opportunity to give back to funders with special rewards, such as an exclusive album pre-release, a producer credit in a film, or even getting to meet the
artist in person. Seattle is a hotbed for film and music projects, and you can be a pivotal part of the production process by backing a project and spreading the word. Current

Seattle-based Kickstarter projects are listed below, in order of imminence, from soonest-ending project to furthest out. Click on the Kickstarter buttons to check out these local projects and discover even more happening around Seattle.
The Hansberry Project premieres Tina Vernon's solo play Wanted, a tale of forgery, fear, and finding one's voice.
ALEX'S HAND TOURISTA! - February 1 (8 days)
Alex's Hand is an experimental rock band from Seattle that needs funding to go on tour from Seattle to California and back!
Following a resounding freshman year, Copious Love Productions brings you season 2!
Intuition will be a contemporary Indian music video presented by DREAMS.
GLASS - February 5 (13 days)
Glass is a documentary studying artist Jason Gamrath as he strives toward a successful career as a glass sculpture artist.
From the rainy streets of Seattle comes the music of dreams and nightmares. Post Rapture Party is ready to enter the studio and record their first EP!
Squatch is a full-length feature film telling the story of four college friends on a camping trip in the Pacific Northwest.
Why Kickstarter and not IndieGoGo?
The overwhelming basis for promoting Kickstarter as a project fundraiser stems from the tool's clear and complete structure. It is a system that ensures artists approach each and every venture with a comprehensive business plan. The debatable result, wherein artists may or may not keep the funds they raise based on whether or not their project is funded fully, interests us because it protects project backers. IndieGoGo, although a great money-generating platform, does not provide the same level of investor protection when projects go by the wayside. At least for the time being, our office has decided to continue supporting Kickstarter.
SHORT FILM FRIDAY: 'YESLER: SHORT FILM BOARDS"
THE STRANGER
This week's Short Film Friday will feature "Yesler: Short Film Boards," a sequence of images for a film project being developed by Zia Mohajerjasbi. An Iranian American and recipient of a Stranger's Genius Award in 2009 for a series of brilliant music videos he made for Blue Scholars, Zia Mohajerjasbi's work always captures the beauty and quality of light of our green and blue city. With "Yesler: Short Film Boards," we enter the vanishing world of the oldest housing project of our city, Yesler Terrace, through the eyes of children.
SCARECROW ON SEATTLE: 'LITTLE BUDDHA' (1993)
In 1992, an unprecedented collection of artists came to Seattle to film what was to become Little Buddha. Producer Jeremy Thomas, Director Bernardo Bertolucci, Composer Ryuichi Sakamoto, and Cinematographer Vittorio Storaro, all four-years removed from sweeping the Oscars with The Last Emperor, decided to set the U.S. portions of the movie here. How they came to choose Seattle, I don't know. Perhaps Little Buddha star Bridget Fonda, fresh-off the success of Singles, suggested it. What is clear is that once they arrived, they fell in love with the city. Not six minutes in, after a brief prologue set in Bhutan, we're driving up I-5 towards the Seattle skyline, then on the Alaskan Way Viaduct sweeping past downtown, then on I-5 again looking out over Lake Union and Queen Anne. You can almost imagine Bertolucci and Storaro coming in from the airport and setting up the shot right then. But there was much more care taken in making this film.
On opening night of SIFF 1994, on stage at the 5th Avenue Theatre for the U.S. premiere, Bertolucci stated that he wanted to make a Buddhist film for children - a tricky conceit considering you're playing with $35 million and you know that most families won't choose it over the latest Disney film at the multiplex. But make it they did, keeping it simple enough for most children to understand while not shying away from discussions of death, depression, and spiritual transformations. In fact, this duality is part of what made, and still makes, the movie a little odd. The premise is that Tibetan Buddhist monks find a possible reincarnation of their great spiritual leader in a 9 year-old Seattle boy. They come to discover the truth and eventually travel with him back to Bhutan, where they are in exile. Throughout, Bertolucci, in glorious, colorful flashbacks, weaves in the tale of Siddhartha while also exploring the very human element of parents having to deal with being told that their son is the reincarnation of a spiritual leader from a culture that goes back thousands of years. As I said, it's a little odd, but one of the dominant themes in the film is compassion. So, if one has compassion for the efforts, it can be a very rewarding experience.
At the time of the SIFF premiere, it was very easy to be in love with this movie. Cast and crew members regularly visited Scarecrow to rent movies. I remember someone signing up Bridget Fonda and openly wondering if she was any relation to Henry or Peter. I remember Vittorio Storaro coming in to rent Robert Flaherty films. And I remember, on Valentine's Day, Bernardo Bertolucci walking in with Bridget Fonda and Jeremy Thomas. He'd been turned away at Tower Records because he didn't have a U.S. driver's license, so he came to Scarecrow. He asked for Alfred Hitchcock's Murder and Busby Berkeley's The Gang's All Here. Both movies, I later discovered, share Bertolucci's penchant for a floating camera, seeking new perspective and uncovering things that we may not have even thought existed. While there's no direct connection between those films and Little Buddha, that thirst for knowledge still resonates in Bertolucci's work today.
-Mark Steiner
OVERLOOKED SLICE OF GRUNGE GETS ITS DUE AT ACT THEATRE
SEATTLE TIMES
These Streets, a rock 'n' roll theater piece about the women of Seattle's grunge period, has been two years in the making from writers Sarah Rudinoff, Gretta Harley, and Elizabeth Kenny, will open at the ACT Theatre on February 22. The show features music from 66 Saints, Hammerbox, 7 Year Bitch, The Gits, Kristen Barry, Bell, and more. All the bands signed over their music rights for free, thankful the show was being done. "It's a story that really wants to be told," Rudinoff said. "The women had such a passion about their experiences that went back 20 years, and no one had asked them about them before."
BACKSTAGE GETS 'TOUCHY FEELY' AT SUNDANCE
BACKSTAGE
The joint was packed during the January 19 Sundance premiere party for director Lynn Shelton's Touchy Feely, where Alycia Delmore, Allison Janney, and Josh Pais joined partygoers (and certain journalists). After the initial red-carpet glitz, a fun and festive atmosphere settled in perfect for a festival that sees women wiping out on icy streets in sky-high heels, one where glamour can sometimes be overrated. Shelton introduced Seattle musical fave Tomo, who managed the neat trick of performing an acoustic set that didn't dampen the party.
SEATTLE-BASED PAUL EENHOORN, AN UNEXPECTED BREAKOUT AT SUNDANCE
INDIEWIRE
Seattle-based Australian actor Paul Eenhoorn has been making a name for himself in the Seattle film industry for over a decade now. One of his best-known performances was his portrayal of Mr. Daniels in the family comedy Max Rules, which was voted the top U.S. film at the 2004 Seattle International Film Festival by audience members. Others may recognize him as the model for the face of Arne Magnusson in the video game Half-Life 2. Now, thanks to Eenhoorn's grounded turn in the indie film This is Martin Bonner, Eenhoorn has become an unexpected breakout at this year's Sundance Film Festival. In this film, Eenhoorn plays the titular character who leaves his old life behind, moves to Reno, and finds work helping released prisoners transition to life post-incarceration.
AMAZON OPTIMIZES MP3 STORE FOR IPHONE AND IPAD
TUAW
Amazon recently announced it has launched an iOS-optimized Web store for MP3s. The store runs via mobile Safari and will make buying music from Amazon while using Apple devices much more streamlined. The iOS-targeted optimization appears to be a strategy to compete with iTunes, and the Web store has many iTunes-like features.
Seattle Office of Film + Music Staff
James Keblas, Director
Karin Zaugg Black, Communications Director
Chris Swenson,
Film + S

pecial Events Program Manager
Rachel Sawyer, Creative Industries Business Development Manager
Sam Mouser, Permit Specialist
Julie Borden, Film + Special Events Administrative Specialist