Vol. 6, No. 33
January 16, 2013




WELCOME SAM AND JULIE TO THE TEAM!
We are happy to announce the two newest additions to the OFM/OED team. Sam Mouser is now the Office's Permit Specialist, handling the intake and expediting process of film and special event permits. Julie will be keeping us sane and organized as our desperately needed Administrative Specialist. These positions represent the final pieces in some significant changes that we believe will make Seattle an even better place for the creative industries to thrive. Come meet them both at Happy Hour on January 30.
ROBERT HORTON PRESENTS: 'SEATTLE ON SCREEN'
Film + Music + Interactive Happy Hour returns January 30 with special guest Robert Horton, local film critic and curator of MOHAI's new Celluloid Seattle exhibit. Robert will speak about Seattle as an "imagined place," and how the rest of the world has used Seattle as a character in film. The monthly Happy Hour is a meet-up for leaders in film, music, and interactive industries to share, learn, and make meaningful business connections. Please mark your calendars and join others in this great networking event at Spitfire in Belltown.
MOVE YOUR BUSINESS TO SEATTLE CENTER'S INTERNATIONAL FOUNTAIN PAVILION
SEATTLE CENTER
Seattle Center has issued a Request for Proposals (RFP) for occupancy of the International Fountain Pavilion. The building was a part of the World's Fair and previously housed the Northwest Crafts Center. Seattle Center is asking for applications by February 25. The pavilion is about 4,500 square-feet and is two-stories tall. A broad range of applicants will be reviewed for the space.
'ONLY IN SEATTLE' DEALS AT GEORGETOWN RECORDS, FANTAGRAPHICS, THE MIX
ONLY IN SEATTLE
Georgetown Records, Fantagraphics Bookstore & Gallery, and The Mix (and 12 other Georgetown businesses) will be offering unique discounts through January 29 as part of
Only in Seattle
, an initiative to support local neighborhoods and their small businesses. Georgetown Records and Fantagraphics are both offering 20 percent-off your total purchase, and The Mix is offering half-off a beer, well drink, or menu item. To receive your deals, download the free Chinook Book mobile app and present the
Only In Seattle
deal to merchants.
'BEST DAMN HAPPY HOUR' AT SEATTLE CENTER ARMORY LAUNCHES IN FEBRUARY
SEATTLE CENTER
Seattle Center will be hosting "Seattle's Best Damn Happy Hour" on every third Thursday of the month in 2013. The first happy hour event will be on February 21 from 5:00 p.m. to 8:00 p.m. at Seattle Center's Armory, featuring D'Nelski (KEXP's DJ Alex). The monthly event will have food from local chefs, drinks (yes, they mean alcohol), games, music, and prizes.
FILM, MUSIC, & CREATIVE BUSINESSES: MAKE YOUR VOICES HEARD
BOTTOM LINE BLOG
The Job Sector Survey (JSS) was established to provide elected public officials and policymakers with an on-the-ground assessment of the challenges and aspirations of all types of local employers. Results are shared with policymakers at the local, state and federal levels to help them understand business needs and how policy decisions impact your business. The sponsors hope to gain insights that will help create prosperity for all businesses and a job-growing economy. Data will also be compared against past survey results. Give the film, music, and creative industries a voice and add your input to the survey!
INDUSTRY NEWS AND UPDATES
ARTISTS TRUST'S 'APPLYING FOR THE 2013 FELLOWSHIP' WORKSHOP TONIGHT
ARTIST TRUST
A free workshop hosted by the Artist Trust will be taking place tonight from 6:00 p.m. to 8:00 p.m. The workshop is being held at the Nordic Heritage Museum and is for all those employed in the arts. This is a useful event for those hoping to work towards grants as it will provide insider's knowledge on the process, résumé pointers, tips for preparing artist proposals, and more. The Artist Trust's Fellowship application will be used as an example and a guide, so plan accordingly.
SEASON 3 OF 'REEL NW' PREMIERS FRIDAY WITH 'WELCOME TO DOE BAY'
KCTS
This winter, indie-buffs won't have to brave the cold to experience the best features, documentaries, and shorts in the Northwest, as season three of KCTS 9's critically acclaimed "Reel NW" series launches Friday, January 18. "Reel NW" champions the work of a talented local independent filmmaking community by bringing the work of the best and the brightest filmmakers to public television audiences in the Northwest and beyond. The popular series will kick off Friday night with Welcome to Doe Bay, an inspiring film featuring some of the Northwest's most popular bands competing in a compelling documentary about new ways to establish relationships between musicians and music lovers.
NORTHWEST FILM FORUM'S MONTHLY DISCUSSION FEATURES 3 LOCAL CRITICS
ARTIST TRUST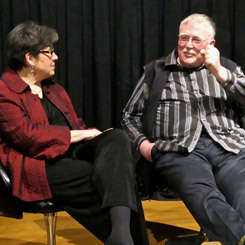 The Northwest Film Forum is hosting their monthly discussion of film with three longtime Seattle movie critics on Friday, January 18. Film Comment Editor Richard Jameson, Everett Herald/KUOW Critic Robert Horton, and MSN.com Critic Kathleen Murphy will be joined by their special guest, Arthouse Director Pierre Étaix, in a public discussion at the Forum. They will be taking a look at the strange case of the silent film Sparrows, whose director made his one masterpiece followed by decades of hack work. Hong Sang-soo of South Korea will also be joining the critics to talk about his new film that premiers next month.
SEATTLE FILM INSTITUTE OPENS ITS DOORS FOR DEGREE INFORMATIONAL SESSION
SEATTLE FILM INSTITUTE
Join the Seattle Film Institute (SFI) for an informational session on Saturday, January 19 about their professional certificate programs, undergraduate degree programs, and graduate degree programs. The SFI offers degrees in all aspects of filmmaking through hands-on education and practical experiences that provide the groundwork for professional careers. Students receive a real-world education from a faculty anchored by film industry professionals. Every SFI student can participate in the nationally-recognized SFI internship program. The next two program start dates are March 4 and September 16.
KING COUNTY EXECUTIVE'S AWARDS FOR EXCELLENCE IN HIP HOP THIS MONTH
JAZZ ALLEY
The King County Executive's Hip Hop Awards and ceremony acknowledges and honors innovative performance, community service and entrepreneurial achievement by locally based members of the hip-hop community. King County Executive Dow Constantine will present the awards along with a keynote address. Musical guests include a line-up of King County's previous winners and Northwest artists that have impacted the community through hip hop. This year's event, as part of the MUSICA Festival, will also include awards for the Dr. Martin Luther King Digital Equity Challenge.
CONGRATS TO 2013'S SEATTLE INDEPENDENT GAME COMPETITION FINALISTS
POWER OF PLAY
The Washington Interactive Network (WIN) has announced the finalists of the 2013 Seattle Independent Game Competition. The top five submissions that will be showcased at the 6th Annual Power of Play on January 31 include: Archive Entertainment (8BitMMO), Cascade Foundry (Infinite Scuba), Zach Aikman (Voronoid), Rumor Games (Voyager), and Studio IP (Woolyman). These finalists will present and demo their games to industry luminaries, as well as all Power of Play attendees.
CHILDREN'S FILM FESTIVAL SEATTLE 2013
NORTHWEST FILM FORUM
Northwest Film Forum rolls out the red carpet for the eighth edition of Children's Film Festival Seattle, the largest and most respected film festival on the West Coast dedicated to children and their families, curated especially for ages 3 to 12. The 11-day extravaganza runs from January 24 to February 3, and celebrates international cinema for children, and will include more than 120 films from 38 countries, including live performances, animation, features, shorts, and hands-on workshops, all crafted with care to appeal to the next generation of movie lovers.
TOP 10 NW MUSIC FOR WEEK OF 1/7 - 1/13
Compiled from figures at Sonic Boom (Ballard) and Easy Street (West Seattle and Queen Anne).
1. Macklemore & Ryan Lewis - The Heist
2. Soundgarden - King Animal
3. Brandi Carlile - Bear Creek
4. Sera Cahoone - Deer Creek Canyon
5. Caspar Babypants - I Found You!
6. Helio Sequence - Negotiations
7. The Head and the Heart - The Head and the Heart
8. Allen Stone - Allen Stone
9. Pickwick - Myths
10. Ben Gibbard - Former Lives
HELP "KICKSTART" SEATTLE FILM AND MUSIC PROJECTS
Kickstarter is an online "crowd-funding" resource that helps musicians, filmmakers and
producers of artistic projects reach out to friends and fans for financial support. Kickstarter allows artists the opportunity to give back to funders with special rewards, such as an exclusive album pre-release, a producer credit in a film, or even getting to meet the
artist in person. Seattle is a hotbed for film and music projects, and you can be a pivotal part of the production process by backing a project and spreading the word. Current

Seattle-based Kickstarter projects are listed below, in order of imminence, from soonest-ending project to furthest out. Click on the Kickstarter buttons to check out these local projects and discover even more happening around Seattle.
BUDAHJADE TOUR - January 18 (2 days)
Call Me Ladro is planning a two-week tour along the west coast to promote his new EP BudahJade.
The Hansberry Project premieres Tina Vernon's solo play Wanted, a tale of forgery, fear, and finding one's voice.
ALEX'S HAND TOURISTA! - February 1 (15 days)
Alex's Hand is an experimental rock band from Seattle that needs funding to go on tour from Seattle to California and back!
Following a resounding freshman year, Copious Love Productions brings you season 2!
Intuition will be a contemporary Indian music video presented by DREAMS.
GLASS - February 5 (20 days)
Glass is a documentary studying artist Jason Gamrath as he strives towards a successful career as a glass sculpture artist.
From the rainy streets of Seattle comes the music of dreams and nightmares. Post Rapture Party is ready to enter the studio and record their first EP!
Squatch is a full-length feature film telling the story of four college friends on a camping trip in the Pacific Northwest.
Why Kickstarter and not IndieGoGo?
The overwhelming basis for promoting Kickstarter as a project fundraiser stems from the tool's clear and complete structure. It is a system that ensures artists approach each and every venture with a comprehensive business plan. The debatable result, wherein artists may or may not keep the funds they raise based on whether or not their project is funded fully, interests us because it protects project backers. IndieGoGo, although a great money-generating platform, does not provide the same level of investor protection when projects go by the wayside. At least for the time being, our office has decided to continue supporting Kickstarter.
SHORT FILM FRIDAY: 'VOICES OF STRENGTH'
THE STRANGER
This week's Short Film Friday will feature "Voices of Strength," a short directed and edited by Roger Habon and produced by Andrew Matson. "Voices of Strength" is five female African artists who express the modern African experience through dance and theater. Habon is a local filmmaker and one of the most brilliant hip-hop producers of our day (listen to the beats he made for THEESatisfaction's masterpiece "Cabin Fever"). And Matson is a leading music and culture critic. The film is as beautiful and sensual as Habon's beats.
SCARECROW ON SEATTLE: 'THE LAST RIDE' (1991)
On his journey to establishing himself as Seattle's premiere avant-garde filmmaker, Karl Krogstad made some interesting stops along the way. These detours include a weird psychedelic porno called
The Last Bath that Krogstad directed under a pseudonym, and this low-budget action film, shot in the Fall City area. The Last Ride was made for the AIP home video label. Not to be confused with American International Pictures, AIP was one of many straight-to-video companies that thrived during the glory days of the mom-and-pop video store when countless films were produced to fill the shelves of the burgeoning marketplace. Typically, the actual cinematic content of the tape was of less importance than eye-catching artwork, a dynamic catch phrase, and an intriguing premise. Stop by Scarecrow sometime and check out the box for The Last Ride and you'll see what I mean. AIP picked up many low-budget films for distribution that were responsible for bringing the locally made New Wave curiosity piece Shredder Orpheus to unsuspecting video stores everywhere. The majority of AIP's "in-house" output involved the Prior brothers. David A. Prior was one of the founders of the company and directed most of their best-known films. Ted Prior acted in many of his brother's films (Deadly Prey is their best known collaboration) but he also wrote screenplays as well. For The Last Ride, AIP hired local boy Krogstad as the film's director and the crew headed out to the Cascade foothills. Ted's script seems to be inspired by The Hitcher, a movie that starred Rutger Hauer (Past Midnight) wherein a psychopathic hitchhiker torments a dude on the highway. The Last Ride turns things around as Michael Smith (Dan Ranger), a man released from prison after being falsely accused of a crime, is hassled by a crazy vengeful trucker named Phillip (Michael Hilow). Phillip relentlessly pursues Michael and is willing to harm any cops, waitresses, or innocent bystanders that get in the way of his target. Ranger is a dull leading man, but Hilow is suitably weird and over-the-top in his villain role. Hilow is an accomplished stuntman and, according to the IMDB, used to own Jimi Hendrix's childhood home.
The locations selected by Krogstad aren't particularly noteworthy, but obviously take place on the back roads around Fall City and made me long for an aimless afternoon drive. The filmmakers borrowed some actual local police cruisers and changed the lettering on the cars to read "Eing County Police." Several scenes occur at a diner called "The Other Place," that I don't think is in business anymore and the beginning of the film takes place inside a prison that may be the Monroe Correctional Complex but, thankfully, I've never been in there so I'm not sure. While
The Last Ride
isn't particularly original, it is a decent time passer for those of us that have a soft spot for straight-to-home video lowbrow action fodder.
-Spenser Hoyt
IT'S OFFICIAL: VINYL SETS ANOTHER SALES RECORD IN 2012
FILM ABOUT EASY STREET RECORDS' CLOSURE CAPTURES ITS SIGNIFICANCE
Seattle filmmaker Collin Monda has assembled a short but evocative film about the closure of the Easy Street Records Queen Anne location. The store officially closes January 18 with a live appearance from Yo La Tengo and will be followed by an auction of store memorabilia the next day. Monda's film shows why the store came to be a cultural touchstone for the community, with its vibrant and celebratory exterior, in-store performances, and displays. Easy Street is known for selling a wide variety of new and used music and for hosting free shows for Northwest artists. It was the recipient of King County's Small Business of the Year in 2012 and this December, Mayor Mike McGinn named Easy Street among the businesses included in the City's In Good Company program, which honors transformative businesses in Seattle.
'IN COUNTRY' AND 'TOUCHY FEELY' NAMED AMONG TOP FILMS TO WATCH
In Country, directed by Seattle's Mike Attie and Megan O'Hara, and
Touchy Feely,
from Seattle director Lynn Shelton,
have both made
Indiewire
's list of "The Top 50 Indie Films We Want to See in 2013."
In Country
is one of only three documentaries named in
Indiewire
's list, and the recognition follows on the trails of the film's win at the Camden International Film Festival Pitch Contest, as well as a successful Kickstarter campaign. Lynn Shelton's
Touchy Feely
, debuting at Sundance this week, was filmed in Seattle and stars Rosemarie Dewitt, Ellen Page, Ron Livingston, Allison Janney, and Scoot McNairy.
TOP 5 EMERGING MUSIC TECH TRENDS FOR 2013
After a busy 2012, music tech companies across the board are set for a big 2013. Streaming music companies will engage in further struggle while tech-usage trends affect how music is consumed. As streaming music services continue their war of attrition, as the ongoing merger of computer and TV features music as a prominent element, and as users shift to mobile services, here are five emerging tech-trend predictions for 2013. Included among the predictions are: concert crowdfunding taking off, higher quality digital music players, and 3-D printing merchandise.
MARY LAMBERT: 'SAME LOVE' SINGER STRIKES OUT ON HER OWN
You can't imagine the song without her. Strange to think, then, that Mary Lambert was almost the last resort when Seattle rapper Macklemore was searching for a voice to accompany him on "Same Love," the song that would become the overnight anthem for the same-sex marriage campaign in Washington State, and beyond. Lambert, 23, a spoken-word poet and bartender at Belltown's Clever Bottle, is only now processing the wild ride of the last six months, during which she was invited to write and record the bridge on "Same Love," watched it explode, toured with Macklemore, and appeared on national television, then returned home to find not only same-sex marriage approved, but her life completely changed.
VALVE'S GABE NEWELL TALKS STEAM BOX, BIOMETRICS, FUTURE OF GAMING
The Verge recently sat down for a rare interview with Seattle's Valve CEO Gabe Newell, who opened up with details about the company's upcoming "Steam Box" gaming hardware, the future of the Steam digital distribution platform, and even gaming itself. For starters, Valve isn't just attacking the living room; the Steam Box will be designed to work across multiple screens in the home using networking standards, ideally allowing users to effortlessly transition between rooms and monitors to enjoy gaming and other content. But Valve's goal isn't just to put a box in everyone's living room, it's to help build an ecosystem of content developers - including gamers themselves.
REVERB IS LOOKING FOR LOCAL FEBRUARY RELEASES FOR REVIEW
Seattle Weekly's "Reverb" is rounding up all February releases from local bands/record labels to review next month. They want submissions should include the artist's name, the record's name, and the official release date. Records streaming on Bandcamp or Soundcloud work perfectly well.
THINKING ABOUT WORKING IN REALITY TV? KNOW YOUR PROS AND CONS
There are pros and cons to every job, and the cons just might be a little bigger for film crew workers in reality television. As ratings go up, safety might be going down according to the Los Angeles Times. Dangerous reality shows in the style of "Ice Road Truckers" and "Deadliest Catch" pose hazards for crew members as shows do their best to keep production budgets low. On the other side of things, employees like camera operators can make good money in reality TV.
SEATTLE IS WELL-REPRESENTED AT THIS YEAR'S SUNDANCE FILM FESTIVAL
Seattle will again be well-represented at Sundance 2013. A
ttendees will see the work of Seattle film Director Lynn Shelton for the fourth time. Her film
Touchy Feely
, which will be shown at the Festival, was shot in Seattle with a local crew.
Also to be featured at this year's Sundance Film Festival is Seattle-based actor Paul Eenhoorn; the title character of Chad Hartigan's feature
This is Martin Bonner
, a story of a man who is down on his luck takes a job helping former prison inmates.
GRUNGE HORROR FILMMAKER'S DOCUMENTARY TO SHOW AT THIN LINE FESTIVAL
A new documentary called HEART ATTACK! The Early Pulse-pounding Cinema of Kelly Hughes has been selected to appear at Thin Line Film Festival on Valentine's Day. In the early 1990s Kelly Hughes created a huge body of work for Seattle's public access TV. His weekly series "Heart Attack Theatre" sat somewhere between the "Twilight Zone" and John Waters films; a shock-a-thon of DIY horror mostly filmed in the University District. Kelly's documentary will show at the Thin Line Film Festival next month.
MBA CONSULTING TEAMS AT SEATTLE U GIVE INSIGHTS TO VARIETY OF BUSINESSES
Seattle University's Albers School of Business & Economics is soliciting project proposals from private, public, social entrepreneurial, and nonprofit organizations for its February 1 deadline. These 10-week projects are part of the International Business, Sustainability and New Ventures Consulting courses, where student teams partner with client organizations to apply best-in-class business practices to address their existing business objectives. The teams employ a systems-thinking to formulate research-based recommendations. Client organizations receive a written final deliverable and presentation of findings from their team.
Seattle Office of Film + Music Staff
James Keblas, Director
Karin Zaugg Black, Communications Director
Chris Swenson,
Film + S

pecial Events Program Manager
Rachel Sawyer, Creative Industries Business Development Manager
Sam Mouser, Permit Specialist
Julie Borden, Film + Special Events Administrative Specialist