Vol. 6, No. 32
January 9, 2013




ROBERT HORTON PRESENTS: 'SEATTLE ON SCREEN'
Film + Music + Interactive Happy Hour returns January 30 with special guest Robert Horton, local film critic and curator of MOHAI's new Celluloid Seattle exhibit. Robert will speak about Seattle as an "imagined place," and how the rest of the world has used Seattle as a character in film. The monthly Happy Hour is a meet-up for leaders in film, music, and interactive industries to share, learn, and make meaningful business connections. Please mark your calendars and join others in this great networking event at Spitfire in Belltown.
'CITY BUSINESS CASUAL' FEATURES DAVID SCHULMAN OF SEATTLE FILM INSTITUTE
OFFICE OF ECONOMIC DEVELOPMENT
David Schulman, president of Seattle Film Institute, will be a headliner at the City Business Casual networking event this Thursday, January 10. Taking place at the Renaissance Hotel's Lobby Court, the event is open to the public and advocates for introductions and idea-sharing between business-savvy city staff and business owners. The theme is higher education and will also include headliners from CityU, Northeastern University, Seattle University, University of Washington, and Washington State University.
ART ZONE WITH NANCY GUPPY AIRS FRIDAY, JANUARY 11
ART ZONE
This week on Art Zone, local film critic Robert Horton curates the new "Celluloid Seattle" exhibit at MOHAI. Nancy shares an animated short from Tess Martin, artistic director Olivier Wevers talked about "Crave More," and local band Jack Rabbit (featuring World Famous kingpin Tony Fulgham) plays in the studio. Xolie Morra of Seattle band Xolie Morra and The Strange Kid is also profiled.
INDUSTRY NEWS AND UPDATES
SEATTLE INTERNATIONAL FILM FESTIVAL HIRES MARY BACARELLA AS MANAGING DIRECTOR
SIFF
Former Space Needle Vice President Mary Bacarella is now on board with The Seattle International Film Festival, and she will lead SIFF in tandem with Artistic Director Carl Spence, effective in February. She oversaw all aspects of the Space Needle's 50th Anniversary and spearheaded the plan for Chihuly Garden and Glass exhibition.
SEATTLE THEATRE GROUP LAUNCHES STGTV CHANNEL
STG PRESENTS
On December 31, the Seattle Theatre Group (STG) launched a new Web initiative, STGtv, an online channel for all things behind-the-scenes. The channel will feature interviews with artists, show rehearsal clips, video highlights from treasured community programs, and more. Regularly updated episodes will be available online. STGtv is produced by STG in collaboration with a number of local videographers. One of the first episodes from STGtv is "Love Wins, A Wedding Reception for All."
LEARN FROM THE BEST KICKSTARTERS OF 2012
KICKSTARTER
From groundbreaking projects to inspiring stories, 2012 was a year of many memorable moments on Kickstarter. The celebrate the year that was, the Kickstarter team has assembled this look back at some of their favorite projects and moments from 2012. Also included in the slide show are stats - did you know over two million people pledged to a project on Kickstarter for a total of over $300 million toward these projects?
FILMMAKERS: JOIN NORTHWEST FILM FORUM AND SIFF FOR CRASH CINEMA
NORTHWEST FILM FORUM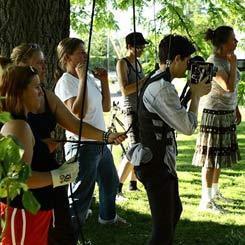 Northwest Film Forum and SIFF have teamed up for Crash Cinema, a fun movie-making challenge, which takes participants from concept to screening in one day. The script is developed on the spot by your Crash team (usually 3-6 people) and you design your story based on your team's resources. Come with your own team or find a team at SIFF. Filmmakers meet at 9:00 a.m. and have a public screening at 5:30 p.m.
SEATTLE COMPOSERS ALLIANCE PRESENTS 'SCA WUNDERBAR WINTERTIME BASH!'
SEATTLE COMPOSERS
The Seattle Composers Alliance (SCA) is holding an event in Wallingford on June 13, open to the public. The "SCA Wunderbar Wintertime Bash!" invites composers and filmmakers interested in meeting composers to the Blue Star Cafe & Pub in Wallingford for an informal and free evening of fun. Those in attendance are welcome to bring business cards, CDs, mp3 players, jumpdrives, and any other items to socialize and get to know composers.
THE RACER SESSIONS CELEBRATES THREE YEARS WITH A FESTIVAL AT CAFÉ RACER
TABLE AND CHAIRS
Table & Chairs is celebrating The Racer Sessions' third birthday with a festival at Café Racer running from Friday, January 18 through Sunday, January 20. "Cry & Roar: A Festival Celebrating Three Years of The Racer Sessions" will feature performances from multiple Table & Chairs artists and other Seattle-area artists. Every Sunday Café Racer hosts the The Racer Sessions, which are aimed to give musicians of all ages and backgrounds the opportunity to interact with one another and inspire each other by collectively organizing weekly sessions for new, experimental music.
MUSIC AID NORTHWEST'S 'PLAY IT FORWARD 3' BENEFIT CONCERT COMING UP
MUSIC AID NORTHWEST
Music Aid Northwest is having their third Play it Forward event on January 20 at the Neptune Theatre. Play it Forward is a show supporting music education in Washington State. The show will feature some well-known musicians (Blues Traveler's John Popper, and Yes' Alan White among others) along with some up-and-comers like Blake Noble and Cody Beebe and the Crooks.
BAND REGISTRATION IS OPEN FOR SEATTLE ROCK 'N' ROLL MARATHON
SONICBIRDS
Submissions for the Rock 'N' Roll Seattle Marathon on June 22 are being taken for musical acts of all genres. Bands will be showcased to approximately 28,000 runners and thousands of spectators and will have a chance to gain national exposure. There will be approximately 30 stages located throughout the marathon and half marathon courses.
CALL FOR ENTRIES: HARD ROCK RISINGS 2013 BATTLE OF THE BANDS
HARD ROCK SEATTLE
Hard Rock has partnered with ReverbNation for this year's 'Hard Rock Rising' Battle of the Bands. Hard Rock Rising supports the musical careers of aspiring artists around the globe by giving one local band the opportunity of a lifetime - to participate in a World Tour at Hard Rock Cafe locations, film a music video, record an album with Hard Rock Records, and receive $10,000 in new gear. One winner will be selected from Seattle by a panel of local industry judges.
NFFTY ALUM MAKING WAVES WITH FILM 'BROKEN ROADS'
NFFTY
Justin Dane Chambers, an alum of the National Film Festival for Talented Youth (NFFTY) is having great success with his film Broken Roads. After being a big indie success, the film is slated to be sold in DVD format at major retailers this February and was also selected to join the 'Core Collection' of the Academy of Motion Picture Arts & Sciences. NFFTY's Future of Film Expo takes place here in Seattle on April 26-27 this year.
5 NEW YEAR'S RESOLUTIONS FOR FILMMAKERS
HAND CRANK FILMS
Chris Donaldson from Hand Crank Films has some resolutions that you should make your own. Listen to a better soundtrack: be conscious of the media that you consume and how it can inspire you (or not). Find a better cast: surround yourself with people that can help you dream big. And, importantly, ignore the critics when you can!
REEL GRRLS NOW HIRING LEAD PRODUCER AND TECHNICAL DIRECTOR
REEL GRRLS
Reel Grrls is now seeking a Lead Director and a Technical Director. The lead producer will provide leadership and management of Reel Grrls' creative agency, create strong and lasting client relationships, and build and oversee production teams while creating and maintaining a positive and professional learning and working environment. The Technical Director provides technical support to programs, productions, and events, and also maintains video equipment inventory and occasional video editing. Both positions will begin interviews in early February and are open until filled.
RECORDING ACADEMY NW CHAPTER NOW HIRING PRODUCTION MANAGER
GRAMMY.ORG
Do you have knowledge of the music industry and experience producing events? The Pacific Northwest Chapter of the Recording Academy is looking for a Production Manager. Under the direction of the Executive Director, the Production Manager will produce high quality professional education, advocacy, and networking events from concept to completion, with the goal of retaining and increasing voting as well as associate and student membership in the Pacific Northwest Region.
SEATTLE INTERNATIONAL FILM FESTIVAL NOW ACCEPTING INTERN APPLICATIONS
SIFF
Looking for an internship experience in the world of film? SIFF is looking for interns, so those interested can now submit applications. Their open positions include internships in development, marketing, community outreach, publicity, graphic design, and individual giving. Get plugged into the Seattle film community!
MEGAN GRIFFITHS: THOUGHTS ON FILM
After making a number of prominent films over the past decade, Seattle director Megan Griffiths has valuable insights to provide. Megan offers her advice on various stages of the process, including the tips to be realistic about your prospects, realize that money is not the only resource, get the script right, find your collaborators, fake it 'til you make it, create your environment, care more than anyone else, and say thank you.
TOP 10 NW MUSIC FOR WEEK OF 1/7 - 1/13
Compiled from figures at Sonic Boom (Ballard) and Easy Street (West Seattle and Queen Anne).
1. Macklemore & Ryan Lewis - "The Heist"
2. Live at KEXP - "Live at KEXP Volume 8"
3. Soundgarden - "King Animal"
4. Allen Stone - "Allen Stone"
5. Sera Cahoone - "Deer Creek Canyon"
6. Ben Gibbard - "Former Lives"
7. Maldives - "Muscle for Wing"
8. Pickwick - "Myths"
9. Helio Sequence - "Negotiations"
10. Brandi Carlile - "Bear Creek"
HELP "KICKSTART" SEATTLE FILM AND MUSIC PROJECTS
Kickstarter is an online "crowd-funding" resource that helps musicians, filmmakers and
producers of artistic projects reach out to friends and fans for financial support. Kickstarter allows artists the opportunity to give back to funders with special rewards, such as an exclusive album pre-release, a producer credit in a film, or even getting to meet the
artist in person. Seattle is a hotbed for film and music projects, and you can be a pivotal part of the production process by backing a project and spreading the word. Current

Seattle-based Kickstarter projects are listed below, in order of imminence, from soonest-ending project to furthest out. Click on the Kickstarter buttons to check out these local projects and discover even more happening around Seattle.
A feature-length, science-fiction, action-adventure movie with 774 visual effects made by over 250 volunteers.
This is a project for the new edition of the RPG "The World of Synnibarr."
Seattle-based band The West is making a music video for their song "It Was Disco and Now It's Over."
The Hansberry Project premieres Tina Vernon's solo play with music WANTED, a tale of forgery, fear, and finding one's voice.
Following a resounding freshman year, Copious Love Productions brings you season 2!
Intuition will be a contemporary Indian music video presented by DREAMS.
From the rainy streets of Seattle comes the music of dreams and nightmares. Post Rapture Party is ready to enter the studio and record their first EP!
"SQUATCH" is a full-length feature film telling the story of four college friends on a camping trip in the Pacific Northwest.
Why Kickstarter and not IndieGoGo?
The overwhelming basis for promoting Kickstarter as a project fundraiser stems from the tool's clear and complete structure. It is a system that ensures artists approach each and every venture with a comprehensive business plan. The debatable result, wherein artists may or may not keep the funds they raise based on whether or not their project is funded fully, interests us because it protects project backers. IndieGoGo, although a great money-generating platform, does not provide the same level of investor protection when projects go by the wayside. At least for the time being, our office has decided to continue supporting Kickstarter.
SCARECROW ON SEATTLE: 'GRASSROOTS' (2012)
I admit, I was Seattle Monorail Project Super Fan-I still have the "Free Ride Ticket" (first day: December 15, 2007!) magnet on my fridge. I was ready to get riled up all over again when I watched Grassroots, the real-life story of monorail champion Grant Cogswell's 2001 run for Seattle City Council, based on the book Zioncheck for President by Cogswell's campaign manager Phil Campbell. Jason Biggs plays Phil, a recently fired journalist and good friend to Grant Cogswell (Joel David Moore), a semi-employed writer with an extreme way of expressing his civic views (like wearing a polar bear suit and getting the city's seal tattooed on his arm). His current cause is the monorail, which he sees as an environmental and social justice project that would transform the city into an urban utopia. While perhaps suffering delusions of grandeur, Cogswell decides to run for City Council against incumbent Richard McIver (Cedric the Entertainer) with Phil providing much needed stability and leadership. As the campaign unfolds, Cogswell draws in voters with an energy and attitude more akin to renegade protesters than those seeking formal political office. He's also prone to random (and often profanity-laced) proselytizing, at one point telling Phil to "hold back my hair while I spew truth!" His fervor inspires many but does repel a few, including Phil's girlfriend Emily (Lauren Ambrose), and the couple has several increasingly serious "You're picking this lunatic over me?" conversations.
Like Battle in Seattle, the film brings a local political event to a larger audience. But unlike Battle, director Steven Gyllenhaal (Jake and Maggie's dad) stayed out of Vancouver and shot it all here. The current Seattle Center-to-Westlake monorail is practically a co-star, with multiple shots of it gliding nobly above Fifth Avenue. Phil and an ever-increasing amount of volunteers reside in a rambling house somewhere near Fairview in the Denny Triangle. The Comet Tavern transforms into a coffeehouse/campaign headquarters, while Re-bar hosts their election soirees thanks to a supportive proprietor (Tom Arnold). We get a glimpse inside both The Stranger and Seattle Weekly offices and several local eateries like the 5 Spot on Queen Anne. Among the local talent are Sean Nelson, the Mt. St. Helens Vietnam Band, and KOMO's Steve Pool, who delivers the heartbreaking news that Cogswell has lost the race.
Grassroots doesn't scoff at Cogswell for his idealism, nor does it outright endorse his platform the way Battle championed the WTO protesters. It's a smaller human story that speaks to larger truths about personal passions and public politics. I found it oddly inspiring, but my mass transit bitterness did finally spike at the end. After pictures and updates on the real people in the film (Cogswell went on to write Cthulhu and now owns a bookstore in Mexico City), a title card lets non-Emerald City residents know that our monorail is "still a dream." The credits roll with shots of other monorails transporting commuters in cities around the world. I think about those credits every time I'm waiting to turn on to Mercer from Elliott Avenue.
-Jen Koogler
THIS CITY ROCKS: THE SOUNDTRACK OF SEATTLE FROM THE AIRPORT TO EMP
THE JEWISH WEEK
Late-millennial rock is the soundtrack of Seattle from the moment you get off the plane at Sea-Tac International Airport. That's where a new, multimedia exhibition, "Experience the City of Music," immerses visitors in the sound of local artists: Eddie Vedder, The Wilson Sisters, Quincy Jones, and yes, Jimi Hendrix. As you stroll past the gates, screens and displays show the musicians in action. That's just a prelude, so to speak, to Seattle's temple of rock-and-roll worship: the Experience Music Project, conceived by Microsoft co-founder Paul Allen.
HOLLYWOOD TAX INCENTIVES RENEWED UNDER FISCAL CLIFF DEAL
HOLLYWOOD REPORTER
The bill drafted by the Senate and passed by the House late last Tuesday, January 1, extends another year of film production tax credits, first allowed by the Bush administration in 2004. Hollywood - particularly TV production - emerged from the congressional tax debate as a quiet, but substantial winner. The idea was first advanced as a way to decrease the amount of lower budget productions moving to foreign sites, many of which offer various generous allowances. As extended through 2013, the credit allows deduction of production costs up to $15 million and as much as $20 million for shoots that occur in sites that meet the bill's criteria for an economically disadvantaged area.
5 SEATTLE BANDS YOU NEED TO KNOW IN 2013
It's a new year, which means there's likely going to be a whole new crop of local musicians making some noise that your ears will end up falling in love with during the coming 12 months. While it's difficult to predict the future and say band X is going to come out of nowhere to dominate the local music scene in 2013, there are quite a few up-and-coming locals worth your attention. Travis Hay of Guerilla Candy recommends Nude Pop (last year's Sound Off! winners), The Grizzled Mighty, and three others.
SEATTLE MOVIEMAKING, MOVIEWATCHING, PAST AND PRESENT
Now open at Seattle's Museum of History and Industry (MOHAI) is Celluloid Seattle: A City at the Movies, an information-packed exhibit curated by local film critic Robert Horton. It explores the way that Seattleites have watched movies and Seattle has figured on the silver screen since the 1890s. The exhibit, which runs through September 8, is arranged in alcoves that highlight the specific phases in local film history: the silent era, the advent of drive-in movies, the indie-film movement, Seattle-inspired TV series, and more. Celluloid Seattle features vintage posters and artifacts from old movie palaces, but also gives a nod to the current filmmaking scene in Seattle.
NORDIC FILM FESTIVAL TO DEBUT IN SEATTLE NEXT MONTH
Next month, the Nordic Lights Film Festival will open in Seattle, showcasing more than a dozen films from Nordic countries. The festival, organized by the Nordic Heritage Museum, will include feature-length films, documentaries, and short films from Denmark, Finland, Iceland, Norway and Sweden. The festival will begin January 18 at the Seattle Center.
AMAZON STUDIOS TO PRODUCE SIX COMEDY PILOTS
PSBJ
Amazon Studios said it plans to produce pilots for six original comedy series. Once completed, they will be posted on Amazon's Instant Video. Viewer feedback will help determine which of the six series Amazon Studios should produce. The comedy pilots include Alpha House, written by "Doonesbury" cartoonist Gary Trudeau; Browsers, a musical comedy set in Manhattan; Dark Minions, an animated workplace series about two slackers; The Onion Presents: The News, behind the scenes at The Onion News Network; Supanatural, an animated comedy series about two outspoken divas; and Those Who Can't, a comedy about juvenile, misfit teachers.
SEATTLE FILMS HIGHLIGHTED IN YEAR-END LIST
Two local films are highlighted in this end-of-year article from critic Moira Macdonald of The Seattle Times. Best breakthrough performance goes to Jamie Chung in Eden by Seattle filmmaker Megan Griffiths. Emily Blunt and Mark Duplas get a nod for their chemistry in Lynn Shelton's Your Sister's Sister, which debuted at the Seattle International Film Festival last Spring.
TWO WASHINGTON WEB SERIES ARE IN THE YEAR'S TOP 10
A pair of web series based in Washington, one in Seattle, collected some praise in SciFi Pulse's end of year list. Transolar Galactica, a sci-fi parody that operates at a budget less than $100, made some noise this year. Its first season brought success to the Spokane-based cast and crew and they aim to bring an even better second season. Also reaching number three on the top ten list is Journeyquest, a comedy set in a Dungeons & Dragons-type world that comes from Dead Gentlemen Productions, based in Seattle.
LOCAL MUSICIANS RAISE 12TH MAN FLAG AT THE SPACE NEEDLE
The phones are ringing nonstop at Seattle Seahawks headquarters in Renton and the emails are flooding in. "There's a lot of excitement and pride," says Seahawks Mike Flood, vice president of community relations. "There's something special going on with the fans, more than ever before." Now, looking forward to this Sunday's divisional round, excitement is at a fever pitch. Parties are being planned for "the battle of the birds" in neighborhoods around the state, some workplaces and schools are allowing blue and green, Seahawks merchandise is everywhere, and Seattle musicians along with Mayor Mike McGinn raised the twelfth man flag atop the Space Needle.
BELLEVUE'S GARY FLAKE FOUNDS STARTUP: CLIPBOARD
Clipboard, a start-up founded by Bellevue's Gary Flake, has echoes of Pinterest, the popular site for sharing images from the Web, with which members can follow the image galleries created by other members and publicly share their own. Clipboard, in contrast, lets its members save entire web pages, including images, video and text, or just pieces of them, to a personal Web page. The material they save is decidedly personal and practical. Online shoppers use Clipboard to save Web pages for products so they can more easily compare them, and programmers use it to save chunks of code. The service, which began testing in late 2011, surpassed 100,000 registered users in December, and is showing an average of 40 percent month-over-month growth.
Seattle Office of Film + Music Staff
James Keblas, Director
Karin Zaugg Black, Communications Director
Chris Swenson,
Film + S

pecial Events Program Manager
Rachel Sawyer, Creative Industries Business Development Manager
Sam Mouser, Permit Specialist