Podcasting OnHold Music
Get free full-song downloads every 7 to 11 days from Seattle bands featured on the city of Seattle phone system.
Subscribe to the Podcast: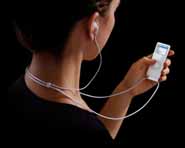 Browse our archive of past OnHold mixes, a one-of-a-kind Seattle music source.
Seattle OnHold is the first municipally hosted showcase of local musicians via city phone systems, Webpage and podcast.
Podcasting FAQ
Getting Started: You must have a computer, podcasting software and a high-speed Internet connection. To take your podcast on the road, you will need a portable MP3 device.
First you must download podcasting software to your computer (PC or Mac). Every software is different so follow the directions to "add" a podcast feed (sometimes as simple as pasting the podcast URL into your podcasting software application). When you "Check for New Podcasts," an MP3 of the podcast will be on your computer and MP3 player.
Software: You will need to install a podcasting application which allows you to download and access podcasts. Many software applications are available and several options are listed below: